---
DANCHEL Outdoor Tent Wood Stove with Pipe is a portable stainless-steel structure with folding side racks and legs, and a glass front window.
---
Key features & benefits
Stainless steel construction.
Folding side racks.
Folding legs.
Portable.
Glass window.
Ashtray.
---
What this is about
As of the moment of writing this text, this wood-burning tent stove is on Amazon under the name DACHEL Outdoor Tent Wood Stove with Pipe. This is clearly somebody's mistake because this is about Danchel brand and it is available on their site with the word Danchel instead of Dachel.
So this is a beautifully designed 304 stainless steel stove, very functional and with all the features you will want to have with such a stove. It is best to start with its dimensions to realize the size of the working area which you have here. The picture below shows some of them: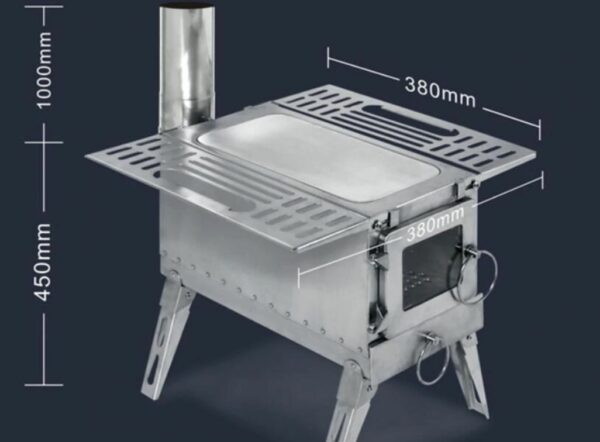 The total top area is 0.14 m² (1.5 ft²), and this includes those two nicely designed side racks that extend the working area a lot. Observe that they can be folded up and this is used when you carry the stove, see the picture: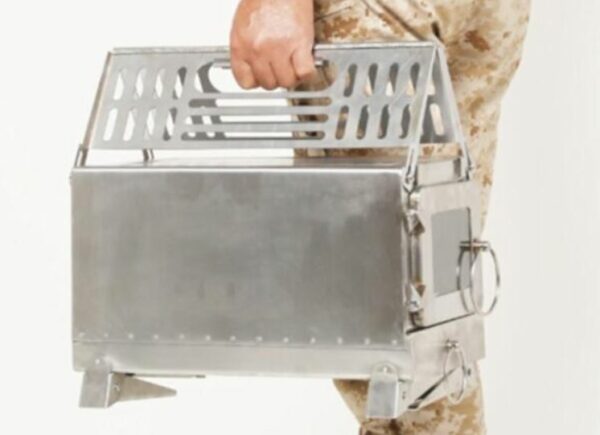 As you see the legs also fold, and all the pipes can be stored inside. The firebox inside is 14.5 x 8 x 7 inches (37 x 20 x 18 cm). This means the volume is 13.3 liters (812 cubic inches). To get some idea of how it stands with respect to its competitors, you might want to compare this with:
But see also its pipe diameter in the lower part which is 3.2 inches (8.1 cm) and 2.7 inches (6.9 cm) in the upper part. The two mentioned competitors have them 2.5 inches (6.3 cm), and 3.15 inches (8 cm).
So very roughly speaking, I would say that its heating/cooking capacity should be close to the Winnerwell Nomad Stove, but below the Caminus Russian-Bear Stove.

The door & ventilation
Here you also have some nice features. The door is with a fire-resistant ceramic glass and this is great because it allows you to see the situation inside without the need to open the door. As you realize, the door is very large so you can put thick pieces of wood inside.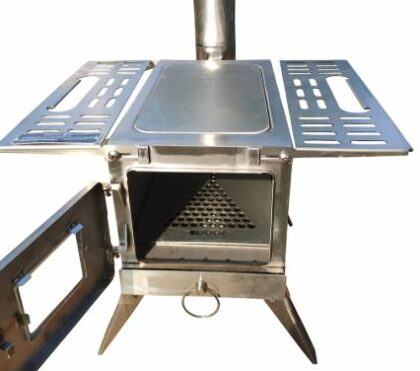 Under the door you have a drawer with a ring handle, so you can pull it out. This is an ashtray and it serves also as a vent. You can pull it partly out and this will create airflow through the stove, this is because of the numerous holes on the bottom of the firebox through which the ash falls to the drawer, see the picture.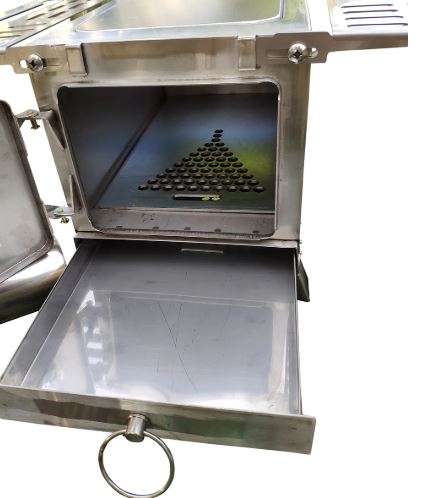 Note that the top can be removed. This may be convenient when you want to clean the stove, and more importantly to use it for barbecue, see the picture: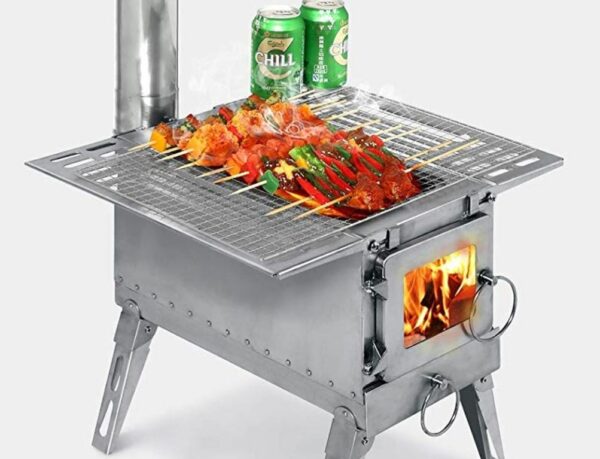 ---
Who is it for
Regarding the weight & the packed size, with its 22 lb (10 kg) this is a portable item but not lightweight, the weight is very close to the mentioned Winnerwell Nomad Medium and also to Fltom Camp Tent Stove Wood Burning. But if you want something ultralight and ultra-packable, check this Winnerwell Fastfold Titanium Tent Stove.
Regarding heating capacity, just by making comparisons with some other stoves, I would say it is good enough for a tent of the size 72 – 134 ft² (7 – 13 m²). But this depends a lot on the tent's construction and weather conditions, so do not take this for granted, better test with what you have.
But note that its pipe is practically the same as in the mentioned Caminus Stove which is designed for the Russian-Bear UP-2 tent, and its area is around 8 square meters. So you can use this Danchel Stove with the same tent, it is far more affordable.
Regarding cooking capacity & users, this is very suitable for various family camping tents with stove jacks, for hunters, and for general outdoor use.
---
Specifications
Weight: 22 lb (10 kg).
Dimensions when open: 18 x 15 x 15 in (46 x 38 x 38 cm).
Total height with pipes: 88 inches (224 cm).
Firebox inside dimensions: 14.5 x 8 x 7 in (37 x 20 x 18 cm).
Steel drawer size: 14.5 x 8 x 1 in (37 x 20 x 2.5 cm).
Pipe diameter (lower 4 sections): 3.2 in (8.1 cm)
Pipe diameter (upper 4 sections): 2.7 inches (6.9 cm).
Pipe steel type: 201 steel.
---
Final thoughts, rating, pros & cons
To summarize this DANCHEL Outdoor Tent Wood Stove with Pipe review, what you have here is a really nicely constructed and functional wood-burning tent stove. It has all the features you need for outdoor cooking. I have included it in my list of best wood-burning tents stoves.
Please see how I rate this stove against the same criteria used for all the stoves here in the site:
For more options please check under the category Tent Stoves & Heaters here in the site. You might want to read my separate text on how to heat a tent and also how to stay warm in a camping tent. Check also this US-made England's Stove Works Survivor 12-CSL "Grizzly" Stove.
Note that we add texts regularly, so bookmark this site and visit occasionally. There is a subscription form below for our weekly newsletter.