This Cylinder Stoves Outfitter Wood Stove Package is a quality product that includes all the features you need for tent heating and cooking. Keep reading.
---
Key features & benefits
Removable & adjustable legs.
Water tank included.
Great heating capacity.
---
Where to buy
This Outfitter Wood Stove Package is available on Amazon. They operate globally so please follow the link and check shipping conditions for your location.
---
What is in the name
The word Package here describes the fact that you have the following elements included:
The stove body with removable legs and 5 inches (12.7 cm) pipe hole.
Warming tray.
Stainless steel water heater.
Nesting stovepipe, 5 inches (12.7 cm) diameter.
Spark arrestor.
Stovepipe damper.
Grate.
For transportation, all these elements fit nicely inside the stove: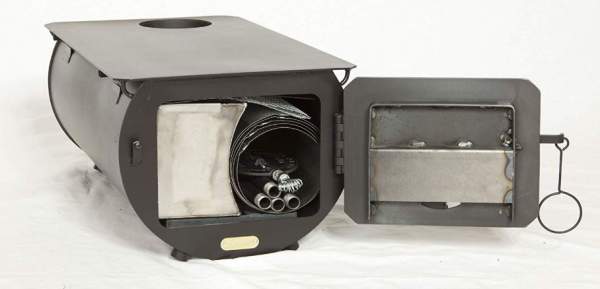 Here is the water tank which fits inside: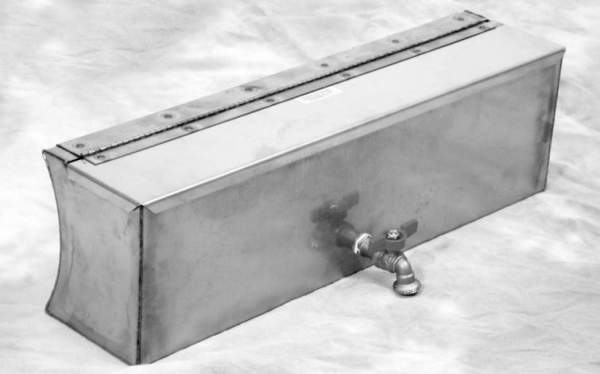 The stovepipe comes with everything you need, its diameter is the same as in the Camp Chef Alpine Wood Stove. Here are its elements: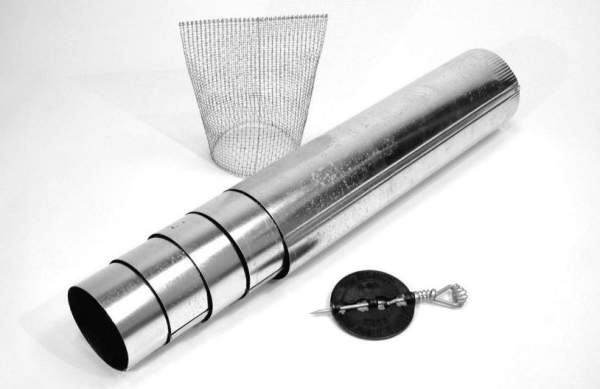 Heating capacity
The manufacturer claims that the stove is suitable for tents with the area in the range 225 – 320 ft² (21 – 28 m²). So this is more than what you have in the Camp Chef Alpine Wood Stove which is built in the same style.
How is this Outfitter Wood Stove Package built
This Outfitter Stove is the second largest in the series of several stoves they build, see the picture below to get some feeling about their sizes: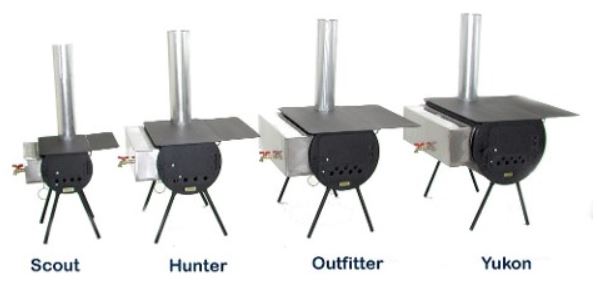 The top and door are made of 10 gauge (2.59 mm) steel and the rest of the stove body is 12 gauge (2.06 mm) steel and 14 gauge (1.63 mm) steel. The stove is painted with high-temperature black stove paint.
Note that the legs are 12 inches (30 cm) long and 1/2 inch diameter, and they are removable. They screw into couplers that are welded on the body of the stove. On hard surfaces you can tighten or loosen the legs to level the stove properly.
This is a cylinder type as you realize from the name, so the body is a rolled piece of steel, not a barrel or a piece of pipe. The top is with welded braces underneath it to keep the cooking surface flat.
The stove has fittings on both sides where you can attach a water tank and warming tray, so you can combine them as it suits you best.
The door is a square frame welded to the inside to keep it flat. They claim that with such a rounded cylinder the stove expands and contracts uniformly and without any warpage in the body of the stove. They also claim that the stove can keep the fire up to 10 hours, you have to shut the damper down for such a long burn.
You might want to know that this stove is built in the mountains of Central Utah.

---
Who is it for
Weight-wise, the whole package is very heavy with its 92 lb (41.7 kg) of weight. Note that this is the same as the weight of Timberline Wood Stove Package. On the other hand, the stove alone with legs weighs 62 lb (28.1 kg) and this is lighter than the Camp Chef Alpine Stove.
The packed size is very good, you will see the stove size below. But it is larger than the other two stoves mentioned above.
Capacity-wise, you have seen the statements by the manufacturer given in the text above. So this stove can heat larger tents than its competitors.
But in any case, this stove needs a car for transportation. Pity they did not add some handles or a carry bag.
---
Specifications
Weight (stove alone + legs): 62 lb (28.1 kg).
Full package weight: 92 lb (41.7 kg).
Stove body dimensions (L x W x H): 28 x 16 x 13 in (71 x 41 x 33 cm).
Height with legs: 23.5 in (60 cm).
Stove volume: 2.5 ft³ (71 l).
---
Cylinder Stoves Outfitter Wood Stove Package vs Competitors
In the table below you have this stove side by side with yet another package, the Timberline Wood Stove which is almost identical. I have added also the very popular Camp Chef Wood Stove which is without a reservoir.
I already mentioned some similarities and differences among them in the text above, but please follow the links to read more, this may help in making an informed decision.
Cylinder Stoves Outfitter
Timberline Wood Stove Package
---
Final thoughts, rating, pros & cons
In conclusion, this Cylinder Stoves Outfitter Wood Stove Package is well crafted and built to last, and you have all that you need for cold weather camping. With such a stove you can heat a large camping tent and you can prepare meals. If you need a tent suitable for such a stove, please check our list of best tents with integrated stove jack.
Please see how I rate this Outfitter Wood Stove Package, I use the same criteria for all the stoves here in the site so you can easily compare:
You might want also to check this incredibly well-built Caminus Russian-Bear Camping Stove with its glass walls, and also the DANCHEL Outdoor Tent Wood Stove and compare. If you want something US-made check this England's Stove Works Survivor 12-CSL "Grizzly" Stove.
Note that this is not a sponsored text, and I am not paid by the brand. Please use the comment box below in case of questions or comments.