White Duck Outdoors Alpha Wall Tent 12 x 14 is a 4-season tent with space for 10 people in its single-room structure with an aluminum frame and breathable vertical canvas walls.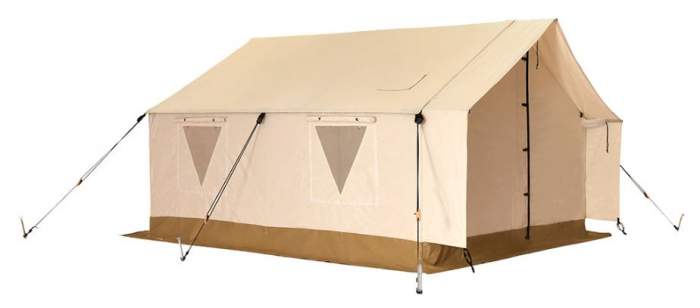 ---
Key features & benefits
Frame tent.
Canvas fabric.
Very tall.
Sturdy aluminum construction.
Very bulky – 2 separate large packages.
Not sewn-in floor.
10 people capacity.
Stove Jack with flap.
Single-room.
Single-layer structure.
---
What this is about
The White Duck Outdoors brand has currently three types of large family camping tents on the market, bell-shaped, cabin-style like this Family Expoler Basic Tent or Family Explorer Deluxe Tent built in the same style, and this presented here which they call the wall type.
I guess the meaning of the term 'wall tent' here is that the walls are completely vertical and this makes them a bit different from typical cabin tents. But in my view, this is again just a cabin-style tent of a particular type. Note that they have different sizes in each of these three groups.
In the title above I use the name as it is used by the White Duck Outdoors company, but if you go to Amazon you will find it under the name White Duck Outdoors Complete Canvas Wall Tent with Aluminum Frame and PVC Floor for Elk Hunting, Outfitter and Camping. Quite a name isn't it?
This is a huge structure with many tubes, all color-coded, and you set it up independently from the tent itself and this is why such tents are called frame tents. As mentioned, this Alpha Wall Tent they build in several sizes – you have the size 12 x 14 presented here, but there are also 14 x 16 and 16 x 20 sizes. The numbers denote the dimensions in feet of course. With such a frame, this is a freestanding structure, but you have all that is needed to stake it properly.
Note also that this is a single-room design, pity they did not add some dividers here. As usual for such canvas tents, this is also a single-layer construction.
The tent comes in 2 separate packages, so this is a bulky structure, and you have waterproof polyester bags for each of them. In one, you have the canvas tent and in the other, you have the floor and the frame.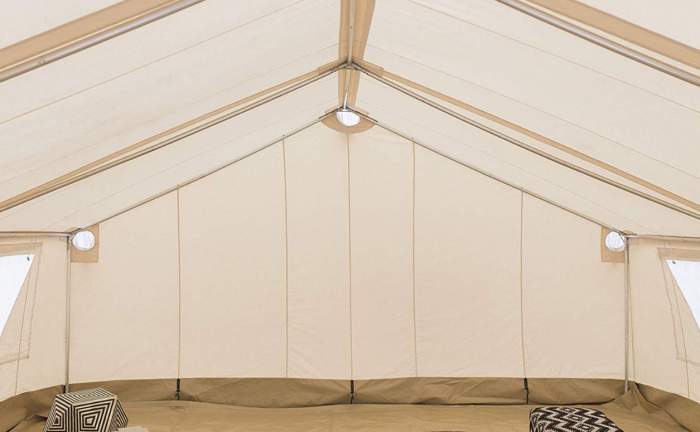 ---
Who is it for
Capacity-wise, they describe it as a 10-person tent. Now, the area is 168 ft² (15.6 m²) and if used by 10 people this would give 16.8 ft² (1.56 m²) per person. There are no vestibules or anything similar. You would have your cars to store the gear, otherwise, everything must be kept in the tent. This can work for hunters and for summer open-air festivals, but this is far from enough for a real family camping. So to be realistic, I would say this is a tent for 4 – 5 people maximum, good enough for parents with 2 – 3 kids.
Weight-wise, be ready for this – the tent weighs 172 lb (78 kg). So this is for strong people and when you are in the process of setting it up it is best to have somebody to help you. It is also very bulky, you have two separate bags, one is 45 x 14 x 14 inches (114 x 36 x 36 cm) and the other is 49 x 14 x 10 inches (124 x 36 x 25 cm).
Seasons-wise and climate-wise, I have no doubt this is a tent for all-year-round use, but bear in mind that the officially declared waterproof rating is very low. The structure is very tall, 8.5 ft (259 cm), and it is far from aerodynamic, so I would rather not use it in a very windy place, but this is a very strong construction and it can withstand more than many other tents on the market. Note that the guylines are in fact very thick ropes.
For warm weather, you have 4 windows with mesh, the door is also with mesh, and the fabric is naturally breathable. Therefore you should never expect serious issues with condensation.
For a cold weather camping, all the openings are with flaps, on windows you have both PVC and canvas, so it simply cannot be better. But you also have a Stove Jack with flap. It is ready to use so indeed you can install a stove inside.
So all in all, this is an excellent camping tool for all seasons, and you can also use it in the garden at home for family events. But for transportation, you will need some force and lots of space in the car.
---
Materials & construction
The poles, stakes, & zippers
The frame poles are made from anodized aluminum, very thick and strong. One note about the frame – if for any reason you do not want to carry the frame which you have here, you can make a wood log frame and use the tent with it. They have built openings which allow for 5 inches diameter logs, see the picture.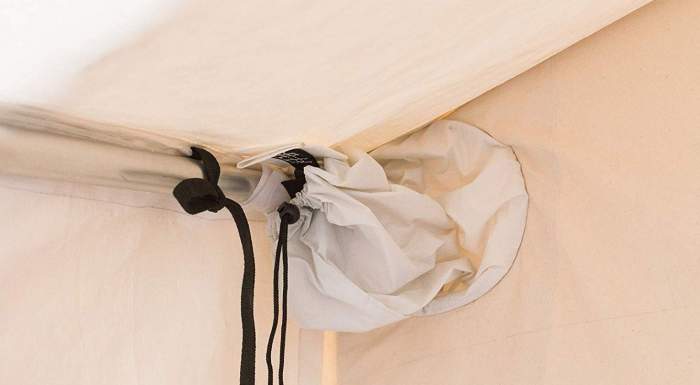 The pegs are solid steel V-shape, 14 inches (35 cm) long, with 1/8 inches thickness. This is a type suitable both for hard and soft ground. They use YKK zippers, and those are Japanese, the most reliable on the market. See the picture below with all the hardware: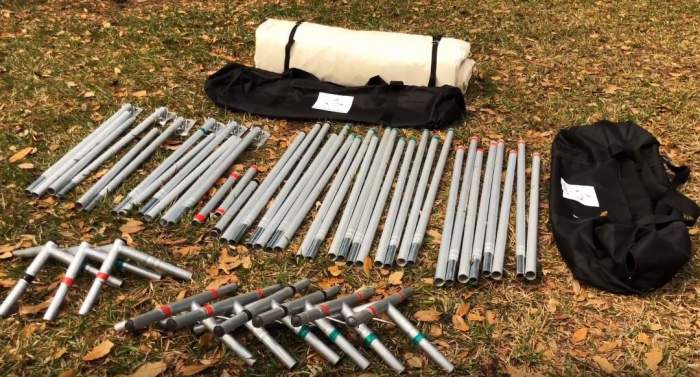 The fabric
They use 10.10 Oz, 100% cotton army duck canvas for all tents. This implies a double fill or Two-ply yarn twisted together for a higher yarn strength, and this is combined with a high-density thread count per square inch. They add water, mildew, and flame retardant chemicals impregnated on to the surface of the fabric and in between the cotton pores of the fabric. As you probably know, the cotton swells when wet and this closes the gaps and makes it waterproof.
So this is a breathable finish and this is the main purpose of this treatment, otherwise using cotton would make no sense. The waterproofness rating is rather modest 450 mm.
The floor is removable, so it is not sewn-in. This is a synthetic material, polyvinyl and high-density coated 16 Oz heavy-duty. They do not provide any information about its rating but this is definitely very waterproof and you should not expect any issues ever with it. The same material is the lower section of the walls, and you also have a skirt structure everywhere around the tent, so you can press it with snow or gravel to prevent cold drafts from the ground.

The door & windows
The door is on the front side and here you have the canvas layer and mesh. You will see in the video that you have interior buckles and exterior buckles, plus YKK zipper. So this is a really strong and reliable structure.
There are 2 windows on each of the two side walls, so you have 4 in total on this smallest tent in the series, and those windows are triple-layer structures. You have flaps from outside, mesh in the middle and PVC panels from inside. So you can regulate the air flow and the amount of daylight. Note that the largest tent in the series, the 16 x 20 tent, has 3 windows on each side. See below some details on one of the windows.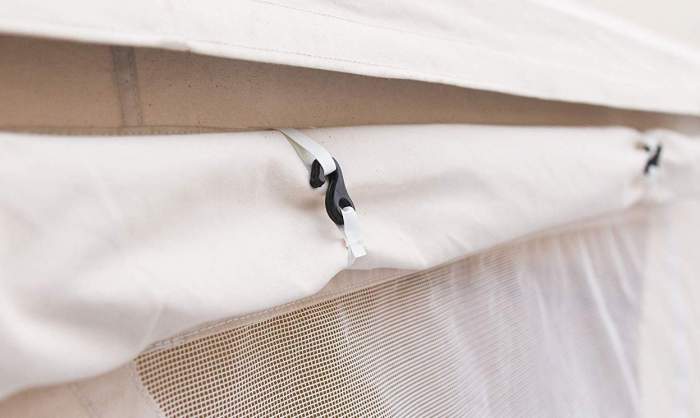 The Stove Jack
Here you have a heat-resistant silicon coated Stove Jack opening on the roof, so all is ready for a stove and heating, see the picture below. This is why I have included it in my list of best tents with a stove jack.
For some tips about wood burning tent stoves please see in my separate text and for one nice example of a stove for such a tent please check this Camp Chef Alpine Wood Stove. But if you need a backpack-portable wood burning tent stove, please check this Winnerwell Fastfold Titanium Tent Stove.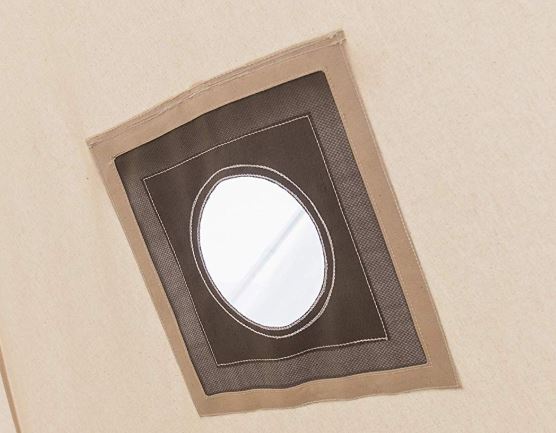 Lab testing
They claim that they have gone the extra mile to understand, evaluate and benchmark their Dyna Guard Canvas. So their tents go through a random selection of fabric testing through AQL Quality Assurance selection system. It includes:
Canvas fabric mechanical strength test.
Canvas fabric mechanical ripping strength test.
Hydrostatic pressure column head test. The fabric is at the water-repellent level.
Mildew or rot testing.
CPAI 84 Section 6 & 5 test for flame retardance.
They also claim that you can get their latest fabric reports.
Other features
It is best that you see this video, you will see more about its distinctive ropes system which is designed to withstand strong winds without tearing apart, and much more, so have a look:
Setting the tent up
This is a big structure and it needs lots of work. It is best to see how it is done, here is everything from unboxing and setting the tent up:
---
Specifications
Type: wall tent or cabin-type, freestanding.
Weight: 172 lb (78 kg).
Capacity: 10 people.
Dimensions: 14 x 12 ft (427 x 366 cm).
Area: 168 ft² (15.6 m²).
Area per person: 16.8 ft² (1.56 m²).
Packed size:
– Tent bag: 45 x 14 x 14 in (114 x 36 x 36 cm).
– Poles bag: 49 x 14 x 10 in (124 x 36 x 25 cm).
Peak height: 8.5 ft (259 cm).
Side walls height: 5 ft (152 cm).
---
White Duck Outdoors Alpha Wall Tent 12 x 14 vs Competitors
The tents of this type are usually expensive so it is better to look around and choose carefully. This is why I think you might want to see how this tent compares with the two I give in the table below. The Trek Tents 246C tent is in the same style but for 9 people, the Jet Tent is totally different in the style but also canvas tent and for 10 people as well. Please see some of their features and check the links in the table for the updated prices:
White Duck
Alpha Wall Tent
---
Final thoughts, rating, pros & cons
In the summary of this White Duck Outdoors Alpha Wall Tent 12 x 14 review, I can say they have built an excellent tent. I love how transparent they are with respect to all the testings and the features of the materials they use and I can only admire all this and have a feeling that this is a brand that can be trusted.
But I am not biased here, have no relation to this company, not paid by them to write this text, and I gave some objections above. So see all pros and cons and decide yourself.
White Duck Outdoors Alpha Wall Tent 12 x 14
Pros
Very sturdy construction.
Breathable materials.
Very tall tent.
Suitable for all seasons.
Very thick floor material.
Stove Jack ready to use.
Cons
Very heavy.
Very bulky when packed.
Very expensive.
No storage elements.
Not sewn-in floor.
Single room.
You have seen some alternatives already, and if you need more please check my text with canvas tents. Check this White Duck Outdoors Family Explorer Basic 10 x 14 from the same brand but in a different style and also the White Duck Outdoors Avalon Canvas Bell Tent.
For all other tents just look around, this site is about tents and you have them in all types and shapes. Thank you for reading and please use the comment box below if you have a question or comment.
---