White Duck Outdoors Avalon Canvas Bell Tent is a 4-season non-freestanding luxurious tent for glamping & camping built from a fully breathable but waterproof cotton fabric and with 3-layer windows.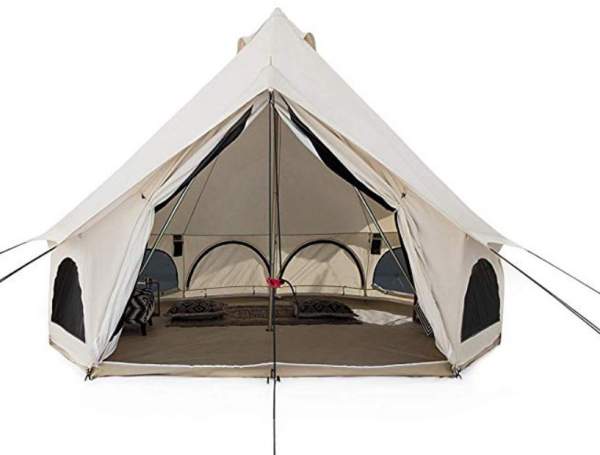 ---
Key features & benefits
Huge area.
8 people capacity.
Very tall structure.
Many windows.
Detachable floor.
Canvas breathable fabric.
Roll up walls for a canopy configuration.
Flapjack for a stovepipe.
4 vents.
---
What this is about
This is one out of several types of canvas tents by White Duck brand, so here you have a bell-shaped structure which they build in two sizes, with a diameter of 13 and 16 ft (396 and 488 cm). The former is for 6 and the latter is for 8 people. The focus of this text is on the 8-person version but all the basic features are the same and they sell it at the same place on Amazon.
This is a non-freestanding tent, a single room, and a single-layer structure. It is incredibly tall, no less than 125 inches (318 cm) in the central area, but at the side wall the height is 3 ft (91 cm) only. Because of such a height, I have included it in my list of extra tall family camping tents.
As mentioned, they have several other types, and some of them are presented here in the site, so check this White Duck Outdoors Family Explorer Deluxe 10 x 10 and this White Duck Outdoors Alpha Wall Tent 12 x 14 tents, both built in completely different styles.
The design of these bell tents is based on the original Sibley tent invented and patented in 1856 that was used in the US army at that time. The White Duck builds two models, the Avalon presented here and the Regatta tents that are also in the two diameters, 13 and 16 ft.
They show confidence in their tents by providing a 2-year workmanship warranty. They offer a money-back guarantee no questions asked.
---
Who is it for
Capacity-wise, the tent is designed for 8 people and this is its declared capacity. The floor area is around 201 ft² (18.7 m²) and this means 25 ft² (2.3 m²) per person if used by 8 people. No doubt this is more than enough.
Weight-wise, be ready for this – the tent weighs 95 lb (43.1 kg). If you know that its packed size is 45 x 15 x 13 inches (114 x 38 x 33 cm), you realize that you need a car and you need lots of space in it for such an item.
But in spite of such a weight and bulkiness, one person can easily set this tent up in 10 – 15 minutes. You stake it down properly and then add the only central pole, and the door pole after that.
Seasons-wise and climate-wise, they describe it as a 4-season tent and there is no doubt it is suitable for such a use. In a warmer climate, it performs great due to its breathable walls so you will never have condensation issues, and the canvas creates a much cooler atmosphere than any synthetic tent.
In a cold environment, the cotton canvas has a bit better insulation properties than synthetic materials, and you can also use a wood stove, you have a flapjack integrated into the roof, see the picture. This is a 5 inches (12.7 cm) wide opening made from a fire retardant vinyl material and equipped with a flap.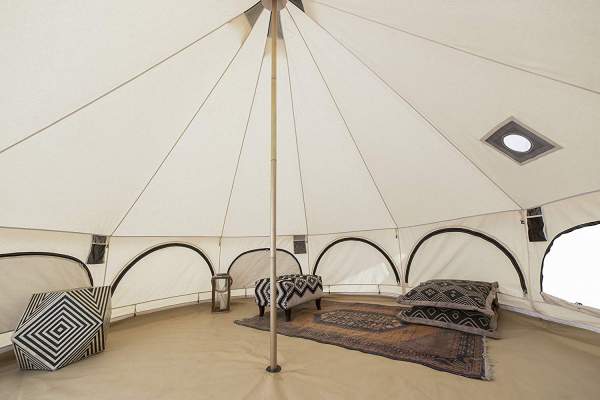 This is why I have included it in my list of best tents with a stove jack. For some tips about wood-burning stoves please see in my separate text.
So all in all, this is a tent suitable for many purposes, like family camping, glamping, safaris, picnics, parties, weddings, festivals, and you name it.

---
Materials & construction
The poles & pins
The poles are simple here, you have just one thick central 1.1/4 inches galvanized steel pole plus a 1 inch galvanized steel A-frame for the huge door, they are visible in the picture below. You also have a set of 10″ x 1/4″ galvanized shaft J pins for groundsheet pinpoints. Then you also have 12″ x 3/8″ J pegs for secondary and main guy points.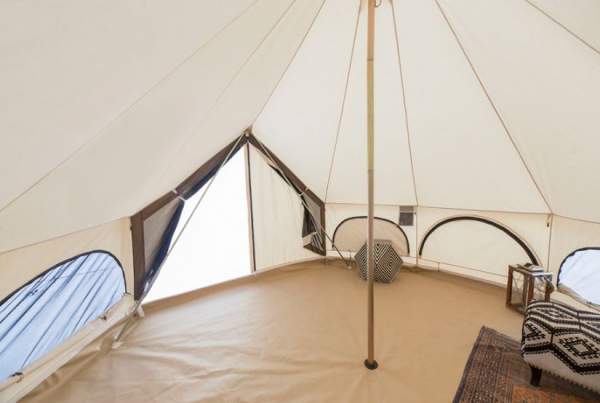 The fabric
Those are tents built from premium cotton double fill "Army Duck Canvas" with the addition of water + mildew treatment while maintaining the natural breathability of the 100% cotton. What you have here is a proprietary brand of cotton canvas DYNAGUARD.
The floor is a detachable 16 oz. coated polyvinyl, you have a zipper that runs around. When the floor is unzipped, you can roll up the side walls for a pleasant canopy configuration.
You have double stitching on all seams and the corners are reinforced. The windows are with a No-See-Um mesh, a panel, and a PVC screen. The door is a double-layer structure and you have a three-way zipper. They use YKK zippers, so you have the best of the best. Note that the door is very high, 6 ft 6 in (198 cm).
Waterproofness
They write about laboratory testing for 450 mm hydrostatic head, so this is not much but the canvas is in principle waterproof. The situation for the floor is such that you are definitely safe from the ground.
Ventilation
With such a naturally breathable material and with so many mesh windows around, ventilation will never be an issue with this tent. Note that you also have four vents with mesh high on the top, see the picture below, so this is a design for a perfect air circulation.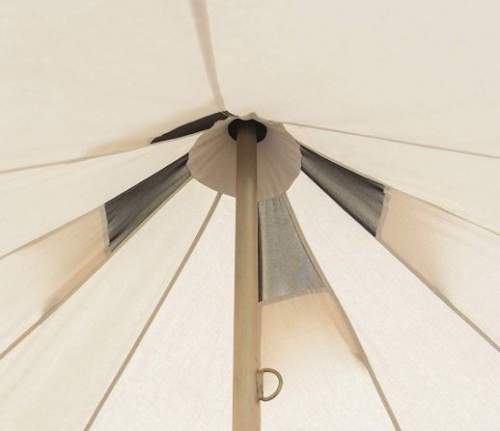 Other features
There are four pockets on the wall, and I think this is far from enough.
The carry bag is a 100% polyester PV coated and waterproof, and you have carry straps.
---
Specifications
Type: bell-shaped tent.
Capacity: 8 people.
Weight: 95 lb (43.1 kg).
Dimension: 16 ft (488 cm) across.
Floor area: 201 ft² (18.7 m²).
Area per person: 25 ft² (2.3 m²).
Packed size: 45 x 15 x 13 in (114 x 38 x 33 cm).
Peak height: 10 ft 5 in (125 in; 318 cm).
---
White Duck Outdoors Avalon Tent vs Competitors
In the table you have this Avalon tent side by side with two other bell-shaped canvas tents, this might help in making an informed choice. As you see, it is a bit heavier but it is also taller than the other two. Please follow the links to check for the updated prices.
45 x 15 x 13
(114 x 38 x 33)

45 x 12 x 12
(114 x 30 x 30)

36 x 16 x 9
(91 x 41 x 23)

---
Final thoughts, rating, pros & cons
So you have top quality materials used in the construction of this White Duck Outdoors Avalon Canvas Bell Tent, and it offers superior features for a home feeling but without dimming the adventure atmosphere. It is indeed large enough to accommodate 8 people and this in all seasons. It is so large that I have included it in my list of extra large tents.
But it is bulky when packed, heavy, and it comes at a price. You have a couple of options to compare the prices, but if you need more, just check my text with best canvas camping tents.
In any of its variants, this is an expensive item, but I would say worth the investment. See how I rate it:
White Duck Outdoors Avalon Canvas Bell Tent
If you want something much lighter but in a similar style, check this Winterial 6-7 Person Teepee Tent which is not canvas but has one central pole as well.
Thank you for reading. In the case of questions or comments, please use the comment box below. I wish you a nice day.

---