The CAMPROS Screen House Room 12 x 10 Ft is a freestanding cabin-style screened mesh net wall canopy shelter that is easy to use, tall, pleasant, and affordable.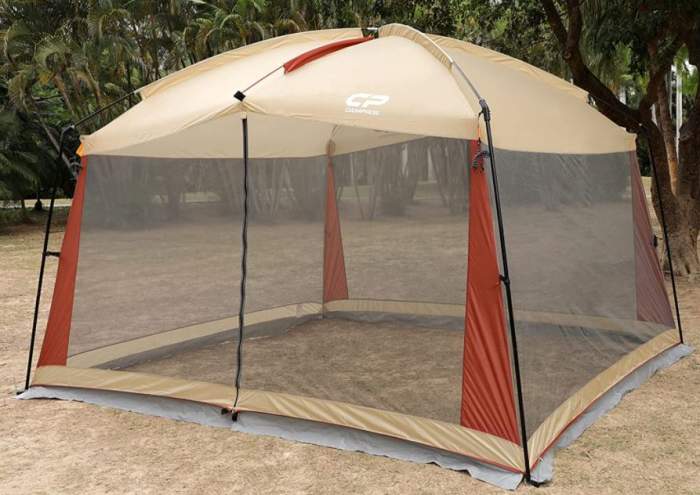 ---
Key features & benefits
2 Doors.
Very tall.
Freestanding.
Compact.
---
What this is about
This CAMPROS Screen House is a very typical shelter of this type, with almost vertical and tall walls and plenty of headspace. So this is a cabin-style freestanding and floorless structure. It offers two zippered doors on its opposite sides. It is very similar to my YDYL screen house.
The shelter is supported with 4 main corner leg poles that continue on the roof with 2 long X-crossed poles. The plastic elbow connectors are in the top corners and one is shown below. Note that there is also one extra roof pole that pulls the door wall up and makes it vertical.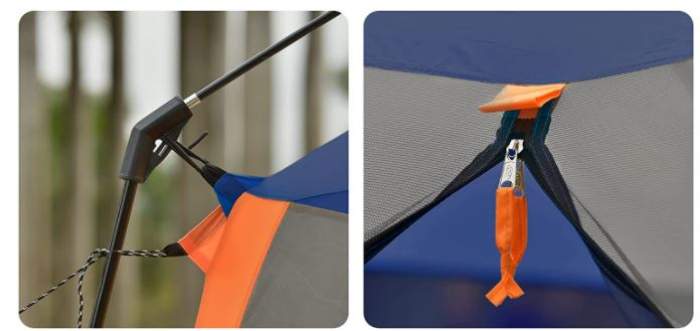 The picture also shows the zipper on one of its two doors, it has dual pulls so you can open it from any side.
It is interesting that they write about 3 or 4 people for setting this shelter up. In fact, one person can easily do the job in 10 minutes or so. You start with the roof poles as shown in the picture below and then continue by adding the leg poles one by one.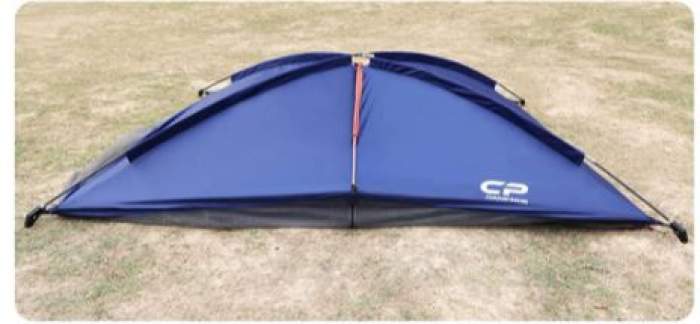 Materials
The solid stuff is steel used for the leg poles and fiberglass used for the roof pole. You have stakes and guylines (shown below) included in the package. Observe that the poles connect through the sleeves on the roof, through clips on the sides (see the picture below), and through the usual pin and ring system in the corners at the base.
The fabric is a 150D polyester used on the roof and a polyester no-see-um mesh on the walls. There is no floor of course. You also have a skirt/flap on the ground along the perimeter, this is to close the space in the case of uneven ground, so that flying insects do not get in.
They claim that the shade provides excellent UV protection, but they do not provide any rating that would support this. Note also that they build this shelter in two different colors, you can see them here in the pictures.
---
Who is it for
Regarding the best use & purpose, obviously, this is a shelter built to provide a bit of shade and more importantly to protect you from flying insects.
This screen house is very tall and large enough for at least 4-5 people with chairs and a camp table. Below you can see its most important dimensions.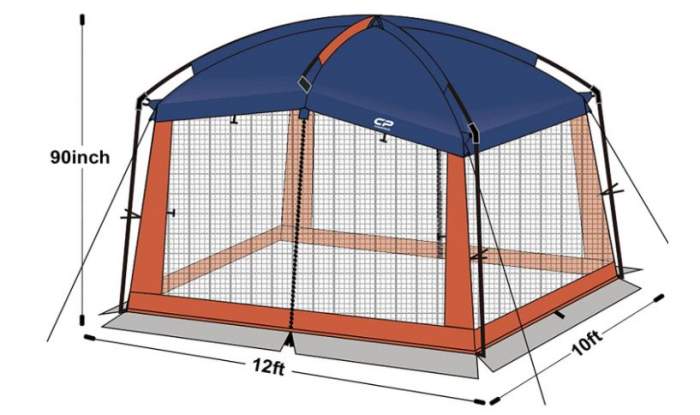 So you can use such a shelter when you are on a picnic with your family or friends. It is large enough to be placed over and around a fixed table with benches in a park. You can use it also when you go camping. In this case, pitch it next to your tent and use as a living room, a dining space, or as a cooking space.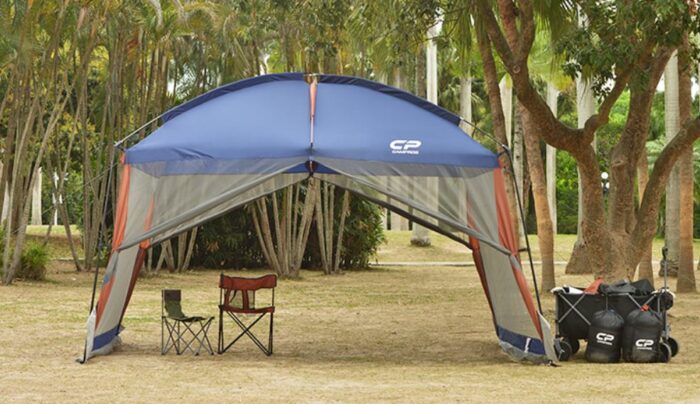 Note that this brand also has tents, so use this shelter as an annex to their Campros 9-person tent or 12-person tent.
Regarding the weight, it is a bit on the heavy side with its 22.5 lb (10.2 kg), but this is still quite normal for the shelter of this type. Though, the previously mentioned Ydyl screen house is much lighter, just to know.
The packed size 25 x 9.06 x 9.06 inches (64 x 23 x 23 cm) is such that you can transport it even on a bicycle.
Regarding the price, it may look a bit steep, there are more affordable screen houses, but there are also much more expensive as well. But I think this is a fair price for such a nicely built shelter.

---
Specifications
Weight: 22.5 lb (10.2 kg).
Dimensions: 12 x 10 ft (366 x 305 cm).
Area: 120 ft² (11.2 m²).
Peak height: 90 in (229 cm).
Packed size: 25 x 9.06 x 9.06 in (64 x 23 x 23 cm).
Made in Cambodia.
Warranty: 1 year.
---
Final thoughts, rating, pros & cons
So this CAMPROS Screen House Room 12 x 10 Ft is really nicely designed and well-built, it is easy to use, tall, and pleasant. Its purpose is to protect you from flying insects and to provide a sunshade. Although it is freestanding, never miss to secure it properly. It can be used on practically any terrain. I have added it to my list of best screen houses for camping.
Please see how I rate this screen house, it scores very well in all rating criteria:
Note that they also have a larger screen house under the name CAMPROS Screen House Room 13 x 13 Ft. You might want to check also this Caddis Rapid Screenhouse Shelter that is instant setup type and very easy to use.
Let me know if you have questions or comments, there is a comment box below. Subscribe to my weekly newsletter and stay informed. Thank you for reading and have a nice day.