The CAMPROS Screen House Room 13 x 13 Ft is very tall and pleasant with its two doors, freestanding, compact for transportation, and with a waterproof roof.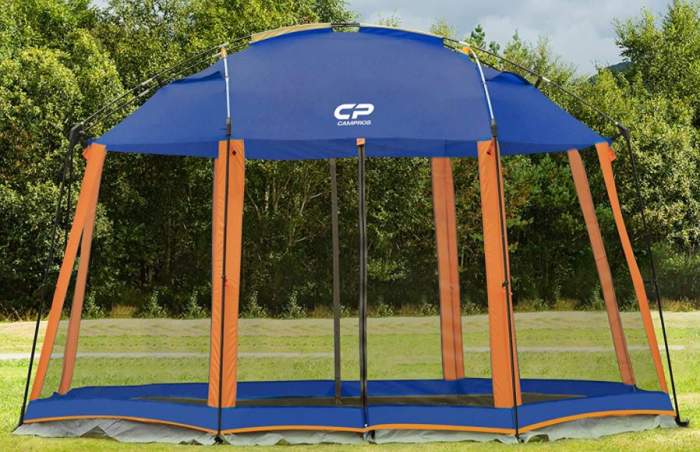 ---
Key features & benefits
Compact.
2 Doors.
Freestanding.
Waterproof roof.
---
What this is about
The Campros brand has several screen houses on the market and they are very popular. So it is easy to get confused about which is which. The numbers 13 x 13 in the title are a part of its official name, and these are the dimensions in feet.
The official area is 134 ft² (12.4 m²). But the base is an octagon, and the dimensions mentioned above give the area around 120 ft² (11.1 m²). So it appears that either somebody did not do the math correctly or this is a typo.
The same situation is with the peak height, you will see two numbers 88 inches (224 cm) and 86 inches (218 cm). It is tall in any case but it is disappointing to see such conflicting numbers.
The structure is interesting, you have two doors with centrally positioned zippers, and they are with pull on both sides, see the picture. The door flaps can be fixed on the sides as shown below, this is if you just want a sunshade or a rain shade and there are no flying insects around.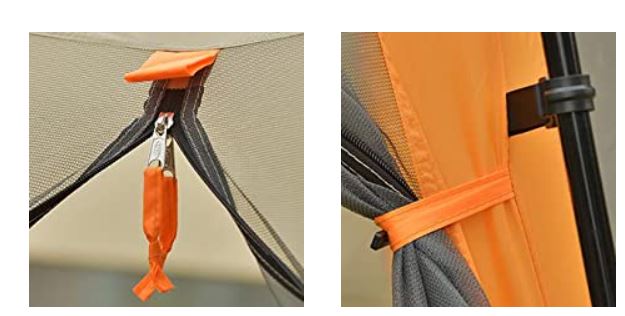 Materials
The poles: You have 8 steel leg poles and 4 fiberglass roof poles. These roof poles are connected with the legs poles through elbow plastic connectors visible in the picture below.
The usual procedure when you set such a shelter up is to start from the roof, so pass the 4 poles through the short sleeves and place them into the elbow connectors, and attach also the clips. After that start adding legs. They write about 4 people needed for the cob and I find this absurd. One person can easily do all this.
The fabric: The walls are all polyester mesh as you would expect from a screen house. There is a skirt on the perimeter, this is to close gaps if you are on uneven terrain, so that flying insects do not get in.
The roof is a durable 150D polyester, and they claim it is waterproof. Note that they build the shelter in two colors, you can see them here in the pictures. There is also a statement about its UPF+50 UV protection coating. This is in the range Excellent.
Note also that there are a few vents on the roof, quite rare to have this in a screen house. But you can see them also in this Nemo Victory Screenhouse.
You have a carry bag included, and all stakes and guylines to secure this shelter properly. It is indeed freestanding but never miss staking it to the ground.
---
Who is it for
Regarding the area, you have seen some confusion about the numbers, but in any case, this is quite a large shelter and you can easily have 5 people there with a table and chairs. You get some idea from the picture below.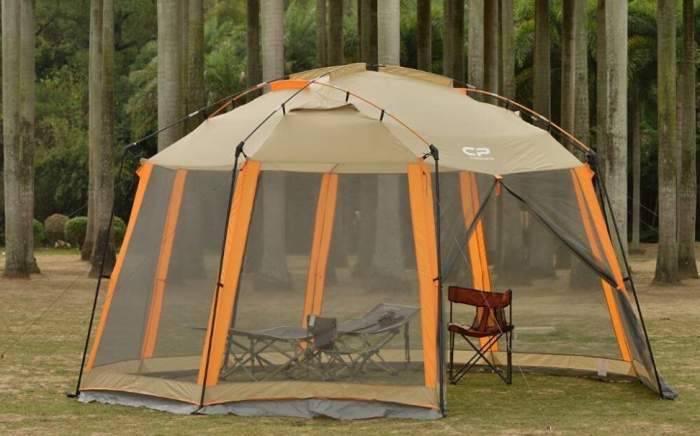 Such screen houses are becoming very popular. You can use it as an accessory shelter next to your family camping tent. You can also take it on picnics and pitch anywhere, and even place it above any fixed table with benches in the park.
Regarding the weight, this screen house is a bit on the heavy side with its 22.5 lb (10.2 kg), but this is still quite good. You can compare this with my YDYL screen house that weighs nearly half less. The packed size 25 x 9.06 x 9.06 inches (64 x 23 x 23 cm) is also quite good. Such a package can be transported even on a bicycle.
Regarding the price, it is a bit steep. Though the screen house looks really cool, and they give a fair warranty.

---
Specifications
Weight: 22.5 lb (10.2 kg).
Dimensions: 13 x 13 ft (396 x 396 cm).
Officially declared area: 134 ft² (12.4 m²).
Peak height: 86 in (218 cm).
Packed size: 25 x 9.06 x 9.06 in (64 x 23 x 23 cm).
Warranty: unconditional 1-year quality assurance.
---
Final thoughts, rating, pros & cons
So this CAMPROS Screen House Room 13 x 13 Ft is well-built, tall and pleasant with its steep walls, and with full protection from flying insects. This is a large covered area with a sunshade and it will protect you a bit from the rain as well. But this is not a tent of course. I have included it in my list of best screen houses for camping.
This screen house stands well with respect to all my rating criteria:
For more options please check in the category Camping Screen Houses. I mentioned that they have more items of this type, and one is presented in my separate text. You might want to check also this Sierra Designs Outdoor Magnetic Screenhouse which is with magnetic doors.
Let me know if you have questions, there is a comment box below. You might want to subscribe to my weekly newsletter, this will keep you informed. Thank you for reading and have a nice day.