This YDYL Screen House 13 x 9 review is about an easy-to-use freestanding ultralight incredibly affordable shelter with 2 doors, supported with steel and fiberglass poles.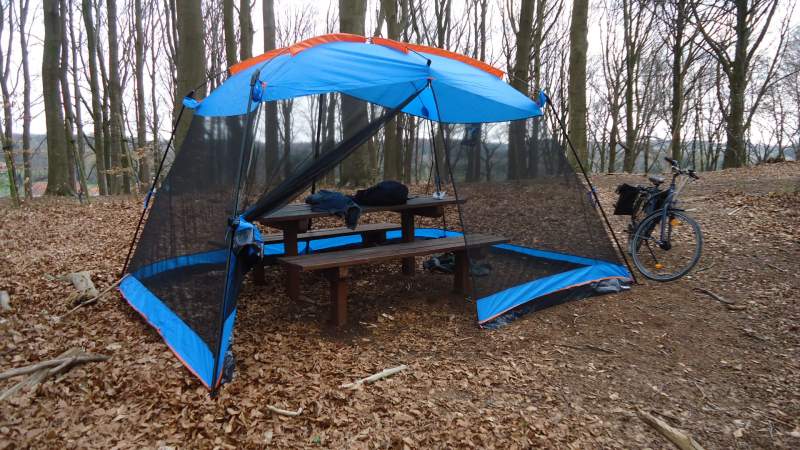 ---
Key feature & benefits
Ultralight.
Compact.
Steel & fiberglass frame.
Freestanding.
2 Doors.
Lamp hanging loop.
Wall pouch.
Excellent price.
50% Discount code available, more below.
---
What this YDYL screen house is about
Here you have a freestanding collapsible construction that has been on the market for a couple of years already. This is a floorless structure as expected from a screen house of this type, and it is tall with a 6.9 ft (210 cm) peak height.
There are two zippered doors, they are on the longer sides of the structure. The picture below shows the zipper that is in the middle, it is with dual pulls so you can open it from inside and outside: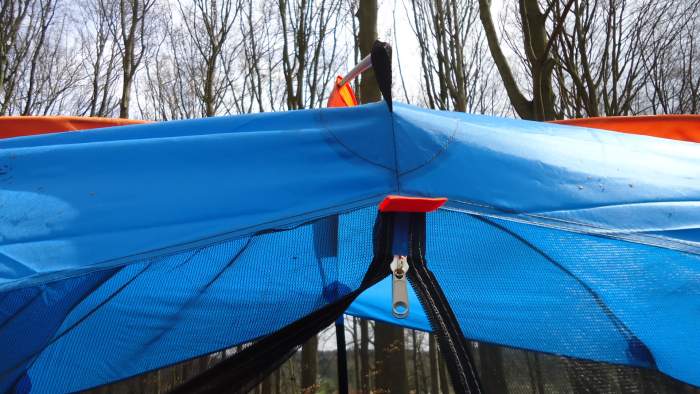 You have short webbing straps in the corners, 4 of them in each corner, but one of them is from inside, see the picture below. I have seen people asking about their purpose.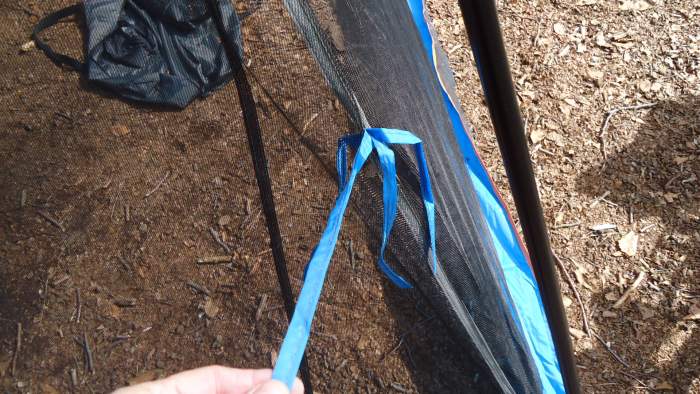 So just to know that you can use two of the external straps to attach the screen house to the leg poles. The remaining two (one external and one internal) are to fix the door flaps if you want to roll them to the sides as demonstrated in the top picture above. But when you fix the door this way, you allow insects to fly in, so it is better not to do this.
You can also stake the door flaps, there are loops at the base, see the picture below. I find it useful to stake one side only, and keep the other side free-hanging. In such a configuration you can unzip the door with one hand because one side is tensioned and kept in place.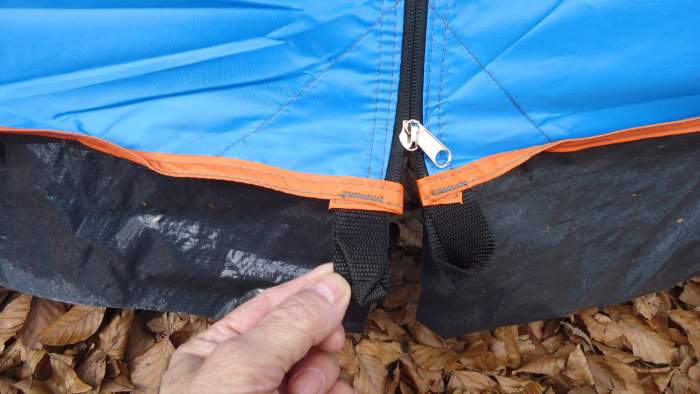 Materials & construction
The poles: There are 4 steel-corded steel legs poles, each with three segments, so they are interconnected and you can never lose any piece. The legs are the same length so there is nothing to guess when you set the screen house up.
On the roof, you have two longer fiberglass poles that attach to the legs poles, plus one shorter ridge pole that is added to pull up the side walls with the doors, all shock-corded. All of them are shown in the picture: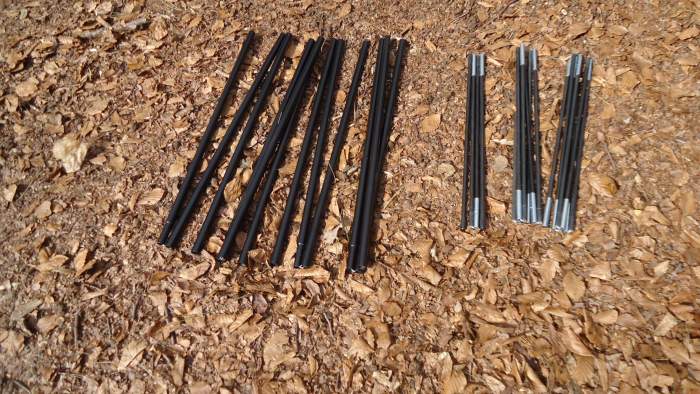 There are sleeves on the roof, and at the base, you have the usual pin and ring attachment system, see the picture below. There are 4 plastic elbow connectors pre-attached in the corners of the roof (see one below), and here you also have small preattached pockets where you can store these connectors when you transport the screen house.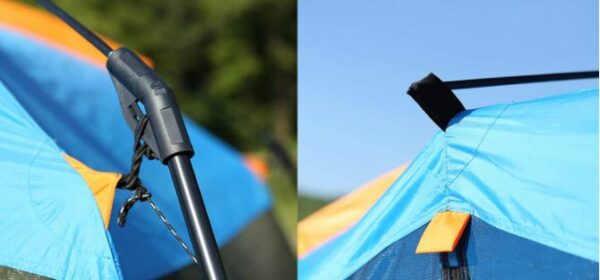 This is a nice detail because the connectors are separated from the rest of the fabric to avoid damages if the package is under pressure during transportation. The overall structure is very similar to the CAMPROS Screen House Room 12 x 10 Ft.
The fabric: So as expected from a screenhouse, this is mostly mesh on the four walls, it is fine enough to keep all flying insects out but it is still very breathable and you have plenty of air circulation in all directions.
The roof appears to be polyester. I did not use it in the rain so cannot say much yet about its waterproofness, but this is supposed to be a sunshade in any case, so the screen house is not for rain protection.
There is also a peripheral flap that runs around the tent's base, this seems to be polyethylene, see the picture below. Its main purpose is clearly to close the space if you are using the shelter on uneven ground.
There is also a small wall pouch under the canopy, see it in the picture above. One lantern loop is also on the ceiling.
Setting this YDYL screen house up
It is easy to set this structure up, I have been doing this alone every time, did not really measure the time but this was just a few minutes. It is intuitive and it is important to start with the roof poles first as the picture above shows.
After that, you start adding the legs poles one after another. It is best to place one end into the roof connector and then attach the other end to the base with the mentioned pin and ring attachment. Use the previously described straps in the middle to fix the walls of the screenhouse to the leg poles. Please see a bit more in this YDYL Screenhouse manual.
When you want to take the screenhouse down, start with the leg poles, remove them one by one and then remove roof poles. Packing the tent back in the carry bag is easy even if you do this alone as I did.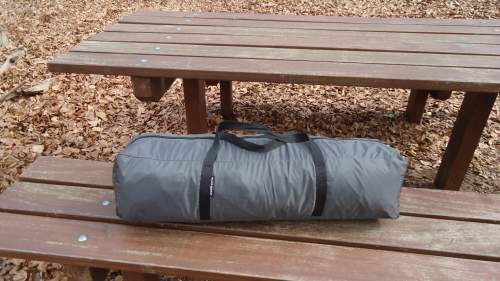 ---
Who is this YDYL Screen House for
Regarding best use & purpose, structures of this type are designed to protect you from flying insects, and they also create a sunshade. The same is here, the picture below shows the view from inside to get some feeling of how it looks.
If you have ever been on a picnic eating watermelon or anything similar, then you know how annoying wasps and flies can be. The same holds with mosquitoes. With such a shelter you are completely safe.
For the demonstration, I set it up above a fixed table that was more than 2 meters long, with two fixed benches of the same length, see it below. So you realize how big this screen house is. It can easily accommodate up to 6 people, but this may depend on how bulky your outdoor furniture is.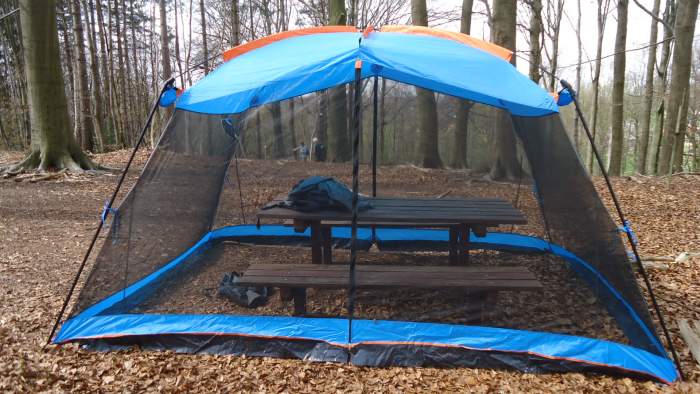 So you can use it as the pictures show, this can be at picnics or at the beach or in the garden for family events. But this is also a nice addition in the camp where you can use it as an annex for sitting or as a camp kitchen next to your main tent.
With the dimensions of 13 x 9 ft (396 x 274 cm), it is big enough to set it up even above a smaller 2-3 person tent so you can have an environment protected from insects, and you can keep the tent itself open. I am pretty sure I shall do this in the camps when I go to the mountains next summer. I shall add some pictures here later.
If you are not concerned about crawling insects, you can certainly sleep in this shelter as long as the sky is clear, but this is not its main purpose.
Regarding the weight, I measured it myself and it seems to weigh 13 lb (5.9 kg). So this is an ultralight item of this type. It may not be enough just to say this, it is best to see what you have in its closest competitors.
So compare this to Wenzel Durango Magnetic Screenhouse that weighs 19.34 lb (8.8 kg). It is even lighter than the NEMO Victory Screenhouse that weighs 16 lb 1 oz (7.29 kg) and its area is smaller, while it costs 4 times more.
The packed size is around 27.6 x 7.9 x 63 inches (70 x 20 x 16 cm). So it is a bit long but it packs better than the Nemo Victory Screenhouse mentioned above. The picture below shows that I was able to transport it even on my bicycle.
Regarding climate & seasons, this is a shelter against insects so you will use it in the warmer part of the year when there are flying insects around.
I mentioned its freestanding construction, so it is self-supporting but it is best to stake it properly to avoid problems with sudden winds. You have 10 steel stakes included, and you can stake it in the corners and also at the doors' zippers.
Guyout loops are above the doors, and you can also attach guylines to the mentioned elbow connectors. This will additionally stabilize this tall structure.
Regarding the price, as of the moment of writing this text, this is one of the best-selling products of this type on Amazon. No doubt, the excellent price is one of the reasons for this.

Specifications
Weight: 13 lb (5.9 kg).
Dimensions: 13 x 9 ft (396 x 274 cm).
Area: 117 ft² (10.85 m²).
Peak height: 6.9 ft (210 cm).
Packed size: 27.6 x 7.9 x 63 in (70 x 20 x 16 cm).
Frame: steel & fiberglass.
---
Final thoughts, rating, pros & cons
So this was my YDYL Screen House 13 x 9 review, I must say I am excited about using this screenhouse in the coming warm season. This will be primarily in the garden for our family events, but I shall also take it to the camps. I do mountaineering in summer and plan to use it together with my camping tents. Fully recommended. I have included it in my list of best screen houses for camping.
Please see how I rate this screen house, the same rating criteria are used for all of them so you can easily compare. As you realize, it stands really good.
Check in the category Screen Houses if you need more options. Note that this Texsport Wayford 12′ x 9′ Portable Mesh Screenhouse weighs almost the same but it is a bit smaller. Check also this versatile NEMO Bugout Tarp Shelter that is more suitable for hammock camping.
Let me know if you have questions, there is a comment box below. Subscribe to my weekly newsletter and stay informed. Thank you for reading and have a nice day.
Disclaimer: I have received this YDYL screen house from the manufacturer for review.