---
The CAMPROS Tent 8-Person is a freestanding tunnel type 2-room tent with one door and five windows, suitable for summer family camping.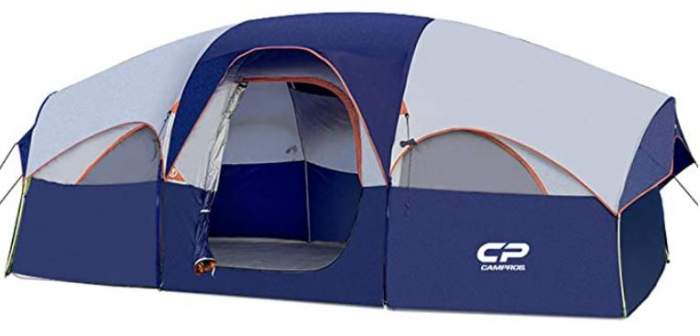 ---
Key features
Tunnel type tent.
Freestanding.
E-cable port.
Single door.
5 Windows.
Fiberglass poles.
Very affordable.
---
What type of tent is this CAMPROS 8 Person family tent
Here you have an interesting design, the tent is tunnel type with 4 poles that create the usual arches, but there is yet another ridge pole that crosses the arches and attaches to the tent at the two narrow sides of the tent. So this addition is what makes it freestanding. This pole is visible in the picture below.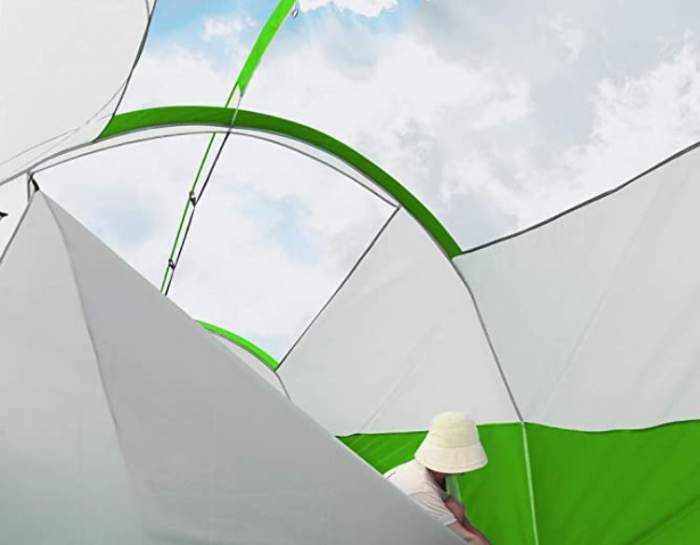 This design you can see also in several tents here in the site like this Exped Ursa VI Tent, Ozark Trail 8-Person Tent, and also MSR H.U.B. 8 Tent.
The picture above shows the removable divider. It can be hanged on either side of the tent, but not in the middle because you have the door there. This creates two asymmetric rooms. So the tent is formally a 2-room structure, but the divider is a simple curtain, so don't expect much privacy here. You can use it also a media screen.
There are 4 separate windows plus one on the door. All of them are double-layer construction with mesh and zippered panels. 
The tent is with a partial coverage fly so this allows you to have unobstructed views around. It is moderately high, the peak height is 72 in (183 cm). The tent is easy to setup, its official setup time for two people is 5 minutes. The pictures below show the main steps: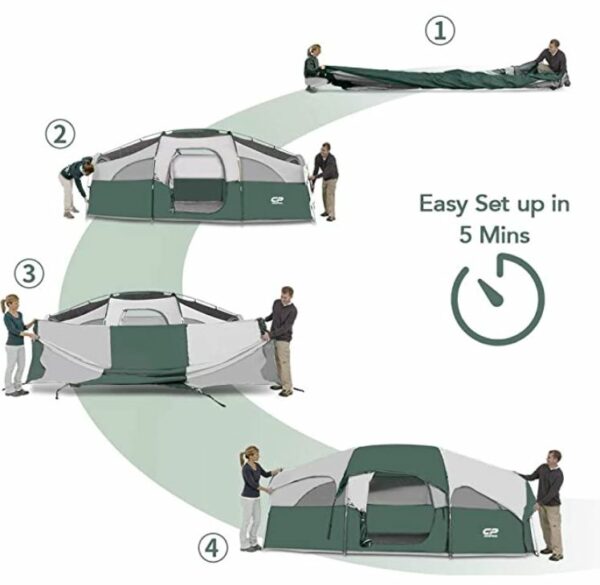 ---
Materials & other details
The poles & stakes
The poles are fiberglass with 8.5 mm diameter, and you have them 4 for arches plus one short for the brim above the door. But there is also one long ridge pole that is essential for its self-supporting feature. The usual pin and ring system is in place for connecting the poles with the tent's base.
There are 14 stakes and 6 guylines in the package to secure the tent properly to the ground.
The fabric
The fabric is a 185T polyester with 1000 mm polyurethane coating. This is a quite small value but for summer camping you do not need more. On the other hand, numerous reports by users show that this tent performs well in rain. Note that they offer 4 different colors, you can see them all in the pictures here in the text. 
There is no information about the floor material, but this is a catenary cut. The materials contain flame retardants, just to know. It meets CPAI-84 specifications.
Ventilation
This tent has plenty of mesh area, the whole ceiling is mesh, see the picture below, plus all the windows with mesh. When the sky is clear you can enjoy watching the stars.
So this looks very good, but I miss seeing floor vents. They are necessary in the case of prolonged rain when all the windows must be closed. Though the two windows on the opposite narrow sides are partially protected by the fly, so you can keep them at least partly open with mesh. This will create at least some cross-flow of the air.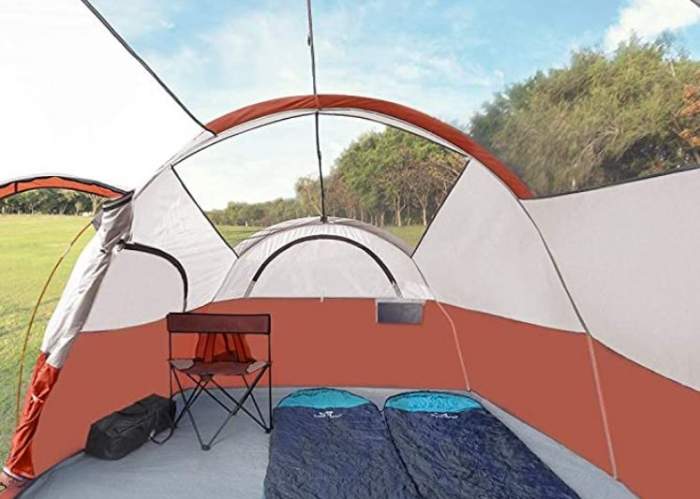 Other features
The tent has an electrical access port shown below.
There are a couple of small storage pockets on the wall, far from enough, pity they did not add them more.
There is a lantern hanging hook in the middle.
Please see more in this video:
---
Who is it for
Capacity-wise, the tent is officially for 8 people. The dimensions are 14 x 9 ft (427 x 274 cm) so it is indeed possible to place 8 sleeping pads on the ground. The area is 126 ft² (11.7 m²) and in the case of 8 users this would give 15.7 ft² (1.46 m²) per person. So this is far too small and it is best to downgrade it to 4-5 people.
Seasons-wise & climate-wise, it is surprising that they describe it as a 4-season tent, and this is repeated many times in replies to customers.
I see it as a tent for warm weather camping, so this is a tent for maximum 2 seasons, for late spring, summer, and early autumn. The roof is all mesh and this is not the best option for a cooler environment. The tent is with minimal fly and this would not last long in very windy places.
Weight-wise, with its 17.4 lb (7.9 kg) of weight, this is a very lightweight tent, its area/weight ratio is excellent.
The packed size 24.6 x 8.3 x 8.3 in (62 x 21 x 21 cm) is also very good, so you can transport this tent even on a motorbike.
Price-wise, the tent is incredibly affordable, so this is partly behind its enormous popularity. As of the moment of writing this text, the tent is one of the bestsellers on Amazon.

---
Specifications
Declared capacity: 8 people.
Weight: 17.4 lb (7.9 kg).
Dimensions: 14 x 9 ft (427 x 274 cm).
Area: 126 ft² (11.7 m²).
Area per person: 15.7 ft² (1.46 m²).
Peak height: 72 in (183 cm).
Packed size: 24.6 x 8.3 x 8.3 in (62 x 21 x 21 cm).
Made in Cambodia.
Warranty: 12 months.
---
Final thoughts, rating, pros & cons
So as you realize, this CAMPROS Tent 8-Person is a remarkable structure, lightweight, very packable, and with some specific features. This includes its freestanding design that is not so frequent in tunnel tents. It is best to ignore the official capacity and reduce it by half. Also, do not take seriously their statement about seasons, this is a summer camping tent.
Please see how I rate it, I use the same criteria for all the tents in the site and apply them consistently, so you can make an easy comparison. Have a look:
BEST PLACE TO BUY:
This site is all about family camping tents, so just look around if you need a different option, you will see them in hundreds. You might want to check also this Ozark Trail 16′ x 9′ Modified Dome Tunnel Tent which is a hybrid type as the name suggests and freestanding as well, and with the same type of ridge pole which makes it self-supporting. If you would rather have something with a screened area, check this Outbound 8-Person Tent with screen porch.
Note that I have no business relationship with this brand, and this is not a sponsored text. What do you think about this tent? Please share your views, there is a comment box below. Have a nice day.