---
MSR H.U.B. 8 Tent is a camping tent built for extreme winter conditions or for high altitudes. This is a tunnel-type yet freestanding single layer construction with a removable floor.

---
Key features
Expedition winter tent.
Tunnel type.
Freestanding tent.
Single-layer construction.
Single room.
Removable floor.
---
Where to buy
This tent is available on Amazon and the price is the same as on the manufacturer's site. So check shipping conditions, Amazon is usually the best in this respect.
---
What is in the name
The letters H.U.B. in the name mean High-Altitude Utility Basecamp, so this explains what you have here. This is a tunnel-type structure of a particular type so the tent is freestanding. This is not so frequent to see in tunnel tents, but you have something of that kind also in this Exped Ursa VI tent.
So how they managed to make it freestanding? First, the usual loop poles do not just make arcades, they cross each others. This alone makes the structure self-supporting. Second, there is also a ridge pole with two Y-shape ends that clips at the two ends of the tunnel, see the picture below. With this pole in place, the tent becomes completely freestanding.
This is also a single-layer tent, this is typical for winter tents but there are a few great double layer examples presented here in the site, see for example The North Face 2-Meter Dome tent.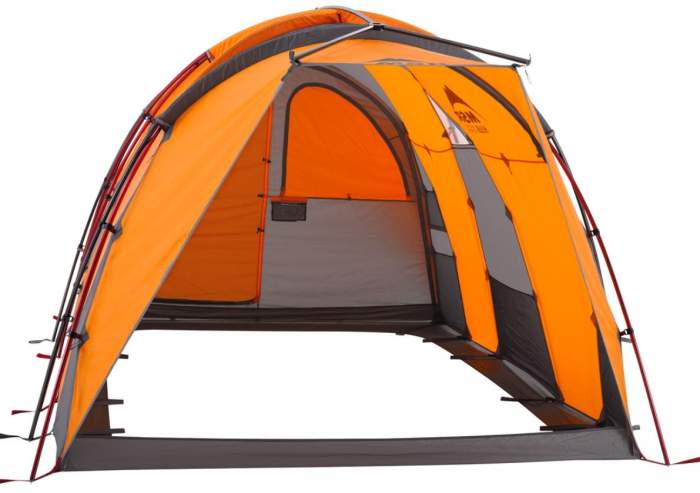 ---
Who is it for
Capacity-wise, this is a tent with the declared capacity of 8 people, but they write that it "accommodates 5-10 people, loads of gear", so let's see if this is really so and what it offers.
The area is 108 ft² (10 m²) and for such a number of users this would give 13.5 ft² (1.25 m²) per person. The picture below shows its main dimensions and the floor plan so you see that there are no vestibules to store the gear. I would say this is a tent for 4 people maximum.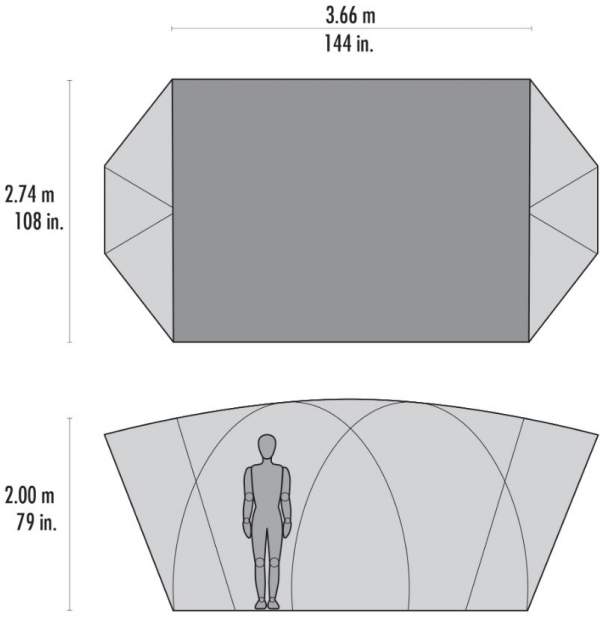 Climate-wise and seasons-wise, I already mentioned its freestanding construction, so you can pitch it anywhere, no problem if this is a rock or frozen ground. It is built for professional alpinists but it is suitable for anybody who can afford it.
This is a closed structure with zippered panels on the doors and mesh sections, so it preserves the warmth. There are 7 poles with many intersections so the structure is very strong and stable, the poles are very thick and the tent can take lots of snow on the roof.
They describe it as a tent for Himalayas, Antarctica, and similar environments. But you can remove its both walls and the floor and use it also as a (very expensive) shade in the garden for family events. This tent is in my list of best tents for winter camping.
Weight-wise, with its 49 lb (22.2 kg) this is not a light tent, but see the poles to realize why. You will see below how it compares with yet another tent from the same category, they are almost the same by weight. So this is a normal weight for such a type.
---
Materials & Construction
This HUB 8 tent is a single room structure with the doors on the opposite sides of the tunnel. Both of them can be unzipped and removed together with the vertical walls, and the idea seems to be to have a free entry if you bring in some large gear. I do not see the purpose of this feature. Note that you can zip up some other elements as a gear shed shown in the picture below, but the tent's door can still remain in place and this is better so in order to have a more closed environment.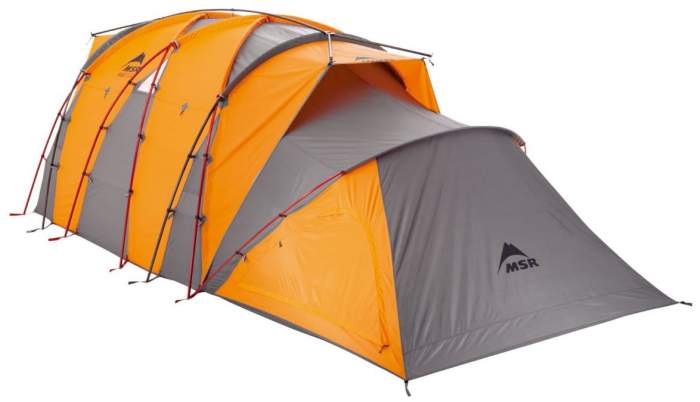 This gear shed adds 69 square feet of space and it weighs 9.5 lb. The removable vertical walls also have mesh windows with panels next to the doors, so you can regulate ventilation. But note that there are no vents. You have small awnings above both doors. On the sides of the tent you have vinyl windows, one is shown below: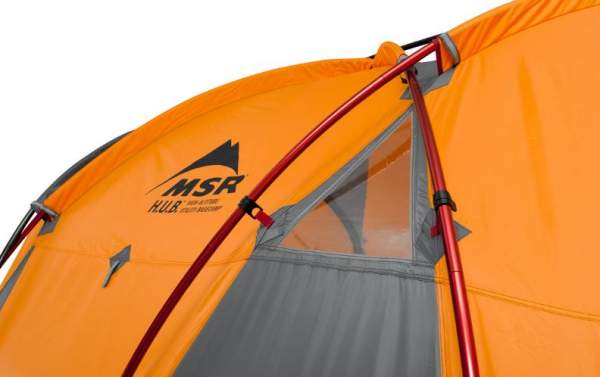 The poles
There are 7 of them, enormously thick aluminum 7000 series. I have seen a picture of a person sitting on the tent, this is how strong this structure is.
The fabric
The fabric is a bit unusual. The tent's material is stronger than the floor. The body is 150D taffeta polyester with 3000 mm polyurethane and DWR 75D polyester mesh. The floor is 70D taffeta nylon with 10000 mm waterproof rating.
Note that the floor is removable so the bottom of the tent is not sealed. So it looks like a footprint which partly overlaps with the tent's skirt that goes under it for some 30 cm or so, this is visible in the pictures above. So this is a design for snow conditions or a frozen ground more than for rain. If you are on the snow, you can dig down to get some more headroom. But note also that you have straps that connect the opposite ends of the arches, and this is what keeps the tent from spreading completely before you stake it down.
Other features
There are many very large wall pockets to store bulky items like parkas.
Packed weight and size meet the checked baggage regulations of most international airlines.
There are no stakes, guy lines or setup instructions in the package.
To set this tent up you will need two people at least, see how this is done with the basic tent's structure, observe that both vertical walls and the floor are missing:
---
Good and less good features
Here is my short summary:

Very strong.
Fully freestanding.
Very reliable.
Top craftsmanship.
Quality and durable materials.

Enormously expensive.
No stakes, no guylines, with such a price.
The price & rating
With the price of $5000, this is currently the most expensive tent here in the site. This is a tent built for experts and for extreme conditions, so the price is because of the advanced materials. But if this is above your budget, check the Marmot Lair 8 which is also a winter tent and you will have it for less than half the price. Please see how I rate this tent against the criteria used for all other tents in the site, so you can easily compare:
My rating of the MSR H.U.B. 8 Person Tent:
Area per Person -

7.6/10

Area/Weight Ratio -

7/10

Packed Size -

6.4/10

Reliability & Protection -

9.5/10

Ease of Use -

8.8/10

Comfort & Features -

8.8/10

Price -

4/10
---
Specifications
Declared capacity: 8 people.
Weight: 49 lb (22.2 kg).
Minimum weight: 48 lb (21.8 kg).
Length: 144 x 108 in (3.66 x 2.74 m).
Floor area: 108 ft² (10 m²).
Area per person: 13.5 ft² (1.25 m²).
Interior peak height: 79 in (200 cm).
Packed size: 30 x 18 in (76 x 46 cm).
---
MSR H.U.B. 8 Tent vs The North Face 2-Meter Dome
I have decided to show you these two tents side by side only because of i) the price which is almost the same, and ii) the purpose for which they are built, both are expedition and/or winter tents. But those are totally different constructions, just to know.
Vestibules area,
sq ft (sq m)
The North Face
2 Meter Dome 8
---
Summary
So this MSR H.U.B. 8 Tent is built for professional mountaineers in extreme environments but this is for anybody who can afford it. Bear in mind all its features, some of them are really specific and added because of its special purpose.

You might want to compare it with this Big Agnes Guard Station 8 which is a dome built for extreme conditions, and Mountain Hardwear Stronghold 10 Person Tent which is also a winter tent. If you need something more affordable for a cold environment, please check my long list with tents for cold weather camping.
Note that this is not a sponsored text and I am not paid by the manufacturer. Please use the comment box below in the case of questions or comments.

---