---
Coleman Instant Cabin 6 Tent with fly is a fully freestanding instant setup tent which you can make ready in 1 minute. The tent is built from very durable and robust materials, and suitable for summer camping.
---
Key features & benefits
Incredibly easy setup.
Freestanding tent.
Very pleasant and livable construction.
Durable materials.
Great price.

---
What is in the name
It appears that Coleman has several versions of this tent with very small differences. The one they sell on the EU market is with the words Fast Pitch in the name and there are some differences in the door design and in the roof. So in any case, what you have here is an instant cabin type tent with a truly express setup. You can read more about instant tents in my separate text, here to stress that this design implies that the frame is preattached to the tent in the factory, and it remains so all the time. So you just spread the tent and extend its telescopic poles.
Yet another important feature you have here is the fly, and this makes it different from their celebrated Coleman Instant 6 tent. The fly is partial coverage type as you realize from pictures so do not expect too much from it. The point is that the tent is with such great windows and the partial fly is on purpose to let you have unimpeded views. But you do not have an appropriate rain protection.
The Coleman Instant Cabin 6 is also a typical freestanding tent, so even after you attach the fly you can still move it around and rotate. Note also that this is a single room space.
---
Who is it for
Spacewise, the tent is declared for 6 people, but its area is only 90 ft² (8.4 m²). This gives 15 ft² (1.4 m²) per person if used by 6 people. This is far from enough for a real camping. So I would say this is a tent for couples or for parents with one small child. Note that there is no storage area for gear, no vestibule or porch, this is why the declared capacity cannot really work.
They also write that it can accommodate two queen size beds. This is technically correct, and you realize this if you check the Coleman Queen size bed and the dimensions of this tent. But in practice this cannot work, you would not have a free area around. A much better option with such a cabin structure is to use bunk cots, there are great Disc-o-Bed models for adults and for kids.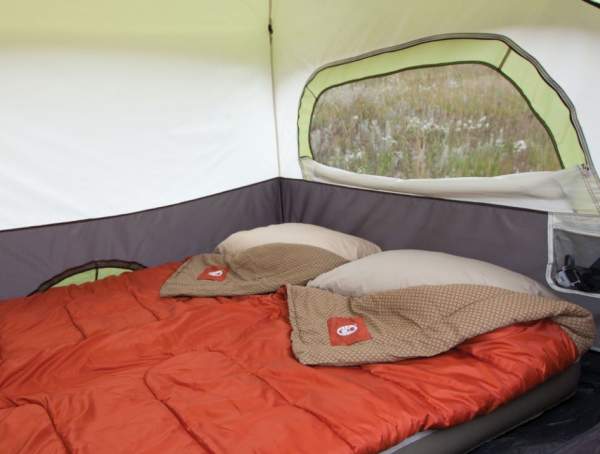 Seasons-wise, this is a very pleasant and livable tent with large windows. It is great for summer camping but do not use it if you expect lots of rain. The fly is minimal and the tent's body is far from fully waterproof.
Climate-wise, this tent comes with far less mesh than many other cabin style tents. Note that the ceiling is with vents which you can close. So such a structure keeps the warmth better than tents with mesh on the ceiling. But in a cooler environment you might be doing even better with some other models from the same brand, I would warmly recommend this Coleman Air Valdes 6XL, and Coleman Rocky Mountain 5 Plus tents, they have PVC windows and they are fully enclosed, without mesh.
Such a construction without mesh on the ceiling is also a great choice if you camp in the areas with lots of dust and sand in the air.
Weight-wise, this is a heavy and strong structure with durable materials and the weight is appropriate. So you have 21.16 lb (9.6 kg), and this you would not carry long distances. Note also that the packed size is far from impressive, it is 47.6 x 9.4 inches (121 x 24 cm). You need a car for such a rent.
---
Materials & construction
The frame
The poles are steel and they are preattached to the frame. The main difference between this tent and their famous Instant Cabin 6 is that here you have a dual-hub design. All poles are straight, there are no bends so they are not under stress and should not break. This is achieved through 6 joints which you can see in the picture.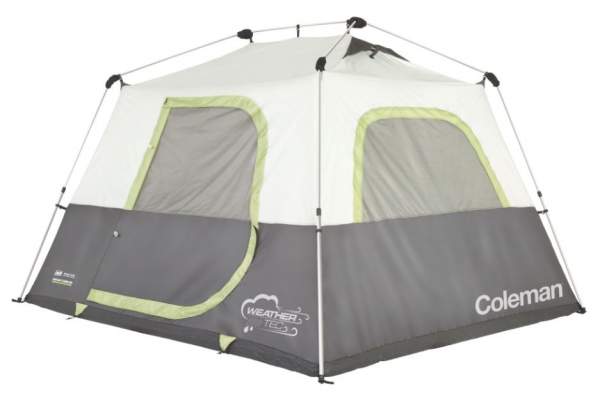 The fabric
They use what they call the WeatherTec system which is patented and implies a welded floor seams and inverted seams on the tent body to keep the water out. The fabric is a very rugged Polyguard 2X double-thick structure which will surely last long. The tent's body is a taffeta 150D and polyester mesh. The groundsheet is very durable polyethylene 1000D, yes you are reading correctly.
But the waterproofness of this tent is not so great, you have only 600 mm for the fly which is close to what you have in an ordinary umbrella, and the walls are far from waterproof.
The windows & the door
You have 3 separate windows plus one on the door. These are double layer structures, with mesh against insects and with panels for privacy. The panels are with zippers so you can keep them open at any height you want.
Ventilation
As mentioned above, the windows are with mesh and panels, so this should help cross flow in the tent. The ceiling is with its own vents (visible in the picture above) and you also have a floor vent, see the picture below. This should be a guarantee for a good vertical air flow.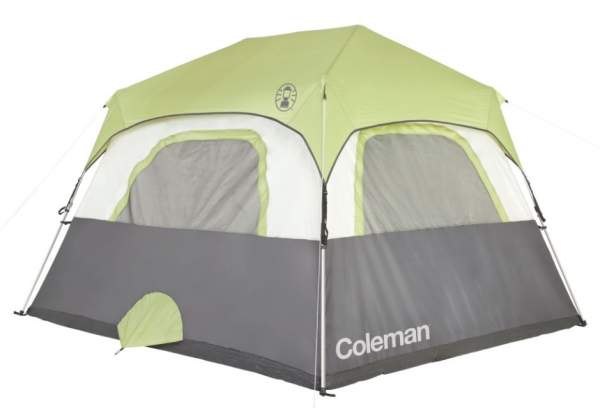 ---
Good and less good features & rating
Here is my short summary:

Easy setup.
Great price.
Very tall tent.
Large windows.
Freestanding.
Very durable materials.

No vestibules.
Only 2 pockets.
Not for heavy rains.
Single door.
Heavy.
Not great packed size.
The price & rating
The Amazon price at the moment of writing this text is $176, so this is quite amazing for such a tent. The reports by Amazon customers are very positive and the average rating is 4.3/5. See how I rate this tent for several criteria:
My rating breakdown of the Coleman Instant Cabin 6 Tent with fly
Area per person -

7.7/10

Area/Weight ratio -

7.8/10

Packed size -

6.4/10

Reliability & protection -

6.5/10

Ease of use -

9.8/10

Comfort & features -

8.4/10

Price -

9.5/10
---
Specifications
Type: freestanding instant tent.
Capacity: 6 people.
Weight: 21.16 lb (9.6 kg).
Dimensions: 10 x 9 ft (305 x 274 cm).
Area: 90 ft² (8.4 m²).
Area per person: 15 ft² (1.4 m²).
Peak height: 74 in (188 cm).
Packed size (L x D): 47.6 x 9.4 in (121 x 24 cm).
---
Coleman Instant Cabin 6 Tent with fly vs Competitors
I thought you might want to see how this tent compares with some other very popular instant tents currently available on the market. So here are two of them side by side. The dimensions are very similar, but there are some differences in the features and also in prices, so please follow the links in the table to check for updates.
Coleman Instant
6 With Fly
Ozark Trail
Instant Dark Rest 6
---
Final thoughts
As you realize, this tent is built from very durable materials but waterproofness is not its best feature. Nevertheless, if you need a tent for a desert-like dry area without rain, this is an option to consider. It is well-ventilated but it is rather enclosed and without mesh on the ceiling, so the dust will not have a free access under the fly. Also, such an enclosed space can be heated a bit if you plan to use any tool of that type. This is a great value for the money if you use it that way.

You might want to check also this CORE 6 Person Instant Cabin Tent with Awning which is built in the same style, and check also this Oxley Oztent Lite 5 Fast Frame Family tent if you would want something with a huge awning.
If you need something different in the same size range, you have a couple of options in the comparison table above. Much more you have in the category Tents for 5 & 6 people, so please have a look. Check this North Face Wawona 6 Tent which is in a different style but it offers a full protection and lots of space. This site is all about tents so just look around if you need something different.
Thank you for reading. Please use the comment box below in the case of questions and comments. Have a nice day.


---