Coleman 6-Person Connectable Tent is a unique cabin-style freestanding tent with Fast Pitch design and 4 doors. It can be connected with three other tents from this series.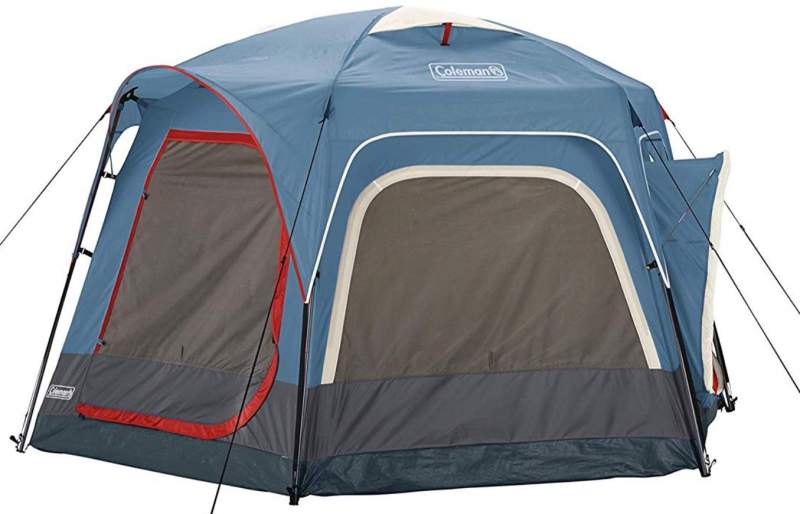 ---
Key features
Connectable with other tents of the same type.
Fully freestanding.
Cabin tent.
Fast-pitch design.
Unique system on the market.
E-cable port.
---
So what this is about
This Coleman 6-Person Connectable Tent is a part of a camping system they launched very recently. This is a quite unique tent mainly because it can be connected to 3 other tents if this type or smaller tents from this system.
In fact, there is also the Crua Core tent which is a bit similar, but this is an inflatable tent and it can be combined with three Crua Duo tents in a combination they call Crua Clan. But what you have here in this Coleman Connectable tent is something different and you will realize this below.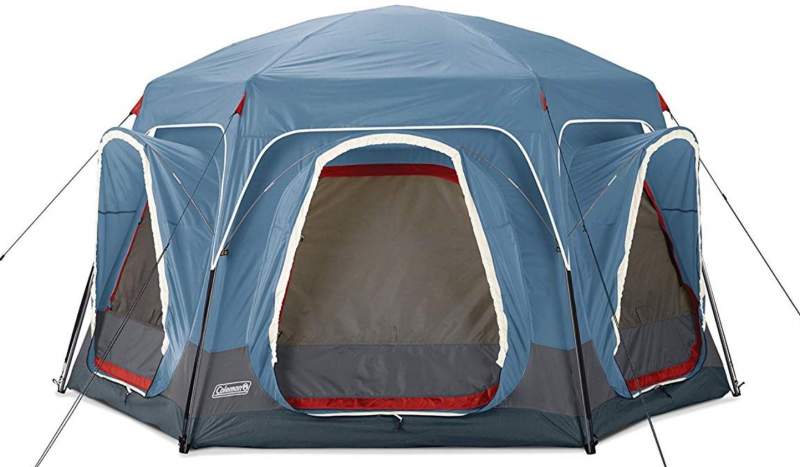 The picture above shows the back side of this hexagon-shaped tent, with 3 openings where it is possible to zip three 3-person tents or other 6-person tents. But if you use this 6-person tent alone, these openings are just beautifully designed windows with mesh and panels, and you also have small brims above each of them. So you have 4 doors in total.
But you also have 2 separate huge windows. In other words, each side of this hexagon has a window/opening on it, quite remarkable. The picture below shows the top view of this extraordinary structure, the main door with its brim is on the left. All the doors are with brims. The two white triangular sections are areas with vents underneath them.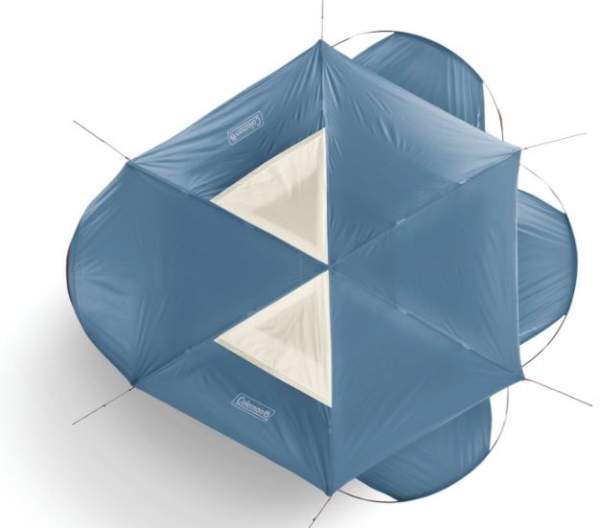 What you may realize from the pictures is also that this is a fully-freestanding design, and the tent is with a minimal coverage fly that buckles to its legs poles. So when you raise the tent, and even after you attach the fly, you can still move this tent around and rotate. But you have 12 stakes in the package (low quality though), and guylines to stake the tent to the ground.
This is a tall tent with 76 inches (193 cm) peak height, this together with all the mentioned windows make it incredibly pleasant, see the picture below. When used on its own, this is a single room structure.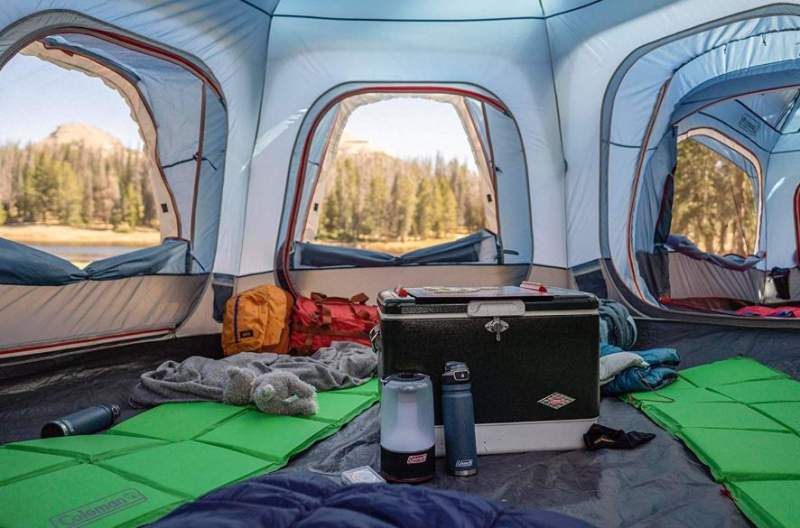 ---
Who is it for
Space-wise, the declared dimensions are 12 x 10 feet or 144 x 120 inches (366 x 305 cm). These dimensions are supposed to be vertex to vertex and side to side, respectively. The problem is that a regular hexagon cannot have such measures at the same time. If you take the first number you get the area 8.7 m², and if you get the second number the area is 8 m².
So they have been a bit careless with numbers. I guess for most people this is irrelevant, but I am a theoretical physicist by profession so I take numbers seriously.
Anyhow, I shall take an average value of 90 ft² (8.4 m²) as the true area and this means 15 ft² (1.4 m²) per person. So this is not a lot of space but indeed there is enough space to put 6 sleeping pads on the ground. For a real family camping, it is best to downgrade this number to 3-4 people maximum. Officially, the tent can accommodate two queen size beds.
Climate-wise & season-wise: They claim that the tent has been factory tested to withstand winds of 35+ mph, so this is a lot and from such a renown brand I would take this as granted. But this is a tall and boxy structure designed for comfort and not for extreme conditions.
They do not provide any official statements about the waterproof rating. I would not expect much because of so many zippers and such a minimal fly. However, reports by users suggest that the tent will indeed keep you dry. I would still avoid camping in areas where heavy rains are expected for an extended period of time.
Weight-wise, with its 28 lb (12.7 kg) of weight, this is a heavy construction. But this is not surprising when you see its 6 thick steel legs poles and so many fiberglass poles on the roof and above the windows. This is a camping tent, so the weight is a secondary thing here. You will not carry this tent long distances in any case.

---
Materials & construction
The Fast Pitch
I already mentioned this term a few times, so if you are not familiar here are a few words about it. You can see this system in many tents by Coleman, check for example their Tenaya Lake 8 tent. This system includes the roof poles that are shock-corded and preattached to the top hub element.
You also have fast-fit feet and snag-free Insta-Clips as a part of this system. So this is not an instant-setup tent, but this design makes the setup much faster and easier.
The poles
So the poles package includes 6 legs poles made of steel, plus 6 interconnected fiberglass roof poles, and 4 separate fiberglass brim poles that create small brims above each of the doors. The steel poles are very strong and thick, those fiberglass are standard and they need a bit of care as usual.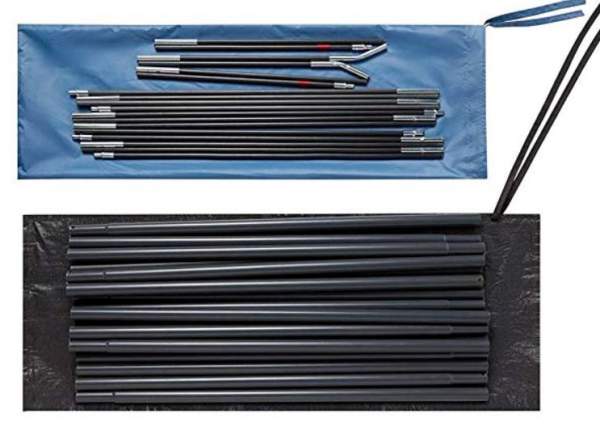 The fabric
As usual with Coleman tents, they do not provide detailed information about the fabric. But the upper tent's body and the fly are polyester, while the floor is polyethylene with welded seams. There is no info about the waterproof rating, the only info is about the Coleman's Weather Tec system, and this implies inverted seams and some PU coating.
Ventilation
The ceiling is all mesh, and all 6 openings are with mesh and panels. The fly is with two vents, so almost all the features are in place. I miss seeing some floor vent, it is necessary if you have to keep all the doors and windows closed due to some extended rain.
---
Specifications
Declared capacity: 6 people.
Weight: 28 lb (12.7 kg).
Dimensions: 144 x 120 in (366 x 305 cm).
Area: 90.4 ft² (8.4 m²).
Area per person: 15 ft² (1.4 m²).
Peak height: 76 in (193 cm).
Frame: steel & fiberglass.
---
Coleman 3-Person Connectable Tent
In this site, I present only the tents with the declared capacity of 5 people and more. But this 3-person capacity tent is an exception because of its features which allow it to be connected to the 6-person tent to create a 9-person tent bundle.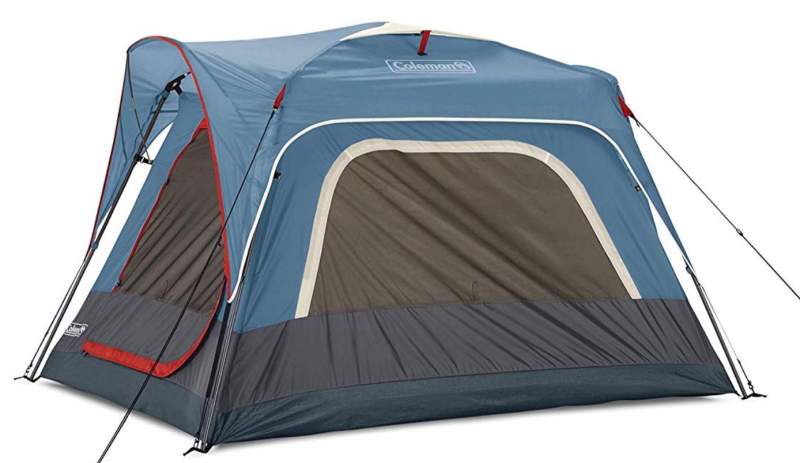 The picture above shows the main front door and one out of two side windows. Observe the brim above the door, and see also the vent on the fly. The fly is partial coverage type and this is why you have views through the openings on all the sides.
So this tent is rectangular and this makes it different from the 6-person tent presented above. The picture below is the top view so you get the idea about its shape. The white triangular shapes on the fly are the areas with two vents, so you have a very good ventilation here and vents to fight condensation.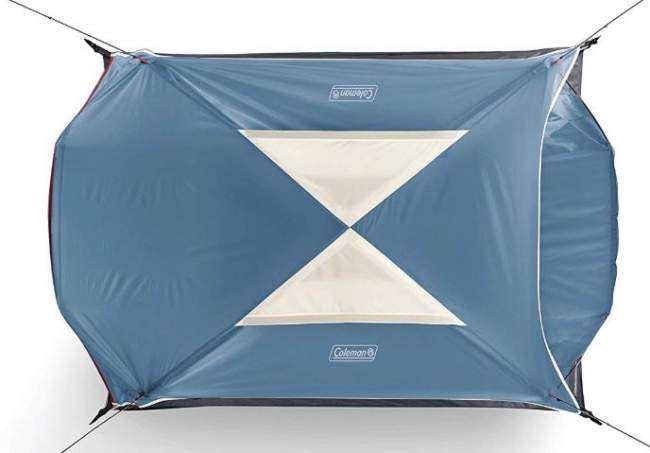 Here again you have a cabin style tent with openings on all sides. It is included in my lust of Coleman 6 person cabin tents.
The picture below shows its strong freestanding frame, you have 4 steel legs poles and 2 roof poles. This is again the Fast Pitch frame design similar to the 6-person tent presented previously above.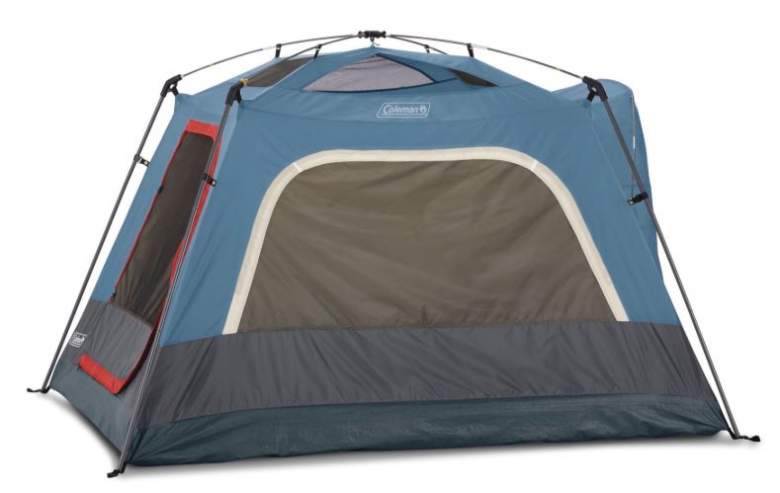 The openings include:
The door on the front.
Two side windows.
The opening on the rear side which can be used as a door when you use this tent on its own, or you can zip it up to the 6-person tent (there will be more below). This rear side entry point is shown in the picture below. Observe that here again you have a brow pole which creates a small awning that protects the door and serves also to create a corridor when you connect it to the 6-person tent.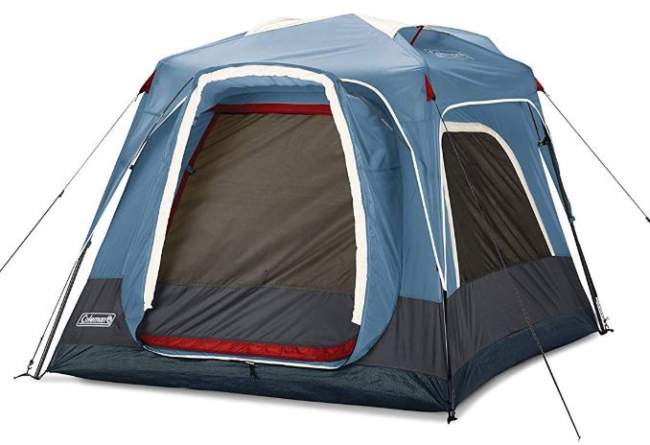 All these openings are double-layer structures, with mesh and with zippered panels, so this is really a nice and functional design.
Specifications
Declared capacity: 3 people.
Weight: 15 lb (6.8 kg)
Dimensions: 8 x 6 ft (244 x 183 cm).
Area: 48 ft² (4.46 m²).
Area per person: 16 ft² (1.5 m²).
Peak height: 57.6 in (146 cm).
So from these numbers it is clear that that the tent has enough place for three sleeping pads. But for a real camping on its own, this is a person for two people.
Regarding the seasons and climate, the same holds as for the 6-person tent, this is a nicely designed cabin tent for 2-season camping. Ventilation is very good, you have mesh windows and doors on all four sides, and in addition to this the ceiling is mesh, and the fly is with two vents. Clearly, it is heavy to be carried anywhere, so this is a tent for car camping. The picture below shows how it looks when connected to its bigger 6-person cousin: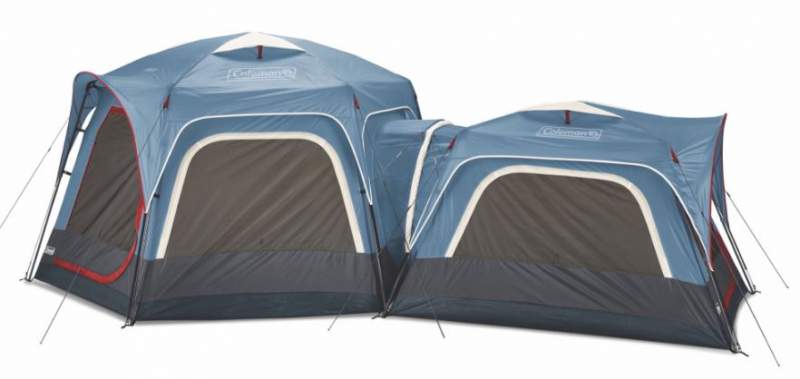 ---
Coleman 3-Person & 6-Person Connectable Tent Bundle
So you have seen all the features of the 3-person and 6-person tents. I have mentioned many times that they are designed to be connected together, so now a few words about such a setup.
The picture below shows one possible combination with two 6-person tents and four 3-person tents. But in fact, there is no limit here, you can connect as many of these tents as you want. So this is a great option for large families and also for groups of friends. When you need it, each of the units can be used individually on its own, or combined in various ways with the other tents from the family.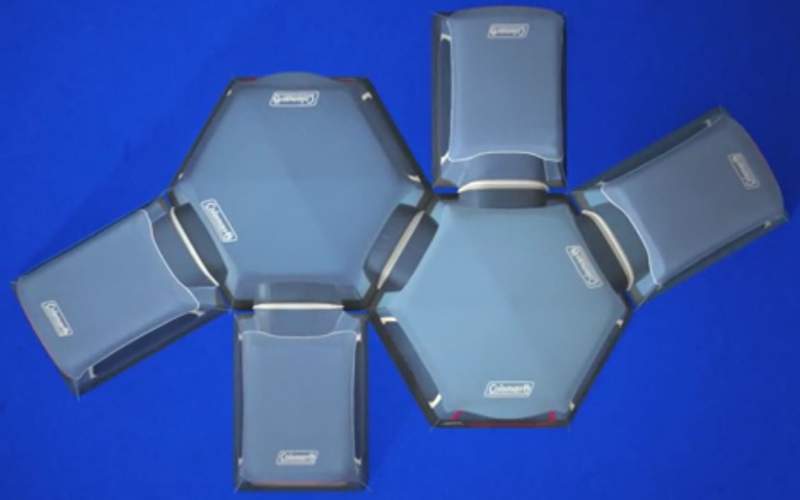 The 3+6 person bundle is available on the same links given here in the text so you can order it. Note that this is a heavy item but you have a carry bag with wheels so moving it in the camp should not be a problem.
The picture below shows the 6-person tent connected with two 3-person tents. This is a 12-person setup for parents with kids or for two couples so that everybody has privacy. More privacy you cannot find in a tent.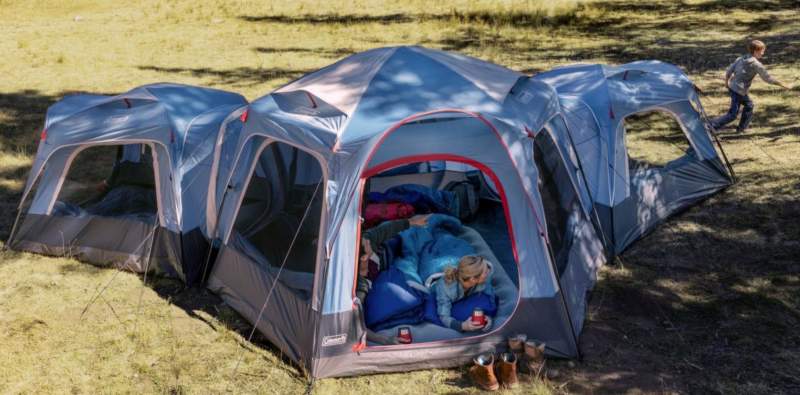 ---
Concluding remarks, rating, pros & cons
In the summary of this Coleman 6-Person Connectable Tent review, I can only stress that I am very impressed with its original features and its functionality. This tent allows you to grow its capacity by adding more and more other tents from this family to create a whole village of tents interconnected with those short corridors.
So this is an excellent option for a growing family or for a group of friends. There is nothing on the market that can match its unique features. It offers endless possibilities for combination with other tents from this series. I have added it to my list of best connecting tents for camping. The tent is also in my list of best Coleman 6 person family camping tents.
Now, in spite of such positive words, please see how I rate this tent, not all the parameters are so great, but the overall impression about this tent is indeed very positive:
If you would want something totally different but for the same declared capacity of 6 people, please check this Marmot Guest House 6-Person Tent which is an extended dome with a huge area, and also this TOMOUNT 6 Person Tent which is also a cabin with steel poles.
Note that this not a sponsored text and I have no business relationship with the brand. What do you think about this tent? Any experience with it? Please share your thoughts, there is a comment box below.