---
In this text, I give a list of 25 Best 8 Person Tents For Camping, all built in different styles, so the list gives something for everybody's taste. All tents are from well-known brands.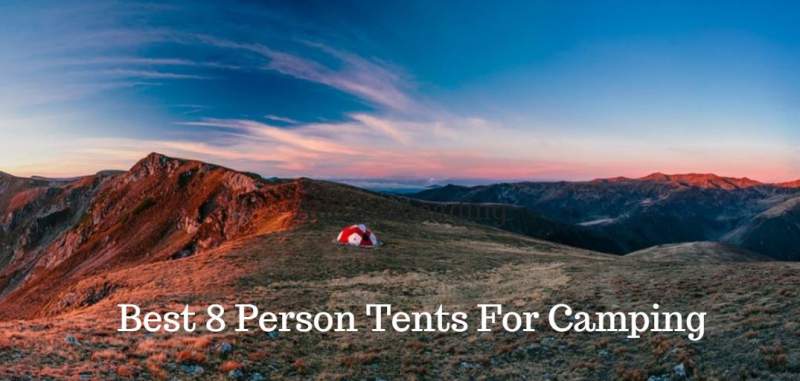 ---
My list of best 8 person tents for camping
The tents in the list are ordered by the floor area, from the biggest to the smallest, so if this parameter is essential for you, it is easy to choose.
The list includes a variety of designs and styles. So you have representatives of extended dome style tents, cabin tents, instant cabin tents, screened-room cabin type tent, canvas tents, and air beam tents.
---
1. Eurohike Buckingham Elite 8 Man Tent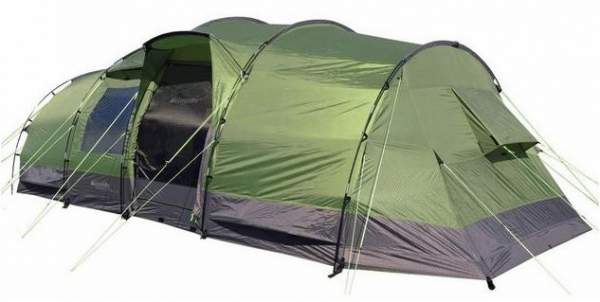 The Buckingham Elite 8 is a 5-room tent with the declared capacity of 8 people and the floor area of 249 ft² (23.1 m²). So this is plenty of space for such a number of users, and if needed the tent can accommodate a few more people in the large living room.
The design used here includes dark materials so the tent is formally in the group of dark rest tents. The waterproof rating is very good, you have 3000 mm and this is enough for any weather situation in a 3-season use. The tent is tunnel-type with fiberglass poles and it comes with 2 entry doors and 2 PVC windows. The floor is fully sewn in and sealed, the doors are with mesh as the second layer, so the tent offers full protection against elements and insects. Please follow the link to read more in my full review.

---
2. Vango Stanford 800 XL Tent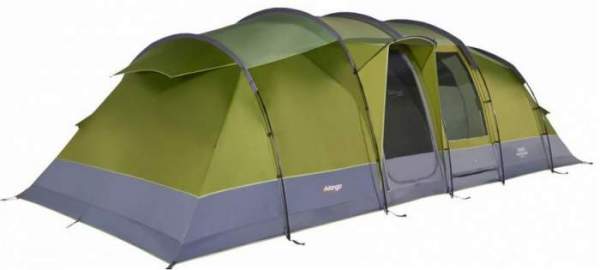 The Stanford 800 XL is a 5-room tent with the declared capacity of 8 people. But see its floor area of 227 ft² (21.1 m²) which then implies 28.4 ft² (2.6 m²) per person. So this is lots of space for a family camping and lots of possibilities for privacy in the camp.
The tent is with solid PVC windows and with an impressive 4000 mm waterproof rating, so this is a very reliable structure for a 3-season use.
The tent is also with what they call lights-out design. This includes the inner tents built from a darker material so the morning glare is considerably reduced and you can sleep longer. As you realize from the picture, the tent is tunnel type, the poles are fiberglass, and it also comes with Vango's tension band system which adds extra stability in adverse conditions. Please see more in my full review.

---
3. Eurohike Buckingham 8 Classic Family Tent
The Buckingham 8 is an incredibly versatile tent with the declared capacity of 8 people. But it offers 21 square meters of the floor area, and this is a structure with 5 rooms.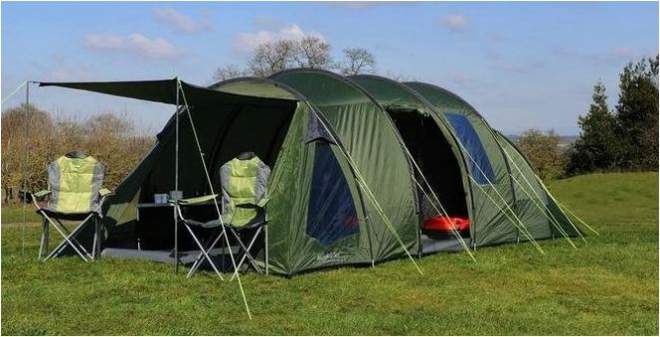 The tent has three inner tents within the external shell, so you can use them in various ways and you can remove them as well. There are 4 large panoramic PVC windows, and the tent has 3 external doors and each of them allows for an awning configuration.
There are many storage elements inside and many vents both at the floor level and close to the roof. The floor of the main tent is fully removable and you can use this structure as a shell tent for family events in the garden. Please see more in my detailed review.

---
4. DANCHEL Cotton Bell Tent with Two Stove Jacket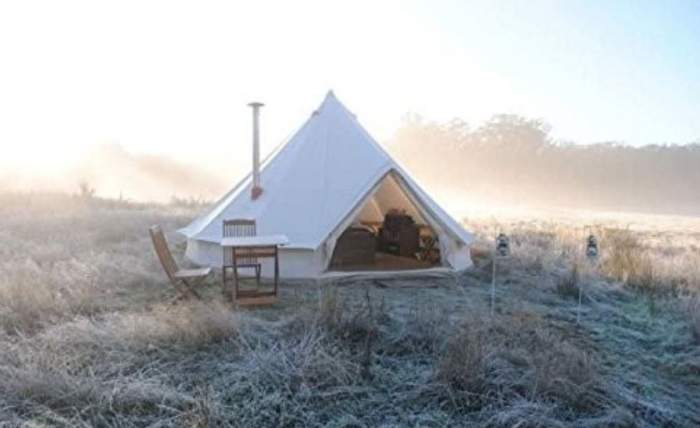 This is a canvas tent with a 5-meter diameter and 8 people declared capacity by the manufacturer. The area is 216 ft² (20 m²) and this is indeed enough space for such a number of users.
The tent is nicely designed and it offers a full protection from elements in 4 seasons. For such a big tent, the setup is easy and one person can pitch it without problems. It comes with 2 stove jackets so you can use a wood stove inside.
You have 4 zippered windows which are with mesh against insects and the floor is with a long zipper that goes around so you can unzip it and use the tent as a beautiful canopy in the garden.

---
5. Teton Sports Sierra 16 Canvas Tent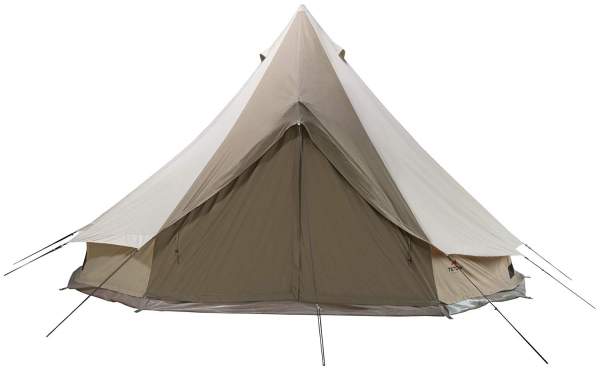 The Sierra 16 is officially a tent for 8 – 12 people. But I have included it in this group because 8 people sound far more realistic than any bigger number. The number 16 describes the diameter, so this means you have around 200 ft² (18.6 m²) of the area. This is a circular structure and very tall in the central area where you have a single pole.
This is a canvas tent and they claim it is fully waterproof and suitable for all seasons. It is also suitable for all climates. You have a double door and 4 windows. All these openings are double-layer structures with mesh and with canvas panels but the floor is synthetic. Note that the tent is heavy, 74 lb (33.6 kg). Please follow the link for more.

---
6. Vango Odyssey Air 800
This is an exceptional design, a tent without metal poles, supported by air beams. You have 200 ft² (18.59 m²) of the floor area and the tent has 5 separate rooms.
This tent is built without mesh so you have windows with PVC panels. The central sitting area is large and with two doors and two windows, and on the sides you have two sleeping areas. Those are tents within the external waterproof tent, and each of them is with 2 internal doors, and with one divider. So the sleeping area has 4 separate units.
The tent is true 3-season type tent with an impressive waterproof rating, and it is very suitable for a cooler environment. This is why I have added it to my list of tents for cold weather camping.
Key features
Air beam technology.
5-room tent.
Floor area:
– Sitting area: 78 ft² (7.25 m²).
– Sleeping areas: 122 ft² (11.34 m²).
– Total area: 200 ft² (18.59 m²).
Area per person: 25 ft² (2.32 m²).

---
7. Coleman Red Canyon 8 Tent
The Coleman Red Canyon 8 is a tent with an impressive floor size. So you have 170 square feet here (15.6 m²), and you can be sure that you have enough space for 8 people.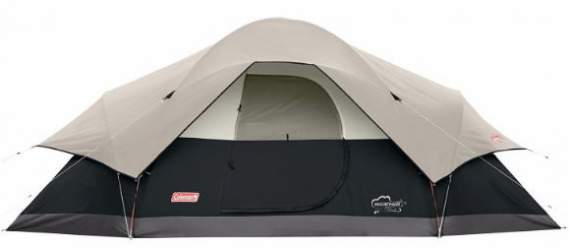 Here you have a typical 3-season tent, and this implies that you have an inner tent and the fly, and it is with a lot of mesh for ventilation and a free air flow. But I would not use this tent in very harsh conditions.
From the technical side, this is an extended dome style tent. This means you have the main dome which is extended on its sides and those extensions are supported by 2 extra poles.
Note also that the tent is not freestanding. So, to have it properly set up, it is necessary to stake it to the ground.
Key features
Truly huge space.
3 rooms in total.
Great ventilation.
Great price.
Great packed size; 25.6 x 11 x 10.2 inches (65 x 28 x 26 cm).
Great weight, only 22.4 lb (10.16 kg).
Great area/weight ratio, the best of all the tents here.

---
8.  Wenzel 8 Person Klondike Tent
The Wenzel 8 is a cabin-style tent with high and straight steep walls in the main room, so you can put any bunk beds in such a room and save lots of the floor area.
The tent is with a screened room which is a real room with a floor, so you have two separate rooms here with a door between them.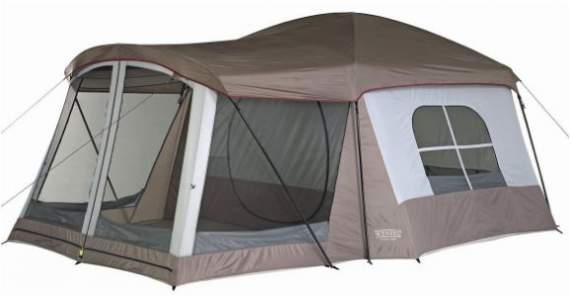 From the technical side, this is partly a dome style tent, with the roof in the main room that looks like an ordinary dome tent's roof. So you have a combination of the cabin and dome design here.
The tent is not freestanding, so you have to stake it to the ground. This is also a summer-tent and I would not use it in the areas with a lot of wind and rain. The whole structure is a bit loose and does not work well in the wind.
The tent is a lightweight, 27.3 lb (12.4 kg), and here you have one of the best Area/Weight ratio, which is 1.2 m²/kg, second only to the Coleman Red Canyon presented above. For most tents in this size range, this number is well below 1.
Key features
Very large floor area, so you have 98 square feet in the main room + 60 square feet in the screen room (9.1 + 5.6 m² = 14.7 m²).
Two rooms.
Very pleasant and livable tent.
Non-freestanding.
Great price.

---
9. Browning Camping Big Horn Tent For 8 People
This is a freestanding tent, so you can easily pitch it on any terrain. But note that the steel stakes and guylines are included in the package, so use them when possible. This is also an incredibly tall tent with 87 inches (221 cm) peak height.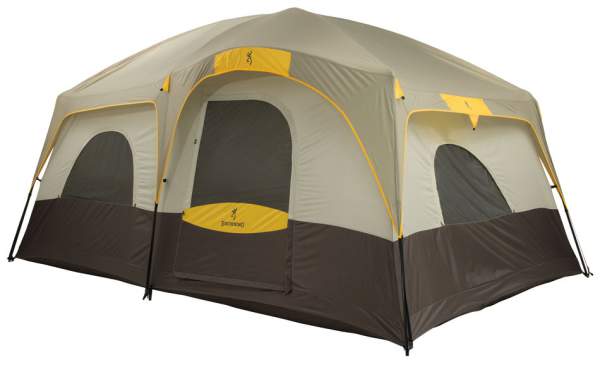 The tent is also in the group of cabin-type tents. This implies that all its walls are straight and nearly vertical so you have lots of volume, and if you have bunk-cots you can easily use them here.
This is also a standard family camping tent, which means not a tool to be carried around. It is quite heavy, 34.69 lb (15.73 kg).
You have a 3-season tent here, with a lot of mesh on the ceiling and with huge windows. It comes with a fly but it is rather minimal by design, it is there only to protect the roof. But no worry, you have waterproof panels on all openings.
Key features & benefits
Very good area, 150 sq ft (13.9 m²).
Great packed size; 30 x 12 inches (76 x 30 cm).
Easy setup.
6 windows in total.
2 doors.
Incredibly affordable price.

---
10. Kodiak Canvas Flex-Bow Deluxe 8-Person Tent
This tent is in the list because of its exceptional design and extraordinary features. As the name suggests, this is a canvas tent. This implies a lot, many great and less great features. As you can imagine, the tent is heavy. Indeed, here you have 79 pounds (36 kg). You can see a bit more about the tent materials in my separate text and you will get some idea about the canvas as compared with the other synthetic tents shown above.
This is a rugged canvas structure which can be used in all seasons, so this is the only tent of this type here in the list.
The canvas is soft and pleasant and it doesn't make the flapping sound in the wind like all other synthetic tents in the list. But in a stormy weather, it is a bit less livable because there is no fly or vestibule. However, you have a nice awning which can be kept open even when it is raining, see the picture above.
It is nicely suited also to desert camping because the canvas will keep you much cooler inside than any other tent given here.
This is a very expensive tent as you will realize from the link below. But this should not be a surprise, this is a very nicely crafted tent with exceptionally durable materials, built to last for many years.
This tent has received incredibly good reviews from users. On Amazon, the average rating for this tent is 4.8/5, based on more than 180 reports. This is something rarely seen.
Please see a bit more about this tent in this short video:
Key features
Super durable.
The best quality materials are used in its construction. You have canvas tent body, polyester-reinforced vinyl with welded seams on the floor, and sturdy steel poles.
Far better insulation than any synthetic fabric tent.
Floor area: 140 ft² (13 m²).
Height: 6 ft 6 in (198 cm).

---
11. Springbar Highline 8 Tent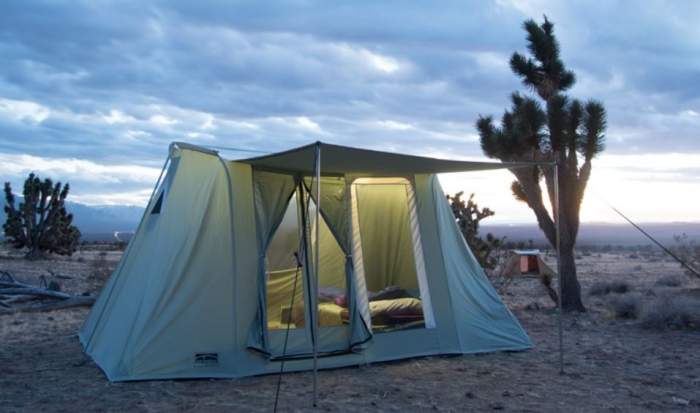 The Highline 8 is yet another from the group of canvas tents, and this is such a design that you can use it in all climates and in all seasons. Only the floor is synthetic. So this is a very breathable and pleasant structure, very tall and with great windows. The tent is heavy yet the design is clever so the whole structure is supported by only two leg poles on the side. The roof is a special construction with several steel poles and rods.
The area is 140 ft² (13 m²) and the declared capacity is 8 people, this is why it is in the list here. Note that it weighs 84 lb (38 kg) and it is rather bulky with its packed size of 43 x 13.5 x 13.5 inches (109 x 34 x 34 cm). But these numbers are quite typical for such canvas structures. Please read more in my full review.

---
12. White Duck Outdoors Family Explorer Basic 10 x 14 Canvas Camping Tent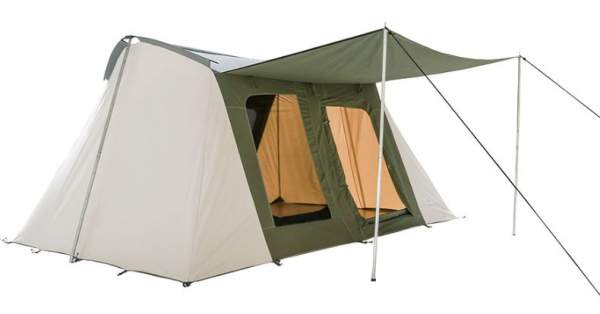 This tent is here because of its declared 8-person capacity, and its dimensions are exactly the same as in several tents above. So you have 140 ft² (13 m²), and it weighs 86 lb (39 kg). This is a single room structure and everything is canvas except for the floor which is synthetic. All the poles and rods are steel and this is a very durable construction for all seasons. The canvas is fully breathable because they did not apply any waterproof coating.
The tent's peak height is 78 inches (198 cm) and you have two large and tall doors and both are with large mesh windows, but there are two separate mesh windows as well. Note that the canvas roof is silver-coated for heat reflection to stay cool in a warm environment. Please follow the link for a more detailed information.

---
13. Coleman 8 Person Instant Camping Tent
The reason for having this tent on the list is that this is an instant setup tent. So if you are on a cross-country tour and have to set the tent up and take it down frequently, this is a tool for you. The poles are pre-attached to the tent, so you just unfold it and extend the telescopic poles and the tent is ready. Many more tents of this type you can see here.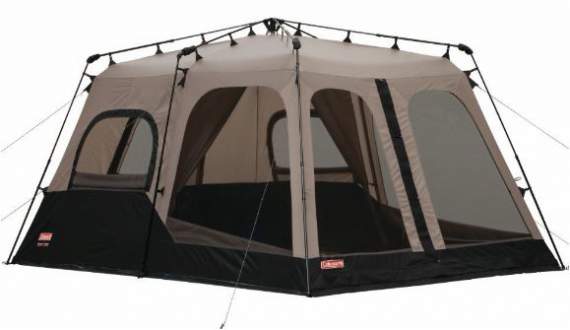 This is also a cabin-type tent with all the great features that come with it. So the walls are very steep and straightened, and it is almost two meters tall.
Yet another peculiar feature is that this is a single-layer type with a built-in rain fly. So the setup is easy, but bear in mind that you do not have a mesh on the ceiling as in some other tents presented here. This means that the ventilation is not the best if you have to keep the window panels closed in the case of rain.
This tent is freestanding so you can pitch on any terrain, and you can even move it around or rotate when it is set up. But stakes and guylines are included.
Key features
Very easy setup even for one person.
Great price.
Built-in rain fly.
Freestanding tent.
7 huge windows.
2 doors.
2 rooms.
Floor area: 140 ft² (12.9 m²).
Very tall tent, 77 inches (1.96 m).
The tent is quite heavy, 36.3 lb (16.5 kg).

---
 14. Wenzel Vortex 8 Person Tent
Here you have yet another tent with inflatable beams instead of classical poles. The shape is tunnel-type so you have the beam arches which support such a structure.
The inner area can be divided into 2 rooms with a removable divider. The tent is built as a single-layer, so I see it as better suited to a relatively cooler environment. The declared capacity is for 8 people, but as usual, downgrade it drastically if this is about family camping.
The tent is not freestanding, and its packed size is truly great for such a big tent.
Key features
AirPitch technology – no metal poles.
Quick inflation and deflation.
Capacity: 8 people.
Weight: 22 lb 13 oz (22.81 lb, 10.35 kg).
Dimensions (L x W): 15 x 9 ft (180 x 108 in; 457 x 274 cm).
Floor area: 135 ft² (12.5 m²).

---
15. Eureka Copper Canyon Tent 8
This Copper Canyon 8 offers the floor area of 130 ft² (12 m²). This is a very typical cabin style tent with tall and straightened walls. Note that the apex is 213 cm, so the structure is very livable and pleasant.
There are 2 entry doors and 6 windows in total. The inner structure is with a removable divider, so you have effectively 2 rooms and each with its own entrance.
The waterproof rating is 1200 mm, quite normal for such a design and style. This is a tent for summer camping and to be used at places without much wind and rain. Please read more in my review.

---
16. EXIO 8-Person Compact Backcountry Tent
The EXIO 8 Tent is a full-coverage fly type tool which will protect you in any weather conditions in a 3.5-season use. This is a very reliable and nicely packable tent, lightweight enough to be carried in the backpack. Its elements are packed in separate sacks and they all are stored in the main burrito-style carry bag. So the content can be shared among the users.
The tent offers the floor area of 11.31 m² (121.7 ft²), and in addition to this, you have a vestibule with the 20.7 ft² (1.92 m²). It is hard to believe, but this all packs into 22 x 11 inches (56 x 28 cm).
You get a bonus footprint with this tent, and also a gear loft. The features which I also want to stress here are numerous pockets which you have inside for organization, and the vents on the fly, in total 6 of them, see the picture.

---
17. Coleman Octagon 98 Full Fly Tent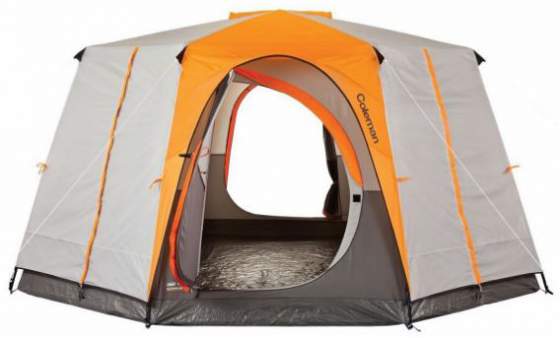 As the name suggests, this is a full coverage fly tent and the cabin style, so you have a full protection from the elements. Users' experience with this tent so far only confirms such a statement.
The tent is octagonal by shape and it comes with a divider. In such a configuration you have 2 rooms and each of them has its own entry door. Note that one of the doors is the hinged type. The tent is freestanding and with steel poles. The fly has two awnings above each of the doors, so you can keep the mesh openings on the doors open even when it is raining.
Key features
Full coverage fly.
Hinged door.
2-room design.
2 doors.
Weight: 49.3 lb (22.4 kg).
Diameter: 13 ft (4 m).
Floor area: 122 ft² (11.3 m²).

---
18. Coleman Tenaya Lake Fast Pitch 8 Person Tent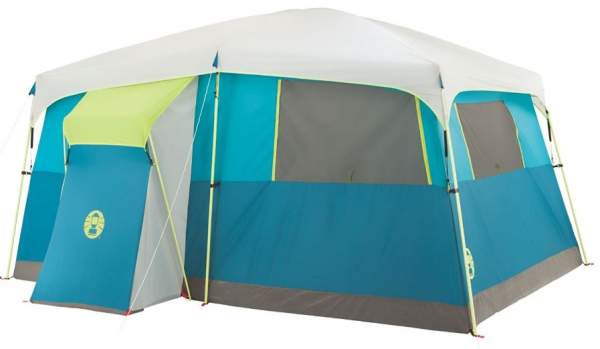 The Tenaya lake 8 tent comes with several specific features. One of them is visible in the picture above, so this is a closet on the back side of the tent. You also have a hinged door here, and the tent is so-called fast-pitch design with roof poles pre-attached to the hub element.
The tent is formally for 8 people but the floor area is very modest, you have only 117 + 4 ft² (10.85 + 0.37 m²) which gives 15 ft² (1.4 m²) per person. This is a tent for summer camping and for a warmer climate. Please read more in my full review.

---
19. Eureka Tetragon HD 8 Tent
This Eureka Tetragon HD 8 Tent is a freestanding structure with a partial coverage fly, a dome construction which has a removable divider so you have 2 rooms. This is not so frequent in dome tents. In addition, each of the rooms is with its own door and window, you can see them in the picture above.
The poles are fiberglass and they create a very stable and simple X-shaped structure which is with 76 inches (193 cm) peak height. The tent provides 120 ft² (11.2 m²) of the floor area and the official capacity is 8 people.
The fly, the walls, and the floor are all with 1000 mm waterproof rating. In view of this and the fly design, I think this tent is best suitable for mild weather situations and for summer camping.

---
20. Kelty Trail Ridge 8 Tent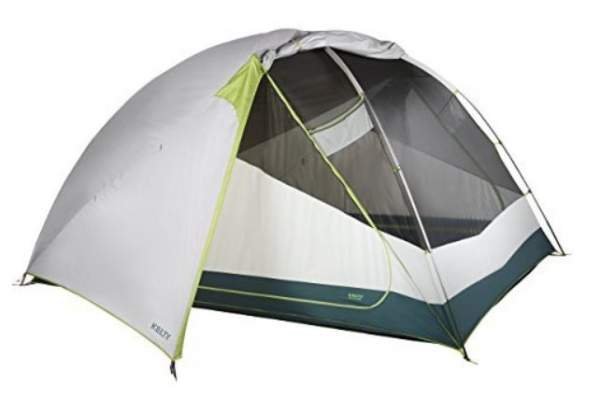 The Trail Ridge 8 is a very typical dome-style tent with just two main poles that create the X-shape structure, plus a short brow pole. But this is a huge tent with the peak height of 77 inches (196 cm). The tent offers 120 ft² (11.2 m²) of the inner area, but there are 2 vestibules that add 23 + 23 ft² (2.1 + 2.1 m²). So the total protected area is 166 ft² (15.4 m²).
This is a very reliable tent with a full-coverage fly and with a decent waterproof rating of 1800 mm for the fly and the floor. Note that it comes with a footprint included. Please read more in my full review.

---
21. NTK Savannah GT 8 to 9 Person Tent
This Savannah 8 tent is quite unique here and you realize this from the picture above. It shows the inner dome tent which is a simple structure with two fiberglass poles. But you see also the tarp which serves as a fly and it comes with 4 extra steel poles, so you can create various configurations with the tarp and even use it separately.
The inner area is not particularly big for the 8-person declared capacity. So you have only 120 ft² (11.2 m²) and this is why the tent is so low in the list. The waterproof rating for the fly is 2500 mm and this is good enough for most situations out there. But this is a tent for calm weather conditions without much wind. Please follow the link to read more.

---
22. Marmot Limestone 8 person tent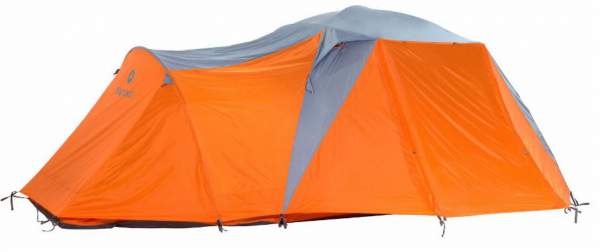 Here you have an extended-dome type truly 3-season tent built from top quality materials. This is a very reliable camping tent which will definitely keep you dry and safe. The tent is a 2-room type, so you have a removable divider which creates a small extra sleeping room in the extended section.
The fly is the full-coverage type and it creates two asymmetric vestibules where you can create lots of your camping gear and it will be fully protected.
Key features
True 3-season reliable tent.
2 doors & 2 vestibules.
2 rooms.
Many pockets for storage.
Floor area: 119 ft² (11.06 m²).
Peak height: 76 in (193 cm).
Vestibules area: 27 ft² + 18 ft² (2.5 m² + 1.7 m²).

---
23. Coleman Montana 8 person tent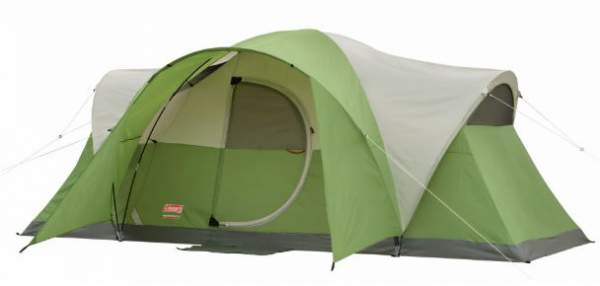 This is an extended dome tent, with extensions on both sides. Such a structure makes it non-freestanding. The inner space is all one single room.
One of the best features of this tent is its hinged door created by two extra poles which you put in the sleeves on the door so it opens like your door at home.
The tent is nicely designed but its floor area is rather small for the declared capacity. I would reduce this number by half and in this case, you will have a very comfortable tent for mild weather camping. Note that its price is without a match, only around $90.
Key features
1-room tent.
Hinged door.
E-Port for electrical power.
Front awning.
Floor area: 10.4 m².
Peak height: 6 ft 2 in (74 in; 188 cm).

---
24. Timber Ridge 8 Person Family Camping Tent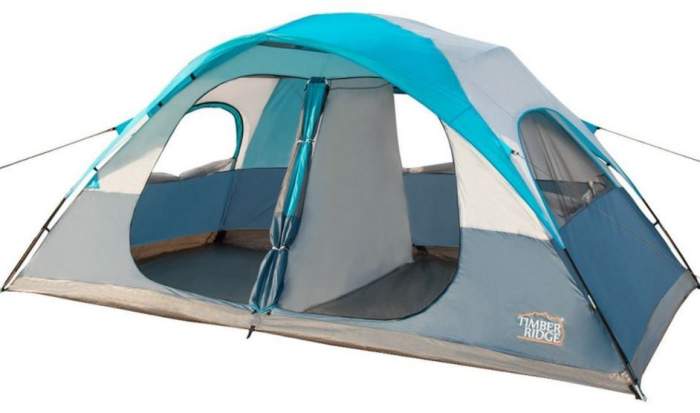 The Timber Ridge 8 is the smallest in the group here but this is also one of the most affordable option, a very simple and elegant design and an easy to use tent for summer camping.
As you realize, this is a dome style tent but it has windows and doors on all sides, so this is a very livable structure. There is a removable divider which you can see in the picture, so you have a 2-room configuration, which is a bit unusual for such a typical dome tent.
The official capacity is 8 people, but the floor area is too small for such a number of users. You have 112 ft² (10.4 m²) of the floor area, which means 14 ft² (1.3 m²). So for a real camping, I would downgrade its capacity to 4 people. But it is indeed possible to put 8 pads on the floor when necessary. Please see more in my full review.

---
25. ALPHA CAMP 8 Person Instant Cabin Tent
The declared capacity of this tent is 8 people, but the area is rather modest 108 ft² (10 m²), so it is best to downgrade this by half if you plan to use this tent for a family camping. This is a pleasant cabin style tent with an instant setup and a steel frame. Yet the weight is very reasonable for such a design and materials, only 20.5 lb (9.3 kg). The packed size is 45 x 10 inches (115 x 25 cm), so it is a bit bulky but this is typical for such instant tents.
You have a minimal coverage fly with the waterproof rating of 2500 mm. There are many windows around, and a double door on the front. I see this tent best suited for summer camping in mild weather conditions and without much rain. You can find much more if you follow the link below.

---
Final thoughts
So this was my list of the best 8 person tents for camping, as you realize the differences in the prices are drastic, they are in the range $90 – 650. There are reasons for such differences, most of them are for really mild summer weather conditions, and this is then reflected also in their design, features, and prices.
Now, how to choose?
If you need something with an express setup, then the Coleman Instant tent could be your choice. Though this is not the only instant tent here.
Need a lot of the floor area? Then consider those on the top of this list.
But the floor alone may not be enough, cabin-style tents are usually the most livable structures. You have them several here.
Want a very reliable 3-season tent, then check the Marmot Limestone 8 and the EXIO 8 Tent. But there are more of such tents in the list.
Need something for all seasons? Then the Kodiak Canvas could be your choice or the Springbar tent.
You are on a budget? Then Coleman Montana 8 is the tent for you, and also the Timber Ridge 8 tent.
If you need something for a cooler environment with a lot of rain, then check those with PVC windows, or the canvas tents.
But these are just a few temporary hints about some specific tents, the list is updated frequently and it is growing, so check it carefully.
Thank you for reading. I hope the text has been useful to you. If you need a bigger tent, check this list of 10-person tents. Need something for 6 people? Then check this lengthy list of best 6-person camping tents. Please use the comment box below in the case of comments or questions. I wish you a nice day.

---