---
Coleman Galileo 5 tunnel tent is a 3-room structure with 161.4 ft² (15 m²) of the area for a 3-season camping, with solid windows and an impressive waterproof rating.

---
Key features & rating
3-Room structure.
Huge waterproof rating.
4 PVC windows.
2 Doors.
E-cable port.
SPF50 UV protection.
---
What type of tent is this
The Galileo 5 is a very typical tunnel tent with three poles that give it its shape. You will find it on the market also under the name Coleman Waterproof Galileo Unisex Outdoor Tunnel Tent.
The peak height along its main axis is 76.8 inches (195 cm) so this is a tall and pleasant structure. This is also a 3-room tent with the sleeping zone which is a tent within the shell tent and here you have two sleeping units, plus a very large living room. The divider between the two sleeping rooms is just a curtain so do not expect much privacy. See how it looks: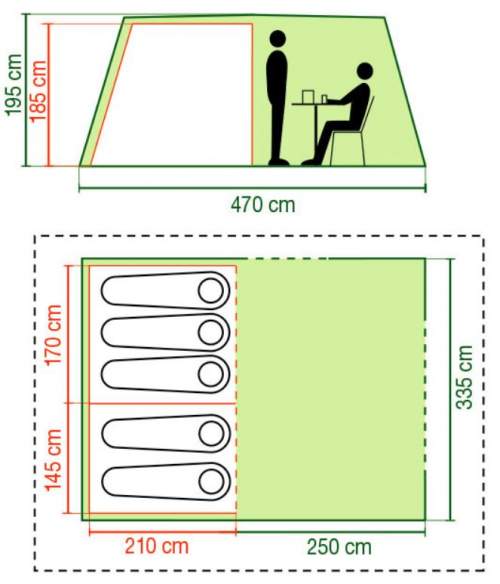 Note that the sleeping rooms are wider than what you have in most of the tents of this type. Being a tunnel tent, it is not freestanding, so you have to stake it properly, bear this in mind when you choose your camping spot. You have all stakes and guylines included in the package.
---
Who is it for
Space-wise, the tent is with the declared capacity of 5 people. But it is really great to see that they were so generous in determining the capacity; you have the total area of 161.46 ft² (15 m²), and this means 32.3 ft² (3 m²) per person.
In addition to this, note that the living room with its 8.4 square meters can easily accommodate at least 5 more people if this is needed. The floor is fully sewn-in and sealed. So for a group of friends who have no much stuff, like on a summer festival or any similar activity, this tent can easily accommodate 10 people.
Seasons-wise, the tent is with a huge waterproofness rating (more below), so this is a 3-season tool. It is also fully enclosed so you have a complete protection from the rain, winds, and from bugs.
Climate-wise, as I mentioned, the structure is fully enclosed, so you have PVC windows and the tent is without mesh. The vents which you have there can be closed when necessary. Also, the floor is fully sealed and with a huge waterproofness. In view of this, I see it as a tent best suited for a cooler and wet environment. It is less suitable for a very dry and warm area. I have included it in my list of cold weather tents for camping.
Weight-wise, well, the structure is heavy. But from the comparison table below you will realize that this weight is nothing unusual for such a construction which is enormous. On the other hand, its packed size is quite good when you consider the area which it offers; it packs to 28.7 x 11.8 x 11.8 inches (73 x 30 x 30 cm).
So you will need a car for transportation and there are many possible situations and activities where you can use this tent, from ordinary camping to open-air festivals and similar events.

---
Construction & materials
The poles
Well, the poles are surely not its best features. Those are shock-corded fiberglass poles, nothing unusual though, you can see them also in one of its competitors presented in the comparison table below.
The fabric
The shell material is a PU coated polyester with a 3000 mm waterproof rating and with all seams taped. The floor is polyethylene with welded seams, fully integrated and sealed and with a 10000 mm waterproof rating. The inner tent is with its own extra floor and the upper section is a breathable polyester with a few smaller mesh areas for ventilation. They claim that the fabric is fire-retardant. The carry bag is included and this is a polyester material.
The doors & windows
There are 2 entry doors plus 2 inner doors. There may be some confusion regarding the entry door design, the tent has been on the EU market for at least 5 years and there seem to be differences in various versions. But the side door is with mesh plus a waterproof panel while the front door in the version presented here s without mesh, pity.
There are 4 solid windows with PVC material, and you also have inner blinds with Velcro tabs so you can use them to reduce glare and also for privacy.
Ventilation
For such an enclosed structure, this tent has few vents. Three of them are in the back section of the tent. You can close them if necessary. The inner doors are with mesh in the upper parts, and there is a gap between the inner tent and the shell for air circulation. The mesh on the side door will give lots of fresh air but the problem is what if it is raining, the vents on the rear side may not be enough.
Other features
They claim that a certified laboratory has tested the tent's UVGuard and its official rating is SPF50. So this is an excellent feature here.
The official pitching time for this tent is 15 minutes.
There is an electric cable port plus some Velcro tabs to pass the cable to the apex where you would hand a lantern.
The storage elements are not impressive, just a couple of very small pockets in the sleeping area.
Please see more in this video by Coleman:
---
Specifications
Type: tunnel tent, non-freestanding.
Capacity: 5 people.
Weight: 34.8 lb (15.8 kg).
Dimensions: 185 x 131.9 in (470 x 335 cm).
Area: 161.46 ft² (15 m²).
Area per person: 32.3 ft² (3 m²).
Packed size: 28.7 x 11.8 x 11.8 in (73 x 30 x 30 cm).
Peak height: 76.8 in (195 cm).
---
Coleman Galileo 5 Tunnel Tent vs Competitors
I have decided to show you some more options and to compare with this Galileo 5 tent. So in the table below you have two tents from renown brands built in the same style. All are 5-person tents. I hope this might help in making an informed choice. Please follow the links in the table for some more details and for the updated prices.
---
Final thoughts, rating, pros & cons
As you realize, the Coleman Galileo 5 Tunnel Tent offers lots of area for 5 people, in fact, this is a very luxurious design. The waterproof rating is impressive and the tent surely provides full protection from elements and from insects. But I do have some objection presented above.
I describe it as a tent for cool weather, but bear in mind this is not a winter tent. Such fiberglass poles would not last long with snow pressure, and the number of guylines is not big enough for extreme conditions.
I think the price is very reasonable for the value. Note that this tent has been on the EU market for many years already. Please see how I rate it for several parameters:
Coleman Waterproof Galileo Outdoor Tunnel Tent Available in Green - 5 Persons
$310.66
For UK & EU visitors, to check the price or to order this tent, please check here.
Thank you for reading. If you need more options to see and to make a comparison, have a look in my list of best tents for 5 people. Otherwise, just look around, this site is all about large tents and you will find something for you. See also this Vango Skye 500 5 Person Tent which is a new item on the market and with some impressive features.
Do you have any experience with this tent? If so or if you have any question or comment, please use the comment box below. Have a nice day.