The Coleman Oak Canyon 6 Tunnel Tent is a 4-room shelter with dark rest bedrooms, solid windows, a huge waterproof rating, and a fair price tag.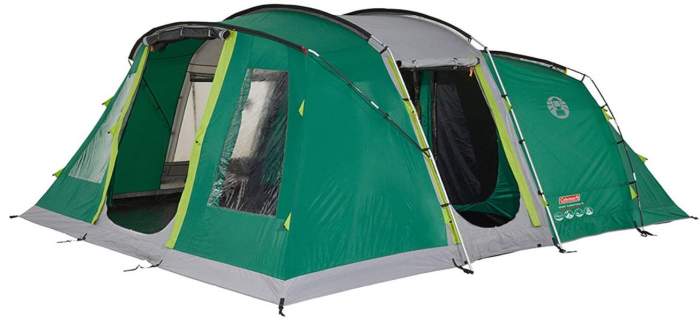 ---
Key features & benefits
Tunnel type tent.
Very tall.
4 Rooms.
BlackOut bedrooms.
Climate control.
Solid windows.
Huge waterproof rating.
Excellent ventilation.
Storage pouches.
---
Overview
This Coleman Oak Canyon 6 Tunnel Tent is what its names says, a large tunnel-shaped structure with straight leg poles so that the walls are steep like in a cabin tent. It is also very tall with its 210 cm peak height. The picture below shows its floor plan and some numbers.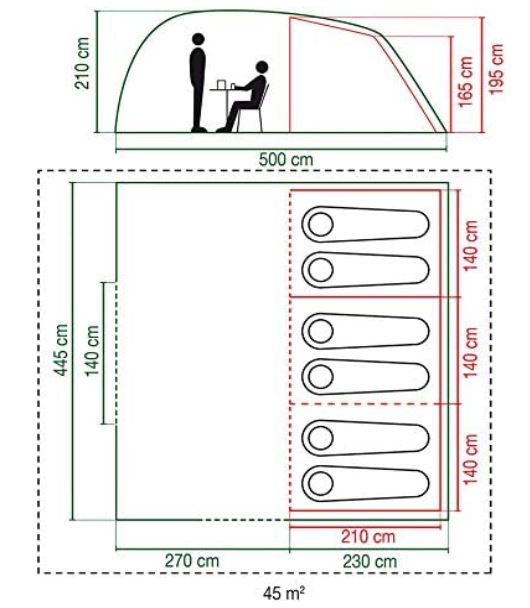 If you are familiar with the Coleman's tents built for the EU market, then you know that they have many tents of this type. So it is easy to get confused. You can check their Coleman Da Gama Unisex Outdoor Tunnel Tent, Coleman Galileo 5 tunnel tent, and many more, to see what I mean. In fact, they also have the Coleman Oak Canyon 4 tent built in the same style.
In any case, this is an impressive construction with two inner tents under the shell. There are three bedrooms here plus a large living room. One of the bedrooms is with a removable divider. In other words, you can have 4, 3, and 2 rooms. But you can also remove both inner tents and have one gigantic room under the shell.
The living room is huge, but you can make it even larger if you remove one of the inner tents. Those are of a different size, so you have several possible variants that you can use dependent on the number of occupants.
Note that the shell tent has its sewn-in and sealed floor. Both inner tents also have their own floors. This means that the sleeping area has two floor layers, very impressive.
The doors & windows
There are 2 external doors and both are two-layer type with full size zippered mesh layer plus a zippered panel. The picture below shows one of them on the side.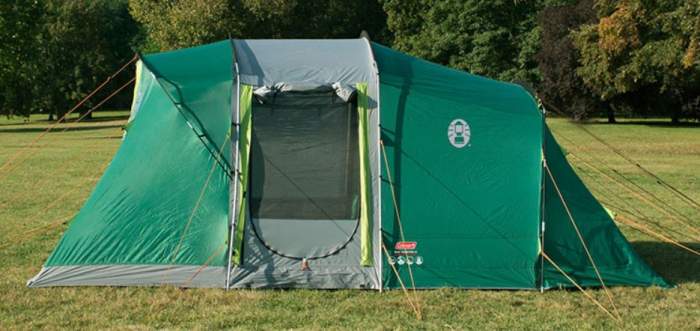 There are also three inner doors (the picture below). These are with mesh in the upper sections. The tent comes with 3 solid windows that have inner shutters for privacy and to reduce glare.
BlackOut design
This term means that you have dark rest rooms. So they use a very dark material that blocks out up to 99% of light for a longer sleep.
They also claim that this allows for temperature and climate control. The tent is cooler for up to 5 degrees during the day, and it is warmer for 1 degree in the evening. The latter is supposed to be due to the warm air that remains trapped between the two layers, see the picture below. I do not think this temperature difference can last long, but in any case, the tent is in my list of best dark rest tents.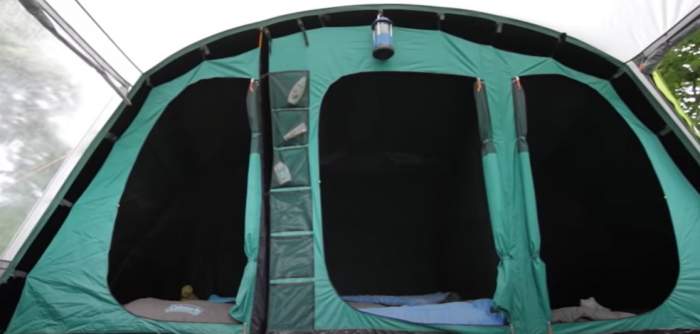 Materials
The poles: The tent is supported by 3 main loops plus a short one on the front. You have a good combination of straight steel poles plus fiberglass. The attachment to the tent's base is the usual pin and ring system. On the canopy you have clips and sleeves.
The tent comes with a full set of stakes and reflective guylines to secure it properly.
The fabric: The shell is a high-performance polyester with an impressive 4500 mm hydrostatic head, so you will never need more. All seams are taped.
This is a fire retardant material, and they write that it has been treated with Coleman's UVGuard providing SPF 50 protection from the sun's rays.
You have zipper stoppers on the tent doors to ensure that zips are always within easy reach in the event of an emergency, even for children.
The floor is a thick bathtub style polyethylene with welded seams, so you are safe from the ground water. Other features include multiple storage pouches, see the picture above, and also a lantern hanging loop.
Ventilation
I already mentioned huge doors with mesh. The inner tents are of a breathable material, and their doors are also with mesh sections. This all is great for situations without rain.
But they did not stop there. You have a long low vent under its side window. One high vent is on the rear side behind the sleeping area. You can see both in the picture: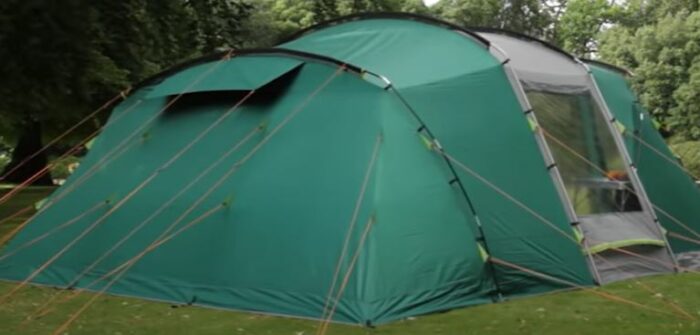 Please see more in this video, there are some issues with the sound at several points:
---
Who is this Coleman Oak Canyon 6 Tunnel Tent for
Regarding the area, the tent is officially for 6 people and for this you have the total floored area of 239 ft² (22.25 m²). Yes you are reading correctly. This means 40 ft² (3.7 m²) per person and this is incredible.
If necessary, this tent can easily accommodate 6 people more in its living room, with a complete protection. So this tent is larger than many official 12-person tents on the market. I have included it in my list of extra large family camping tents.
Regarding seasons & climate, the tent comes with an impressive waterproof rating and it is fully closable as you see from the picture below. So I have no doubt you can use it year round. It will perform well in any climate and in all seasons.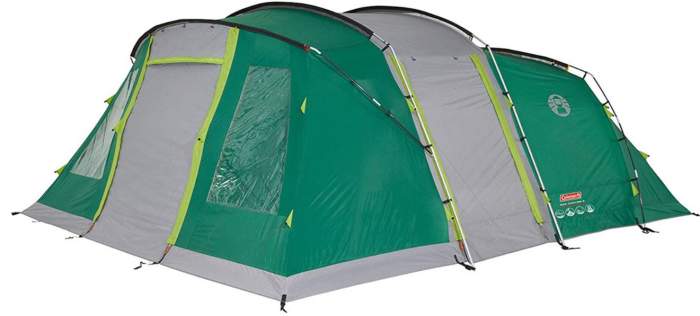 Regarding the weight, this is a heavy tent, it weighs 60 lb (27.2 kg), but it is also huge so the weight is justified. The packed size is indeed very good bearing in mind the size of this tent, it packs to 28 x 13.8 x 13 inches (71 x 35 x 33 cm).
Regarding the price, there is no doubt it is very good for such a tent, a great value for the money.
---
Specifications
Weight: 60 lb (27.2 kg).
Official capacity: 6 people.
Dimensions: 16.4 x 14.6 ft (500 x 445 cm).
Inner area: 239 ft² (22.25 m²).
Inner area per person: 40 ft² (3.7 m²).
Peak height: 82.68 in (210 cm).
Packed size: 28 x 13.8 x 13 in (71 x 35 x 33 cm).
---
Final thoughts, rating, pros & cons
In summary, this Coleman Oak Canyon 6 Tunnel Tent is incredibly well-built, and it combines so many great features. The floors are fully sealed and the waterproof rating is impressive. Multiple rooms, the height, solid windows, and the blackout design make it a very pleasant family camping tent that offers full protection no matter where you plan to use it. I can fully recommended it. It is included in my list of Coleman 4 rooms tents.
Below you can see how this tent stands against my standard rating criteria that I apply consistently to all the tents here in the site so that you can easily compare:
BEST PLACE TO BUY:
For more tents of this shape please check in the category Tunnel Tents. In particular, see this OLPRO Wichenford 8 Berth Family Camping Tunnel Tent with its 5 rooms. Note also that this Andes 3 Bedroom + 1 Living Room 6-8 Man Family Group Camping Tent is with almost the same floor area, but very differently shaped.
Let me know if you have questions, there is a comment box below. Bookmark this site and come again, this will keep you informed, as you realize I add texts here on a regular basis. Thank you for reading.