---
This Coleman Tent Pinto Mountain 5 Plus review is about a pleasant and tall family camping tent with 3 rooms, huge waterproof rating, blackout bedroom technology, and much more.
---
Key features & benefits
Tunnel type tent.
Tall tent.
3 Rooms.
2 Doors with mesh and panels.
Dark-rest (black out) design.
Solid windows.
Fiberglass poles.
E-cable port.
Plenty of storage options on the walls.
Floor and roof vents.
---
What this Coleman Pinto Mountain 5 Tent Plus is about
This tent is one of those built for the EU market, so it has been there for a number of years already before appearing for customers in the US. In view of this, the tent has a few features typical for all the tents of this brand that were built for the EU, and those imply plenty of space, multiple rooms, huge waterproof rating, solid windows, etc.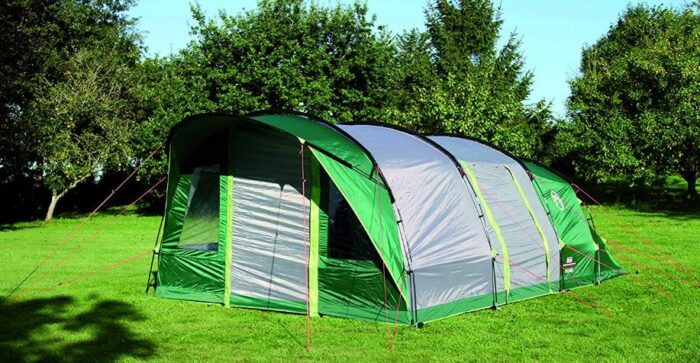 So this is a tunnel-shaped tent supported by 4 loops, it is not freestanding so when you pitch it, you can stake the back and then add poles. After that you can spread it like an accordion. You can also stake it completely and then start adding poles. It is best to do this with a partner, you will be able to do this in 10-15 minutes.
This is also a very tall tent with a peak height of 76.77 inches (195 cm). The space is organized into 3 rooms. You have an inner tent with two asymmetric sleeping rooms with a removable divider, plus an enormous living area. The picture below shows the floor plan and the most important dimensions.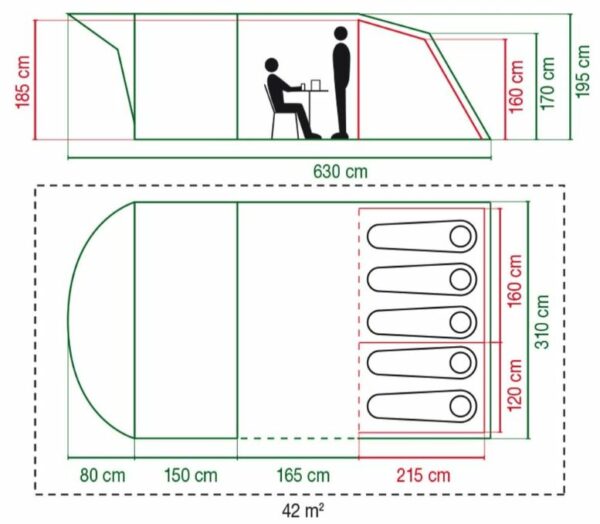 The divider can be removed so you can have 2 rooms only. You can also remove the inner tent completely and use the shell tent as a single-room and a single-wall structure. So the tent offers enough versatility for various users, and I have included it in my list of best 3 room tents.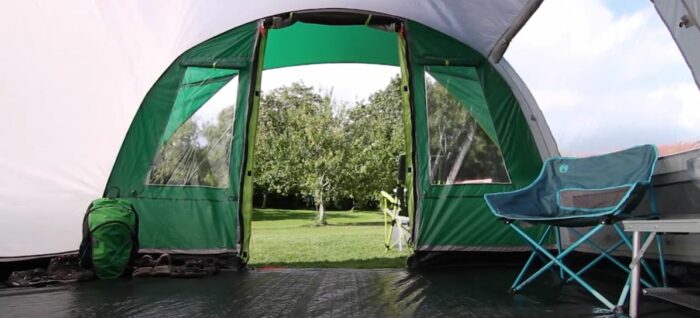 The doors & windows
There are two huge external doors and you will love to know that they are both double-wall constructions. This means that you have full-size zippered mesh doors plus separate full-size zippered panels. Not many tents on the market have such a luxury. There are also two inner doors.
There are 3 separate translucent solid windows, they are all equipped with inner zippered panels for privacy and to reduce glare.
Blackout design
Coleman is the leading brand in this technology and they claim that this tent blocks up to 99% of the daylight in the sleeping area. Some manufacturers call this dark-rest and some light-out technology, just to know. With such a tent you can sleep longer in the morning.
They claim that this all keeps the tent up to 5°C cooler during the day and up to 1°C warmer during the night. The picture below shows a view out from its inner tent. So I have included it in my list of best dark rest tents.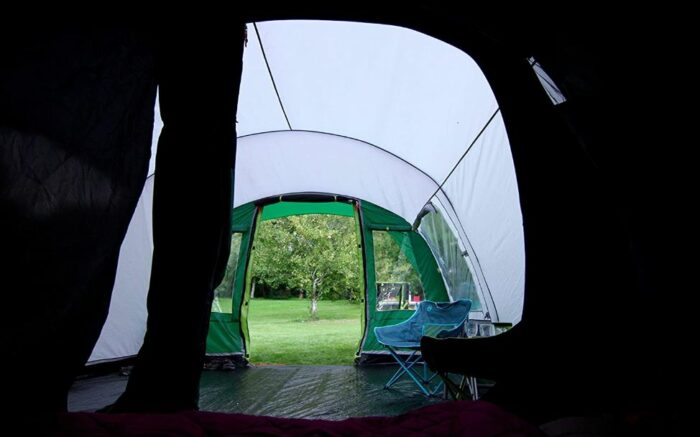 Ventilation
I already mentioned large mesh doors, and this is the whole mesh that you have in this tent. When the sky is clear you will always have plenty of air circulation through these mesh openings.
But they have added a large vent on the rear side, it has side zippers (see the picture below) so you can regulate the amount of the air flor.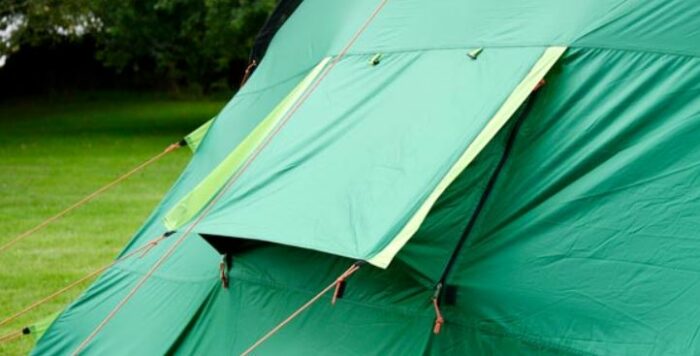 There is yet another side low vent in the living room shown in the picture below, it is under the side solid window.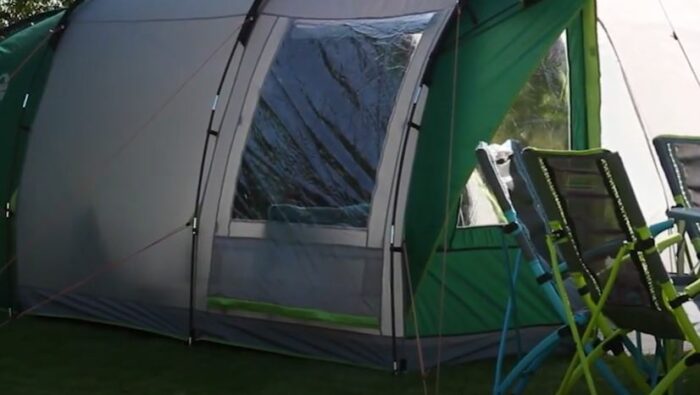 The inner tent is attached to the shell and there is a wide gap between the two layers, you realize this from the floor plan shown above, so this will allow for the air to flow freely and this should reduce condensation issues. So there is not much one could object here, this is all nicely done.

---
The materials
The poles
There are 4 main loop poles and this is fiberglass, so this is not the best feature of the tent, this is a fragile material but it is commonly used in many tents nowadays. The poles attach to the base through the usual pin and ring attachment, and higher you have clips and long sleeves, see the picture below. Note that these sleeves have plenty of mesh to reduce wind resistance.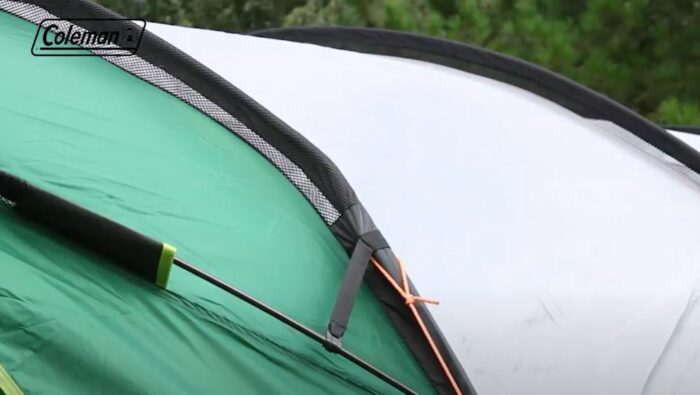 Note that you add the poles from outside so this allows for dry setup, and this means that the inner of the tent remains fully protected even if you have to pitch the tent when it is raining.
There is yet another short brim pole above the front door, visible in the picture above, this is useful to have for a dry entry point when it is raining. This is similar to what you have in their another Coleman Rocky Mountain 5 Plus tent.
The fabric
The shell tent is a polyester with PU coating that gives it an enormous 4500 mm waterproof rating. They claim this is a fabric with UV guard that provides SPF 50 level of protection, and it is fire retardant; all these features are shown in the picture below. All the seams are taped. The inner tent is a breathable polyester and no-see-um mesh combination.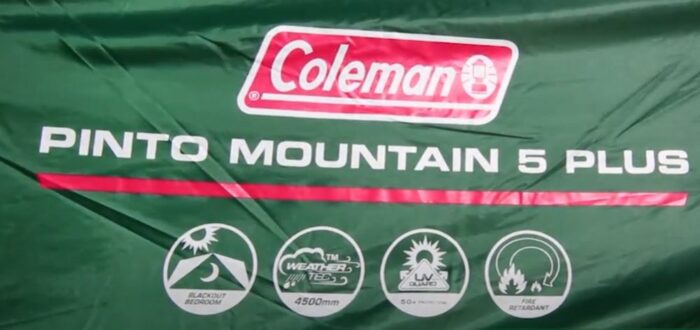 The floor is fully sewn-in and sealed waterproof polyethylene shown below, and this is a bathtub design. Note that the inner tent has its own extra floor, so this part of the tent has two floors, one above another.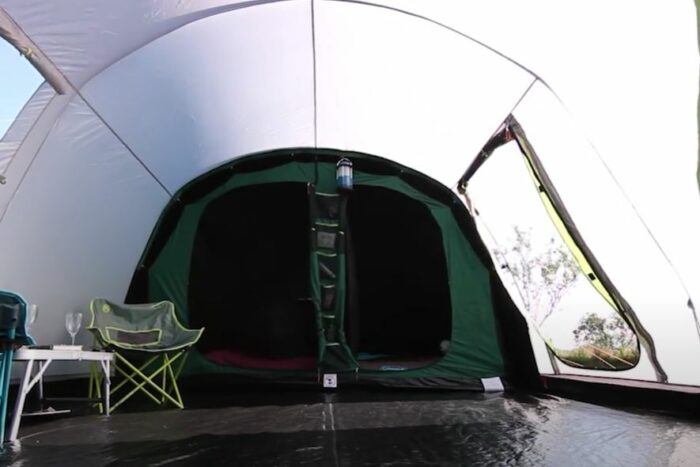 Other features
Tent pegs included.
Polyester carry bag.
Multiple storage pouches on the walls, see the picture below.
E-cable port is available.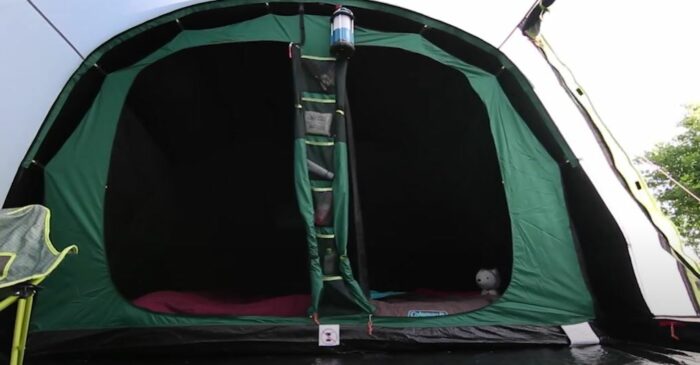 Please see more in this video:
---
Who is it for
Regarding the capacity, this is officially a 5-person tent. But it offers lots of space, you have 170 ft² (15.8 m²) of the floored area, and this means 34 ft² (3.16 m²) per person.
You have seen the floor plan above, so to stress that the living foom alone has 9.8 square meters and it is fully protected so the tent can easily accommodate 10 people if necessary. I guess this is behind the word Plus in its name.
Regarding seasons & climate, this is a true 3-season tent and perhaps even more than this. It is nicely ventilated and this makes it suitable for summer camping. Bear in mind also its mentioned dark rest technology that makes this tent far more livable than any other synthetic tent without it.
But this is also a very enclosed space with its solid windows, and all the openings can be closed if you feel cold, see the picture below. The huge living area is a great space if you are forced to stay inside for prolonged periods of rain or cold weather. This is why I have added it also to my list of cold weather camping tents.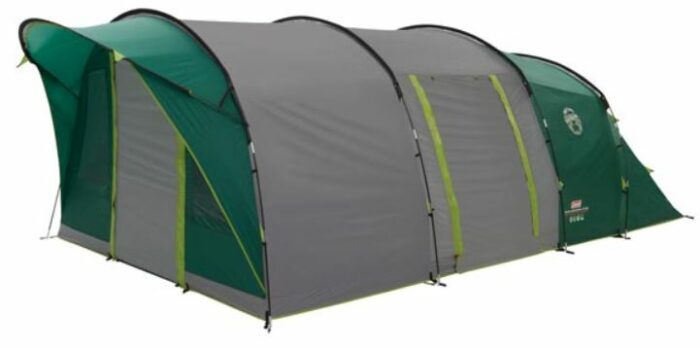 Regarding the weight, the tent is quite heavy with its 37 lb (16.8 kg) of weight, so this is not to be carried anywhere. But the packed size 27.56 x 12.6 x 11.81 inches (70 x 32 x 30 cm) is far from bad. In any case, this is a tent for places with a motorized access.
---
Specifications
Official capacity: 5 people.
Weight: 37 lb (16.8 kg).
Dimensions: 20.67 x 10.17 ft (630 x 310 cm).
Area: 170 ft² (15.8 m²).
Area per person: 34 ft² (3.16 m²).
Packed size: 27.56 x 12.6 x 11.81 in (70 x 32 x 30 cm).
Peak height: 76.77 in (195 cm).
Poles: fiberglass.
---
Final thoughts, rating, pros & cons
In the summary of this Coleman Tent Pinto Mountain 5 Plus review I would stress again that this is an impressive construction. The tent will protect you in any weather conditions, it comes with advanced dark-rest technology, and its waterproof rating is huge. This is a rare example of a tent that can easily accommodate twice more people than what its official capacity tells you. Fully recommended.
Please see how I rate this tent, although I am impressed with it, I use my standard set of criteria and apply them consistently. The average rating is high but not every aspect of the tent is perfect.
If you need more options in this shape, just check under the category Tunnel tents and in particular this Jack Wolfskin Great Divide RT Tent. See also this Portal Outdoors Unisex's Gamma 5 Spacious Large Tunnel Tent built in the same tunnel style. For more tents in this official capacity group, check the Tents for 5/6 people.
Bookmark this site and visit occasionally, this will keep you informed because we have new texts here on a regular basis. Thank you for reading and have a nice day.