---
Columbia Mammoth Creek 8 Person Cabin Tent is a very pleasant tall structure with many windows, very suitable for warm-weather camping. Keep reading.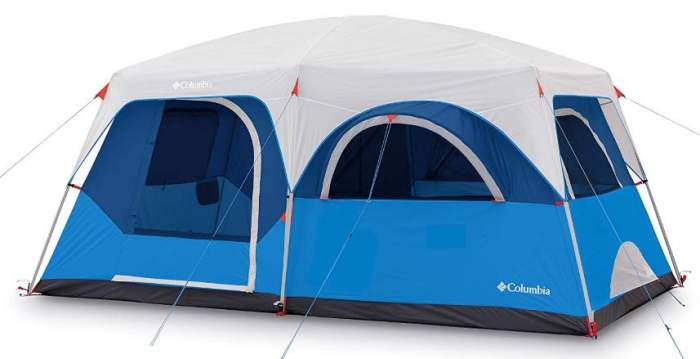 ---
Key features & benefits
Freestanding.
Cabin style tent.
2 Rooms.
2 Doors.
6 Large windows.
E-cable port.
---
What this is about
This 8-person tent is a part of Columbia's blue Mammoth Creek series that includes also a 6-person and a 10-person tent. They are all very different in design but there are some common features of course. So this is a freestanding cabin-style construction, pleasant and tall. The peak height here is 76 inches (193 cm).
The picture below shows how it looks without its minimal fly that covers the ceiling only. This is why the tent offers views everywhere around. It comes with 2 doors which have windows on them, plus 4 separate large windows. All of them are with zippered panels and mesh, for protection and privacy.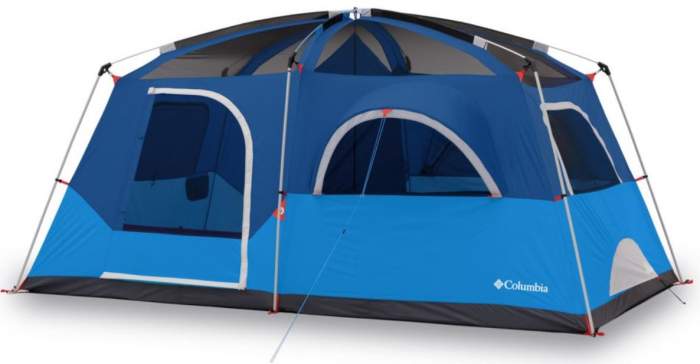 The two windows on its longer sides are particularly unique, and you can see one of them in the pictures below. As you realize, it is protected so you can keep it with mesh all the time. But if you feel cold, or you want to prevent dust to get in, you can zip it up.
The tent is formally a 2-room structure with a removable divider which gives a bit of privacy if you need it. The picture below shows how it looks when you open the divider. Observe the two large doors on the sides.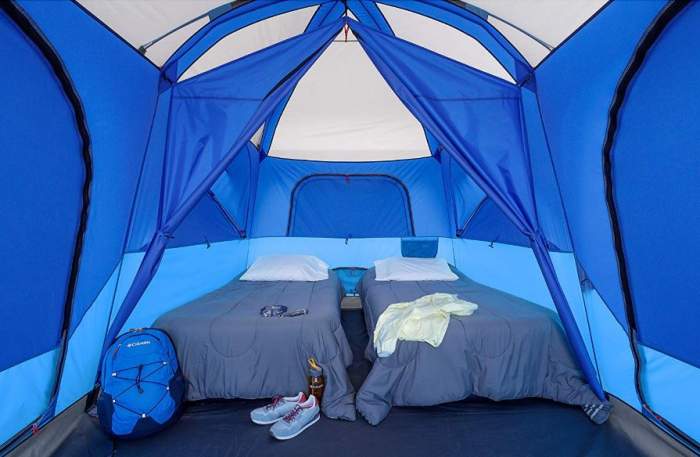 Ventilation
Ventilation with so many windows with mesh and the ceiling all in the mesh should not be an issue in this tent. But in the situation when you have to keep the windows closed (when it is raining), you will have the floor vent (shown in the picture below). As you see it is with a zippered panel from inside so you can close it when/if necessary. So all is done well here, there is nothing one could object.
---
Materials
The poles & stakes
All the poles here are fiberglass. This includes 6 thick leg poles and 3 thinner roof poles. They attach to the tent with a pin-and-ring system at the base, with clips on the sides, and with sleeves on the roof. Stakes are included in the package as well as guylines.

The fabric
They only give a statement about Omni-Shield coated fabric that provides advanced repellency. No doubt this is polyester but no info is available about its waterproof rating. The seams are taped. The same fabric is used for the fly and for the walls.
The floor is a bathtub type, and this appears to be polyester with a thick coating. The openings are with No-See-Um mesh. The carry bag is nicely designed, see the picture below.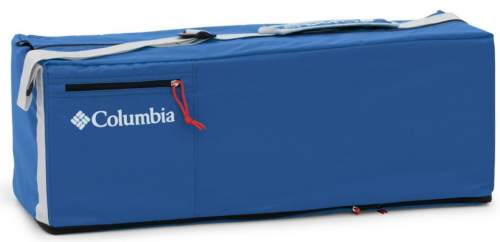 Other features
There are a few storage pockets on the walls, see the picture below.
E-cable port is available, shown below.
The fly clips with buckles directly to the tent's base as you can see in the picture.
---
Who is it for
Size-wise, the declared capacity is 8 people, and the tent offers 112 ft² (10.4 m²). This means 14 ft² (1.3 m²) per person which is the same per person what you have in its 10-person cousin. This is not much but it is possible to put 8 pads on the floor. For real camping it is best to downgrade this to 4-5 people maximum.
Seasons-wise & climate-wise, the tent is best suited for warm-weather camping or for maximum 2-season use. With so much mesh on the ceiling you would feel cold in a cooler climate. The tent is tall and with a minimal fly so it is best to avoid very windy areas.
Weight-wise, with 28.5 lb (12.9 kg) of weight, the tent is a bit heavy but this is not so important. This is a camping tent and you would not carry it anywhere.
The packed size is such that you could transport it even on a motorbike. You have seen its carry bag above.
---
Specifications
Declared capacity: 8 people.
Weight: 28.5 lb (12.9 kg).
Dimensions: 14 x 8 ft (427 x 244 cm).
Area: 112 ft² (10.4 m²).
Area per person: 14 ft² (1.3 m²).
Peak height: 76 in (193 cm).
Packed size: 27.2 x 9.45 x 9.45 in (69 x 24 x 24 cm).
---
Final thoughts, rating, pros & cons
So you have seen it, this Columbia Mammoth Creek 8 Person Cabin Tent is really nicely designed. Use it in a proper environment, and this means fo summer camping and warm-weather, and you will have a camping castle. Just disregard the declared capacity (as usual). Fully recommended.
Please see how I rate this tent, the same criteria are used for all the tents here in the site, for easy comparison:
If you need more options in this size range, check our list with best 8-person camping tents where this tent is also included. Check this Bushnell Sport Series 8 Person Tent which is very similar by the design, or this NTK Flash 8 Instant Cabin Camping Tent that is with an instant setup.
Note that this is not a sponsored text, and I am not paid by the brand. I love to hear from you, so please use the comment box below and let us know what you think.