This Columbia Modified 6 Person Dome Tent is a freestanding structure with fiberglass poles and magnetic door design, easy to use, versatile, and very affordable.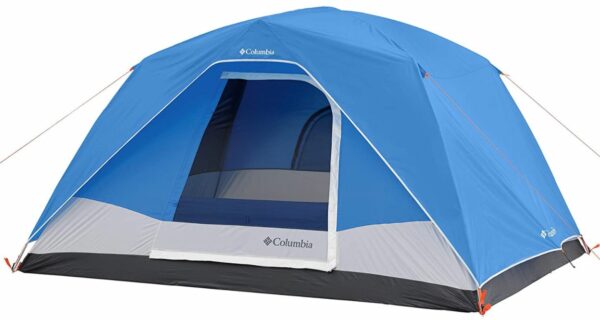 ---
Key features & benefits
Dome tent.
Freestanding.
Magnetic door.
Fiberglass poles.
1 Door.
E-cable port.
Great price.
---
What is Modified in the name
This tent is a part of a series of four tents that include tents for 3, 4, 6, and 8 people. The word Modified in the name only implies the fact that the poles' connectors are pre-bent as you realize from the picture below that shows the tent without the fly. So this is not much of modification and there is nothing unique in this design, but such a detail adds more volume inside than a simple dome with a smooth curvature of the poles.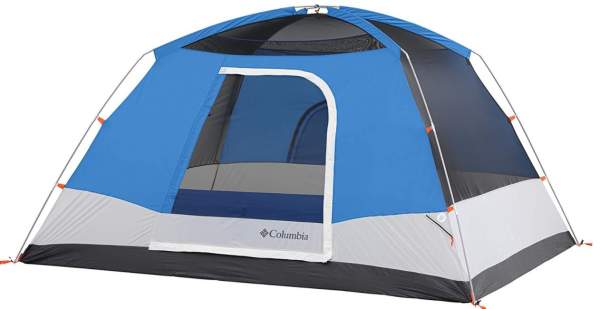 The fly is almost full-coverage type, and the word 'almost' means that it covers all the tent except the door, so there is no vestibule. This is both good and bad.
The good is that the tent is fully freestanding so you can move it and rotate even when the fly is on. This also means you can pitch it anywhere, but you will have to fix it to the ground no matter where you use it. The stakes and guylines are included. On the other hand, the bad is that there is no storage space outside of the tent.
The tent is quite tall with its 72 inches (183 cm) peak height. You have one double-layer door and its design is quite specific, apart from the usual zipper there is also a magnetic closure, so no need to use the zipper all the time. This is why it is included in my list of best magnetic tents.
Ventilation
The picture without the fly shown above reveals its mesh ceiling and the sides. The front and the back are a waterproof taffeta. There is a back window that is with mesh and a zippered panel. Both the door and the back window are partly protected and you can keep the mesh on both sides most of the time.
There are no floor vents, but you can manage without them, there is always enough air circulation from the ground under the fly, and the mesh on the sides goes quite close to the ground.
The brim makes the fly shallow on the front and on the back so vapor should be able to escape. But there is no doubt the tent would be more comfortable with roof vents.
---
Materials
The poles
You have 2 main fiberglass poles that create the dome, plus one short pole that creates the front brim. This is what they call a reinforced Durawrap poles system. Fiberglass is commonly used in budget tents but this material can shatter. Just to know, if you have such a pole damaged you might want to read our separate text about fiberglass tent poles replacement.
The fabric
The fabric is Columbia's patented Omni-shield polyester with fully-taped seams. The waterproof rating is quite modest, 800 mm only, but you normally do not need more. The floor is a bathtub design to protect the tent from splashes.
There is also a large above-ground storage pocket shown in the picture below. One E-cable port is on the right side from the door, it is visible in one of the pictures above.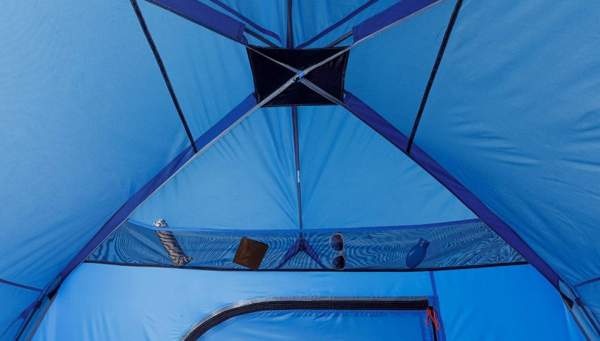 ---
Who is it for
Regarding the area, officially this tent is for 6 people. For this you have 99 ft² (9.2 m²) and in the case of 6 users this would give 16.5 ft² (1.5 m²) per person. This is enough space to place 6 sleeping pads on the floor and this can work for a group of friends at some summer festival.
But note that there are no vestibules to store your gear. So as usual it is best to downgrade the number of users to 3-4 maximum. The tent can be used by parents with one small kid for car camping.
Regarding seasons & climate, it can be used as a 3-season tent but this does not mean you would feel comfortable in it in a cold environment. So it is best to use it in the warmer part of the year, for summer camping, late spring, and early autumn. I would not use a tent with such a fly in very windy places.
Regarding the weight, with 18.4 lb (8.3 kg) this tent is heavy to be carried anywhere so use it at places with a motorized access and you will have a great camping experience.
---
Specifications
Official capacity: 6 people.
Weight: 18.4 lb (8.3 kg).
Dimensions: 11 x 9 ft (335 x 274 cm).
Area: 99 ft² (9.2 m²).
Area per person: 16.5 ft² (1.5 m²).
Peak height: 72 in (183 cm).
---
Final thoughts, rating, pros & cons
To summarize this Columbia Modified 6 Person Dome Tent review, this is a nicely built tent, easy to pitch and with easy access, quite tall for its size, and at a fair price. But it is best to disregard its official capacity.
Its magnetic door is an innovative detail, this tent series is the first known to me with such a design that has only been used in screen houses so far.
Please see how I rate this tent against my standard set of criteria so you can easily compare it with other tents here in the site.
If you need more tents of this shape, check under the category Dome Tents, in particular this Wenzel Tamarack 6 Person Dome Tent. If you would rather have a tent with a full-coverage fly and a vestibule, check this Kelty Discovery 6 Tent.
Bookmark this site and visit again, this will keep you informed because we add texts here regularly. Note that there is a subscription form below for our weekly newsletter, so stay in touch. Thank you for reading and have a nice day.