---
This Tailgaterz Magnetic Screen House review is about a tall freestanding camping shelter that will protect you from flying insects, with two doors and a great price tag.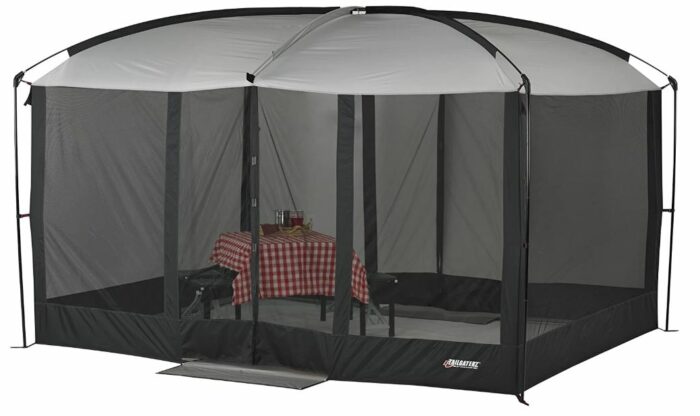 ---
Key features & benefits
Steel & fiberglass frame.
Very tall.
Magnetic doors closure.
Carry bag.
Great price.
---
What this is about
Here you have a screen house that has been on the market for many years already. It is a rectangular and fully freestanding cabin style screen house with completely vertical walls. The term freestanding means that you can rotate it and move a bit after you set it up, but do not miss staking it down properly. All stakes and guylines are included in the package.
It has two doors, one on each of its longer sides. They are equipped with magnets so they close automatically by themselves and you do not have to wrestle with annoying zippers. This explains the word Magnetic in the name. This is why it is included in my list of best magnetic tents and screen houses. Note that such a design you have also in the Wenzel Durango Magnetic Screenhouse.
With such vertical walls, you have plenty of volume inside, but see also its impressive height, the peak is 108 inches (274 cm). The picture below shows how tall the door is: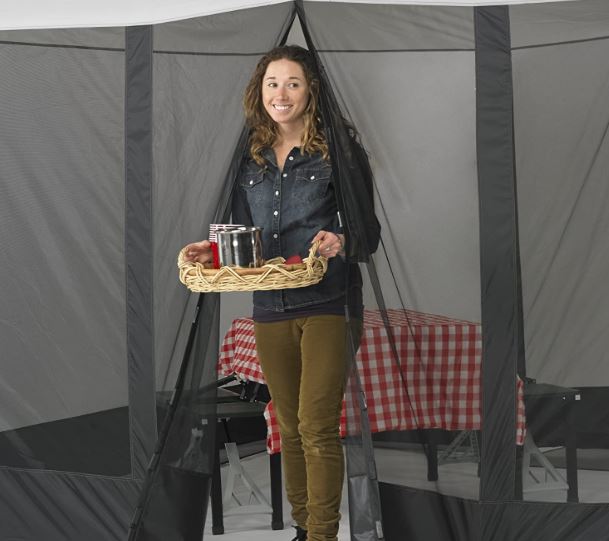 Materials
The poles: You have 4 legs poles and this is steel. The roof poles are fiberglass and those converge to the top 6-way hub elements. The legs are connected to the screen house base through the grommets in the corners, one is shown below. Higher you have clips and long sleeves on the roof.
The legs and roof poles connect through the nylon elbow elements at the eave, see one shown below. Note that two of the roof poles attach to the roof fabric where there are small attachment pockets, and this is to pull up the doors.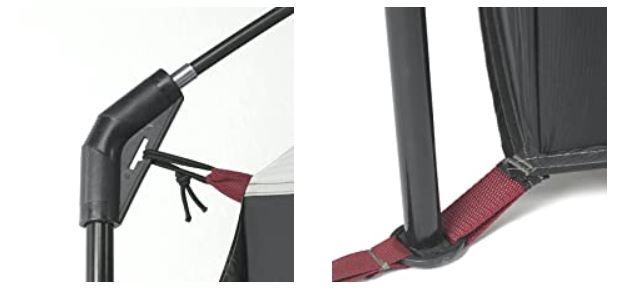 The fabric: This is mainly about the mesh that you have on all four walls, this stops flying insects but allows for the breeze blowing through. The roof is there to create shade but this is not for rain protection. If you want something with more protection, you can check this Eureka Northern Breeze Aluminum Frame Screen House.

---
Who is it for
Regarding the area, you have 99 ft² (9.2 m²) and the dimensions are such that it is best to use some elongated rectangular table inside. You can easily have a table and 4 camping chairs inside. If you need a bit larger structure, check this EVER ADVANCED Screen House Room.
You can use it also to place a freestanding hammock inside and enjoy views while being protected from annoying insects. Such a space can also be used next to your tent for cooking and sitting. There is no floor inside so you do not have to be concerned of any damages when cooking.
Regarding the weight & packed size, both are quite typical for such constructions. So the screen house weighs 19.47 lb (9 kg) and it measures 26.5 x 8.5 x 8.5 inches (67 x 22 x 22 cm) in its carry bag. So this is for places with a motorized access.
Regarding climate & seasons, such shelters are for shade and for protection from insects, so this is more important to have for warm-weather camping.
In this short video you can see a bit more, please have a look, and you can have more details in this setup manual.
---
Specifications
Weight: 19.47 lb (9 kg).
Dimensions: 11 x 9 ft (335 x 274 cm).
Area: 99 ft² (9.2 m²).
Peak height: 108 in (274 cm).
Packed size: 26.5 x 8.5 x 8.5 in (67 x 22 x 22 cm).
Poles: steel and fiberglass.
---
Final thoughts, rating, pros & cons
To summarize this Tailgaterz Magnetic Screen House review, this item has been around for a number of years already, tried and tested by many, and everything is known about it. There are hundreds of reports, most of them are positive but there are negative as well, and this is all normal. Some objections may be justified but I know that in some cases it is just about inappropriate use.
The price is quite moderate, and you can realize this if you compare it with this Browning Camping Basecamp Screen House which is much more expensive.
Please see how I rate this screen house, the same criteria are applied to all of them here in the site so you can easily compare:
If you need more options, please check under the category Screen Houses. See this unique and hexagon-shaped Gazelle Tents 21500 G6 Pop-Up Portable 6-Sided Hub Gazebo/Screen Tent. If you would rather have an instant pop-up structure, check this Alvantor Screen House Room.
Bookmark this site and visit again, this will keep you informed because we add texts here on a regular basis. Thank you for reading and have a nice day.