The CORE 10 Person Lighted Instant Cabin Tent is nicely built and freestanding, with numerous windows and two large doors, and with many storage elements.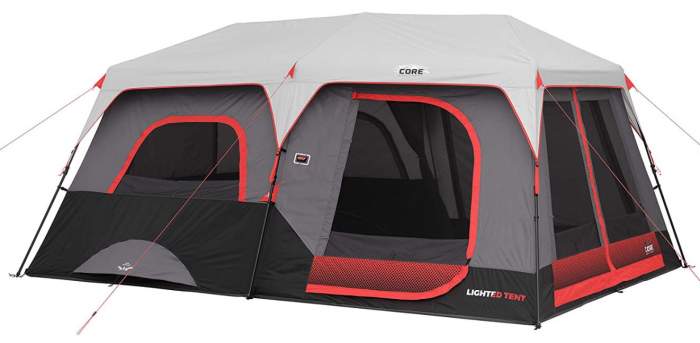 ---
Key features & benefits
Instant setup.
Cabin-style.
Lighted tent.
Ventilated.
2 Rooms.
7 Large windows.
E-cable port.
Many storage elements.
---
So what this is about
The Core brand has been building lighted tents as modified versions of their already existing tents that have been on the market for years. But for this CORE 10 Person Lighted Instant Cabin Tent they do not have a non-lighted counterpart.
However, it is very similar by the design to their CORE Lighted 9 Person Instant Cabin Tent. Note also that this tent should not be mixed with their CORE Lighted 10 Person Instant Cabin Tent with Screen Room.
This is a very typical cabin-style tent, and this implies steep and straight walls and a high peak point which is 78 inches (198 cm). The tent can be described as fully freestanding, so it is self-supporting with its 6 legs.
The fly is minimal and it covers only the ceiling. It attaches directly to the leg poles, you have nicely designed clips that are very easy to attach and to detach from the poles. Because of such a design, you can move the tent and rotate even when the fly is on.
The tent is formally a 2-room type. There is a removable divider that you attach through a series of toggles under the roof and on the sides. There is a central zipper in the middle so you can open it and attach the flaps to the sides.
Instant setup: So you have a very strong frame with straight poles, the mentioned 6 legs and the roof poles of the same design. This is all pre-attached to the tent, so you simply unfold the tent and then extend its telescopic legs.
The official setup time is 2 minutes only. When you want to fold the tent, just press the release buttons on each of the leg poles and the tent will collapse. After this just fold it up, first fold up all 6 legs and then do the same with the main roof pole.
One person can do this all in just a couple of minutes. This is why I have included it in my list of best instant tents.
Integrated light
The main battery pocket is high on the ceiling, this is where the battery box is stored. It operates on 4D batteries, and it offers three operating modes with different levels of light.
A switch is on the side wall, but note that you have it integrated both inside and outside (the latter is shown below). So you can turn on the light even before you get into the tent.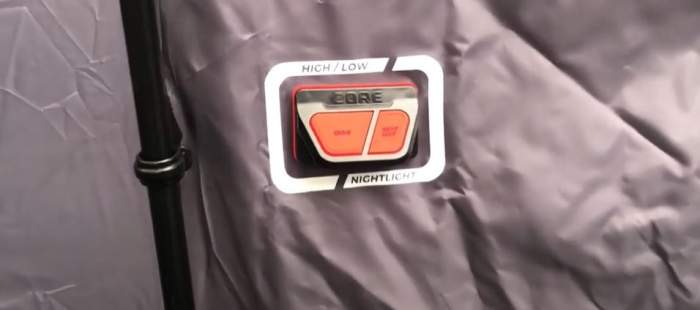 Below you can see the inside switch. As you see, the cables go through the sleeve and they attach to the mentioned battery box above.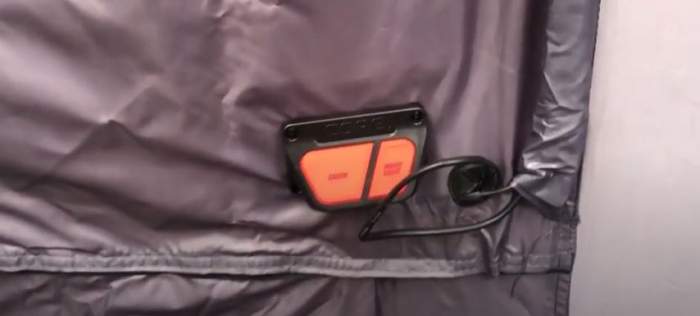 The lights are on the highest roof poles. The picture below shows how it looks when the light is on.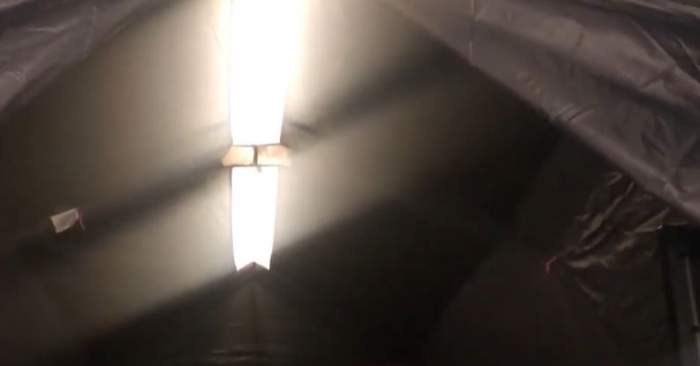 Doors and windows
There are 4 separate windows, plus 3 windows on the doors. Three smaller windows are on the walls of the back room. One huge window occupies the whole side wall of the front room.
There are two different doors. One of them is with a central inverted-T-shaped zipper, and one is D-shaped. Both are visible in the pictures. All these openings are the double-layer type with mesh and will zippered panels from inside.
Materials
The frame is all steel so the structure is very robust and strong. There are 14 stakes in total, 6 used to stake the tent's base, 6 for its guylines, and 2 for the two vents which you stake out to make them fully functional.
They do not provide much information about the fabric. But this is their usual H2O block technology with heat-taped seams and durable 68D polyester. The waterproof rating is most likely 600 mm as usual for their tents. This may look small, but you do not need much if the seams are properly sealed, besides, the tents from this brand are very reliable.
The floor appears to be polyethylene and this is a bathtub construction, see how it looks:
The carry bag is particularly nicely built with two carry straps, it is quite large so it should be easy to store the tent back into the bag.
Ventilation
The ceiling is all mesh, see the picture below, and you have already seen all the mesh on the windows and doors.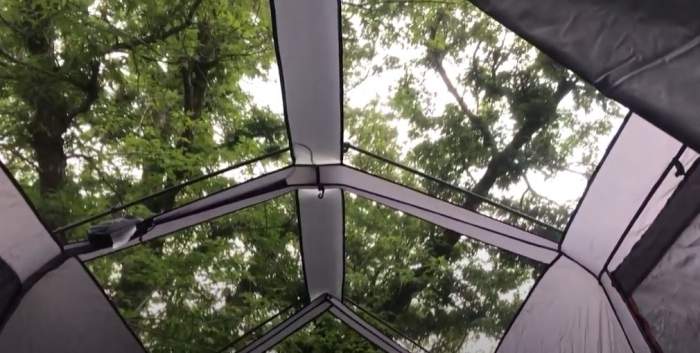 But they did not stop there, you have 2 floor vents equipped with guylines and stakes. So I would say that ventilation as good as it possibly can be in a tent, this is all nicely done.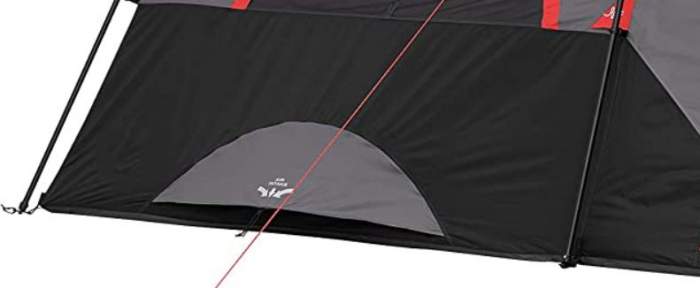 Other features
There are hooks on the ceiling so you can hang a fan or anything else.
A couple of small pockets are in the corners.
They have added a long series of pockets under the ceiling above the large double-wide door. This is an excellent storage space where you can keep lots of stuff out of your way.
The same storage set is also above the back window, it goes the whole width of the wall exactly under the ceiling, see how it looks:

An E-cable port is available, you can see how it looks from outside: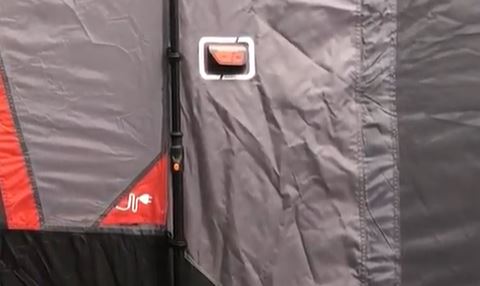 ---
Who is this CORE 10 Person Lighted Instant Cabin Tent for
Regarding the capacity, the tent is officially for 10 people and it offers an area of 140 ft² (13 m²). This makes it 14 ft² (1.3 m²) per person, and this is not much. So it is best to downgrade this to 6 or so.
Regarding seasons & climate, this is a summer camping tent, or maximum for 2 seasons in the warmer part of the year. You can close all the windows and doors but the ceiling is with mesh and this is not a structure for a cooler climate. I would also avoid windy places and too much rain.
Regarding the weight, the tent is heavy, it weighs 47.8 lb (21.7 kg). Its packed size is 49 x 16 x 11.5 inches (124 x 41 x 29 cm). So you realize it is quite long when packed, and you need a car for this tent.
Regarding the price, I would say it is fair for such a nicely designed tent with so many features.

---
Specifications
Official capacity: 10 people.
Weight: 47.8 lb (21.7 kg).
Dimensions: 14 x 10 ft (427 x 305 cm).
Area: 140 ft² (13 m²).
Area per person: 14 ft² (1.3 m²).
Peak height: 78 in (198 cm).
Packed size: 49 x 16 x 11.5 in (124 x 41 x 29 cm).
Warranty: 1-year limited warranty.
---
Final thoughts, rating, pros & cons
So this CORE 10 Person Lighted Instant Cabin Tent is yet another great tent from this brand. It comes with a collection of very useful features. The integrated light elements are among the best I have seen on the market. This is why I have included it in my list of best lighted camping tents.
The tent is tall and pleasant, with plenty of storage options to keep things organized, and it is incredibly easy to use. But bear in mind its packed size and weight. In any case, fully recommended. You will see the picture of this tent in my list of best camping tents brands as a great representative of Core tents.
Please see how this tent stands against my usual set of rating criteria:
You might want to see also this Ozark Trail 18″ x 10′ Instant Cabin Tent with Integrated Led Light that is larger and with similar features. For more options check under the group Tents for 9/10 people and also in the category Cabin Tents.
Let me know if you have questions, there is a comment box below. You might want to join my community, so subscribe to my weekly newsletter, the form is below. Thank you for reading and have a nice day.