Mountain Trails Grand Pass 10 Tent is an extended dome type 3-season tent for family camping in mild summer conditions. It is lightweight, with a great 2-room floor area, and very livable.
---
Key features & benefits
Very affordable tent.
Great floor area.
Dome-type tent.
Windows.
Divider included for creating 2 rooms.
Cool design.
---
Where to buy
---
What type is this
The Mountain Trails Grand Pass 10 Tent is a 2 – 3 season tent, more precisely a summer-tent and this should be taken literally. So I would not use this tent in an environment with a lot of rain.
The tent is lightweight for its size, only 21.1 lb (9.57 kg). But clearly, you need some vehicle for transportation, a car or a motorbike, so this is a camping tent.
The structure is dome-shaped, but you have extended sections on both sides. This is both good and bad. The good is that the setup is relatively easy and the tent is a lightweight structure. The bad is what is typical for all dome-style tents, and this implies walls that provide less volume than the cabin-type tents.
The tent is not freestanding, it is good to bear this in mind when you plan your camping place. You need a ground that will keep the stakes, and this is not possible in the sand or on concrete and rock.
---
Who is it for
The official capacity of this tent is 10 people. Its floor area is 170 ft² (15.8 m²), which means there is more than 1.5 m² per users sleeping on the floor. So this is more than enough. But in the case of large groups, the space can better be used with bunk cots, and you would still have some storage space underneath the cots.
For families with kids, I would downgrade it to parents with 4 kids maximum. Note that you don't have any external vestibule or covered storage space. See the floor plan to better understand what you have here: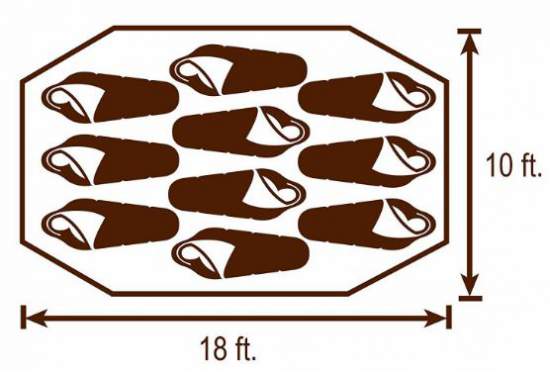 The packed size of the tent is great, you have what they call the stow 'n' Go duffel system. So the bundle is such that it can even be transported on a motorbike, think about this if you are on a motorbike cruise with friends.
---
Materials and construction
The poles
You have 7 fiberglass poles here, and they are all shock-corded, so you will not lose the parts. The two main long poles create the X-shaped central dome which you can see below, and the other two poles support the extended sections on the sides. One extra pole is normally added above the doors together with the fly, and it creates a small awning.
The fiberglass is not so durable so better be careful when you use the poles. See the whole structure here without the fly: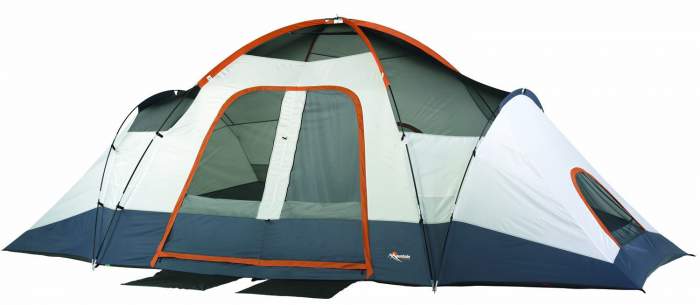 Fabric
The floor is polyethylene, many family camping tents presented here in the site have such floors. This is a plastic material and seams are welded; when properly done this is the best way of sealing. Such welded seams can be stronger than the floor material around them.
The windows are a polyester mesh and polyester is also in the waterproof walls. My understanding is that the fly is nylon, but I might be wrong.
Internal organization
The entrance is through two D-shaped doors which are side by side as you see from the pictures, and you have mud mats in front of them. The internal removable divider is positioned so that the doors lead to the two separated sections. On each side of the extended dome sections, you have a window with mesh and panel for the rain protection.
The ceiling is high, no less than 76 inches (192 cm) in the central dome part, and this is all mesh. But there are no ventilation openings and if the rain continues you have to keep all panels closed, and the ventilation can be an issue. So better use this tent where you do not expect much rain.
There are just a couple of very small pockets on the wall, and this is not so great for such a large space.
The tent has the Area/Weight ratio 1.65 m²/kg, and this is one of the largest among the tents presented here in the site. In fact, with respect to this parameter, it is similar to the Core 11 Person Cabin Tent With Screen Room which has it 1.68 m²/kg.

Setup
I suggest seeing this video, you can put it at a higher speed if you wish, you will see the complete process. This all can be done in some 15 minutes or so:
You realize that they set it up without staking it down, so this possible up to some point, but to have it completely functional, the extended sections on both sides must be fixed to the ground.
The same folds for the fly which is minimal by the design and it protects the ceiling only, so it must be staked out against the winds.
You have a pin-and-ring system for an easy setup, and the sleeves on the roof make the tent almost freestanding. So you do not have any hub element here, but this is typical for such inexpensive family camping tents.
What is included
You have shock-corded poles, stakes, guy lines, a pouch for stakes.
Note, there is no carry bag here. Instead, you have the integrated Stow-n-go duffel system – tent stakes and pole packet unrolls with the tent, and the mud mat is used with elastic bands to wrap the bundle. So this is why you do not see the official numbers for its packed size.
---
Specifications
Type: non-freestanding, 3-season.
Capacity: 10 people.
Weight: 21.1 lb (9.57 kg).
Dimensions (L x W): 18 x 10 ft (216 x 120 in, 549 x 305 cm).
Floor area: 170 ft² (15.8 m²).
Area per person: 17 ft² (1.58 m²).
Peak height: 6.3 ft (76 in; 192 cm).
Packed size: 30 x 12 x 12 in (76 x 30 x 30 cm).
Poles: fiberglass.
Doors: 2.
Windows: 2.
---
Mountain Trails Grand Pass tent 10 person vs competitors
See how this tent compares with its closest competitors. To read more please follow the links:
Mountntain Trails Grand Pass 10
Core Cabin 11 With Screen Room
17 x 10 x 10
(43 x 25 x 25)

48 x 11 x 10.5
(122 x 28 x 27)
---
Final thoughts, rating, pros & cons
In the conclusion of this Mountain Trails Grand Pass 10 Tent review to stress again that this is a nicely built tent, it really looks cool, and kids love its cavernous designs with windows and the extended dome sections. Its floor area is huge, the price is truly great and it is hard to find anything on the market that would match it.
But bear in mind that this is not a tent for harsh conditions. They do not provide an official weather-resistance rating, but do not expect too much from it, this is a summer tent. I have included this tent in my list of best tents for 10 people.
What users think
This tent has been on the market for a long time already, you have realized this form the video which is from 2012. So naturally, there are many reviews and reports. Only on Amazon, you can see them in hundreds and the average rating for this tent is very high. Please see how I rate it:
Mountain Trails Grand Pass 10 Person Tent
You might want to compare this tent with the Semoo 9 tent built in the same style but with 4 doors and 3 rooms and also with the Core 9 Extended Dome tent built in the same style. Check also this NTK LARAMI GT Tent which can accommodate up to 10 people, and this CORE 11 Person Extended Dome Tent 18′ x 9′ built in the same style.
If you need something different, note that this site is only about family camping tents, so just look around and you will definitely find something suitable for you. In particular, check this giant Ozark Trail 10 person tent with screen room.
Thank you for reading and please use the comment box below if you have any question or comment.

---