---
CORE 12 Person Extra Large Straight Wall Cabin Tent 16 x 11 is a new tent on the market launched for 2019 season, a freestanding 2-room tall structure with 2 doors and many windows. Please see more below.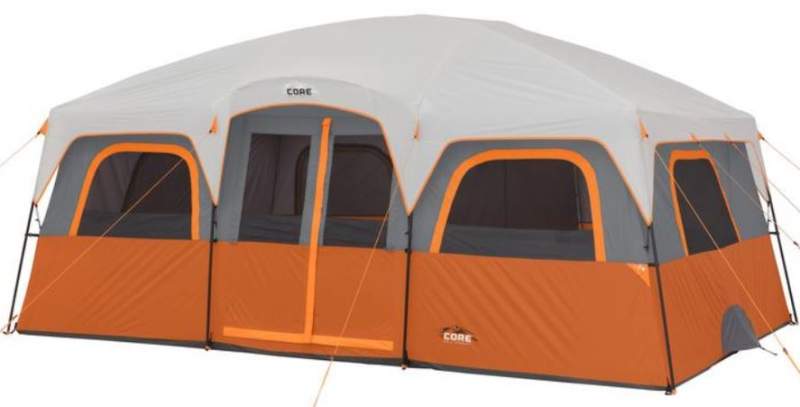 ---
Key features
Cabin tent.
Very tall.
Freestanding.
Many windows.
2 Rooms.
2 Doors.
9 Windows.
E-cable port.
Reasonable price.
---
Place to buy
This tent has appeared on Amazon recently so follow the link and check the shipping conditions, they have an efficient global service.
---
What this is about
This 12 Person Straight Wall Cabin Tent is one of the largest tents from the Core brand, and they are well known for their large family camping tents. This is a completely new tent on the market, they launched it recently.
Note that they have several tents with the declared 12-person capacity so do not get confused. See for example this 18×10-tent for 12 people, Core 12 Lighted Tent, and also this CORE 12 Person Instant Cabin Tent.
So this is a freestanding and cabin style tent with straight walls. This is a very tall structure with the peak height of 86 in (218 cm), so I have included it in my list of very tall tents for camping. The frame is visible in this picture below which shows the tent without its minimal coverage fly which covers the roof only.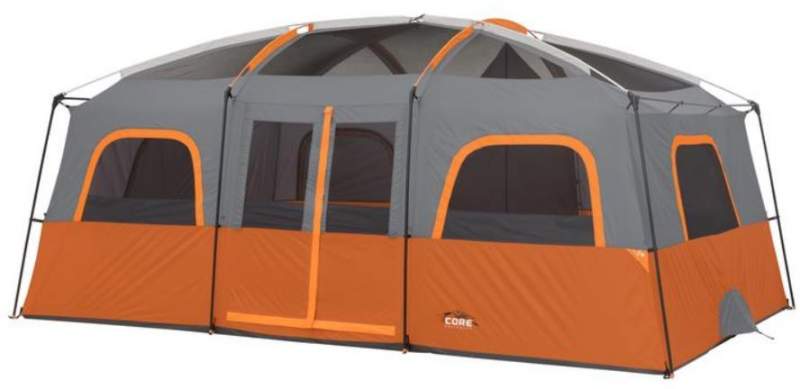 So this is the front view with its huge inverted T-shaped double door, and the tent has yet another large D-shaped door on the back. There is a removable divider included so the tent is officially a 2-room construction, see the picture below. With the divider, you have the sleeping space 11 x 5.5 ft and a living room 11 x 10.5 ft.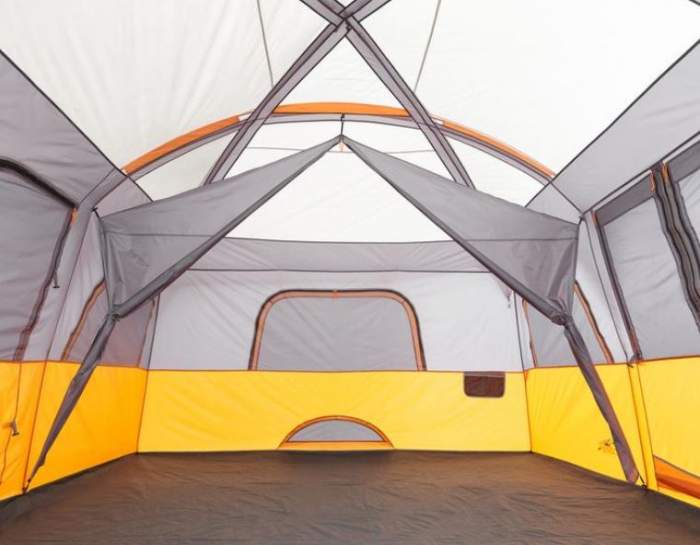 The tent is with 6 separate windows, plus 3 windows on the doors. All of them are double-layer structures with mesh and zippered panels. So this is an incredibly pleasant construction for family camping.
---
Who is it for
Space-wise, the tent's inner area is 176 ft² (16.4 m²), and the declared capacity is 12 people. This would imply 14.7 ft² (1.37 m²) per person if all users sleep on the floor. So this is doable in principle but it is unrealistic in practice. There are no storage areas anywhere. So it is best to downgrade this number of users to 6-8. Note that they claim it fits 4 queen size beds; this is possible but not practical.
Seasons-wise & climate-wise, this is a tent for warm weather camping, a tall and boxy structure which is a huge obstacle to side winds, so it is best to avoid harsh weather conditions. The ceiling is all mesh which is certainly great for ventilation, but this makes it a bad choice for a cooler environment.
Weight-wise, this is a car camping tent, its 40 lb (18.14 kg) of weight is not something you would want to carry. The same holds for its packed size 30.5 x 15.5 x 13 inches (77 x 39 x 33 cm) which requires a car.
---
Materials
The poles & stakes
The poles are fiberglass and you have them many. The picture below shows the top view with the roof poles. So you have 8 vertical and thick legs poles, 4 roof poles, plus one awning pole.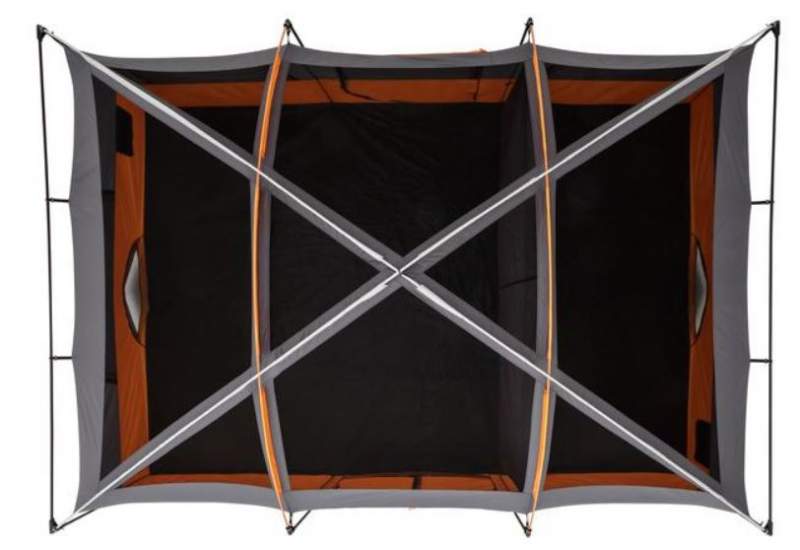 Everything is color-coded for an easy setup, you have a combination of sleeves on the roof and clips below. There are 22 steel stakes in the package, 7 inches long, so use them all in spite of the fact that the tent is freestanding.
The fabric
There is not much info about the fabric waterproof rating. The fly and the tent is a 68D polyester with what they call CORE H20 Block Technology, so this is a water-repellent material with some coating. The floor is a durable polyethylene 115 gsm, they use it in all tents, and this is a catenary cut.
Ventilation
I already mentioned all the mesh areas so this works well for an optimal ventilation. But if you have to close all the windows and doors, you still have 2 floor vents on the opposite narrow sides. This should be good enough to work with the mesh on the ceiling which cannot be closed and it is under the fly.
Other features
Electrical port, see the picture.
There are a couple of small pockets on the walls, far from enough for such a huge tent.
A lantern hook is in the central part of the ceiling, see the picture below.
---
Good and less good features
Here is my short summary:

Enormous size.
Very pleasant & livable tent.
Freestanding.
2 Rooms.
Many windows.

Heavy.
Not enough storage pouches.
Confusing description.
The price
This tent is currently on the market with the price tag around $330, so this is a moderate and fair price for such a huge tent. This is around $20 per square meter of the tent, quite good if you ask me.
Please see how I rate it for the standard set of criteria used for all the tents here in the site. This allows you to make an easy comparison.
My rating of the CORE 12 Person Straight Wall Cabin Tent 16 x 11:
Area per person -

7.7/10

Area/Weight ratio -

7.8/10

Packed size -

7.4/10

Reliability & protection -

7.8/10

Ease of use -

9/10

Comfort & features -

9/10

Price -

8.5/10
---
Specifications
Type: cabin style freestanding tent.
Weight: 40 lb (18.14 kg). This info is from the brand's site, but on Amazon they reply to questions claiming it is 48 lb.
Declared capacity: 12 people.
Dimensions: 16 x 11 ft (488 x 335 cm).
Area: 176 ft² (16.4 m²).
Area per person: 14.7 ft² (1.37 m²).
Peak height: 86 in (218 cm).
Pack size: 30.5 x 15.5 x 13 in (77 x 39 x 33 cm).
---
CORE 12 Person Extra Large Straight Wall Cabin Tent 16 x 11 vs Competitors
I am convinced it is useful to see how such a tent compares with some other tents on the market built in the same style. This may help in making an informed decision. So here I give the Northwest Territory Grand Canyon Tent and Eureka Copper Canyon 12 Tent, so all of them are cabin tents for 12 people. See what they offer.
As you realize it is far smaller than the Grand Canyon tent but it is taller than the other two. It is also less expensive than the other two tents.
Northwest Terr.
Grand Canyon 12  
---
Final thoughts
So this CORE 12 Person Extra Large Straight Wall Cabin Tent 16 x 11 is a huge structure but it is still too small for the declared capacity. It is therefore best to ignore this and use it for 6-8 people and you will have a great summer camping experience with this tent.
The Core is a renown and reliable brand so you know what you are buying when you decide to go for such a product. They give 1-year limited warranty for this tent.

If you need more options of this cabin type, please check under the category Cabin Tents here in the site. This tent is almost the same size as Tahoe Gear Prescott 12 Person Tent which is tunnel-shape, so check and compare.
Please note that this is not a sponsored text, and I have no business relationship with this brand. What do you think about this tent? Please share your thoughts, there is a comment box below.

---