---
Core 9 Person Extended Dome Tent 16 x 9 is a lightweight single room family camping tent with 144 ft² (13.4 m²) of the area with a great packed size and an incredibly affordable price.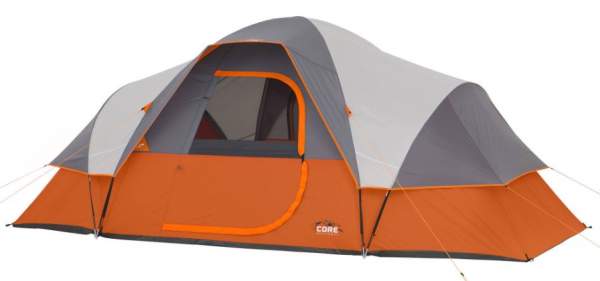 ---
Key features & benefits
Lightweight.
Good packed size.
Great price.
Electric cable port.
---
What type of tent is this
As the name suggests, this an extended dome with the main part created by the two x-shaped main poles plus two extensions on the sides created by two additional poles shown below. Due to this, the tent is not freestanding. The biggest part is a single-layer, only the ceiling and the other mesh sections are a sort of a double layer with the mesh covered by the fly. The structure is visible in this picture: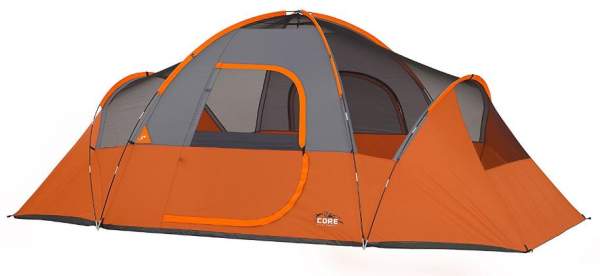 The central area offers quite some headroom, you have 72 inches (183 cm) the peak height here, but the side sections are considerably lower. So this is not close to a cabin style, bear this in mind if you are very tall or just want lots of headspace.
---
Who is it for
Space-wise, the declared capacity for this tent is 9 people, and this is far too small for such a number. If you check the area, you realize that you have 144 ft² (13.4 m²), which give 16 ft² (1.48 m²) per person. Note that there are no external storage areas like vestibules or porches. So for real camping, you would not manage with more than 5 people in such a space.
They have used the backpacking principle to determine the capacity; this is fine if you use the tent with friends at a summer festival or any similar event. You will be able to put 9 pads on the ground.
They write that it can accommodate 3 queen size beds and this is true. Take this Coleman Queen size bed as an example and you can see. But with so many beds, you would not have the place to walk around, so better forget such a statement. But two beds fit nicely, see the picture below, and you have plenty of space to spare.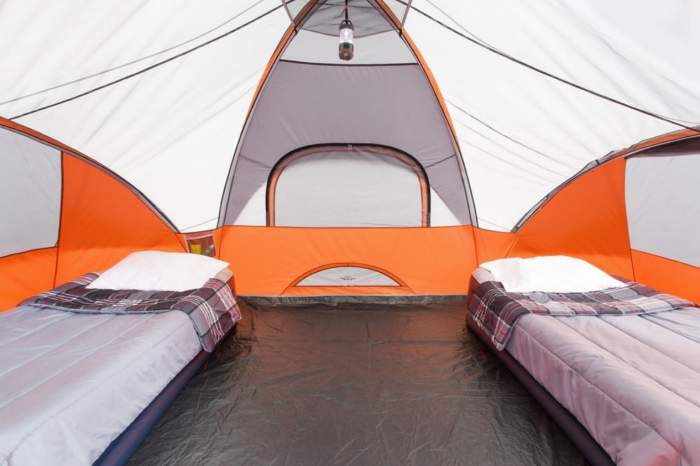 Seasons-wise, this is a tent with a partial coverage fly, so this is for summer camping in moderate weather conditions. They do not provide any information about the waterproof rating and you should not expect much, but the tent is built waterproof.
Climate-wise, with so much mesh on the ceiling, this is a tent for a warmer climate. If you need something for a cooler environment, check some of those tents with PVC windows like the Eurohike Buckingham Elite 8 or Vango Stanford 800 XL, both tents are with 5 rooms. The same holds if you plan to camp in an area with lots of dust and sand in the air, better choose something more enclosed.
Weight-wise, the tent is really lightweight for such a size, and you will realize this from the comparison table below. You have only 20 lb (9.07 kg) here. Also, the packed size is really good, it reduces to 27 x 9 x 9 inches (69 x 23 x 23 cm). So you can transport it even on a motorbike.
---
Overview of the remaining features
The fabric
This is a single room structure, no dividers. The fabric is 68D polyester so this is quite durable. There is no info about the waterproof rating but they use what they call H20 Block Technology which includes a water repellent fabric with active bead technology, and all seams are sealed. The lower parts of the tent is the same material as the fly so it is formally waterproof. You have the closable E-cable port on the wall.
The poles
There are 5 of them in total and this is fiberglass, so not a particularly durable material and it needs some care. You cannot expect a more durable material for such a price, see below. One of the poles is short and used for the small brim above the door.
The doors & windows
There is only one door here and one window on the opposite side, though the door is with its own mesh window. Both are double-layer design with mesh and with zippered panels for privacy and protection so this is a good design.
Ventilation
There is only one floor vent on the side opposite to the door and it is visible in pictures. It is with mesh so insects cannot get in, and it is closable as well. The upper part of the tent is all mesh so this should work well even when you have to keep panels closed on the door and on the window. I mentioned a small brim or awning above the door, so you can keep it open (with mesh) even when it is raining.
What is included
You have the following:
The tent.
The fly.
Poles.
Gear loft.
Stakes.
Carry bag.
A couple of pockets on the walls.
Lantern hanging hook.
Setup
Plan some 15 minutes if two people are doing the job. The main poles are symmetric, two longer for the dome and two shorter for the sides, so all is self-evident. But stake it down first, so choose the ground where this is possible and where the stakes will stay in place.

Please see a bit more about this tent in this video:
---
Specifications
Weight: 20 lb (9.07 kg).
Dimensions: 16 x 9 ft (192 x 108 in; 4.88 x 2.74 m).
Area: 144 ft² (13.4 m²).
Area per person: 16 ft² (1.48 m²).
Peak height: 72 in (183 cm).
Packed size: 27 x 9 x 9 in (69 x 23 x 23 cm).
---
Core 9 person dome tent vs Competitors
Here I give the Core 9 dome tent side by side with two other tents built in the same style, so all are extended dome tents. This might help you to better understanding its features and to make the right choice. Please follow the links in the table to check for the updated prices.
Mountain Trails
Grand Pass 10  
---
Final thoughts, rating, pros & cons
The Core 9 Person Extended Dome Tent 16 x 9 looks cool and the price is truly great. I would not use it in a cold environment, there is too much open space (mesh) on the roof and such a construction doesn't keep the warmth, so use it in a warmer environment and you will be doing fine with it. Certainly, disregard the declared capacity, this is my general advice for most of the tents of this type.
The Amazon price for this tent at the moment of writing this text is exceptionally good. The rating by users is very positive, the tent is very popular and with hundreds of reports everywhere. There are bad reviews of course but this is with practically any item on the market, just give it some time to collect enough reviews. See how I rate it against my standard set of criteria:
CORE 9 Person Extended Dome Tent
Pros
Great price.
Great packed size.
Lightweight.
Lots of mesh for an improved ventilation.
Cons
Fiberglass poles.
Only one door.
Not for extreme weather conditions.
Too small area for the declared capacity.
If you still need something different, just look around and search in the Categories, this site is all about tents and you will find something for you. Check this 10-person cabin style tent from the same brand. Note also that they have an 11-person tent of this type which they launched recently.
Thank you for reading, and please use the comment box below in the case of questions or comments. Have a nice day.