---
Core 11 Person Cabin Tent With Screen Room is a completely new tent on the market which appeared in 2017. This is a luxurious family camping tent with 204 square feet (18.96 m²) of space and with a truly great price tag.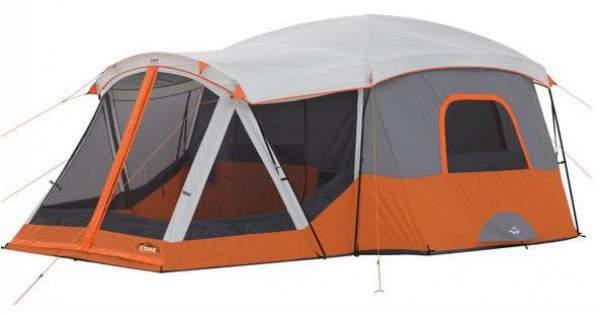 ---
Key features & benefits
Two rooms: main room + screen room with full floor coverage.
Huge area.
Great and stable construction.
Very tall and livable tent.
Electricity access port.
Gear loft included.
Good ventilation system
---
What type of tent is this – what is in the name
♦ The Core 11 Person Cabin Tent with Screen Room is a 2-room tent, see the picture below. It features a spacious front screen room plus a much larger main room.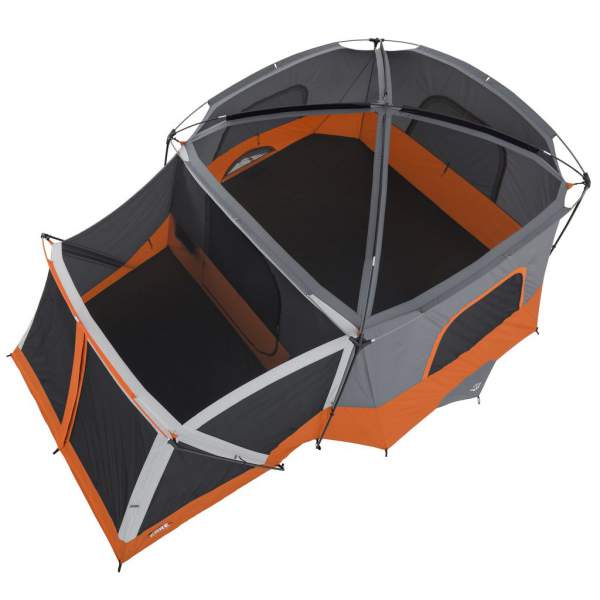 ♦ This is a cabin-type tent, so if you are not familiar with this terminology, please follow the link to see more. Here, just to stress that this implies nearly vertical straight and high walls and huge windows. So this is good because such a construction implies lots of volume inside, and with such windows, you will have a feeling of being at home. This feeling is only increased with its impressive height which is 86.4 inches (219 cm).
The downside is that this implies a rather minimal rain fly which protects only the ceiling, and such a height implies that it may be unstable in very strong winds.
♦ The tent is not freestanding, so bear this in mind and plan your camping spot. To have it fully stable and functional, it must be staked out. This is not possible in the sand or on concrete and rock.
♦ This tent is obviously in the group of screened tents.
♦ This is a camping tent; which means it is not supposed to be carried around. But in fact, its weight is impressive, only 25 lb (11.3 kg) for such a huge floor area and such a height.
♦ The Core 11 is with the ceiling in the main room which is dome-shaped, see the picture above, so it combines the features of both cabin and dome tents. But this is not the dome tent in the true sense; do not put a lot of pressure on its roof (e.g, the snow).
♦ This is a 2 – 3 season tent, more precisely a summer tent. So this implies a minimal fly, large windows, a lot of mesh surface. Such a structure does not preserve the warmth so use it in a mild summer environment and you will enjoy its features.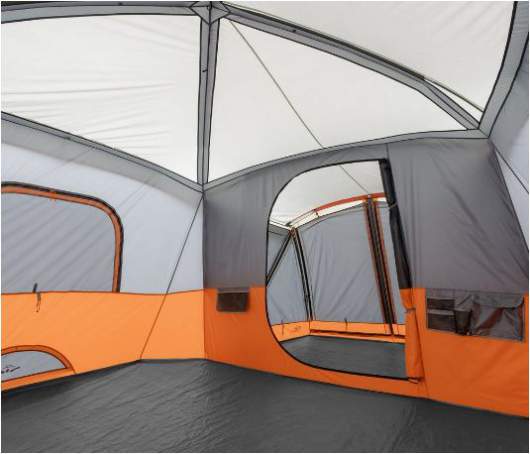 ♦ One more thing here – what this tent is not: it is not an instant tent. I have seen some confusion about this, even the seller did not answer correctly. Instant tents have a pre-assembled frame, and poles are permanently attached to the tent. This is not the case here.
---
Who is it for
The Core 11 Cabin Tent offers the floor area of 204 sq ft (18.96 m²). So in view of its declared capacity of 11 people, this would make 1.72 m² per person. This is better than most of the tents presented in this site so far. No doubt this is enough if this is only about groups and overnighting. For such a large group, 4 people can sleep in the screen room and 7 in the main room.
You might want to compare it with the Core 12 Instant Cabin tent, which is for 12 people but its floor area is smaller, it is "only" 16.7 m².
In the case of families and for true camping with a lot of stuff which you would carry, this tent is large enough to accommodate even quite large families. So this will all depend on what you have of the equipment, but parents with 5 – 6 small kids will be able to organize the life in such a space.
The space can best be used if you put bunk beds inside. Note that the steep and high walls are perfect for such a setup.
The tent can easily accommodate 3 double beds, so there is a place for 3 couples. But if you want a luxurious camping, this is a perfect tool for couples, with a double bed in the main room and a sitting area in the screen room.
---
Materials and construction
Poles
There are many poles here, this is a really nicely built tent. So you have the following in the package:
2 main fiberglass roof poles above the main room. They create the usual X-shaped dome structure.
4 perimeter fiberglass poles which give the shape to the upper portion of the main room. This is a great feature because the walls are stabilized and flapping in the wind reduced.
1 fiberglass pole which makes the loop above the screen room.
4 steel poles for vertical support of the main room.
2 steel poles which support the screen room roof.
So what you have here is very different from the structure which you can see in the Wenzel Klondike 8 tent. I have seen some people asking if those tents are the same. In fact, they are totally different although they look physically similar. The structure you have here make the walls much more stable in windy situations and the walls are not loose and fluffy.
The fabric
For the tent and rain fly, you have 68D polyester so this is typical and reasonably durable. The seams are thermally sealed (taped).
The floor is supposed to be waterproof although they advise using a sealer. Note that it is not bathtub type, if of any importance to you. You can read more here about the types of the floor in family camping tents.
Note that the screen room has the floor just like the main room, so this is a room in the full sense, and it alone can accommodate 4 campers.
Weather resistance
They claim that the tent is tested up to 40 mph winds. Its structure looks like it can withstand such a force. But in general, this is a tall tent with steep walls and it is a big obstacle for the wind. So I would rather not put it to very harsh tests.
They write themselves that "Core tents are designed for 2 – 3 season use and are not for severe weather conditions". So I think you do not need more, take this statement literally.
As for waterproofness, they do not provide an exact statement about the rating in mm of a water column. Again, as above, better avoid any harsh environment. I would not expect more than 600 mm.
Ventilation
This is something great here, and for several reasons. You have large windows and doors with mesh and waterproof panels, so you can use them as the weather allows.
Also, as mentioned above, the ceiling is all mesh, so the air will circulate through these large areas. This is helped also with 2 ventilation openings on the sides of the tent close to the floor – you can keep them open at all times, but you can close them as well.
The rooms
The main room is 12 x 10 ft (3.66 x 3 m), so you realize that it alone can accommodate two queen size beds. You have 3 large windows here, one on each external wall.
The screen room measures roughly 8 ft (front) x 9 (back) x 7 (width). Here you have mesh everywhere, on the walls and on the ceiling. But this is a double-layer structure, so you have privacy panels everywhere from inside and you will zip them up when it is raining. The ceiling is protected by the fly.
The tent is with one external door which is at the front side of the screen room, and this is not so great. It would be far more livable and functional with an additional door on the main room. 

The carry bag
This tent has excellent packed size and it packs in its rectangular carry bag, see the picture below. I am really impressed with its size, just think about all those steel poles you have here.
Note that it is expandable, you have a zipper to make it larger for additional 3.5 inches (9 cm). You may need this when you are in rush and do not pack the tent properly; as you probably know it may be difficult to put it back in the bag. So in such situations just expand it and it should be easier.
Setup
One person can set this tent up in 20 minutes but it is better to have two people to avoid damaging the roof poles, remember those are fiberglass and they are fragile. The poles are color-coded and you will need this.
You start by staking the floor out and then start adding the roof poles in their sleeves. After that, you raise the tent by adding the vertical poles for the main room and the angled poles for the screen room.
To have fully functional vents, you will stake them out separately. The same holds for the screen room, so stake it down and add the fly after that.
Inner features
There are several very small mesh pockets on the walls, I would indeed love to see more. You also have a gear loft with lantern hook. One useful feature is the electrical cord access port which is fully closable when not in use.
---
Specifications
Capacity: 11 people.
Weight: 25 lb (11.3 kg).
Dimensions: 17 x 12 ft (204 x 144 in; 518 x 366 cm).
Floor area: 204 ft² (18.96 m²).
Area per person: 18.5 ft² (1.72 m²).
Peak height: 86.4 in (219 cm).
Packed size: 17 x 10 x 10 in (43 x 25 x 25 cm).
1-year limited warranty.
---
Comparison table: Core 11 vs other Core tents
See how this tent stands when compared with some other large tents from the same brand:
17 x 10 x 10
(43 x 25 x 25)
48 x 11 x 10.5
(122 x 28 x 27)
---
Final thoughts, rating, pros & cons
In the conclusion of this Core 11 Person Cabin Tent With Screen Room review, you might want to notice that this tent has one of the best Area/Weight ratio among the tents presented in this site, this parameter is 1.68 m²/kg. You might want to compare this with their 10-person instant cabin with the screen room. See below how I rate it.
CORE 11 Person Family Cabin Tent with Screen Room (Orange)
Thank you for reading. If you still need something different, please look around, this site is only about family camping tents, so you will definitely find something for you. Check this Mountain Trails Grand Pass 10 tent built in a different style and also this Eureka Copper Canyon 12 Tent. If you need a tent with a full fly, please check this NTK Super Arizona GT tent.
Please use the comment box below in the case of comments and questions. I wish you a nice day.