---
CORE 10 Person Instant Cabin Tent With Screen Room is a nicely built family camping tent for summer camping in a warmer climate. This is a very pleasant and tall tent with many large windows and with a very easy setup.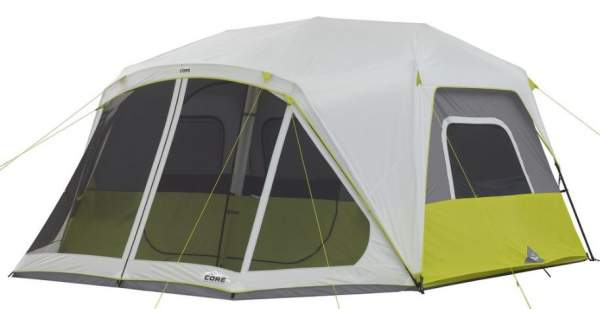 ---
Key features & benefits
Very tall tent.
Easy 2-minutes setup.
2 Rooms plus a screen room.
4 Windows.
2 Doors with windows.
E-cable port.
---
What is in the name
There is a lot of in the name already. So this is a cabin tent in the true sense, with very tall and straightened walls and large windows. The peak height is incredible 84 inches (213 cm). But this is also (at least partly) an instant tent so the setup time is officially 2 minutes only. With two people who have practiced doing the job, this is realistic, the poles are telescopic and preattached to the tent, so you practically just unfold and extend the poles. But you should add a few minutes because of the fly and the extra poles on the front. I have included it in my list of instant tents.
With such features, this should be a freestanding tent but this is not so. There is also a screen room here and it is supported with extra poles. To have it fully functional, the tent must be staked to the ground, you see this in the picture below where the guylines are already in place.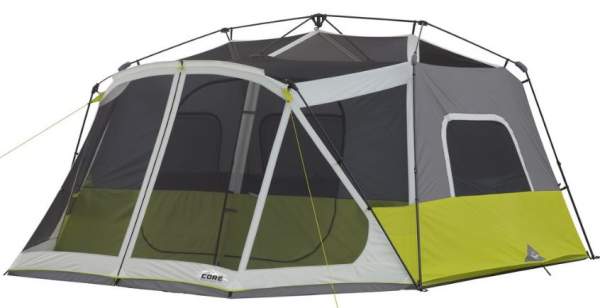 This is a 2-room tent where you have a removable divider, and as mentioned above there is also a screen room, see the structure in the pictures below. This screened area is not very deep, but it has enough space to put a couple of chairs and a small table. Note however that this is the entrance area as well so you cannot put lots of stuff there. But two people can certainly sit there comfortably and drink a coffee safe from mosquitoes. I have included it in my list of tents with screen room.
There is no floor in the screened area, and the fly covers it only partly, so this is not a zone protected from the rain. There are no panels, so you can keep shoes and boots there when the sky is clear, otherwise you will have to cover them with something when it is raining.
---
Who is it for
Let's see first about its capacity. So space-wise, the tent is officially for 10 people. The ground dimensions needed for the tent are 14.5 x 14 ft (4.42 x 4.27 cm) so the area should be around 203 ft² (18.9 m²), but the tent is not fully rectangular and the area is a bit smaller. I have included it in my list of extra large camping tents. This is quite a space, and you have close to 20.3 ft² (1.9 m²) per person. This looks large enough for 10 people sleeping on the floor, but you might want to see how it compares with other 10 person tents.
But for real camping, I would downgrade it to maximum of 5 people, like parents and 2 – 3 kids. Note that you can easily put two queen size air mattresses inside and you will still have some area around, so the tent is great for two couples as well. I would say, a much better option for such a cabin tent would be to use bunk beds like this Disc-o-Bed. They have it also for kids. These versatile structures can be used as benches during the day. In any case, they save lots of tent's floor area, and you can still store some stuff underneath the beds.
Seasons-wise and climate-wise, regardless of the waterproof rating (which is not known, they do not provide it), this tent is for summer camping only and for relatively warm weather. The reason is its huge mesh area on the ceiling. Such a structure does not preserve warmth and I would not use it in a cooler environment. I guess a better option for a cooler environment would be this Ozark Trail 10 person instant tent because of the inner panels on the ceiling which you can zip up and close the tent almost completely.
Also, with so much mesh, this tent is not the best option in an area with lots of dust in the air. You would need something more enclosed like this Buckingham Classic 8 tent with PVC windows and without mesh at all, or this Vango Odyssey Air 8 tent. Both of them are with 5 rooms, can you believe this? They are also far better suited for a cooler environment.
As with any instant setup tent, this is a good option if you change your camping place frequently. So if you are on a cross-country tour, this is a tent to consider.
Weight-wise, this is a heavy thing, no less than 40 lb (18.14 kg), this is due to its steel poles. So beat this in mind, you would not like to carry it long distances.

---
Materials & construction
The fabric
There is no information about the materials, but based on what I know about other similar tents from this brand, this is obviously 68D polyester used for the fly and for the panel areas. This is what they claim is suitable for 'all seasons with Core H20 Block Technology'. This about all seasons sounds a bit problematic to me, this is a nice tent but for summer camping only.
The floor is (again guessing) probably polyethylene and being plastic it should be fully waterproof. Note that this is not a bathtub type floor, you have a catenary cut here.
The poles
There is no information provided, but this is clearly mainly a steal for all long poles and you have them many, 6 in the main part and two in the screen room.
Ventilation
Ventilation is one of the better features of this tent. You have two large floor vents on the opposite sides (they are visible in the pictures above). The ceiling is all mesh so this is a guarantee for an optimal vertical airflow. All windows and doors are also with large mesh sections, and you should not have issues with condensation.
Windows & doors
Each of the two rooms has its own large entrance door inside of the screen room and each of them also has a window on it, but you have two separate windows on the two walls for each of the rooms. All of the doors and windows are double layer type with mesh and panels. The panels are with zippers so this is all properly done and you have protection and privacy, and fixing the panels in place is easy and fast.
Only the huge double door in the screen room is just a mesh similar to the rest of the screen room walls.
Other features
The tent has plenty of storage elements. Two units with storage pockets are above the floor on the two sides of the entrance doors (one is shown above), and you also have many very large mesh pockets under the ceiling.
There is a series of rings on the ceiling to attach lanterns or to pass a cord and to hang some stuff around.
The electric cable port is also available, see the picture above.
In this short video you can see how to set this tent up:
---
Specifications
Type: instant cabin tent.
Capacity: 10 people.
Weight: 40 lb (18.14 kg).
Dimensions: 14.5 x 14 ft (4.42 x 4.27 cm).
Area: 203 ft² (18.9 m²).
Area per person: 20.3 ft² (1.9 m²).
Peak height: 84 in (213 cm).
Packed size: 27.16 x 11 x 11 in (69 x 28 x 28 cm).
1-year limited warranty.
---
CORE 10 Person Instant Cabin vs Competitors
Here is the Core 10 tent side by side with two other tents built in the same style, all are cabin type tents and with screen rooms. Please follow the links to see more.
17 x 10 x 10
(43 x 25 x 25)

---
Final thoughts, rating, pros & cons
In the summary of this CORE 10 Person Instant Cabin Tent With Screen Room review, I would stress again that this is a really nicely built tent with many great features suitable for summer camping and for a warmer climate. If used that way, you will enjoy your camping, but only if you seriously downgrade the number of people camping with you in this tent. Being an instant tent, you should consider it if you move frequently from one camping place to another.
Note that in 2019 they have introduced also this CORE Lighted 10 Person Instant Cabin Tent with Screen Room with the same features plus integrated light.
CORE 10 Person Instant Cabin Tent with Screen Room - 14.5' x 14'
Pros
Very easy setup.
Electric cable port.
Floor vents.
Lots of storage elements.
Very pleasant and livable structure.
Very tall and lots of headroom.
Cons
Heavy
Small area for the declared capacity.
Yet another option with a screen room is this ALPHA CAMP 10-12 Person Tent with Screen Room which is a framed tent. If you need something different, just look around in this site, it is all about large camping tents for families and for groups, so you will surely find something for you.
You might want to check yet another 10-person tent from the same brand, a cabin without the screen room. If you need something smaller with the screen room, check this Coleman Elite WeatherMaster Screened 6 Person Tent with LED lights. Check also this Slumberjack Overland 10 Tent which is with 3 rooms and a tunnel-shaped structure.
Please use the comment box below in the case of questions or comments. Have a nice day.