---
In this Core 9 Person Instant Cabin Tent Review, you can read about an incredibly affordable tent with an amazing design and an easy setup. You can pitch it under a minute.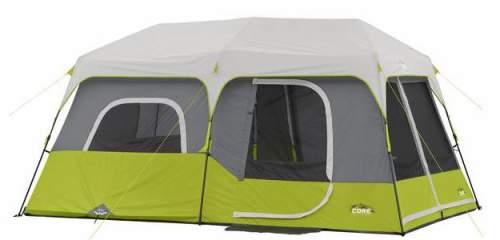 ---
Key features & benefits
Two rooms.
60 seconds setup due to the pre-assembled frame.
Freestanding.
Great price.
Electricity port.
---
What type is this – what is in the name
This tent is incredibly cleverly designed. It looked to me like an umbrella with attached walls and the floor. You just spread it and it is instantly ready.
The Core 9 is a freestanding tent. This means that you can pitch it on any terrain, the structure is self-supporting and staking it to the ground is not compulsory, but this is highly advisable to do.
The term instant in the name implies that the frame is pre-assembled and the poles are permanently attached to the inner tent, so the setup is incredibly easy, within 60 seconds. The main poles are also telescopic, so when you unfold the tent you extend the poles until you hear a click, this means that it is at the desired fixed length. By doing this with all six poles, you effectively raise the inner tent up because it is attached to the pole system.
This is also a two-room tent. This is very convenient to have for family camping or in the case of a group with mixed gender members.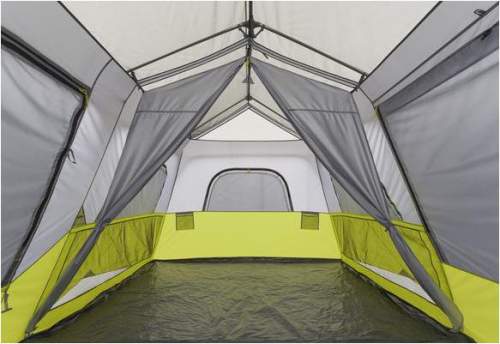 I would put this tent is in the group of hybrid tents. This means that it is mainly a single-layer type and you have the fly as the second layer only on the roof.
As the name suggests, this is a cabin-type tent, which means it is very tall and the walls are almost vertical, see the picture, so you have a lot of volume inside.
Note also that this tent belongs to a series of tents built in many different sizes; in my separate review you can read about the Core 6 tent.
You might want to know that they have a 10-person version but with integrated light under the name CORE 10 Person Lighted Instant Cabin Tent.
---
Who is it for
In view of all the features mentioned above, this is a 3-season tent or perhaps for 2 seasons. By this, I mean that it is designed for very harsh rains and winds; but for ordinary camping in mild weather conditions, it will do the job.
In view of its size, this is a tent for large families and for large groups of people. You can use it for summer vacations with your family, or with your friends at some open-air festivals and any similar gatherings.
The packed size is 48 x 11 x 10.5 inches (122 x 28 x 27 cm), so the tent needs a car for transportation to your camping place.
With a weight of 35.15 pounds (16.3 kg), any adult person can handle it easily. You will see in the video below how a woman deals with it with ease and sets the tent up in just a few minutes time.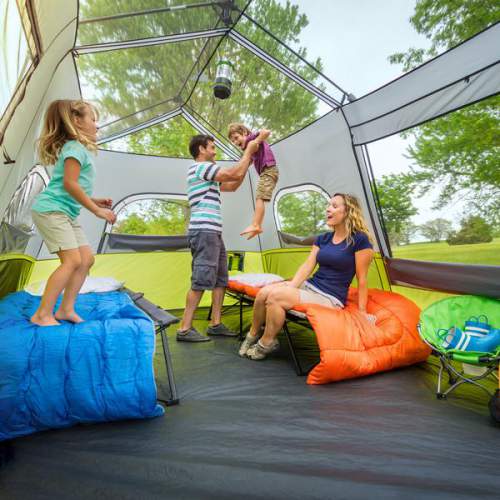 This is an incredibly pleasant and livable tent and you can realize this from the picture above. With so many mesh windows around and with the mesh on the ceiling, you have perfect air circulation and condensation will never be an issue in such a tent. But this also means it is a summer tent; such a construction does not keep the warmth inside.
The floor size is huge 14 x 9 ft (4.26 x 2.74 m), so you can organize the life as you wish. There is a divider and you can make two rooms. They claim the capacity for 9 people; so indeed this is possible if you use the tent for a group on a music festival or so.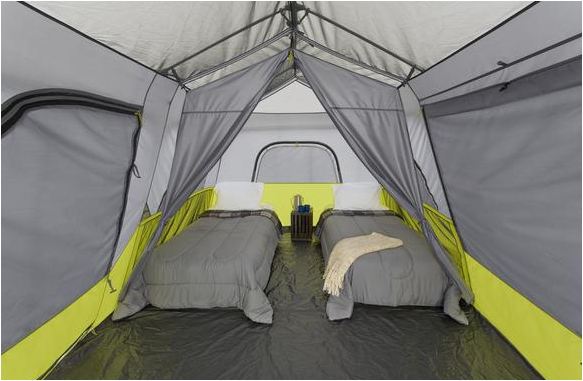 But for a family camping, you should not go with more than 4 – 5 kids in this tent. Remember that there is no vestibule here, so organizing life may be difficult in the case of many people, there is no space for the storage of gear.
How about beds?
It can always be useful to save the space, even if the tent is as big as this one. So, one way is to you use bunk camping beds for kids, those are truly amazing tools, very functional and easy to use. Note, they have them for adults too, see them in these links.
Note that these bunk beds can be used as ordinary beds as well, no need to have them on top of each other. Such a huge tent will accommodate them regardless of how you use them. And they also can be set in the configuration of a bench. So with such tools, you will have a fully furnished camping home.
---
How to set the tent up
The only way to believe how incredibly easy is to set this tent up is to see it. So here is a video, all shown in real time, one person unpacking and setting the tent up, enjoy:
She was not in a hurry yet she did it alone in under 4 minutes. You realize that:
The tent body is attached to the frame at all times.
The frame is foldable.
The main 6 poles are telescopic.
With a few people, this is done in one minute, but this implies being a bit familiar with the tent.
In the video, she did not add the fly, so this can be a bit difficult for one person because the tent is so huge and it is 78 inches (1.98 m) tall. But the fly is really minimal in design and it is not heavy at all.
---
How to take the Core 9 tent down
Taking the tent down is even easier, see the video, the same person doing the job again:
As you realize, the fly was on, so it took some time to remove it, but she did this all in around 2 minutes without rush. The key steps are the following:
Collapse the 6 telescopic loops. With this, the tent collapses to the ground.
Fold the frame inside.
The rest was just packing.
---
Other features
The windows are with mesh screens, so you have full protection from insects. For more privacy and for rain protection, you have rain panels which you can see in the pictures. They roll down and can be fixed under the windows.
There is an electrical cord access port on the wall, very useful to have in camps with electricity available. It is fully closable when not in use.
The fly
The fly is minimalistic in design. It covers only the top ceiling. This is normal for such a design; the tent is with windows and great views everywhere around, so the fly is not supposed to be on the way. You can stake it to the ground, the stakes are provided, but this is not a design for heavy rains with strong winds.
Waterproofness
They do not provide details, except for the statement about the CORE H20 Block Technology. In principle, there are no exact standards regarding this issue and no obligation to do this, but many brands do provide data about the rating, see for example this NEMO Wagontop 6 tent or Kelty Trail Ridge 6.
Pockets 
There are several mesh pockets on the walls; but for such a big tent I would expect much more, this is a  bit disappointing.

---
What is included
You get the following items:
The tent.
The rain fly.
The room divider.
Stakes.
Carry bag with printed instructions.
---
Specifications
Type: freestanding, 3-season, instant setup.
Capacity: 9 people.
Weight: 35.15 lb (16.3 kg).
Floor area: 126 ft² (11.7 m²).
Area per person: 14 ft² (1.3 m²).
Dimensions: 14 x 9 ft (4.26 x 2.74 m).
Peak height: 78 in (1.98 m).
Packed size: 48 x 11 x 10.5 in (122 x 28 x 27 cm).
60 seconds setup.
Doors: 2.
Warranty: 1 year limited.
CORE H20 Block Technology and adjustable ground vent.
---
Core Instant Cabin Tent 9 vs Coleman Instant Cabin 8
These two tents are with a very similar design, see how they compare in some basic features:
Core
Instant Cabin Tent 9 
48 x 11 x 10.5 (122 x 28 x 27)
---
Summary, rating, pros & cons
So I wish to conclude this Core 9 Person Instant Cabin Tent Review by stressing again how impressed I am with this ingenious design. The whole Core series is built on that same principle and I love it. The price is more than reasonable for such a huge tool. If you use it in mild weather conditions you will enjoy with this tent. I have included this tent in my list of best 9-person camping tents. You might want to check also this Coleman Instant 8 Cabin tent built in the same style.
Note that in 2019 they have launched a lighted version, the CORE Lighted 9 Person Instant Cabin Tent, so have a look.
There is a huge number of customers' reports available on the Internet. On Amazon alone, you will find them in hundreds and the average rating is incredibly high. See how I rate it.
CORE 9 Person Instant Cabin Tent 14 x 9
If you still need something different in size or in style, please just look around, this site is only about family tents so you will surely find something for you. If you need a bigger tent, please see this Core 12 tent; for smaller check the Core 6 tent from the same series. See also this Kelty Yellowstone 6 tent with a completely different style. Need something bigger, well this Coleman Red Canyon 8 offers almost 16 m² of the floor area.
Thank you for reading. I love to hear from you, so please use the comment box below. Have a nice day.