This Core 12 Person Instant Cabin Tent Review is about one of the largest family camping tents on the market. With 3 rooms, this freestanding tent sets up in under 2 minutes.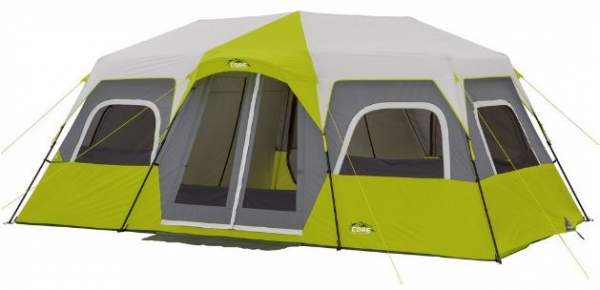 ---
Key features & benefits
Incredibly fast setup, in 2 minutes.
3 rooms.
2 huge doors with windows.
7 separate windows.
Fits 3 queen size beds.
Great price.
2 large vents close to the floor.
---
What is in the name – what type is this
This is an incredible structure, before you raise it completely, with its 8 main vertical poles connected by roof poles, it looks like a giant spider. It is also included in my list of 3 room family camping tents. These are its main general features:
This is an instant tent. This means that the frame is pre-assembled and attached to the tent. So you only have to spread it and extend the telescopic poles. This brand is known for such instant tents and they all are listed here.
The tent is also cabin type. This terminology is described in detail in my separate text. Here, just to stress that this implies that the tent is very tall, 80 inches (2.03 m), and with straight and very steep walls.
The Core 12 is fully freestanding, so you can pitch it on any terrain. But make sure you have enough clear space, this giant is with dimensions 18 x 10 ft (216 x 120 in; 5.49 x 3.05 m).
The tent is the 3-season type. This means that you have a lot of mesh, so the ceiling is only a mesh (see the picture below), and you have huge windows on all sides and two huge doors. Obviously, such a structure does not preserve the warmth. The fly is minimal, and the tent is very tall, so it is a huge obstacle in the case of side winds. So, you should use this tent only in moderate weather situations, i.e., as a summer camping tent.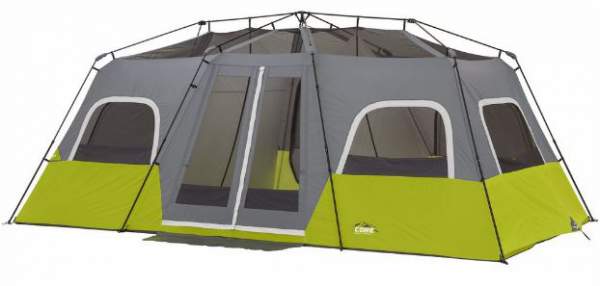 ---
Who is it for
Regarding the transportation, the Core 12 Instant Cabin Tent is a heavy tool, with 52.55 lb (23.84 kg) of weight, so not to be carried around, and you will therefore use it at places with a car access. This is also because of its packed size which is 51 x 12 inches (130 x 30 cm).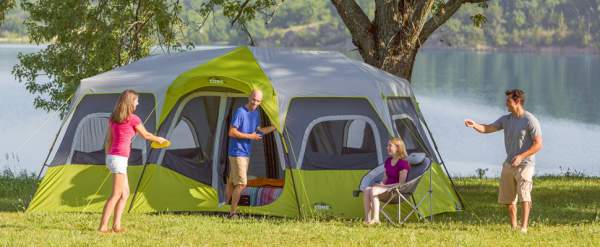 Size-wise, here you have the floor area of 180 square feet (16.7 m²), which gives 1.4 m² per person in the case of the declared capacity of 12 people. Clearly, this is hardly enough for such a number but perhaps it can be used for groups for quick overnight stays.
Bear in mind that you have no external storage area here. But indeed, the tent is big enough to accommodate big families. It is included in my list of 12 person instant camping tents.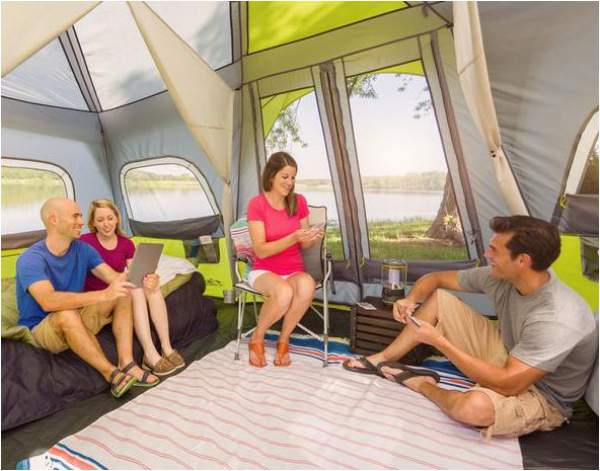 ---
Setting the tent up
If you do it correctly, it is indeed doable in 2 minutes, see it here, you will notice that they do not rush at all:
Now, if you think you need many people, think again, this man sets it up alone, and equally fast:
---
Taking the tent down
It is incredibly easy, you press the popup buttons which lock the telescopic poles in their required length. This will cause the tent to collapse. After that you just fold it, have a look:
---
What is included
Tent.
Rain fly.
Gear loft.
2 dividers.
Stakes.
Carry bag.
---
Materials and structure
The fabric is flame-resistant and it meets CPAI-84 specifications.
The floor is standard polyethylene (PE), waterproof, 115 g/m.
The tent and the fly are polyester 68D with a 600 mm waterproofness rating. This rating does not look particularly great, but it is better than an umbrella which is typically around 400 – 500 mm. They use what they call H20 Block Technology, which combines water repellent fabrics with active bead technology for faster water runoff, this all paired with sealed seams and rain-resistant seals.
Windows and doors are with mesh, plus waterproof polyester panels. Note, this is not no-see-um mesh.
The poles are steel, so this explains the weight mentioned above. The roof poles converge towards the center and you have a hub structure on the highest point. This all is permanently attached to the tent, hence the name instant in the name. Those 8 vertical poles are telescopic, so when you extend them to the needed length, you will see popup buttons and they will be locked in place.
The two dividers are removable.
The doors are on the opposite sides of the central section, equipped with some really small awning. Pity they did not make it larger. The doors look similar, but in fact, the back door is D-shaped and with a window parallel to it, while the front door is a huge double door with an inverted T-shaped zipper.
The tent is fully freestanding and even the fly might be used without fixing it to the ground, as long as you do not expect a really bad weather. This is because it clips to the 8 vertical poles. But to have it fully functional and secured, do not miss to stake it if possible.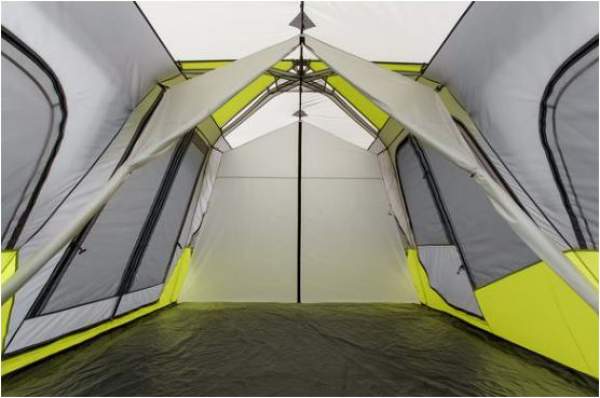 Ventilation
Here you have a really good venting system. It is based on the adjustable air intake vents on both sides of the tent, located close to the floor, see the picture below. You have guylines to stake their covers out and to make the airflow more efficient. So they take the cool air from the ground, and the warmer air will escape through the mesh ceiling.
Of course, all openings are with the same mesh and you can combine them and regulate airflow as you wish. But the point is that those vents may remain open at all times, this is what makes this tent better with respect to ventilation than many other models on the market.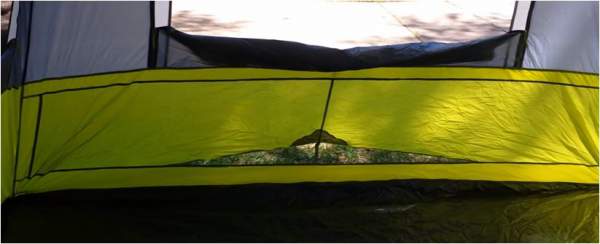 Privacy
The tent is obviously with huge windows and doors, but they all can be zipped for privacy (and for rain). The dividers inside also give some privacy to the users. This is in particular if used by several couples, note that each of the units divided by those dividers can accommodate a queen-size bed.
Pockets and other features
You have 4 hanging storage pockets, and a gear loft is included as well equipped with a lantern hook. In addition to this, you also have an electricity port which can be closed if not used. I am not so impressed with this; the tent is huge and they have missed the opportunity to add more storage elements, these pockets are very small.
---
How to organize the space
With such a large floor area, this may look unimportant, but having no vestibules, you will keep everything inside. So instead of having mattresses on the floor, it is better sleeping off the ground, on cots. With such tools, you will still have a lot of storage space under the cots and you can keep a lot of stuff there out of your way.
Here are some nice options, in particular bunk beds shown in the pictures; there are models both for adults and for kids.
You will notice that those bunk cots (in particular those for kids) are in fact rather low, and they will not obstruct the views through the windows.
---
Specifications
Type: 3-season, freestanding, instant cabin.
Capacity: 12 people.
Weight: 52.55 lb (23.84 kg).
Dimensions: 18 x 10 ft (216 x 120 in; 5.49 x 3.05 m).
Floor area: 180 ft² (16.7 m²).
Area per person: 15 ft² (1.39 m²).
Peak height: 80 in (2.03 m).
Packed size (L x D): 51 x 12 in (130 x 30 cm).
1-year limited warranty.
Poles material: steel.
Number of stakes: 18.
---
Core Instant Cabin 12 vs competitors
See how the Core 12 tent compares with some other tents from the same size range. Please follow the links for more:
---
Final thoughts, rating, pros & cons
At the conclusion of this Core 12 Person Instant Cabin Tent Review, I will stress again what is obvious, and this is the size and the price combination. But bear in mind also its weight and the area/weight ratio which is only 0.7 m²/kg, so it is the same what you have in the Core 9 instant tent and something similar you have also in Coleman Instant 8 tent.
As you realize, these are all instant cabin tents, so this is something typical and it is due to their construction with such strong and heavy vertical poles. So if the weight is the parameter of importance for you, check for the dome tents in general. Note that I have included this tent in my list of best 12 person camping tents. You might want to see its redesigned 2-room version or yet another with integrated light, the Core Lighted 12 Person Instant Cabin Tent.
See how I rate this tent:
So, thank you for reading. If you are still undecided, please look around, this site is only about family camping tents. Check in the Categories above on the right, in particular, the Core 9 and Core 6 from the same series, and also this new tent on the market, Core 11 Cabin tent with screen room. Note that this Mountain Trails Grand Pass 10 tent built in a different style has an equally impressive floor area although it is officially for 10 people. Check also this Eureka Copper Canyon 12 Tent, and also this Ozark Trail 12 Dark Rest tent.
Please let me know if you have any question or comment, there is a comment box below. I wish you a nice day.