---
Here you have my list of the best 9 person camping tents currently available on the market, all very livable and large structures for summer or 3-season camping for families and groups of friends.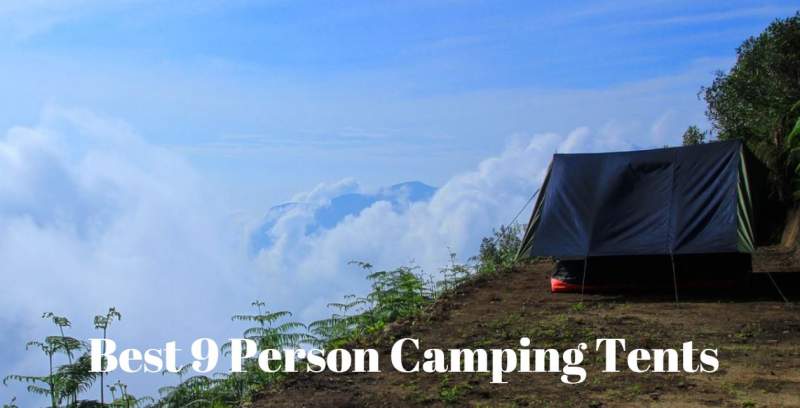 ---
My list of best 9 person tents for camping
The tents are ordered by the floor area from smaller to larger.
You can see already from the names of the tents what types are included, so you have :
Cabin tents.
Some of them combine several of these features.
There are canvas tents here as well.
Regarding the number of rooms, the list includes:
Most of the tents are for summer camping, but there are exceptions like this NTK Arizona tent which is with a full fly and a 3-season tent. Please see a bit more about each of them below.
---
1. Core 9 Person Instant Cabin Tent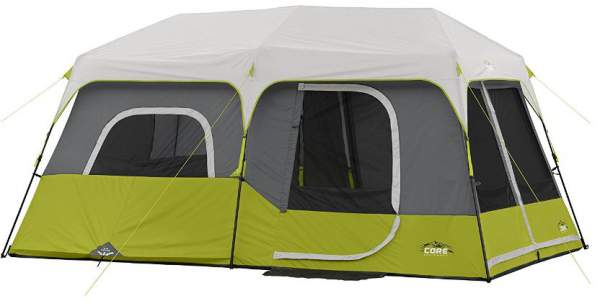 This Core 9 tent incorporates several great features and you see some already in the name. So this is an instant tent and this implies that the setup is in just a couple of minutes (in fact the declared setup time is 60 seconds, can you believe this?). The frame is pre-attached to the tent so you just spread the tent and extend its telescopic poles. As you realize from the picture, this is also a very tall cabin-style tent with many great windows.
The floor area is not so impressive for the declared capacity, you have only 126 ft² (11.7 m²) in its two rooms. So it is best to downgrade this number to half the value and you will enjoy your camping in this tent. Please read more in my full review.

Note also that they have recently launched the lighted version for the season 2019 under the name CORE Lighted 9 Person Instant Cabin Tent, so have a look.
---
2. NTK Arizona GT Tent 9 to 10 person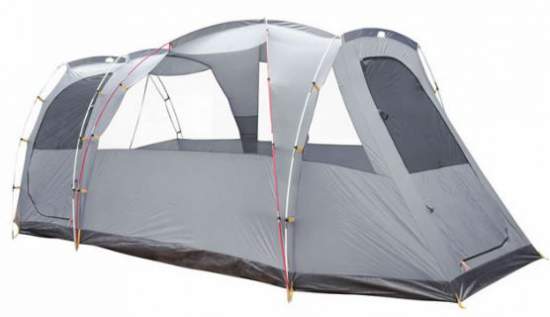 Here you have a really specific design which is a sort of an extended dome. The tent is with 2 rooms and it is also with a full-coverage fly. The waterproof rating is quite high and you have 2500 mm. This makes it very much suitable for 3-season use.
The declared capacity is "9 to 10" people. But the floor area is only 140 ft² (13 m²), so again this can work perhaps in the case of a group at a summer festival when the tent is used only to spend the night on the floor. But for a real camping, you should downgrade this to 5 people or so. Please read more in my full review.

---
3. Coleman Prairie Breeze 9 Person Cabin Tent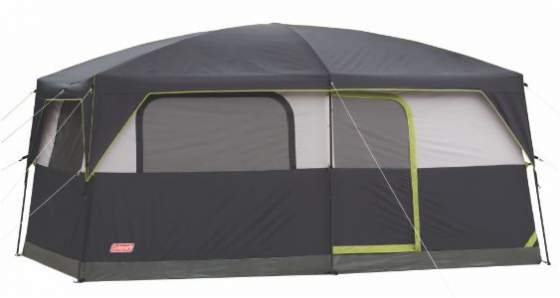 The Prairie Breeze 9 is a tent with bonuses, it comes with a fan and LED lighting system. As you realize, this is the most typical cabin that you can imagine with almost vertical walls. The structure is a 2-room type with the removable divider.
The area is small, the same as in the tents above, so you have 140 square feet (13 m²). For a family camping, I would say it is suitable for parents and 2 – 3 kids. Obviously, this is for summer camping only and I would not put it to very harsh tests.
The tent is freestanding and with an easy setup that can be done in some 15 minutes or so. Please see more in my full review.

---
4. Trek Tents 246C Cotton Canvas Cabin Tent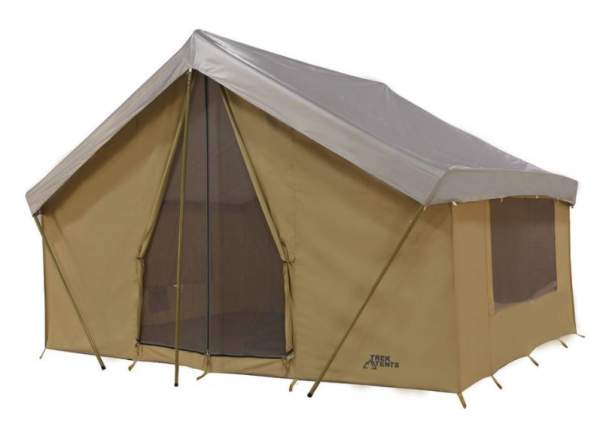 Here you have a pleasant structure built from a breathable canvas. This makes it suitable for all seasons and all climates. You have three large windows on the three sides and the door on one side, it is shown in the picture above, and all these openings are with mesh and canvas panels, so you can close them and keep the warmth.
The roof is also solid canvas, so you have no mesh anywhere but this is a breathable material so you can use it even in a warmer climate. The frame is steel so the construction is strong. This is why I have included it in this list of cold weather tents.
In view of its 229 cm (90 in) peak height, I have included it in my list of very tall tents. The declared capacity is 9 people but the floor area is not very big, you have 140 ft² (13 m²). Note that it is rather heavy, no less than 64 lb (29 kg). Please follow the link for more information about this tent.

---
5. Core 9 Person Extended Dome Tent 16 x 9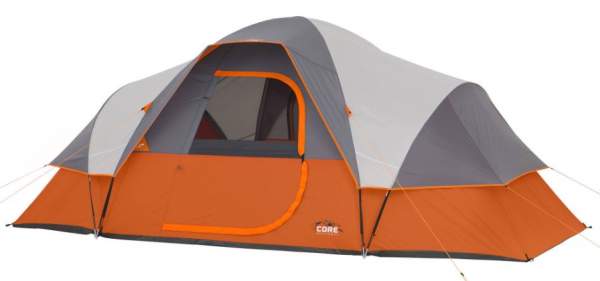 The Core 9 is a quite lightweight extended dome type single room tent, so the central dome section is extended on the sides with two additional poles. The area is 144 ft² (13.4 m²), and this gives 16 ft² (1.48 m²) per person if used by 9 people. So as usual, for a real camping better downgrade this considerably.
This is a tent for summer camping and in a warmer climate. The poles are fiberglass and all are shock corded. The packed size is really good so you can transport it even on a motorbike. This is one of the most affordable tents here so if you need something for occasional camping and do not wish to spend much this is the tent to consider. Please read more in my full review.

---
6. Semoo Water Resistant 9-Person 3-Room Family Tent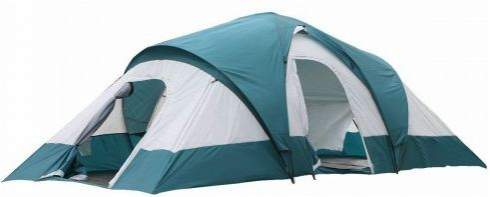 The Semoo is again one extended dome tent a bit similar to the Core 9 Dome above. But here you have doors on all four sides. In addition, this is a three-room tent, so each of the rooms has its own entry door and the central dome area has two of them. From this you realize that this is a very livable tent suitable for two or perhaps even three couples.
Though the area is not so impressive, the tent offers 148 ft² (13.8 m²) and this means 16.4 ft² (1.53 m²) per person. Not much but still better than in the tents above. The tent is for summer camping, and with a modest waterproof rating. This is also a very affordable tent. Please follow the link to see more.

---
7. Ozark Trail 9-Person Instant Cabin Tent with Bonus Screen Room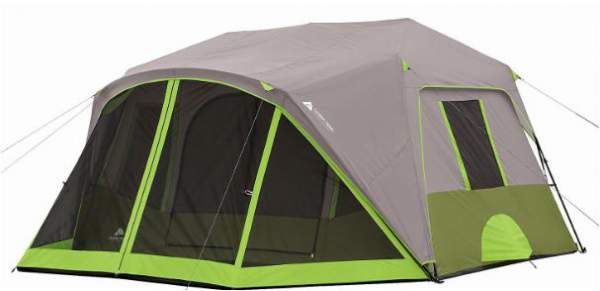 Here you have a quite large tent with plenty of features. This is a 3-room tent, so you have two sleeping rooms plus the screen area which is visible in the picture. It offers 189 ft² (17.55 m²), so it looks very big and it can indeed accommodate 9 people sleeping on the ground. For a real family camping it is best to downgrade it to 6 – 7 people.
The setup is incredibly fast, officially under 2 minutes, so this is an instant tent in the true sense. The tent is very pleasant and tall, with 6 large windows and the screen room for sitting in the shade. It is well-ventilated, you have an electric cable port, and it comes with lots of storage area for your smaller items. More in my full review.

---
Final thoughts
So this was my list of the best 9 person camping tents currently available on the market, and it includes a variety of different types. It will be updated regularly, so bookmark this text and visit from time to time to check for new models.
If you need a bit larger structures, see this list of 10-person tents. For smaller tents, check this 8-person tents list, but note that they are smaller only by the declared capacity, in fact some of them are huge structures with 5 rooms.
Please use the comment box below in the case of questions or comments. Have a nice day.
---