---
This Dream House Large Spacious Outdoor Waterproof Cotton Canvas 4 Season Camping Tent for 10 people is a true camping castle, pleasant and breathable and with a great waterproof rating.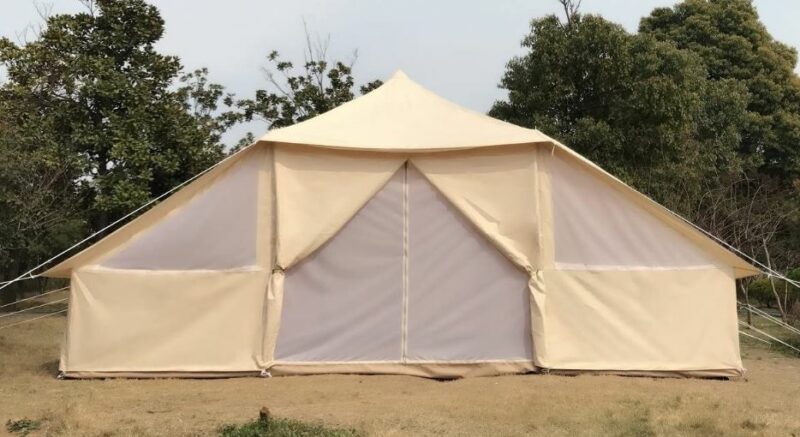 ---
Key features & benefits
Cotton canvas tent.
Huge waterproof rating.
Huge space.
Very tall tent.
Single-pole structure.
Single room.
2 Doors.
4 Windows.
---
What type is this Dream House 10 Person Cotton Canvas Tent
This impressive tent looks like a house with its tall roof and vertical side walls. The peak height here is 9.84 ft (300 cm) and the dimensions presented below show that you have a standing height in the bigger part of the tent. So I have plenty of reasons to include it in my list of very tall family camping tents.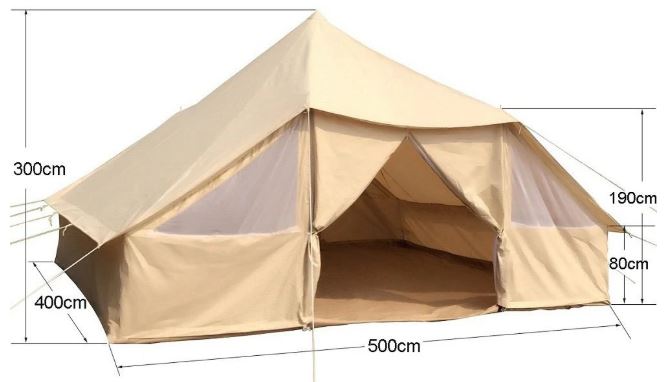 This is a non-freestanding tent so make sure that you choose a ground where you can stake it properly. Although it looks so boxy, this all is supported by one main central pole, but there are a few of them that create a frame around the door as well.
In view of its vertical walls, this is a cabin-style tent but of a particular type, and a single room structure. The picture below shows the view from inside through its mesh windows and the door. Note that you have panels on these openings, for privacy and protection against elements. The windows' panels are from inside, and those on the doors are from outside.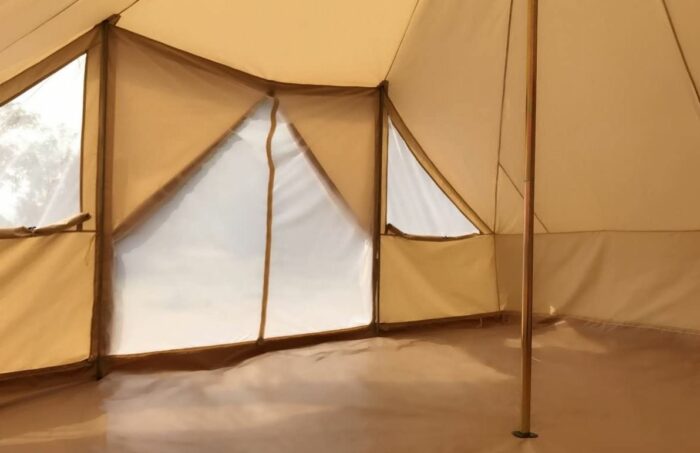 The same structure is on the other side of the tent, so you have 2 doors and 4 triangular windows. The door height is 6.2 feet (190 cm) so getting in and out is easy. Below you see how it looks when the panels are on. Note that the roof protects the windows a bit.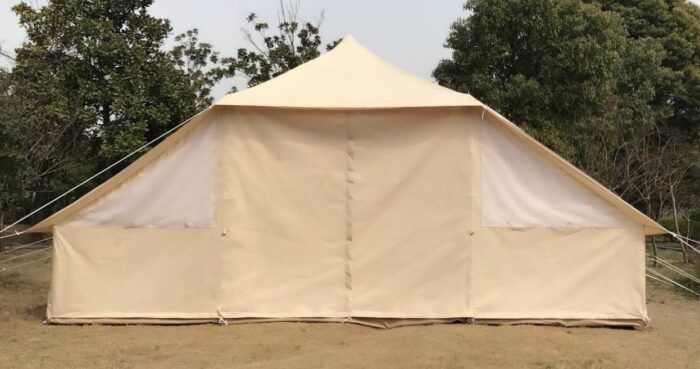 Ventilation
The picture below offers the view through the tent so you get some feeling about its doors and windows and how nicely ventilated it is with all this mesh. But even when you have to keep everything closed, this is a breathable and pleasant material, nothing similar to a synthetic tent.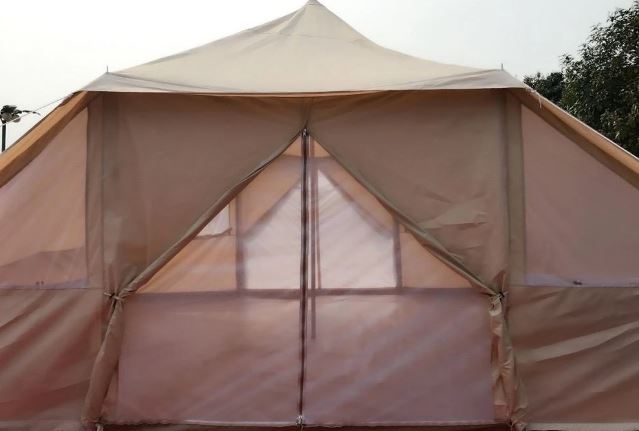 ---
Who is it for
Regarding the space, this tent offers a lot even if used by 10 people as this is its declared capacity. With 215.2 ft² (20 m²) of the area, you have 2 m² per person and this should be large enough. In view of its size, I have added it to my list of extra large family camping tents.

Regarding the climate and seasons, they describe it as a 4-season tent. No doubt this is a great structure that can be used in every climate and season, this is typical for canvas tents.
In a warmer climate, canvas creates a cooler atmosphere, this is the best material for family camping tents. On the other hand, you can completely close it if you feel cold, canvas gives some insulation. But I do not see it as a winter tent, check some of these if you want a tent for such a use. It is best to use it for pleasure and not for harsh weather conditions.
But they claim that the tent can withstand 30 miles/hour winds, and they do not recommend using it in stronger winds. They also write that the tent may leak when used for the first time, and this is normal. So you might want to do this weathering in controlled conditions in the garden at home. After that let it dry completely.
Regarding the weight, well as usual with canvas tents, this is a heavy thing with its 99 lb (45 kg). So not everybody should try to handle it. Nevertheless, one person can set this tent up easily. This is the matter of construction, you spread its base and stake it properly, then get inside and raise the roof together with its central pole.
The packed size is 45.3 x 13.8 x 13.8 inches (115 x 35 x 35 cm), and this is not bad for such a great structure. But all in all, you need a car for such a tent, and a bit stronger person to move it around.
---
Materials
The fabric
Obviously the fabric is the main thing here. So this is a very strong and durable canvas 285 g/m² (0.63 lb/10 ft²) with a 3000 mm waterproof PU coating.
The floor is a thick heavy-duty waterproof 540 g/m² (1.2 lb/10 ft²) PVC plastic, easy to clean and maintain. It is fully sewn-in to the tent. The tent is with double stitching all around and with reinforced key points. In view of such features, I have added it to my list of best cotton canvas tents.
The poles, stakes & ropes
The main center pole is a galvanized steel tube with 38 mm diameter and 2 mm thickness. You also have 4 door poles, 14 small stakes, 14 large stakes, and 14 wind ropes. A carry bag for all this stuff is included.
---
Specifications
Declared capacity: 10 people.
Weight: 99 lb (45 kg).
Dimensions (W x D): 16.4 x 13.12 ft (500 x 400 cm).
Area: 215.2 ft² (20 m²).
Area per person: 2.12 ft² (2 m²).
Peak height: 9.84 ft (300 cm).
Packed size: 45.3 x 13.8 x 13.8 in (115 x 35 x 35 cm).
---
Final thoughts, rating, pros & cons
In summary, this Dream House 10 Person Cotton Canvas Tent is a luxurious outdoor sleeping option suitable for camping and glamping, nicely built for full protection from the elements and insects. It really looks like a dream house. I have added it to my list of best 10-person family camping tents.
Please see how I rate it, the same rating criteria are consistently used for all the tents here so you can easily compare:
If you want more options from this group, check under the category Canvas Tents, all the top brands are presented there. See for example this incredible Bushtec Adventure Echo 2200 Luxury Camping Tent that is also a cotton canvas tent.
Thank you for reading. You might want to bookmark this site, we add texts and reviews regularly. Have a nice day.