This Eurohike Buckingham Elite 8 Man Tent review is about a 5-rooms tent with a dark rest sleeping area and with 249 ft² (23.1 m²) of the area for 8 people. So this is a luxurious option for family camping.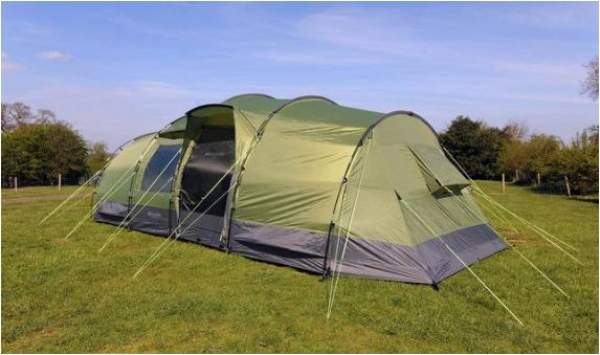 ---
Key features
5 Rooms.
Impressive waterproof rating.
PVC windows.
Dark rest design.
Very tall tent.
---
What type of tent is this
This is the tent from the Elite series which includes also the Buckingham Elite 6 tent. So this series should not be mixed with what they call the Classic series; you can compare it with the Buckingham Classic 8 tent. The Elite series is with very different features and design.
The tent is tunnel type and the space is divided into 5 separate rooms, so this is something rare. The sleeping areas are tents within the external shell and they have used darker materials to reduce glare.
The tent is not freestanding as typical for tunnel tents so choose the camping place where it can be staked to the ground properly. From the floor plan below you realize that this is a very tall tent with no less than 225 cm of the height.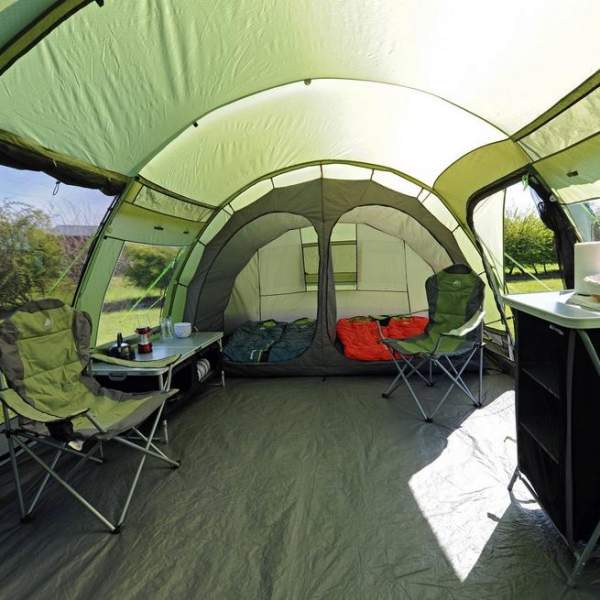 ---
Who is it for
Space-wise, the tent is with the declared capacity of 8 people. Now, the total area is very close to 249 ft² (23.1 m²) and this makes 31 ft² (2.9 m²) per person. In reality, it is a bit smaller because it is not completely rectangular and also some space is lost between the inner tents and the shell. But in any case, this is a very generous space per person and a luxurious camping option, not many tents on the market can match this. See how it is organized:
Seasons-wise, this is a fully enclosed tent, with the completely sealed floor and with an impressive waterproof rating, more below, and it will protect you in any weather situation in a 3-season use.

Climate-wise, this is one of many European tents presented here in the site, and all of them follow the same basic design – this is the absence of mesh on the ceiling and solid windows, but there are many vents, see more below. So these tents are built for rain and very suitable for a cooler climate.
Weight-wise, this is a heavy stuff, no less than 52.1 lb (23.65 kg), but this is around 1 kg per square meter so it is not that bad. The good thing is it packs nicely to 27.6 x 14.2 in (70 x 36 cm), see the packed tent below.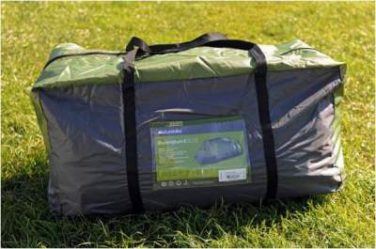 ---
The materials & organization
I already mentioned the tents within the shell tent, so they are removable and you can use only one side for the sleeping area if you have fewer users, and have an enormous living room and storage area.
The poles
You have 5 arches, plus a small brow pole above the door. All are fiberglass and this material needs some care and careful handling. But you also have 2 steel poles included for an awning with one of the two doors.
The poles are of different lengths, and they are color-coded so setup is quite intuitive and easy. The length is 6.39 m (black), 6.05 m (2 grey poles), 5.51 m (2 blue poles), 1.8 m (2 steel poles). The poles sections length is: 64 cm (black), 61 cm (grey), 61 cm (blue), 60 cm (steel).
The fabric
The groundsheet is fully sewn-in and sealed so you have full protection from this side. The shell material is polyester and it is with a 3000 mm waterproof rating. All seams are sealed. This should be more than enough for any weather situation you can have in 3-season camping.
The floor is bathtub style and they use fire-retardant materials that are tested to the BS EN 5912 standard.
The doors & windows
You have 2 entry doors here, both are double-layer design with mesh and waterproof panels, so you have full protection. One of them allows for the awning configuration shown in the picture below. The living room is with huge PVC windows and they are equipped with shutters from inside for privacy and to reduce the daylight when needed.
The inner doors are from a breathable polyester and also with mesh in the upper section for ventilation purposes.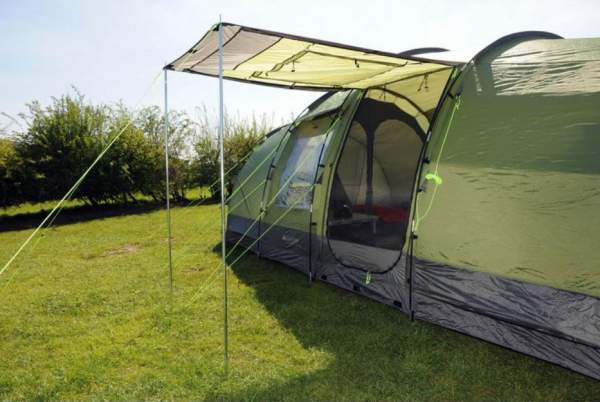 Ventilation
This tent comes with 8 vents, both high and low vents are available, and they are on all 4 sides of the tent. So you should have cross-flow and vertical flow of the air. This is helped with the mesh on the entry doors when the weather allows, and the mesh on the inner doors and on the back sections in the sleeping rooms.
Other features
There are numerous organization pockets available; one large section with such pockets is in the living room, and you have pockets on the sides in every sleeping room.
Electric cable port with a zipper is also available, and you have Velcro ties to fix the cable along the pol to the lantern hanging point.
---
Specifications
Type: tunnel tent, non-freestanding.
Weight: 52.1 lb (23.65 kg).
Dimensions: 276 x 130 in (700 x 330 cm).
Area: 249 ft² (23.1 m²).
Area per person: 31 ft² (2.9 m²).
Peak height: 88.6 in (225 cm).
Packed size: 27.6 x 14.2 in (70 x 36 cm).
---
Eurohike Buckingham Elite 8 Man Tent vs Competitors
In the table below I give this Elite 8 tent with two other tents also built with 5 rooms, it may be good to compare the features and the prices and to make the best choice. Please follow the links in the table for more details.
Eurohike
Buckingham Elite 8
27.6 x 14.2 x 14.2
(70 x 36 x 36)
28 x 16 x 16
(70 x 41 x 41)

27.6 x 14.2 x 11.4
(70 x 36 x 29)

---
Final thoughts
I would conclude this Eurohike Buckingham Elite 8 Man Tent review by stressing the great organization of this tent; with so many rooms and removable dividers you can have various configurations. So you can have 1 or up to 5 sleeping units, and you can also remove some of the inner tents and use the area as you wish.
The waterproof rating for this tent is also great, in fact, everything is great except the price perhaps, but this is the right price for the value. Have you seen its floor area? I have included it in my list of extra large tents and also in the list with best 5-room camping tents.

For UK & EU visitors, to check the price or to order this tent, please check here.
Please use the comment box below in the case of questions or comments. Look around in the site if you need something different, this is all about family camping tents, you will find a tent for you.
---