---
If you need a luxurious 3 room tent for family camping, this Eurohike Buckingham Elite 6 Tent review is a text to start with. Read about its dark rest design, PVC windows, and numerous other great features.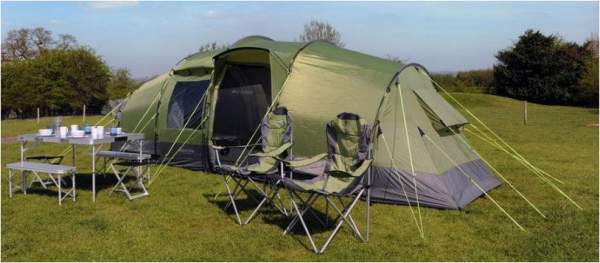 ---
Key features & benefits
3 rooms.
2 entry doors.
Fully sewn-in floor.
PVC windows.
Awning configurations.
Dark rest design.
---
What is in the name
There are a few other tents from the Buckingham series presented here in the site. Those are the Buckingham Classic 6 and Classic 8 tents. So you realize from the name that here you have the tent from the Elite series. These are tents with several extra features which are missing in the Classic series. But there are some extra features in the Classic tents that are missing in the Elite series, you will see the summary below.
In any case, this is a tunnel type tent with 5 arches created by its poles. The inner area is divided into 3 separate rooms. So you have the central living room, plus two sleeping rooms on the sides with the place for 3 people in each of the units.
The Buckingham Elite 6 tent is a hybrid single-double layer structure. The two sleeping zones are tents within the external tent, so this is the double layer structure (see the picture below), while the living room is a single layer zone.
It is not freestanding, so bear this in mind and find a ground where you can stake it down properly.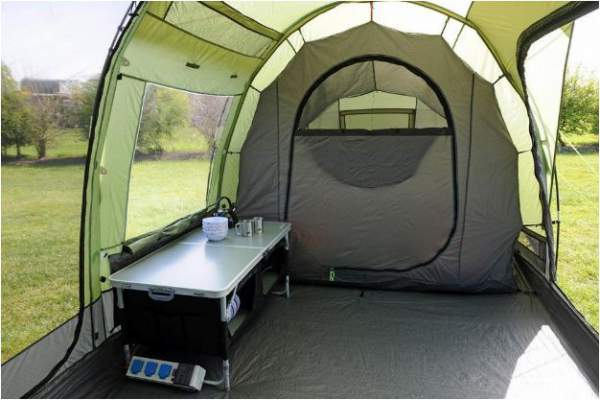 ---
Who is it for
Space-wise, the Elite 6 tent is with the declared capacity of 6 people. You have close to 181 ft² (16.8 m²) and this is far more than enough. This means 30 ft² (2.8 m²) per person. To realize how big this is, just compare this with Eureka Midori 6 which offers 1.3 m² per person, or with Coleman Tenaya Lake 6 tent which offers 1.53 m² per person. But it depends what you choose to compare with, see more below in the comparison table.
In any case, this tent is indeed big enough for 6 people, so this can be a family with up to 3-4 kids, or a group, or just 2 couples. Two sleeping rooms provide privacy, and the living area is to be shared. See the floor plan: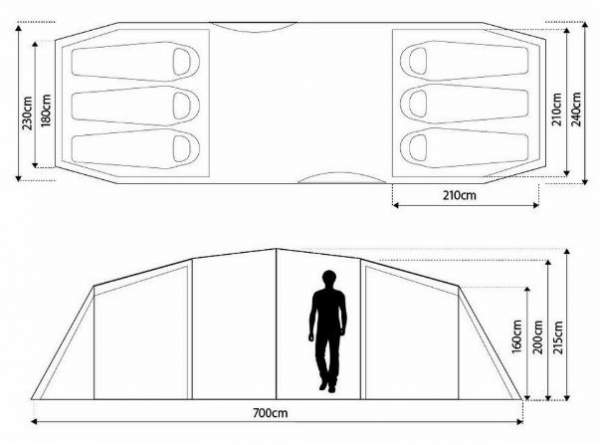 The Buckingham Elite 6 is a nicely packable but heavy tent, for its 43.65 lb (19.8 kg) you will have to use it at places with a car access.
---
Materials & features
The fabric
The external shell tent is the FIBREseal, i.e., polyester reinforced with fibers, and its waterproof rating is 3000 mm. So this is quite an impressive number and the tent will protect you in any weather situation in a 3-season use. It is also fire retardant, tested to the BS EN 5912 standard.
The floor is fully sewn-in and waterproof. The inner tents are also with their own bathtub floors so you have a double protection in the two sleeping zones, see the picture below.
Both bedrooms' tents are attached to the shell structure and you can remove one or both of them if you need to do so for some family events. Note that the inner tents are of a darker fabric so they create a dark rest environment.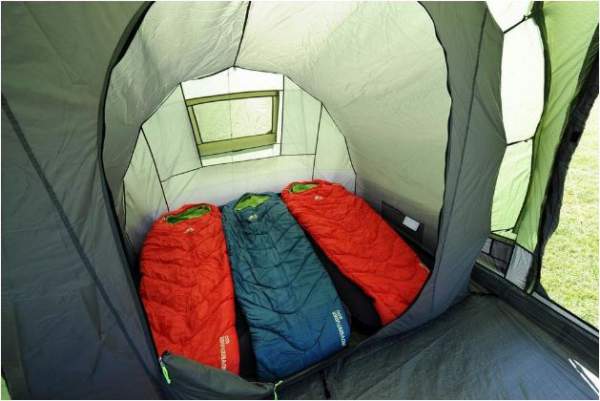 The poles
The tent poles are fiberglass, and you have them 5. You have one black 5.72 m, two gray 5.45 m, and two blue 4.53 m. The setup is easier with all the color coding which you have here. The two awning poles are steel, 1.8 m each.
The doors & windows
You have 2 separate windows plus 2 windows on the doors, and they are all with PVC. But you also have blinds to regulate glare and for privacy.
One of the doors is with an awning design, and you have 2 steel poles for this purpose included in the package. See below how the awning looks.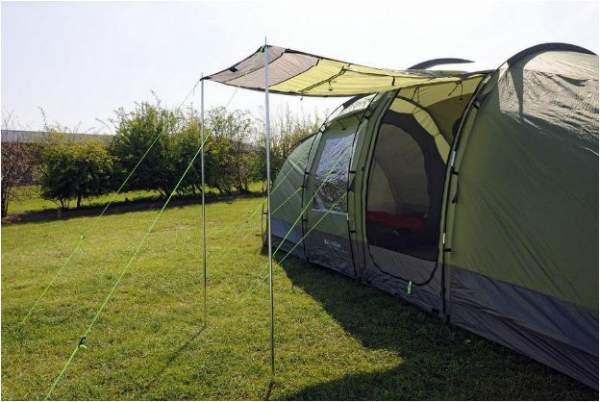 The other door is with a brow pole which creates a small brim above the door to funnel the rainwater away from the door. It is visible in the picture below. You have mesh screens on both doors.
Ventilation
There are 8 vents here, 4 of them are near the floor, 2 are on the roof, and 2 are on the two narrow sides. Half of them is visible in the picture below. As mentioned above, the entry doors are also with mesh and panels, so this adds to the airflow when you roll out the panels.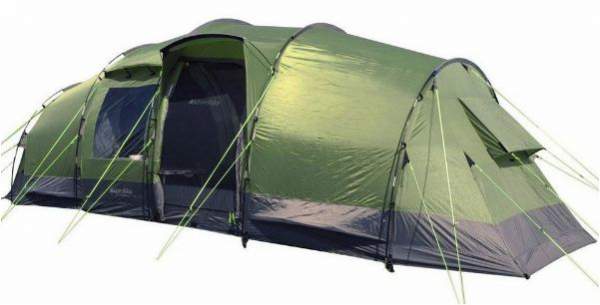 The inner tents material is a breathable polyester, and the inner doors are with a mesh as well, so this should work well with all the fly vents. But bear in mind that this tent has no mesh ceiling, so it may be too warm if used in a particularly warm climate. I believe it is better suited to a cooler environment without much sunlight.
Other features
Being the Elite version, this tents offers lots of fine details as you have seen already above. In addition, you have a large organizer on one of the side walls, with multiple pockets for storage of small items.
There is also a zipped electric cable port close to the side wall organizer. From there you have a series of Velcro attachment points to pass the cable to the central area on the roof where you also have a lantern hanging point.
Organizers are also available in the sleeping rooms, each with a couple of pockets for storage. Lantern hanging loops are present in the sleeping rooms as well.
Please see more in this video:
---
Specifications
Type: tunnel style, non-freestanding.
Capacity: 6 people.
Weight: 43.65 lb (19.8 kg).
Dimensions: 22.97 x 7.87 ft (276 x 94.5 in; 700 x 240 cm).
Area: 181 ft² (16.8 m²).
Area per person: 30 ft² (2.8 m²).
Peak height: 84.6 in (215 cm).
Packed size (L x D): 27 x 18 in (69 x 35 cm).
---
Eurohike Buckingham Elite 6 tent vs Buckingham Classic 6 tent
Here is a short summary of differences:
There are many differences regarding the dimensions. So the Classic 6 is with the bigger floor area, and it is wider but shorter than the Elite 6 tent which you have here. The Elite 6 tent's floor area is 181 ft² (16.8 m²), while the Classic 6 tent offers 192 ft² (17.85 m²).
Note also that this Buckingham Elite 6 tent is higher, you have 215 cm peak height, while the Buckingham Classic 6 tent is "only" 200 cm tall.
The Buckingham Classic 6 tent is with 4 rooms where you have 3 sleeping rooms with space for 2 people each. The Elite 6 is with 2 sleeping rooms as I mentioned above.
There are 5 poles/arches in the Elite 6 tent, as compared to 4 in the Classic 6 tent because it is shorter but wider.
The main floor is fully sewn-in in the Elite 6 tent, it is not in the Classic 6 tent. But the sleeping rooms in both tents are with fully sealed and sewn-in floors.
The external doors are with mesh in the Elite series, this is not so in the Classic series. This is a very important difference.
The Elite tents are dark rest design and the Classic tents are not.
You have E-port in the Elite series but not in the Classic series.
The Elite tents have more vents and they are completely different. In general, ventilation design is better in the Elite series.
But there are some features in the Classic tents that are missing in the Elite tents. In the Classic tents there is a front door which allows for a huge front awning, so you can have 3 awnings in total. You do not have this option in the Elite series.
---
Eurohike Buckingham Elite Porch
This is a very useful accessory element which you can use with all the tents from the Buckingham Elite series. It adds lots of protected area in the front of the side door. You can order it here.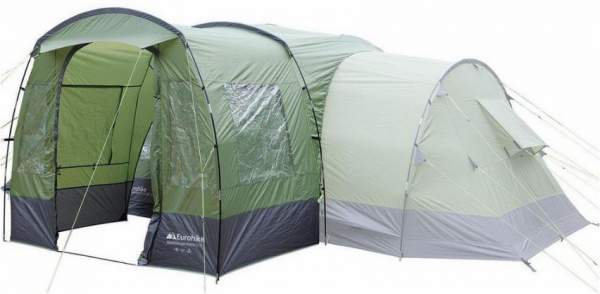 This is an excellent addition, see how it works with the Elite tents:
---
Eurohike Buckingham Elite 6 tent vs Competitors
I mentioned that it depends on what you compare this tent with. So here I chose two other tents built in a similar style, with a large sitting room plus bedrooms. See how the Buckingham Elite 6 stands, please follow the links to see more:
Eurohike
Buckingham Elite 6
---
Final thoughts, rating, pros & cons
In the summary of this Eurohike Buckingham Elite 6 Tent review, I would stress its numerous features like the storage elements, dark rest design, mesh on all doors to keep mosquitoes away, high waterproof rating, etc. In view of all this, the word Elite in the name looks quite appropriate. It is versatile in the sense that you can also remove any of the inner rooms (or both) if you need extra space for storage. I have included it in my list of the very tall tents for camping.
For example, if this is about a couple or parents with a small child, you can remove the other sleeping room and have a huge living area. In the case of a family event in the garden, remove both inner tents and you have a large space to put tables and chairs. Note that they also have the larger version, the Elite 8 tent with 5 rooms.
See how I rate this tent:
For UK & EU visitors, to check the price or to order this tent, please check here.
Please check also the Eurohike Hampton 6 tent which has a different design, which is similar also to this Vango Avington 600XL with 3 rooms. If you need something bigger, check the Buckingham Classic 8 tent from the same brand, which has 5 rooms. Need something smaller? Then check this Rydal 500 tent from the same brands.
In the case of questions or comments, please use the comment box below. Have a nice day.