---
The Vango Stanford 800 XL tent is an impressive structure with 5 rooms and with PVC windows, it offers 227 ft² (21.1 m²) of the floor area. With its 4000 mm waterproof rating this is a great 3-season family camping tent.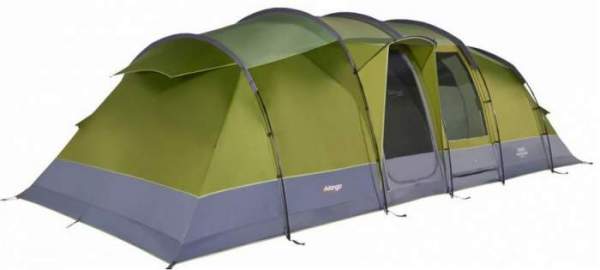 ---
Key features & benefits
5 Rooms.
Impressive waterproof rating.
PVC windows.
Lights-out design.
---
What type of tent is this
Here you have a very typical tunnel-type tent with the area divided into 5 separate rooms. Those include 4 sleeping units and a large living room with 7.45 m². This is probably the maximum number of rooms you will find on the market, there are no many tents with such a luxury.
Being the tunnel tent, it is not freestanding, bear this in mind and choose the camp place where you can stake it properly.
The sleeping units are tents within the tent, so these areas are a double-layer design, the remaining central area with the living room is a single layer structure.
---
Who is it for
Let's check the declared capacity first; the tent is officially for 8 people. The total floor area is 227 ft² (21.1 m²), and this implies 28.4 ft² (2.6 m²) per person. The actual floor area is a bit smaller because the inner tents are separated from the shell tent so a few centimeters are lost on the sides, but this is negligible. The area you have here for 8 people is more than generous, this is a luxurious option for family camping. See the floor area and the dimensions: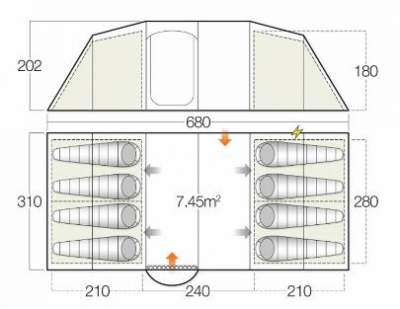 Seasons-wise, the tent comes with an impressive waterproof rating which applies to its whole shell, more below, and this makes it suitable for a 3-season use.
Climate-wise, note that this is a fully enclosed tent with solid windows and without the usual mesh on the ceiling. Such a structure preserves the warmth but it may not be the best choice for a warmer environment. I see it better suited to a cooler environment.
Weight-wise, you have a heavy thing here with 49.9 lb (22.65 kg). The packed size is not bad, it is 27.6 x 14.2 x 11.4 inches (70 x 36 x 29 cm). So you will use it at places with a motorized access.
---
Construction & materials
The poles
There are 5 arches created by fiberglass poles, plus one short pole for a small awning above one of the doors. The poles are pre-angled for more headroom.
The fabric 
The ground fabric is polyethylene so this is a fully waterproof plastic, it is fully sewn-in and the tent is sealed from the ground. The upper shell is what they call ProTex, which is a 70D polyester with a very high waterproof rating of 4000 mm. This is equivalent to 5.7 PSI, see more here.
The inner tent and the dividers are a breathable lights-out polyester. This term they use to describe the design which reduces glare in the sleeping area and allows you to sleep longer. More about this in my separate text.
The doors and windows
You have the doors on the opposite sides and one of them is a double layer with mesh against insects. Pity they did not add the mesh on both doors. Note that one of the doors has a small brow pole above which creates a brim or awning.
The windows are parallel to the doors, those are solid PVC translucent structures with shutters from inside so you can regulate glare and have privacy.
Ventilation
The tent is without mesh, but you have several vents. On each of the two narrow sides you have one, and on the opposite sides of the living room you have very large vents under the windows. They can stay open all the time.
This should work well together with the mesh which you have in the upper sections of the inner doors, and with the mesh on one of the entry doors.
TBSII system
This term is used to describe the tensioned band system which you have in the tent. This includes the bands attached to the sides which you can also attach with buckles at the apex of the three poles in the living room, see the picture. This stabilizes the tunnel structure in adverse conditions, in particular against the side winds. When not needed, you simply store them in the pockets.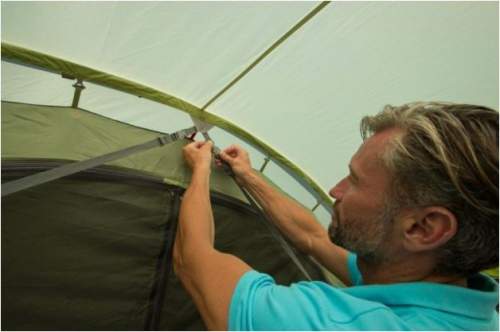 Other features
You have multiple lantern hanging points.
There are many bedroom storage pockets.
Cable entry port is available.
Mulitple high visibility guylines.
---
Specifications
Type: tunnel tent, non-freestanding.
Capacity: 8 people.
Weight: 49.9 lb (22.65 kg).
Dimensions: 267.7 x 122 in (680 x 310 cm).
Area: 227 ft² (21.1 m²).
Area per person: 28.4 ft² (2.6 m²).
Peak height: 79.5 in (202 cm).
Packed size: 27.6 x 14.2 x 11.4 in (70 x 36 x 29 cm).
Pitching time: 20 – 25 minutes.
Expandable and oversized EasyPack carry bag included.
---
Vango Stanford 800 XL vs Competitors
I thought you might find it useful to see this tent side by side with two others built in the same style, all are with 5 rooms. This might help in making an informed choice. So here they are, please follow the links to read more:
27.6 x 14.2 x 11.4
 (70 x 36 x 29)
28 x 16 x 16
 (70 x 41 x 41)

26 x 13.8 x 12.3
 (66 x 35 x 31)

---
Final thoughts
In the conclusion of this Vango Stanford 800 XL tent review, I would stress again its organization and rooms, you should know that there are no many tents on the market with 5 rooms. The comparison table above shows that the structure is very similar to the other tents of this type, but the difference in prices is quite substantial, so it makes sense checking the details in order to see which of them suits you best.
In any case, this is a quality and reliable tent from a renown and respectable brand that has been around for decades. The waterproof rating of this tent is impressive but this should not be surprising, the Vango is a Scottish company, they know what the rain is. This tent is in my lists of the best 5-room tents for camping and best tunnel tents.

For EU & UK visitors, to check the price or to order this tent please check here.
If you feel that you need something different, just look around, this site is all about family camping tents. Check in the Categories above. In particular, check this Eurohike Buckingham Elite 8 tent which is also with 5 rooms.
Please use the comment box below in the case of questions or comments. Have a nice day.

---