Eurohike Buckingham 8 Classic Family Tent is a luxurious 5 room family camping tent which offers 226 ft² (21 m²) of the protected floor area, with several awning configurations and PVC windows.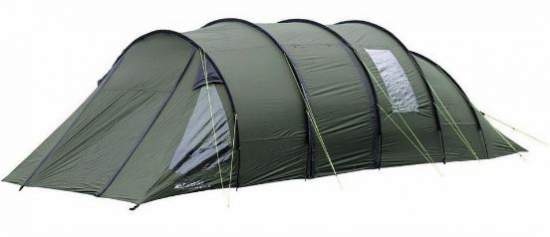 ---
Key features & benefits
5 rooms.
Huge area per person.
4 large panoramic PVC windows.
Full protection from elements.
3 awning configurations.
2 + 1 doors.
Many storage elements.
Many vents.
Removable floor for a family gathering in the garden.
Very reasonable price.
---
What kind of tent is this
The Eurohike Buckingham 8 tent is a tunnel-type structure with 5 arches and with 5 separate units. This includes a large central living area plus two sleeping zones on the sides. Both sleeping zones are with dividers, so you have 2 sleeping rooms on each side, see the floor plan: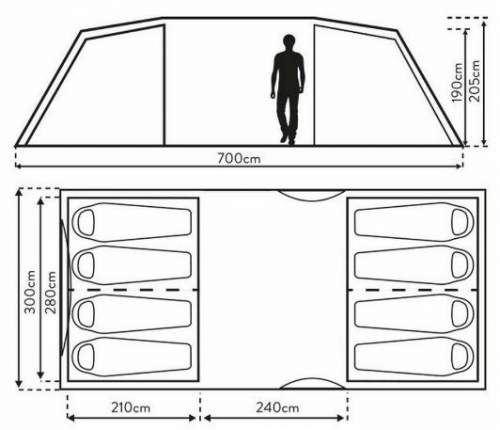 The picture above is not completely accurate. The sleeping rooms on the right are two separate units, so you can remove one if you wish, or you can remove both. The sleeping rooms on the left are one inner tent with the divider.
The tent is double-layer in the sleeping zones where you have the three inner tents within the tent, all built from a breathable material. These inner tents are attached to the structure and they are removable, more about this below. The living area is a single layer design.
The tent is not freestanding, just to know when you choose your camping spot. Find a ground that keeps the stakes, so this cannot be rock, concrete, sand, or gravel.
---
Who is it for
Sizewise, the declared capacity is 8 people. So let's see what you have and if this is realistic. As you realize from the floor plan above, the total inner area is 226 ft² (21 m²). This gives 28 ft² (2.6 m²) per person and I find this a great number. The inner tents are separated from the external shell so this takes around 10 cm on each side, and the actual usable space is around 2.4 m² which is still excellent, but there is more to that, see below.
So this is a really comfortable tent for the declared number of users; this capacity is realistic for a family camping. In view of so many rooms, it can be used by 4 couples, and by parents with up to 6 kids. You will see below that it allows for various variants.
Seasons-wise, the waterproof rating of this tent is such that it is suitable for any weather conditions in a 3-season use.
Weight-wise, this is a tent for places with a motorized access. You have 40.6 lb (18.4 kg). The packed size is 26 x 13.8 x 12.3 inches (66 x 35 x 31 cm) so perhaps it is possible to transport it even on a motorbike.
Climate-wise, this tent is without the usual mesh on the ceiling. So in such a structure, it may become warm in a warm environment.
---
A bit more about the structure and materials
The materials are fire-retardant and it meets European EN5912 safety standard. The waterproof rating is 3000 mm for the floor and 2000 mm for the fly. I do not think you need more in any 3-season use. Just to know, an ordinary umbrella is with 400 mm or so. You have the same 2000/3000 mm rating in many winter tents.
The main floor is not sewn so it is removable. The sleeping zones are with their extra bathtub floors that are fully sealed, in addition to the shell floor which then acts as a footprint and extra protection.
But when you remove the shell floor, you have a full coverage fly and a floorless tent for family events in the garden. See how it looks: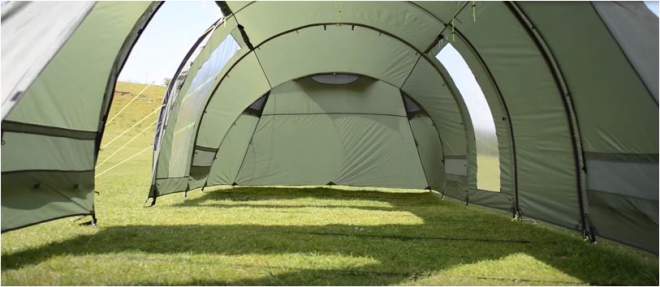 You have 5 shock-corded fiberglass color-coded poles with 11 mm diameter. This is certainly not the best option, aluminum would be much better.
The doors & windows
The tent is with 2 large PVC windows in the living area, but they also have blinds from inside for privacy and also to reduce sunlight in the tent. But there are 2 more windows, see farther below.
There are 2 doors on the sides. You can create an awning with any of the door flaps, the flaps are with grommets for this purpose. Note that poles for this are not included in the package.
The rooms
Each of the two sleeping zones has 2 sleeping rooms with a solid wall between them. So this is the best privacy you can get in a camping tent.
These sleeping zones are tents within the tent, attached and removable. Now, on one side, when you remove one of these sleeping zones, you have an extra-large front door. It is with two parallel zippers on the sides and you can use it to create yet another huge awning on the front. This is shown in one of the pictures below.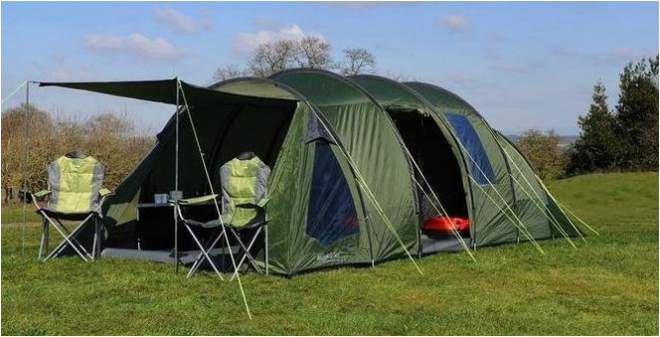 In this configuration, you have an enormous living area of around 15 m², plus two sleeping rooms on the other end of the tent, see them in the picture: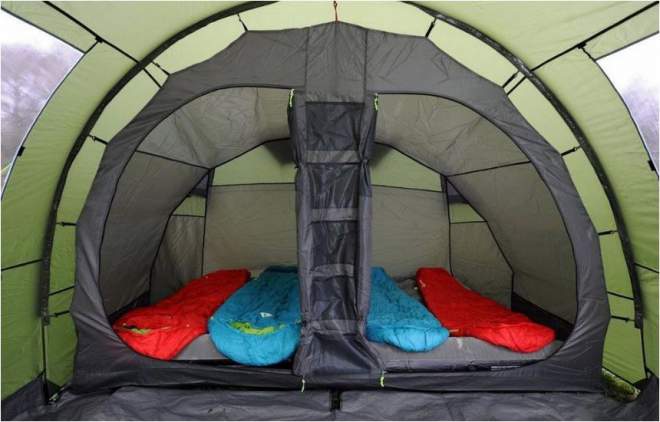 In the sleeping zones, you have both floor and roof vents, lantern hanging loops are there, and there are also large storage pockets on the side walls. You see in the picture above that the doors are rolled to the side; note that they are with fabric for privacy but also with mesh for ventilation.
Practically the same structure is in the second sleeping zone, but as I said above, it can be removed completely and use this as an extra living area for cooking and storage. Note that behind this second sleeping door you have yet another pair of PVC windows that are useful only when the corresponding inner tent is removed. See how it looks in this case: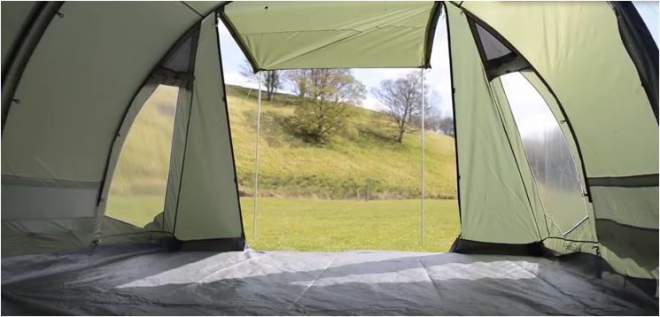 Other features
You have attachment points for a washing line in the central area, and also attachment loop for a lantern. There is a series of Velcro tabs to pass a cable to that highest roof point.
On the wall between the inner doors you have a removable organizer with many mesh pockets, see the picture above. This is available on both sleeping zones' walls.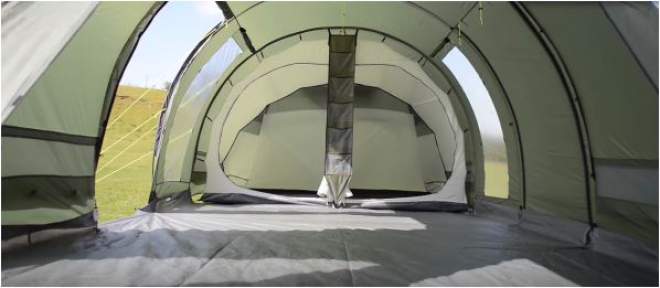 Note that in the picture above, one of the two remaining sleeping rooms can be removed. In other words, what you see are two separate sleeping units. See how it looks when one is removed: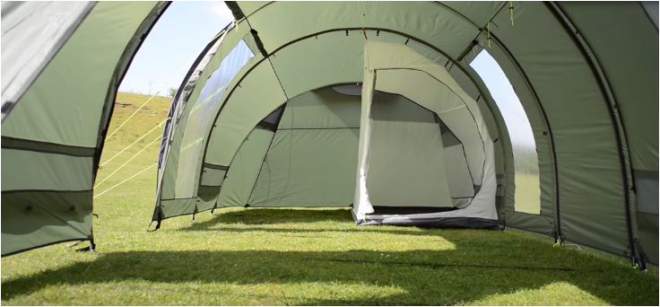 ---
Specifications
Type: tunnel, non-freestanding, 3-season.
Capacity: 8.
Weight: 40.6 lb (18.4 kg).
Dimensions: 22.97 x 9.84 ft (276 x 118 in; 700 x 300 cm).
Area: 226 ft² (21 m²).
Area per person: 28 ft² (2.6 m²).
Peak height: 80.7 in (205 cm).
Packed size: 26 x 13.8 x 12.3 in (66 x 35 x 31 cm).
Pitch time: 25 minutes.
---
Final thoughts
I would conclude this Eurohike Buckingham 8 Classic Family Tent review by stressing its versatility.
You can use it with 1, 2 or 3 awnings.
You can use it with both sleeping areas or with only one.
You can remove everything and have a nice rain cover shell for some family celebrations in the garden.
So this is a great design and the price is quite appropriate for the value. I have included it in my list of extra large family tents and also in the lists with the best 5-room camping tents.
But if this is not what you want, please have a look around, this site is all about large tents for family camping and for groups. You might want to check its smaller cousin the Eurohike Buckingham 6 tent built in the same style or the Buckingham Elite 6 from the same brand, with some extra features, as well as the Buckingham Elite 8 tent. Have you seen this Vango Stanford 800 XL tent? It is also with 5 rooms.

For UK & EU visitors, to check the price or to order this tent, please check here.
Thank you for reading and please use the comment box below in the case of questions or comments. Have a nice day.