This Fltom Camp Tent Stove Wood Burning is a rolled steel construction with double walls and functional side trays, suitable for cooking in small and low camping tents, and with a great price tag.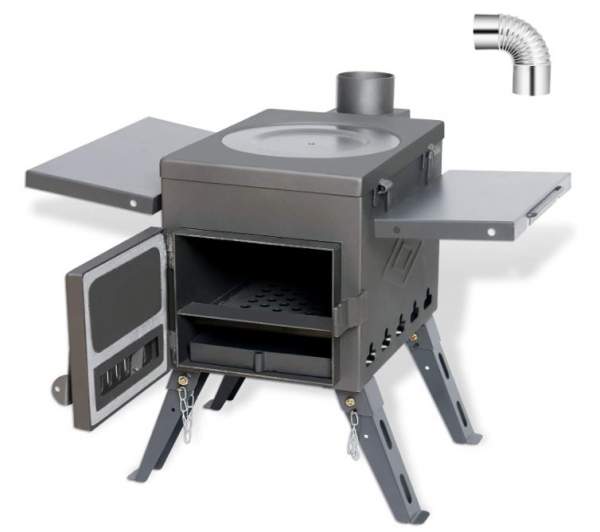 ---
Key features & benefits
Portable wood burning tent stove.
Great price.
Rolled steel.
2 Side trays.
Stainless steel pipe.
---
Overview – what this is about
This stove is on Amazon with the name given in the title, but it is available around also under the name Tentsme Wood Stove. So this is a very functional wood-burning tent stove with a body of rolled steel and with a stainless steel pipe.
The top picture above shows its side trays that add a lot to its functionality and extend its working area, you can put pots there after cooking and keep the food warm while you are preparing your next dish etc. The picture below shows how wide this all is: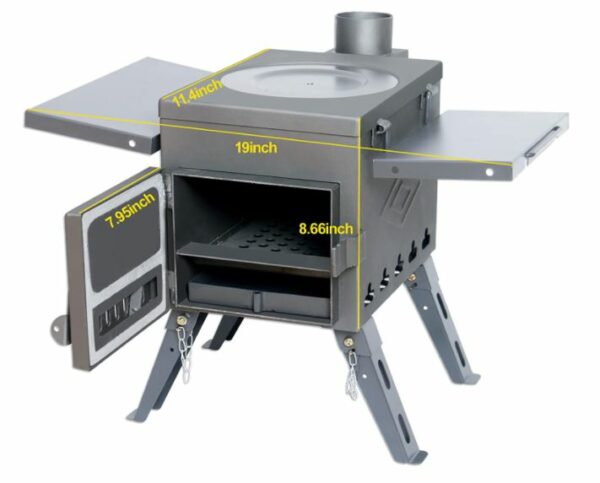 Note that the stove itself is 7.95 inches (20 cm) wide, but the two trays extend it to 19 inches (48 cm). One really good feature in this design is the pipe's offset system, so it does not attach directly to the stovetop. This means that the whole top of the stove is a cooking area which is 11.14 x 7.95 inches (28 x 20 cm). With the two trays included, this gives 19 x 11.14 inches (48 x 28 cm).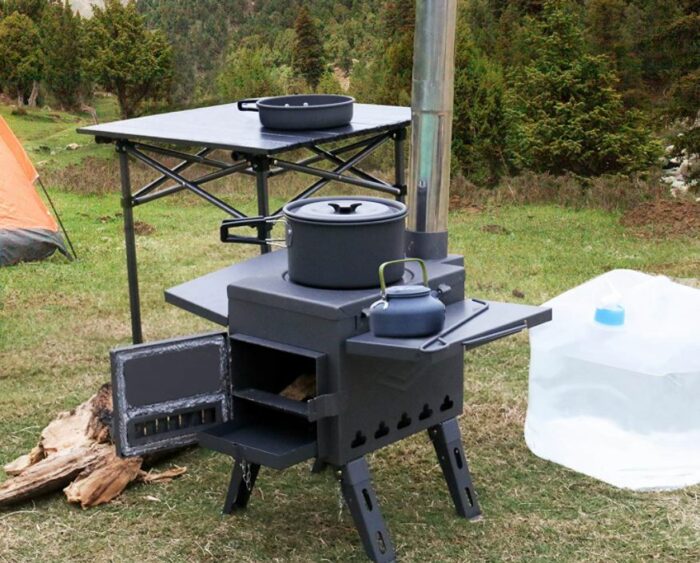 Many of the elements are removable and you can see them in the picture below. You can see the two mentioned trays and their holders (brackets), then 4 removable legs, a 6-segment pipe that includes one L-shaped piece as well, the ashtray, the pipe holder, and the top ring plate.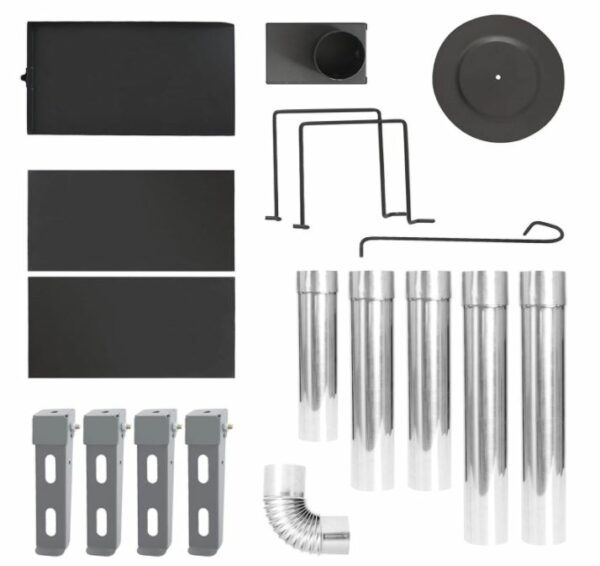 The stove is with two separate inner chambers, the upper as a firebox and the lower for an ashtray. Note that the walls are double, this is a baffle system, you have those ventilation openings around that connect the firebox with the space between the two walls, see the pictures below.
The door is with closable vents that you can use as a damper, and from inside you have all the necessary to seal the door when closed and to prevent the smoke from getting out, see how this looks:
---
Who is it for
Weight-wise, they describe it as portable but the weight is 23.15 lb (9.6 kg) and this is the same as in this OneTigris Tiger Roar Tent Stove. This is normal for such a design with double walls and with those useful trays.
You can compare it with some other wood-burning tent stoves and you will realize the weight is very good for such a type. But in any case, this is not a stove to carry in the pack, check this DANCHEL OUTDOOR Portable Titanium Tent Tiny Stove Wood Burning if you want a backpack-portable stove.
Regarding capacity & design, they do not give any information about its BTU value. But this is a small stove and the pipe that measures 4.69 ft (143 cm) is not particularly long, so it is best suited for smaller and low 3-4 person tents like the one shown in the picture below.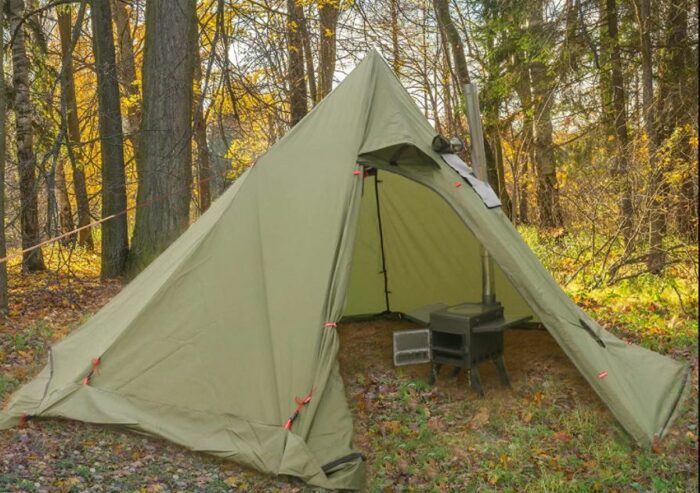 Regarding best use, you have already seen that the working area is very functional in spite of its relatively small size. So this is good enough for cooking meals for several people and for heating a tent wherever you have woods around. If you are a hunter this is a stove you would want to have.
Regarding the price, this stove is incredibly affordable so it is not surprising that it is among the bestselling camping stoves on Amazon.
---
Specifications
Weight: 23.15 lb (9.6 kg).
Dimensions stove (L x W x H): 11.14 x 7.95 x 8.66 in (28 x 20 x 22 cm).
Pipe diameter: 2.36 in (6 cm).
Pipe length: 4.69 ft (143 cm).
---
Final thoughts, rating, pros & cons
So this Fltom Camp Tent Stove Wood Burning is incredibly affordable and with quite a number of useful features. A few details and missing but this is still a very functional stove that comes with everything that you need for tent cooking and heating. This material can rust so make sure that it is not exposed to rain.
Please see how I rate this stove against the same criteria used here in the site so you can compare it easily with other wood burning tent stoves:
Please check under the category Tent Stoves & Heaters if you need more options, this Goture Camping Tent Stove is almost the same weight but with a very different design. Note that this YILI Outdoor Camping Stove is much lighter.
Thank you for reading. There is s a comment box below so let me know if you have questions. Subscribe to my weekly newsletter and stay informed, the subscription form is below.