This YILI Outdoor Camping Stove is a very affordable portable wood-burning tent stove with everything you need for outdoor cooking and for heating of a tent. Keep reading.
---
Key features & benefits
Portable.
Side racks.
Glas window.
Folding legs.
Reasonable price.
---
Overview
So here you have a portable and quite lightweight outdoor cooking wood-burning stove. It comes with a pair of very useful side racks that extend its working area to 20.2 inches (51 cm). The picture below shows its most important dimensions.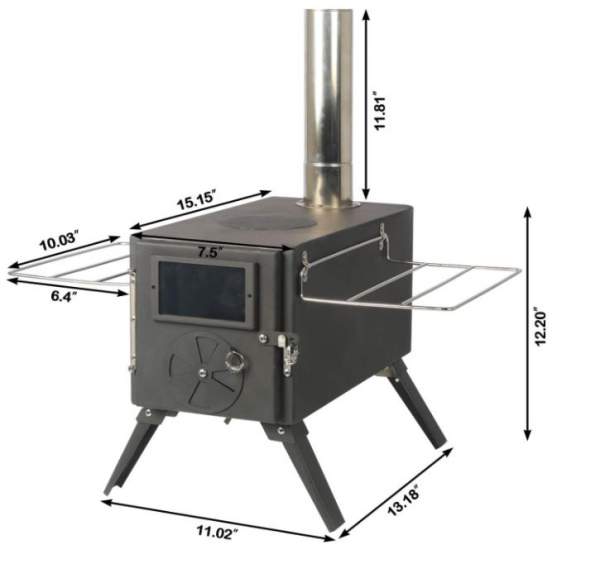 When you cook, you can always put the stuff that is ready on the racks while you keep preparing the meal. The picture below shows how this can look. The same racks you can use to dry your wet items like gloves or socks.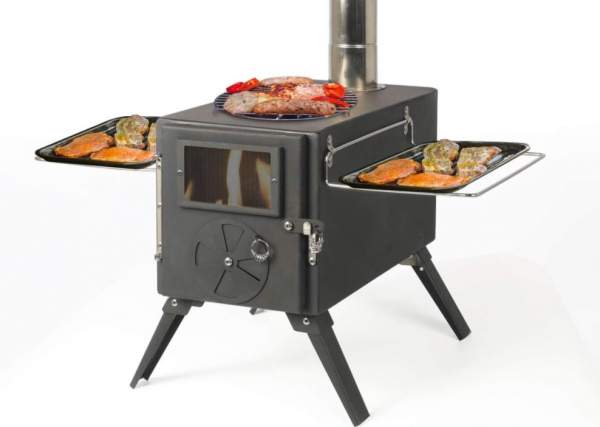 When you move with the stove, you simply fold its four legs underneath the body, the pictures below show this: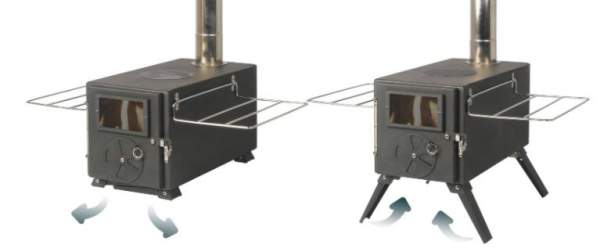 Next, you just fold the side racks up, and you can carry the stove easily as shown in the picture. The same design is used also in this Winnerwell Nomad View Large stove. Note that the pipe segments fit inside for transportation.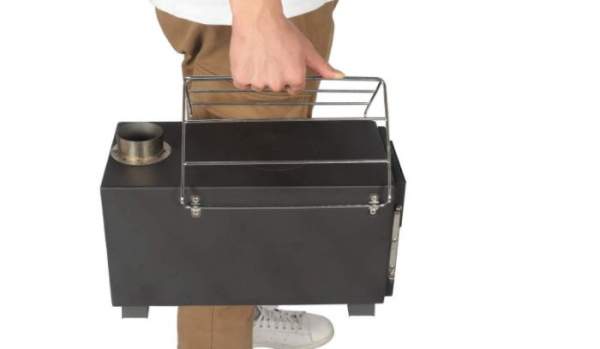 How this YILI Outdoor Camping Stove works
The stovetop is 15.15 x 7.5 inches (38 x 19 cm), but a part of it is occupied by the pipe attachment element. This is similar to the Winnerwell Nomad Medium stove. The pipe diameter is 2.36 inches (6 cm) and this is slightly narrower than in the mentioned Nomad Medium. The same diameter you have in this Fltom Camp Tent Stove Wood Burning.
Note that there is a hot-plate opening with a 4.25 inches (11 cm) diameter on the stovetop. Here you can add wood or open it and cook on the fire directly.
The 7-segment pipe (shown below) is with an integrated damper, and on the door you have an adjustable vent. They do not provide its effective BTU value, so the only thing that you can do is to try and to see how much space it can heat. As you realize this depends on many factor, and the shape and structure of the tent is an important one. I would say it can be used for tents that are of the size 54 – 107 ft² (5 – 10 m²).
The door's width is 5.5 inches (14 cm) wide. So it is not large but this is quite normal to expect in such stoves.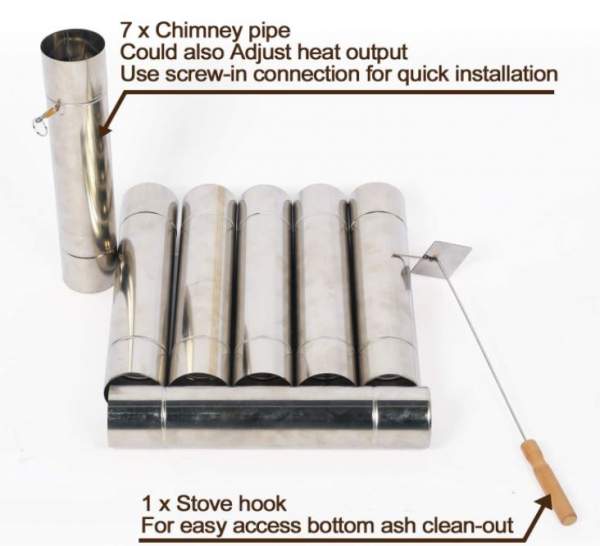 Materials
The stove is a painted steel and the pipe is stainless steel. The total length of the pipe is 70.27 inches (178.5 cm). So when you add the stove height, this is around 82.47 inches (209 cm). In view of this, you cannot use it in very tall tents. But this should be fine for most of the bell shaped tents.
You can always buy a few pipe segments and then it will fit in any tent. Yet another option is to use some elbow segments and direct the chimney to the side.
Please see here how it works:
Who is it for
The manufacturer describes the stove as useful for campers and hunters. They speak also about backpacking and hiking which clearly makes no much sense. You can also use it for picnics, and any outdoor adventures where you would not have to carry it in the pack.
Regarding the price, it is really amazing, this is a great value for the money, as simple as that.

---
Specifications
Weight: 15.4 lb (7 kg).
Height: 12.2 in (31 cm).
Footprint dimensions: 13.18 x 11.02 in (33.5 x 28 cm).
Pipe diameter: 2.36 in (6 cm).
Pipe length: 70.27 in (178.5 cm).
Packed size: 18.7 x 12.91 x 11.18 in (47 x 33 x 28 cm).
Clearance from the ground: 4.5 in (11.4 cm).
---
Final thoughts, rating, pros & cons
To summarize this YILI Outdoor Camping Stove review, here you have an exceptionally functional and very affordable wood-burning tent stove suitable for smaller and lower tents. It comes with everything you need, just collect some wood around your camping area and you are ready to cook and heat your tent.
With just a few extra pieces (a couple of pipe segments, and a spark arrestor) you will upgrade it and make it suitable for any tent. Fully recommended. I have included it in my list of best tent stoves for wood burning.
Please see how I rate this wood-burning tent stove against my standard set of criteria, it scores great:
For more options, please check under the category Tent Stoves and Heaters. You might want to see this functional OneTigris Tiger Roar Tent Stove. See also this affordable TMS Portable Military Camping Wood Stove Tent Heater.
Let me know if you have any questions, there is a comment box below. Thank you for reading and have a nice day.