This Guide Gear Base Camp Tent is an impressive 4-season bell-shaped tent with a huge porch, 5 windows, two awnings, and an integrated stove pipe jack.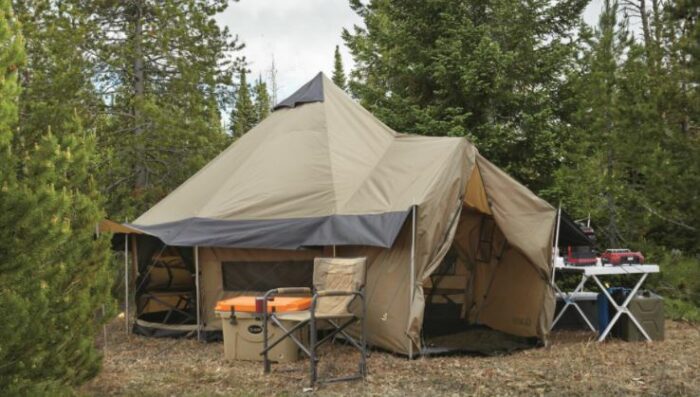 ---
Key features & benefits
Bell shape tent.
Very tall.
Integrated stove pipe jack.
5 Windows.
2 Awnings.
Front vestibule.
---
Overview
This Guide Gear Base Camp Tent could be described as a bell-shaped tent of a particular type with one central pole, see the picture below with the inner view. But there is a series of external poles, you will see them in the pictures.
With such a structure it cannot be freestanding, so it is essential to stake it down properly. You have all stakes and guylines for this purpose included.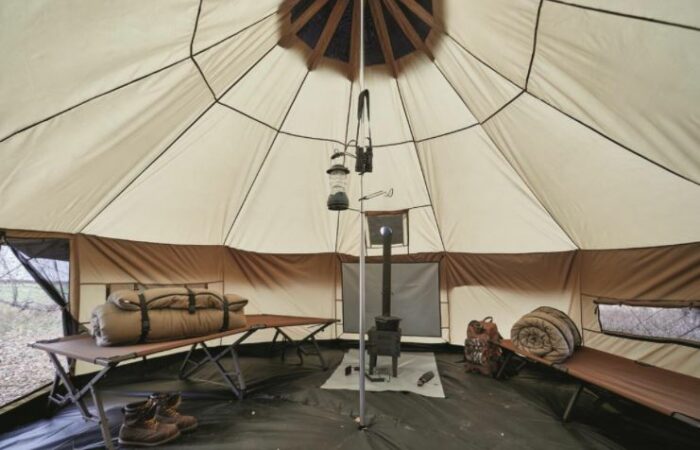 Bell-tents are usually very tall, so the same is here, you have the central height of 10 ft (305 cm). The side walls visible in the pictures are 4 ft (122 cm) high. With such vertical side-walls and windows around, this tent is pleasant and roomy like a cabin-style tent. In any case, you have lots of volume inside, and I have included it in my list of very tall camping tents.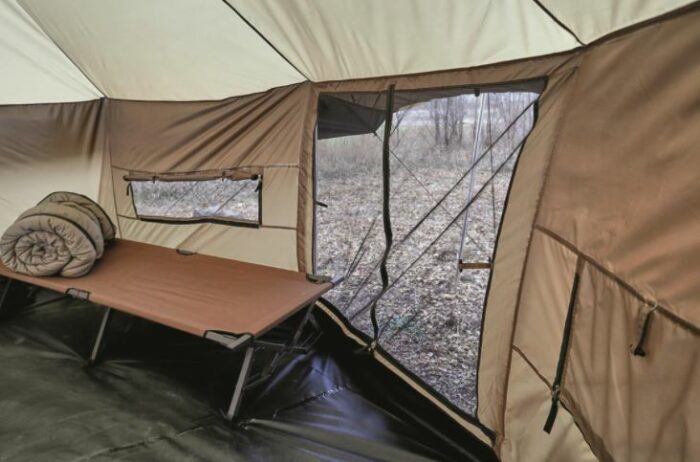 The tent has no less than 5 windows, plus two separate huge doors on the sides where you can have awnings created with their flaps, see the picture below. All these openings are dual-layer with mesh and with panels. The windows are (W x H) 35 x 10 inches (89 x 25 cm).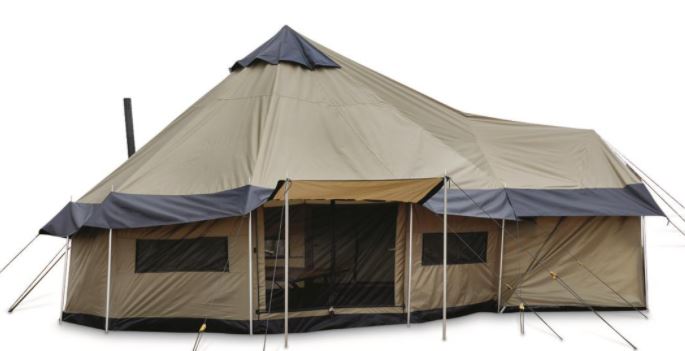 The porch
There is a very useful porch integrated in the tent's structure. The picture above shows its side view. Below you can see how it looks inside. As you realize this is a huge and tall space with a linked-in removable floor, so here you have plenty of options to store your gear and boots. The floor visible in the picture attaches to the porch walls with Velcro tabs.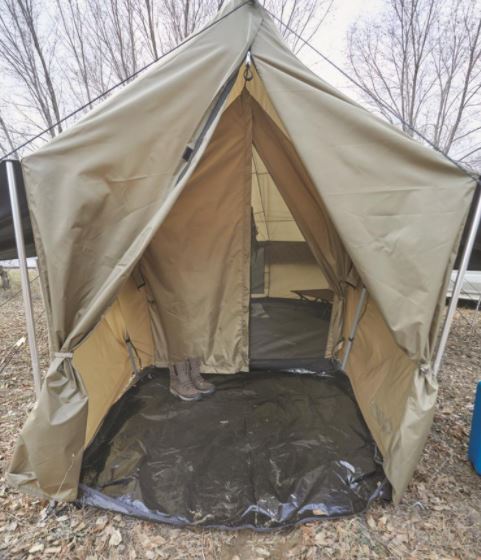 Stove-pipe jack
This tent comes ready to use inside a wood-burning tent stove. So you have an integrated stove pipe jack and here you can use any pipe up to 5.5 inches (14 cm). As you know, most of the wood-burning tent stoves on the market have a smaller pipe diameter. When not in use, there is a flap to keep it closed, see the picture below.
Note that the tent comes with a bonus, you have a large fire-retardant panel, it is shown in the picture above. I have included this tent in my list of tents with an integrated pipe jack.
Ventilation
This tent is nicely ventilated. You have already seen its numerous windows with mesh and its side doors. Note that they are under the roof and they are more or less protected from the rain, this is visible in the picture below.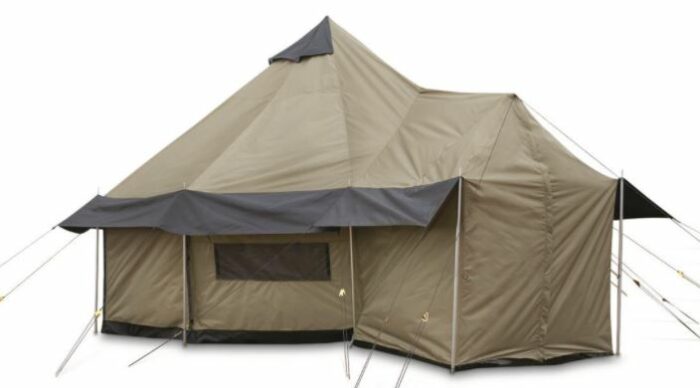 When the sky is clear and there is no much wind, you can keep the awnings in place and have as much ventilation as you need. The picture below shows how this may look: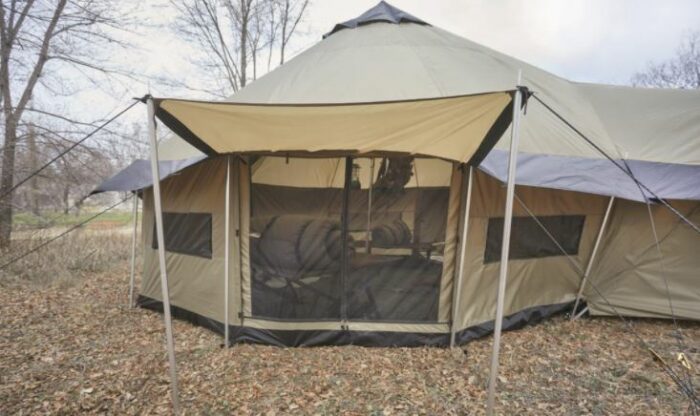 But there is a series of top vents, you can see them in the pictures, they are located around the highest point on the roof.
---
Who is it for
Regarding the capacity, the manufacturer does not give any number. The diameter is 14 feet (427 cm), so the inner area should be around 154 ft² (14.3 m²), plus the large porch. The capacity will depend on the stove, if you use it, I would say you have plenty of space for 4-5 people. Without the stove, the tent can accommodate up to 7-8 people or so.
You can compare it with this Whiteduck Regatta tent which is officially 6 person tent but its diameter is 13 ft, so the area is close to 133 ft². This Guide Gear Base Camp Tent offers far more space in the floored area plus in its porch.
Regarding seasons and climate, this is a tent for all seasons, no doubt about this. You can use a stove when it is cold, but the tent is nicely ventilated for warm-weather camping. It is very tall and not so aerodynamic, but you have many guyout lines, aluminum tensioners, and stakes to secure it completely.
But I would use this tent within the tree line. Note also that this is a synthetic fabric, so be careful when you use the stove inside.
Regarding the weight and packed size, this tent is both heavy and bulky, so you will use it at places with a car access.
---
Specifications
Weight: 52 lb (23.6 kg).
Diameter: 14 ft (427 cm).
Area: 154 ft² (14.3 m²) + porch.
Center height: 10 ft (305 cm).
Side wall height: 4 ft (122 cm).
Door size (W x H): 4 x 6 ft (122 x 183 cm).
Fabric: polyester Oxford.
---
Final thoughts, rating, pros & cons
So you have seen it, this Guide Gear Base Camp Tent is simply impressive. This is a tall and pleasant structure with views everywhere around, with great awnings on the sides, and with a very useful porch that offers full protection for all your gear. This is a tent for all seasons and climates.
Please see how this tent stands against my standard set of criteria, as you realize it does not score well in some of them. But it scores great where it matters most.
Note that they have yet another interesting tent built in the classic tipi style, the Guide Gear Deluxe 18′ x 18′ Teepee Tent with a large vestibule for storage.
You might want to check my list of best tents for cold weather camping and also under the category Tents for 4 seasons. Thank you for reading and have a nice day.