---
If you need a simple and reliable, nicely packable, and lightweight tent for occasional family or group camping, this Eureka Midori Basecamp 6 tent review is the right text for you, so please keep reading.
---
Key features & benefits
Simple design & very easy setup.
Great packed size.
Very lightweight.
Very affordable tent.
Gear loft included.

---
What type tent is this
The Midori 6 is a typical dome style tent, with only two main poles which make a freestanding structure once you attach the tent to the poles. As usual for such a shape, the inner volume is not so great as the tent tapers to the sides, but on the other hand, this is an aerodynamic profile which performs great in windy conditions.
Yet another important feature is that this is a tent with full coverage fly. So the inner tent, which is mainly a mesh, is fully protected with the fly which goes completely to the ground, see the picture below.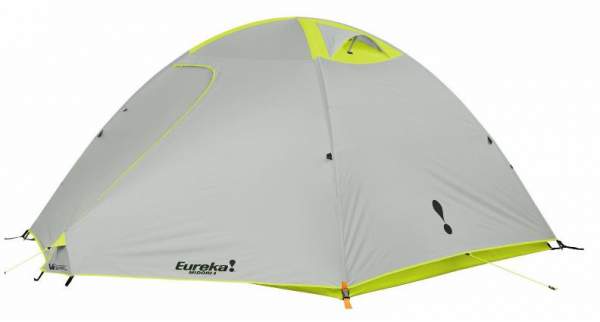 ---
Who is it for
The packed size of this tent is really great, 21 x 8 in (53 x 20 cm). The same holds for its weight which is 11 lb 9 oz (5.24 kg). Clearly, both these parameters make it suitable for a group of hikers or even for backpackers.
The inner area offers 1.32 m² per person if used by 6 people as declared by its capacity. So this does not look much, but note that you have 2 vestibules which create extra 3.5 m² (38 ft²) to store all your gear. This changes the perception of the area here, but 6 people in such a dome space look too much to me, see the floor plan and dimensions below. For 5 people it should be OK: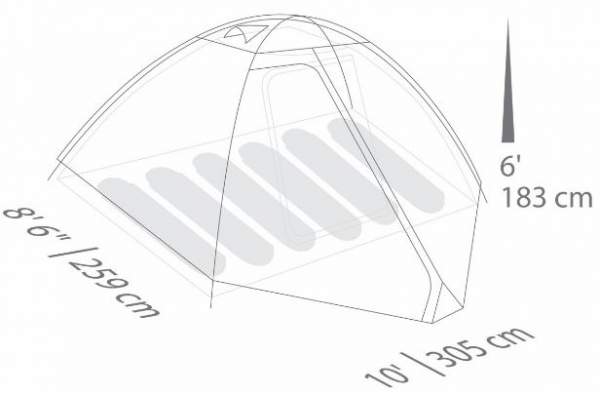 If used by families for short camping tours, this is a tent for parents with 2 kids. In such a case, it is best to use the back vestibule as a storage area and keep it closed all the time. You still have the front vestibule and the front door.
Season-wise, this is a true 3-season tent which will keep you protected in any weather conditions. But note that the inner tent is almost completely a mesh, so this tent is not for a very cold environment.
---
Construction & features
Poles
Here you have durable, shock-corded 7000 aluminum poles, 11 mm in diameter, and the tent attaches through clips, there are no sleeves or a hub element here.
Fabric
The only information about the fabric and about the waterproofness of the material is in the video below. So the floor is a polyester taffeta and the same holds for the fly, you have 75D here, while the canopy is polyester and mesh. So these are very good materials.
The waterproof rating is 1500 mm and this should be enough, there have been no complaints about waterproofness whatsoever. Note that the floor is bathtub type.
V3 system
This means volume, venting, versatility, and it includes:
A short strut vestibule pole which pulls the front vestibule up and adds volume, see the picture below.
2 fly vents with Velcro tabs and stiffeners, one is visible below.
Tents with full fly may have problems with ventilation because of such a closed space. But this is not the case here because you have two vents and the inner tent is all mesh.
Other features
There are 2 D-shaped large doors, no windows of course, and inside you have 4 storage pockets, see one in the picture above. One wonders why not 6 if this is designed for 6 people.
You also have a gear loft hammock of the size 21″ x 7″ (53 x 18 cm). It is useful but it occupies the central and the highest area on the ceiling.
Please see a bit more in this very short video by the brand:
---
Good and less good features
Here is my short summary:

Great packed size.
Great weight.
Versatile.
Affordable.
2 vestibules.

Small inner area for the declared capacity.
The price & rating
As of the moment of writing this text, the Amazon price for this tent is around $220, very affordable and reasonable for such a tent.
The tent has received very good reports by customers, with the average rating 4.6/5. See below my rating:
My rating breakdown of the Eureka Midori Basecamp 6 Tent
Area per person -

8.4/10

Area/Weight ratio -

9.1/10

Packed size -

9.6/10

Reliability & protection -

9.3/10

Ease of use -

9.4/10

Comfort & features -

8.5/10

Price -

9/10
---
Specifications
Type: dome tent, freestanding.
Capacity: 6 people.
Minimum weight: 11 lb 9 oz (5.24 kg).
Dimensions: 10 ft x 8.5 ft (3.05 x 2.59 m).
Inner area: 85 ft² (7.9 m²).
Area per person: 1.32 m².
Vestibules area: 38 ft² (3.5 m²).
Peak height: 6 ft (183 cm).
Packed size: 21 x 8 in (53 x 20 cm).
Vestibules: 2.
Doors: 2.
Storage pockets: 4.
Gear hammock: 1.
---
Eureka Midori 6 Tent vs competitors
So here is the Midori 6 with two other tents built in the same style. As you realize, it stands well, and the best part is the prices. For the three tents, they are respectively, $220, 466, 280. Now you realize what I mean by saying that this is an affordable option. To see more, please follow the links in the table.
---
Final thoughts
In the summary of this Eureka Midori Basecamp 6 tent review to stress again that this is a great and affordable option for entry-level campers and even backpackers. It will protect you fully in your occasional camping tours. This is the lightest six-person tent reviewed in the site so far, and yet it comes with a full fly. I have included it in my list of the best 6 person backpacking tents.
In spite of its modest inner area, the two vestibules make it large enough for 5 or even 6 people, and you can carry it in your backpacks. So if you do not want to spend much and still need a reliable tool in any weather conditions in a 3-season use, this is the tool. I can fully recommend it. You might want to compare it with this X-Loft 6 tent from the same brand with more space under the vestibules.

If you still need something different, bigger perhaps, just look around, this site is only about the family camping tents, so all sizes are here. Please check the Exio 6 tent which is with almost the same price tag and in the same style, but with a much bigger vestibule area. Yet another full-coverage fly tent is this brand new model Kelty Sequoia 6. If you need more space check this Coleman Steel Creek Fast Pitch 6 tent with extra screen room. But if you need something far more affordable, check this Alprang 6 tent.
In the case of questions or comment, please use the comment box below. I wish you a nice day.

---