---
If you need full weather protection for family or group camping, this Marmot Limestone 8 person tent is for you. This is a tent which stands out for its quality and features.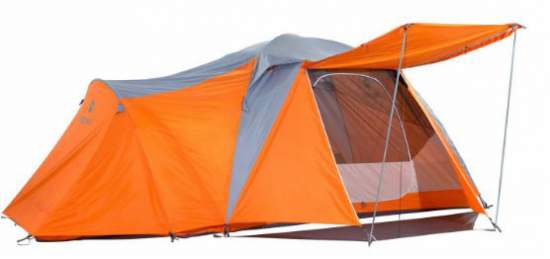 ---
Key features & benefits
True 3-season reliable tent.
2 doors.
2 vestibules.
2 rooms.
Color-coded setup.
Doormat included.
Many pockets for storage.

---
What type tent is this
This is an extended dome-style tent, and semi-freestanding. So you have an extra pole added on one side and this creates an extra room. But due to this same pole, you have to stake it down to be fully functional.
The divider included in the package can be used to separate the extension and this creates two separate rooms, one small for 2 people and the other is for the rest.
---
Who is it for
Size-wise, the declared capacity of this tent is 8 people. But the inner floor area is only 119 ft² (11.06 m²) which makes 14.9 ft² (1.4 m²) per person. So this is a backpacking principle used here, more about this terminology in my another text.
However, you have two vestibules which create extra 45 ft² (4.2 m²) of protected space for your gear. This adds a lot of functional space, but see the floor plan below. So, use it for 5 people maximum if you want some comfort while camping.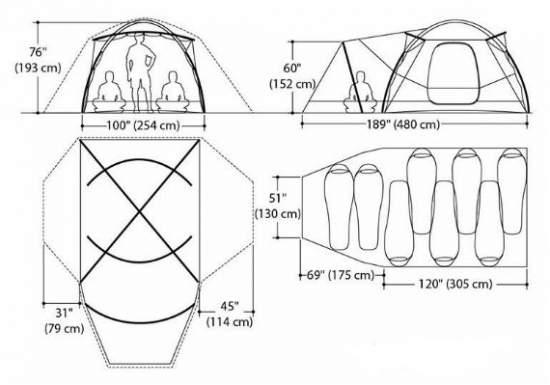 Season-wise, this is a true 3-season tent, very reliable and it will definitely keep you dry regardless of weather conditions. The dome shape of this tent is aerodynamic, and it can be staked firmly to the ground so it will behave nicely in the case of winds.
The packed size 33 x 16.5 inches (84 x 42 cm) and the weight 22 lb 7 oz (10.15 kg) are such that you will use this tent at places with a motorized access. In such a case this tent can be used for many outdoor activities, no limits.
---
Construction & materials
Rain fly
The rain fly is 68D polyester ripstop, so it is reasonably durable. It is fully seam taped and it is also the full-coverage type so the inner tent is completely protected.
The fly creates 2 asymmetric vestibules on two sides, see the floor plan above. So on one side, you have a bigger vestibule with dual long parallel zippers which allow for various configurations:
You can unzip only one side of this vestibule.
You can unzip both zippers and roll the vestibule it up and fix it with toggles.
You can unzip both zippers half-way up only, and roll the vestibule and fix with toggles that are there for this configuration. This you can do to have partial protection from rain or from the sun, or just for privacy in the camp.
If you want to sit outside under a shade, no problem, use this same vestibule and create an awning, see the top picture above. You will need a pair of trekking poles for this.
The back vestibule is D-shaped and you can roll it to the side and fix with toggles to the fly. Note that the fly has two red webbing pieces on the side which goes over the extended section – this will help you to set the fly quickly and without confusion.
The tent comes with stakes but it has more guyout points than stakes so you may consider buying a few more. With all the stakes and guylines in place, this is a really strong and stable structure that can withstand lots of wind pressure.
Poles
There are 5 poles in total, DAC DA17, all are color coded so that they fit the corresponding color sleeves which you have in the inner tent, see the picture below. This is the type of poles specially engineered for large modern tent structures like family camping tents. Note that DAC is the world-leading manufacturer of tent poles.
You have two main poles that create the main dome part of the tent. Here you also have two orange brow poles which go around the main poles and make the sides with the doors vertical, and this adds some extra head-volume in the tent and increases livability.
There is also an extra pole that creates the extension on one side of the tent, it is visible below. This is for the extra room which you have there. The main two poles are 14.5 mm and the others are 12 mm.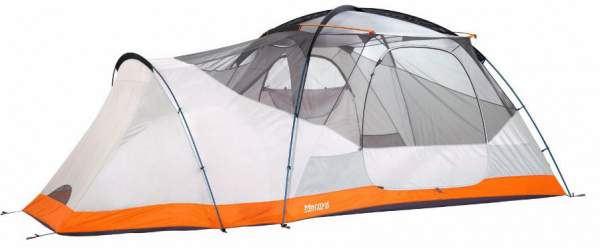 The inner tent
The main part of the tent is 40D 100% polyester No-See-Um mesh, while polyester taffeta is more on the lower sections, on the side room, and on the back. So this taffeta material is asymmetrically built in here, and it is there for extra privacy and for protection.
The floor is a catenary cut type and coated, and here you have a quite durable 150D 100% polyester oxford.
Ventilation
Note that you have a floor vent in the side room (visible in the picture above), and the fly is with two vents as well. This together with all the mesh in the inner tent body is a guarantee that ventilation should not be an issue in any weather conditions. These vents are with Velcro stiffeners and they can be kept open all the time.
Waterproofness rating
The floor is with 3000 mm rating and the fly is 1800 mm. These are very good numbers which you will see also in many winter tents as well. In view of the sealed seams, you have a full protection here. More about the waterproof rating you can see in my separate text.
Other features
The tent comes with a removable taffeta divider which you attach to the walls by toggles. It has a central vertical zipper. There are many pockets and organizers on the walls, 8 in total in various sizes.
---
Good and less good features
Here is my short summary:

Very reliable.
Quality materials.
Versatile.
Good organization & features.
Good packed size.

Very expensive.
Small for the declared capacity.
The price
The price is not the best feature of this tent. As of the moment of writing this text, the Amazon price is $650. But this is a truly great and reliable tent from a renown brand. See how I rate it:
My rating breakdown of the Marmot Limestone 8p tent
Area per person -

8.3/10

Area/Weight ratio -

8.2/10

Packed size -

7/10

Reliability & protection -

9.3/10

Ease of use -

8.4/10

Comfort & features -

8.8/10

Price -

7/10
---
Specifications
Type: dome, semi-freestanding, 3-season.
Capacity: 8 people.
Weight: 22 lb 7 oz (10.18 kg).
Dimensions (L x W): 189 x 100 in (480 x 254 cm).
Peak height: 76 in (193 cm).
Floor area: 119 ft² (11.06 m²).
Flor area per person: 14.9 ft² (1.4 m²).
Vestibules area: 27 ft² + 18 ft² (2.5 m² + 1.7 m²).
Total area per person: 20.5 ft² (1.9 m²).
Packed size: 33 x 16.5 in (84 x 42 cm).
Warranty: lifetime.
Light-reflective points.
Jingle-free nylon zipper pulls.
Optional footprint available.
---
Marmot Limestone 8p tent vs competitors
This is one of the most reliable tents here in the site, yet my average rating is relatively low in view of various criteria which I use for rating, in particular the price. See how it compares with some other tents from this size range and built in a similar style:
27.5 x 9.25 x 9
(70 x 23.5 x 23)

25.6 x 11 x 10.2
(65 x 28 x 26)

---
Final thoughts
So this was my Marmot Limestone 8 Person Tent review. As you realize this is a very reliable and versatile camping tent, quite different in design from its smaller brother the Limestone 6 tent presented in my another review. If you need a completely reliable 3-season tent, this would be my first recommendation to you. All materials are high quality and the tent is built to the highest standards. But this comes at a price. I have added it to my list of the best dome camping tents.


Thank you for reading. There are many tents in this size range presented in the site, so please check around if you need something different. You might want to check this EXIO 6-Person Compact Backcountry Tent or the EXIO 8 person tent. If you want something for true winter conditions, check this Arctic Oven tent. Check also this Eurohike Buckingham 8 Classic Family Tent with 5 rooms and 21 square meters of the floor area.
In the case of questions or comments, please use the comment box below. Have a nice day.

---