---
In this Eureka X-Loft 6 Person Tent review, you can read about a completely new tent on the market, with a unique design and with a full-coverage fly. This is a great option for a 3-season camping in areas with lots of rain.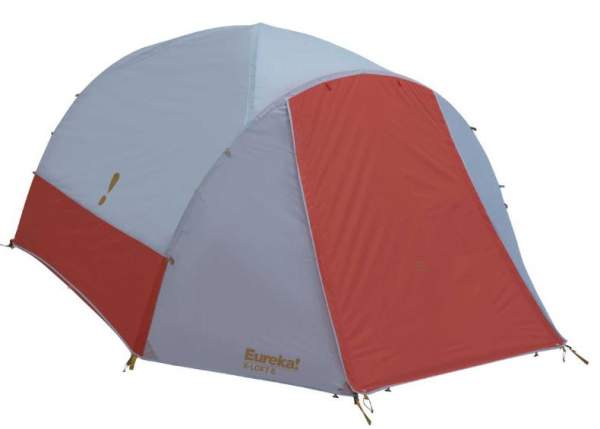 ---
Key features & benefits
Unique design.
Full coverage fly.
2 large vestibules.
2 doors.
---
What is in the name 
The Eureka X-Loft series is something new on the market; this is a series that includes tents for 2, 3, 4, and 6 people. So here I present the largest tent as appropriate for this site which is about family camping tents.
What is so unique
This is a tunnel style tent but of a particular type. Tunnel tents are typically not freestanding and you have many guylines around to stake them and to fix them to the ground. Here you have something different. The two main poles create the usual arches typical for tunnel tents. This makes the two walls completely vertical and you realize that this gives lots of headroom. I have included in my list with tunnel tents.
But you also have two short poles at the apex, and they create a hubbed X-structure that connects to the two arches. So when you pass the two main poles through the sleeves and put their ends into the grommets and then you add the two cross poles, the structure becomes self-supporting and more or less freestanding.
If you look closely, you will realize how the structure works, see the picture below. Namely, there is no firm connection between the roof X-poles and the two arches. The connection is similar to the grommets in the corners on the ground. So the tension in the fabric keeps the frame together (see the sleeves which play a role here), while the roof poles do not allow the arches to collapse towards the center.

In such a state you still can rotate the tent and move it around. But the structure becomes firm and fully secured only after you put the fly on and fix it in place. Now, the fly clips to the corners through buckles, but this tent also has two vestibules and when you add the fly it is necessary to stake the vestibules to the ground to have them fully functional. So due to all this, in my view, this is not a fully freestanding tent although the manufacturer claims it is. More about this terminology is available here.
This is also a double-layer structure with an inner tent (see the picture below) and a full-coverage fly. This is why I have included it in my list of tents with full fly.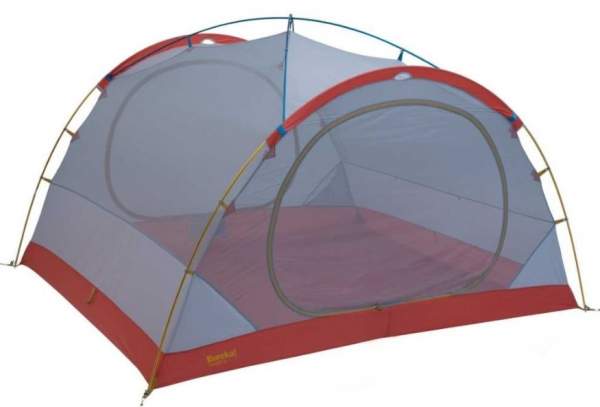 ---
Who is it for
Capacity-wise, the tent is with the declared capacity of 8 people. So let's see what it offers. The inner floor area is 85 ft² (7.9 m²). This is quite modest as you have 14.2 ft² (1.3 m²) per person. The mentioned capacity is based on the backpacking principle so it makes no sense for a camping tent. Note that this inner area is exactly the same as in their Midori 6 tent.
But there are two vestibules which give the total area of 46.5 ft² (4.3 m²). This is a fully protected space so you can store all your stuff. Now, with this included you have the total covered area of 131.5 ft² (12.2 m²). This is lots of space and my rating for the area is quite good, see below; the same affects also my Area/Weight ratio rating. Yet regardless of this, in my view, this is a tent for a maximum of 4 people.

Seasons-wise, this is a full-coverage fly structure and the waterproof rating is decent, so you can be sure you will have a full protection from elements in a 3-season use.
Climate-wise, the tent is with lots of mesh, this is good for ventilation but this implies a warmer climate. I would not use such a construction in a cooler environment. If you need something for low temperatures, check some of those tents with fully enclosed PVC windows and without mesh on the ceiling. Check for example these Crua Core Dome 6, Vango Avington 600Xl, and Coleman Rocky Mountain 5 Plus tent.
Weight-wise, this is a camping item. You would not want to carry its 13 lb 1 oz (5.9 kg) to long distances. But indeed this is doable if its elements are shared among the users; the packed size is quite impressive, 22 x 9 inches (56 x 23 cm). So you can definitely transport it even on a motorbike and bicycle.
Please see more in this short video by Eureka:
---
A bit more about materials & construction
The poles & stakes
The two arches are 11 mm Osung aluminum, and the same material and diameter is in the roof poles. So the manufacturer is the same (a Korean brand) as in their new Boondocker 6 tent. Though the poles in the X-Loft Tent are thinner. The stakes are also aluminum.
The fabric
The inner tent is 30D 350T breathable polyester taffeta and 40D polyester no-see-um mesh. The fly is 68D 185T polyester taffeta with a PU coating which gives an 1800 mm waterproof rating.
The floor is 70D 190T nylon taffeta and the coating is with a 2000 mm rating. This is a bathtub design. All exposed seams are factory taped. So these are quite standard materials and the waterproof rating is completely appropriate for normal conditions in a 3-season use.
Ventilation
There are vents on the vestibules, and on the sides you have guyout lines to stake the fly in such a way as to have a proper airflow. This is what they call the High/Low Air Exchange Venting. In view of all the mesh around and the two vestibules which you can keep partly open for extra ventilation, you should not have too many issues with condensation in this tent.
Other features
The tent comes with 6 pockets.
You also have a removable Gear Cady included.
---
Specifications
Type: tunnel tent & freestanding.
Capacity: 6 people.
Weight: 13 lb 1 oz (13.06 lb; 5.9 kg).
Dimensions: 10 x 8.5 ft (305 x 259 cm).
Area: 85 ft² (7.9 m²).
Area per person: 14.2 ft² (1.3 m²).
Peak height: 70 in (178 cm).
Packed size (L x D): 22 x 9 in (56 x 23 cm).
Vestibules: 2
Vestibules area: 30.2 + 16.3 ft² (2.8 + 1.5 m²).
Total protected area: 131.5 ft² (12.2 m²).
Total area per person: 22 ft² (2 m²).
Doors: 2.
Storage pockets: 6.
---
Eureka X-Loft 6 vs Competitors
To make an informed choice, you might want to see how this tent compares with some other top models built in a bit similar style. I give them two in the table below. So you see that the Eureka tent is much lighter and its packed size is much better. Please follow the links to compare the updated prices.
---
Final thoughts, rating, pros & cons
So in the conclusion of this Eureka X-Loft 6 Person Tent review, I would stress that this is a very original design and with lots of protected area. Though the sleeping area is too small for the declared capacity, otherwise, this is a tent that looks very reliable and nicely built. I have included it in my list of the best 6 person backpacking tents.
Please see how I rate this tent:
You might want to compare it with their new Boondocker Hotel 6 tent which has a huge garage. They have launched yet another new tent for 2019, the Eureka Space Camp 6 Person Tent which is also with aluminum poles.
If you still need something different in the same capacity range, please check in the category 6-person tents, you will find many top models that are currently on the market.
Thank you for reading. Please use the comment box below in the case of questions or comments. Have a nice day.