---
NTK Indy GT XL 6 Person Tent is an extended dome for 3-season camping with a full-coverage fly, 2 doors, awning configuration, huge porch, great ventilation, and excellent price.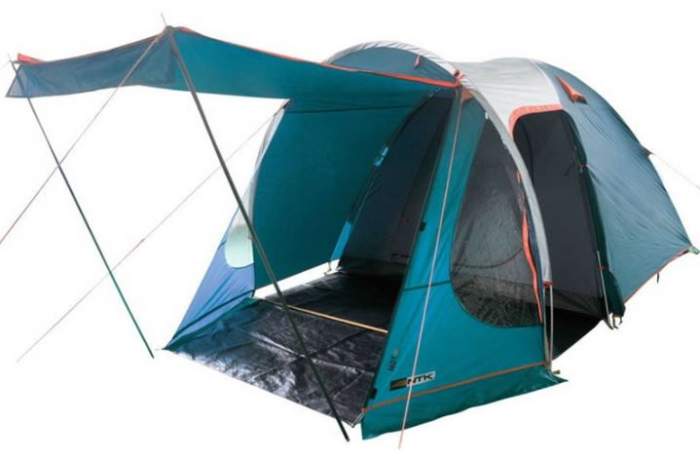 ---
Key features & benefits
Extended dome tent.
One room + a floored porch.
3 Vents.
Fiberglass poles.
2 Solid windows.
2 Large doors.
Awning configuration.
Full-coverage fly.
Great price.
Amazon's Choice product.
---
Where to buy
This tent is available on Amazon. So please follow the link and check the shipping conditions for your location. They operate globally.
You will find it also at Walmart.
Note that this is an Amazon's Choice product, and this means Amazon recommends it as highly rated and well-priced, and available to ship immediately.
---
What type of tent is this
This NTK Indy GT XL 5/6 person tent is an extended dome structure. This means that you have the back area which is under the dome created by two poles, plus the front porch supported by an extra pole. This all is protected with the fly that goes all the way to the ground. So I have good reasons to include this tent in my list with best tents with full-coverage flies.
This is the largest tent in the Indy series which includes two smaller tents as well. The front area is so functional that I would call this a 2-room tent. Namely, there is a removable floor here, see the picture. Note that it is not linked in, it is fixed in place with stakes.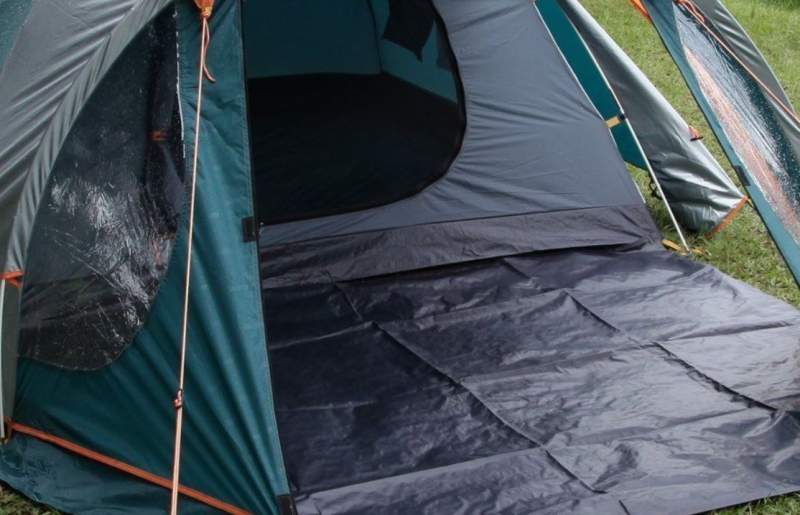 You have 2 huge doors to get to the tent. The side door is a single-layer D-shaped structure which rolls to the side, see the picture: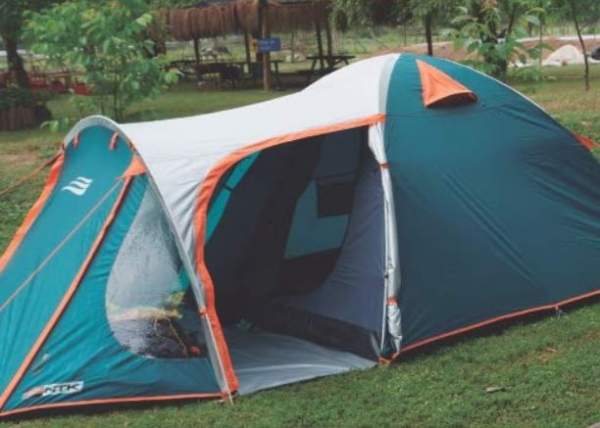 The second door is on the front and equipped with two parallel zippers so you have a wide flap. This allows for an awning configuration shown in the picture below (the poles are included). You can see also the inner door between the porch and the inner area, this is a double-layer construction with mesh. The structure of this tent is a bit similar to the Snow Peak Amenity Dome Tent L 6.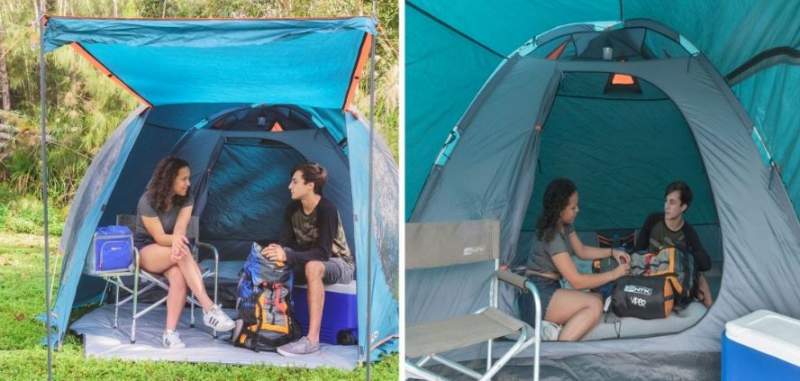 But there is more related to the porch features – you have two solid windows here, see the picture below. This is a nice addition that allows for having views around without opening the doors on the porch. Pity that they did not add some panels for privacy here.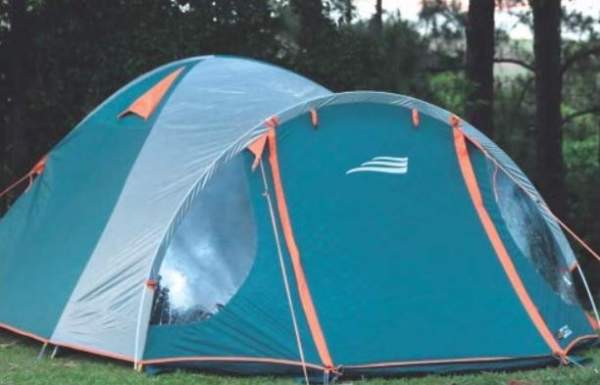 In view of such a structure, the tent is not freestanding. You have to stake down the porch in order to have it up and functional. Note also that for a dome tent, this is a tall construction with the peak height of 6.2 ft (190 cm), see the picture: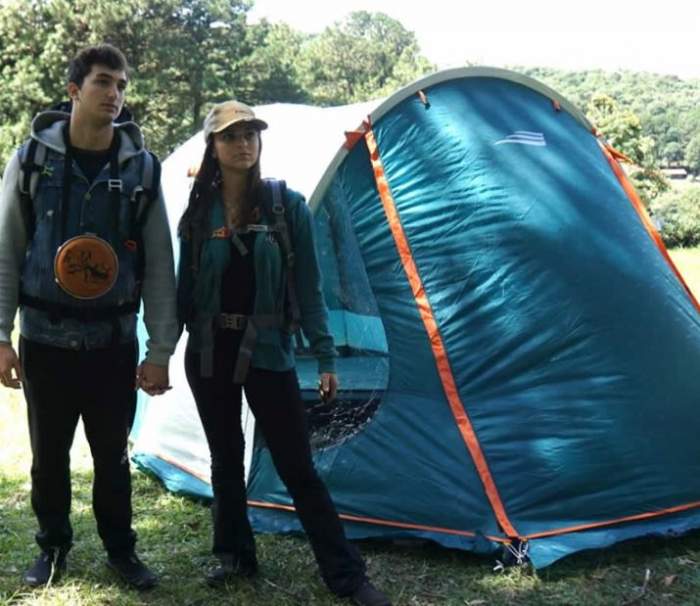 Ventilation
The inner tent has lots of mesh for ventilation and you will need this in view of its full fly. But note that they have added no less than 3 vents here, all on the back dome area.
In addition, the inner door is a double-layer structure with a mesh and a panel, and you can always keep it with mesh only to improve air circulation. So there is not much one could object to such a design, they have done the job properly.
Condensation can never be avoided in any tent, and I have seen people complaining, but they have done all that is necessary to reduce this to a minimum. It seems also that previous versions of this tent were without vents, but I am not completely sure about this.
In the video below you can see how to set this tent up; the example is with the smaller 4/5 person tent from the Indy series, but the steps are exactly the same for all of them.
---
Who is it for
Capacity: The declared capacity of up to 6 people makes no sense at all. You can realize this from the floor plan below. The inner area (under the two blue poles) is only 62.4 ft² (5.8 m²). The porch area supported by the red pole is indeed large, you have 49 ft² (4.5 m²) but this is a living and storage area without protection from crawling insects. There is no way to put 6 pads on the floor in the back room.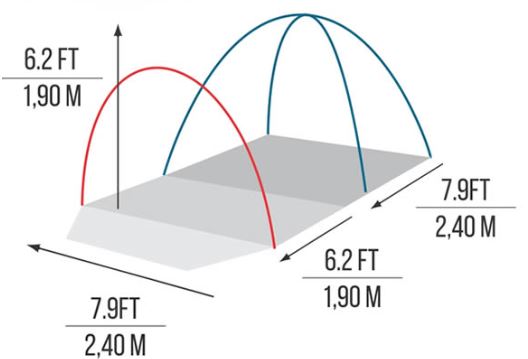 So this is a tent for 3-4 people maximum, ideally for parents with one kid. In such a case you have the living area for all activities and plenty of space for sleeping in the back room.
Seasons-wise & climate-wise, they describe it as a 3-season tent and this is indeed so. You have a very good waterproof rating here, the tent is with full fly so you will be safe regardless of where you are going to use it.
But with so much mesh, this is not a tent for a cold environment. If this is what you need, check some of these tents for cold weather camping.
Weight-wise, in view of its 17.2 lb (7.8 kg) of weight, the tent is not particularly light but you are not supposed to carry it long distances and this is not a big deal.
The packed size is roughly 26 x 9 x 8 inches (66 x 23 x 20 cm) and this is very good for a tent with such a structure and such a huge fly. So you can transport it even on a bicycle.

---
Materials
The poles & stakes
I have never seen an NTK's tent without fiberglass poles. So the same you have here, two same-size poles for the inner tent and one for the porch. This is not a very durable material but you cannot expect more from such a budget tent. Fiberglass is used by many brands and even in much more expensive tents, you can search for Vango tents here in the site and you will realize this.
Two long metal poles used for the awning are also included in the package. There are enough simple steel stakes to fix the tent and its guylines.
The fabric
The fly is a 190T polyester laminated with the polyurethane which gives it 2500 mm water column, and it is partially aluminized to reflect the heat. They claim that it offers some UV protection as well. All seams are thermally sealed.
The inner tent is also 190T breathable polyester combined with a mosquito no-see-um mesh. The floor is a high-density polyethylene and with anti-fungus features. They claim that all the materials meet CPAI-84 fire retardant standards.
Other features
The doors are with a two-way zipper.
There are 3 wall pockets in the inner tent.
A lantern loop is on the ceiling.
---
Specifications
Declared capacity: 5-6 people.
Weight: 17.2 lb (7.8 kg).
Dimensions: 14.1 x 7.9 ft (4.3 x 2.4 m).
Inner area: 62.4 ft² (5.8 m²).
Inner area per person: 10.4 ft² (0.97 m²).
Porch area: 49 ft² (4.5 m²).
Total protected area: 111.4 ft² (10.3 m²)
Packed size: 26 x 9 x 8 in (66 x 23 x 20 cm).
Peak height: 6.2 ft (190 cm).
---
NTK Indy GT XL 6 Person Tent vs Marmot Orbit 6 & The Noth Face Kaiju 6
So here is Indy GT XL 6 side by side with these top-notch and very expensive tents. Note that both of them are with aluminum poles and this is one important difference. Otherwise, these tents do not offer any better protection.
Observe that Marmot Orbit 6 has an incredibly large porch, and the porch of The North Face Kaiju 6 is also bigger than in the Indy tent. But follow the links to see their prices.
Vestibule/Porch area,
sq ft (sq m)
23 x 7 x 7
(58 x 18 x 18)
32 x 10 x 10
(81 x 25 x 25)

30 x 10 x 10 
(76 x 26 x 26)
---
Summary
So if you simply disregard the declared capacity, there is not much to object to this NTK Indy GT XL 6 Person Tent. This is a budget tent that offers full protection from elements which is it at the same level as some of its competitors that are 3 to 4 times more expensive. It comes with a good organization and some really useful features. Those include huge doors, solid windows, huge and floored porch, great height. It is hard to find a tent with such a price/features combination.
Please see how I rate it:
NTK Indy GT XL 6 Person Tent
$174.99
If you want some more space in the tent, check this NTK Arizona GT 7 to 8 Person Tent and also Coleman Ridgeline 6 Person Tent which has three rooms. Need something of a cabin style? If so check this Bushnell Shield Series 11 x 9 Instant Cabin Tent which is also for 6 people.
Note that I am not paid by the brand, and this is not a sponsored text. Please use the comment box below in the case of questions or comments. I wish you a nice day.