Coleman Oasis 8-Person Dome Tent is a very affordable extended dome type family camping tent with fiberglass poles and 2 removable dividers that create a 3-room structure.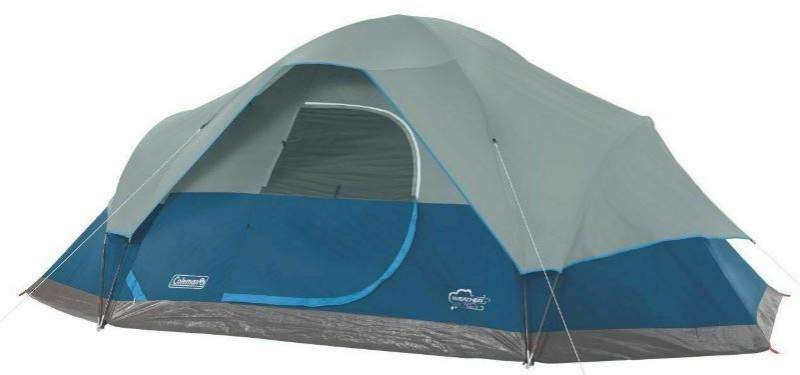 ---
Key features
Extended dome tent.
3 Rooms.
1 Door.
1 + 1 Windows.
Fiberglass poles.
Non-freestanding.
---
Where to buy
This Coleman Oasis 8 tent is available on Amazon, so follow the link to check about their global shipping service.
You will find it also at Walmart.
---
What this is about
So here you have a typical example of an extended dome style tent. The central dome is supported with two poles creating the familiar X-shape structure, and you have one extra pole on each side supporting the side extensions. So this is practically the same construction as their extremely popular Red Canyon 8 tent. The picture below shows the frame without the fly so you get the idea of its structure: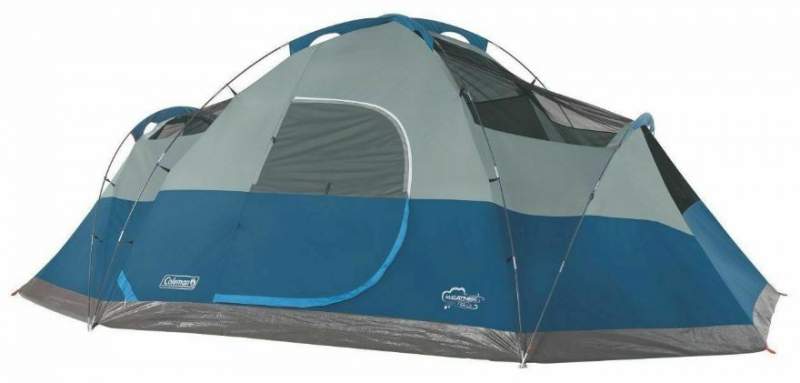 The tent is with two removable dividers so officially this is a 3-room tent. But do not expect much of privacy here, those dividers are just curtains.
The tent is quite high in the main central section, with a peak height of 72 inches (183 cm). There is only one door shown in the picture above, and for the supposed 8 users this is not its best feature. The rear side is with one window (shown below), and the door is also with the mesh section in the upper part, so you effectively have two windows here.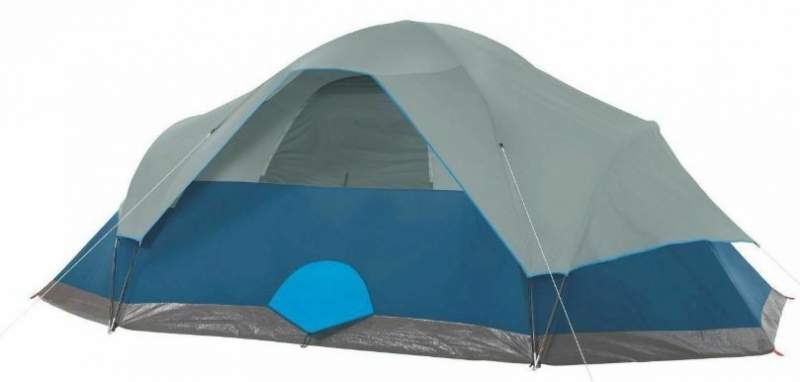 As you realize, the fly is a partial-coverage type, this is why you have views through those two windows on the opposite sides. This tent is not freestanding, and this is because of its side extensions. The poles do support the extensions, but to have the ceiling tensioned, you have to stake the tent properly.
---
Who is it for
Size: The declared capacity is 8 people so let's see the numbers. The dimensions are 17 x 10 ft (518 x 305 cm), but the tent is not square so the area is around or below 161 ft² (15 m²). They do not provide the exact value. For 8 users this gives around 20 ft² (1.9 m²) per person which is not bad at all.
But there are no storage elements like vestibules, so if this is for family camping, it is best to downgrade this number to 4-5 people.
Seasons & climate: They claim that the tent has been tested to withstand winds of 35+ mph. Taking this as granted, I still wish to stress that this is not a full-coverage fly and the overall fly structure is not particularly aerodynamic so I would rather use this tent in quiet weather without much wind.
The picture without fly given above tells you that you have plenty of mesh for optimal ventilation for camping in a warm environment. But this same feature makes it less suitable for a cooler environment. So I see this tent best suited for 2 seasons (summer, late spring, and early autumn).
Weight-wise, with its 20.93 lb (9.5 kg) of weight, this is a lightweight tent, and you will see below how it compares with some other tents with the same declared capacity and style.
The packed size, 25 x 9.5 x 9.5 inches (64 x 24 x 24 cm) is excellent, so this tent can be transported even on a motorbike. All in all, this is a camping tent and you can transport it in many ways, it will not take much space.
---
Materials & construction
The poles
There are 6 poles here, and this is fiberglass. For such a budget tent you would not expect some other material. Even much more expensive tents like those from the Vango brand come with such poles.
The two shortest poles cause confusion with some users. So just to know, these go above the door and above the back window where they create small brims. For the main poles you have the snag-free continuous pole sleeves on the ceiling, and Insta-Clip system in other parts. The official setup time is around 15 minutes and this is realistic. One person can set this tent up.
The fabric
The fly and the tent's body are both polyester and the waterproof rating is minimal, 600 mm. They use what they call the Weathertec System with patented inverted seams which are supposed to be durable and watertight.
The floor is polyethylene, and here you have welded seams but they are off-ground. Note that this is a bathtub construction, so at least from the ground, you can be completely safe from water.
Ventilation
There is not much one could object to this tent, ventilation is very good. You have plenty of mesh on all the openings, plus a floor vent on the back side (shown in one of the pictures above).
Other features
The tent can accommodate three queen size airbeds.
1-Year limited warranty.
E-Port is available to run an extension cord into the tent.
Ground stakes are included.
A couple of small wall pockets for small items.
---
Specifications
Type: non-freestanding extended dome tent.
Declared capacity: 8 people.
Weight: 20.93 lb (9.5 kg).
Dimensions: 17 x 10 ft (518 x 305 cm)
Area: around 161 ft² (15 m²).
Area per person: 20 ft² (1.9 m²).
Peak height: 6 ft (72 in; 183 cm).
Packed size: 25 x 9.5 x 9.5 in (64 x 24 x 24 cm).
---
Coleman Oasis 8-Person Dome Tent vs Competitors
To understand the features of this Oasis 8 tent, I thought you might want to see how it compares with some other tents built in the same or similar style and with the same declared capacity.
So as you see, it offers more space than the other two tents, and its weight is in between the other two. The NTK Laredo tent is with the fly which offers far more protection and it is considerably more expensive, but this is still an affordable tent. Please follow the links for more details.
---
Concluding remarks, rating, pros & cons
So as you realize, this Coleman Oasis 8-Person Dome Tent is a budget option for family camping in calm weather conditions. Although this is a large tent, as usual it is best to disregard the officially declared capacity and use it for 4-5 people maximum.
This tent is on the market with a great price tag, so this is a budget option for family camping. Please see how I rate it against the standard set of criteria which I use for all the tents here in the site, so you can always make an easy comparison:
If you need more options to check, please see my separate text with best 8-person family camping tents. For more dome tents, please check here. See for example this Columbia Modified 8 Person Dome Tent built in a similar style.
If you need something bigger built in the same style, check this CORE 11 Person Extended Dome Tent 18′ x 9′. For an interesting tunnel type tent that is also freestanding, please check this TOMOUNT Keep 8-Person Tent.
Note that this is not a sponsored text and I am not paid by the brand. Please use the comment box below in the case of questions or comments. I wish you a pleasant camping.