NTK LARAMI GT Tent up to 10 Persons is an extended dome style 3-room tent with fiberglass poles and a great waterproof rating for 3-season use, and at a reasonable price.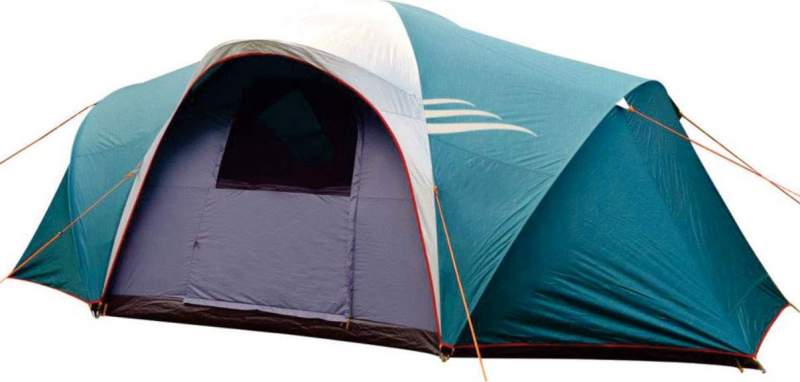 ---
Key features
Extended dome tent.
Almost full coverage fly.
One door.
3-Room setup.
Fiberglass poles.
Very tall tent.
Reasonable price.
---
Where to buy
This tent is available on Amazon, and I have seen it on several of their global stores. So follow the link and benefit from their efficient shipping service.
You will find it also at Walmart.
---
What type of tent is this
This NTK LARAMI GT Tent is an extended-dome type tent with the main dome created by two poles and two extensions on the sides each supported with one pole. It comes with two removable dividers so you can organize the area in 3 rooms, 2 rooms, or just as a single room. So this is an impressive structure for a dome tent and I have added it to my list of best dome tents and also to my list of best 3-room tents.
They describe it as freestanding and although it is not far from that, this is not so. Unless you do not stake the extensions they will not be useful; only when staked properly, the ceiling will be tight and stable. This should be obvious from the picture below.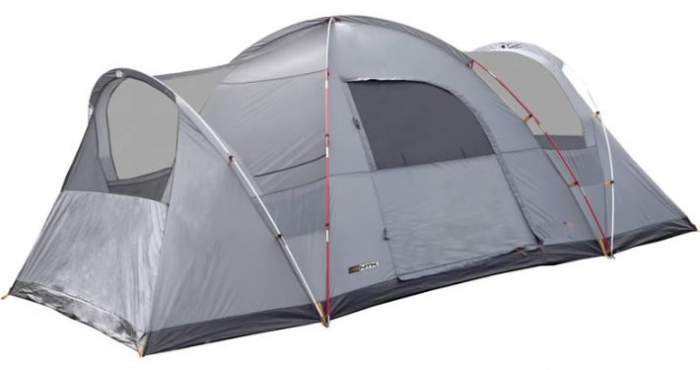 The tent is with a separate fly and it covers almost all the tent except for the door. But no worry, the material on the door is waterproof and you also have a small brim above. The structure is very tall in the central dome part with the peak height of 6.9 ft (2.1 m).
The tent is very different with and without the fly; the picture below shows that it has lots of mesh on the inner tent: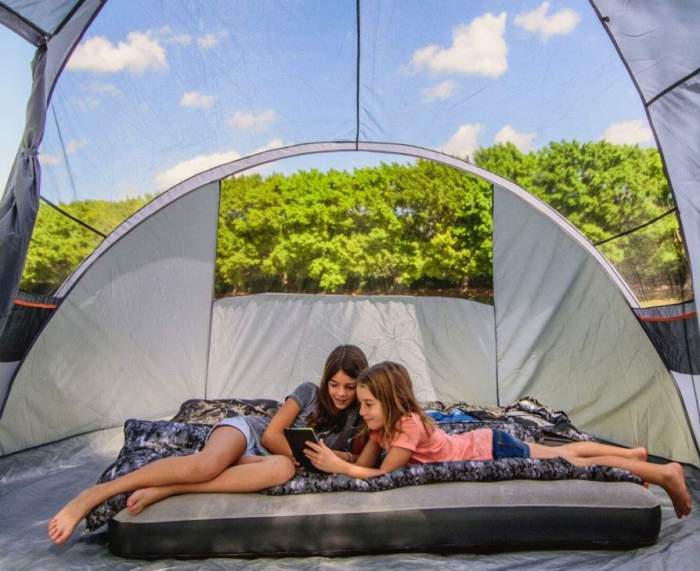 ---
Who is it for
Space: The declared capacity is up to 10 people, so let's see if this is realistic. The dimensions are shown in the picture below so the floor area is 180 ft² (16.2 m²). In the case of 10 users this would give 18 ft² (1.6 m²) per person.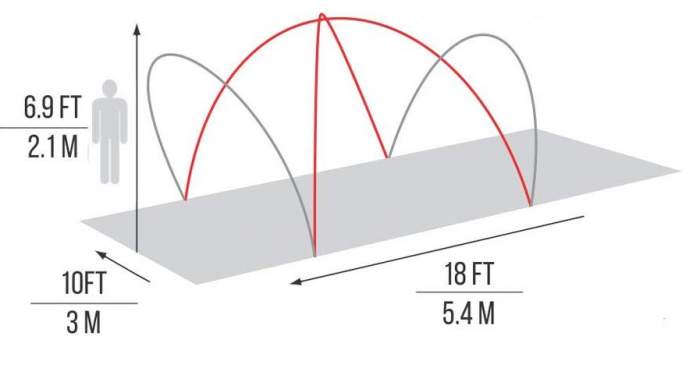 Below you can see what the manufacturer suggests for beds and pads on the floor. The case with the pads is possible if this is about a group of friends at some open-air festival. This is why I have added it to my list of best 10-person tents. But such a number of 3 queen size beds plus 2 twin size beds makes no sense unless the users would levitate in the air.
So realistically, for a family camping, this tent is for parents and two or maximum three small kids. This would be an appropriate number to use the side rooms as sleeping areas and the central room as a living space. Note there are no vestibules or awnings to store gear, so use the central room for this purpose and for sitting.
Seasons & climate: They describe it as a 3-season tent and this is more or less correct. The waterproof rating is good, the fly covers almost all the tent, so you are surely protected from the elements and from insects as well.
There is lots of mesh on the inner tent as you have seen in the picture above. But I miss seeing some vents on the fly, pity they did not add any.
Weight & packed size: This is a heavy tent with its 30.6 lb (13.9 kg), and the packed size 32 x 12 x 12 inches (81 x 30 x 30 cm) may not look so great but the tent is big.

---
Materials & construction
This is formally a 3-room tent with removable dividers, but do not expect much privacy in such a design. Note also that you have only one door in a tent which is supposed to accommodate 10 people.
The poles
There are 4 poles here, those are fiberglass shock-corded rods and with chrome plated ferrules. All is color-coded and the poles are in two different lengths so it is easy to see how to use them. Fiberglass is not a particularly durable material bu many budget-friendly family camping tents on the market are with such a material. You have an aluminum pin-and-ring system for the poles' attachment to the tent's base.
The fabric
The fly is 190T polyester laminated with polyurethane 2500 mm water column. The seams are sealed and they claim that it provides some UV 50+ protection. The inner tent is a 190T breathable polyester with mosquito NO-SEE-UM micro net.
The floor is a heavy-duty anti-fungus seamless polyethylene with the inner silver coated layer. This is a bathtub-style construction.
The fabric used here satisfies CPAI-84 flammability requirements.
Ventilation
This tent has mesh sections on the ceiling and on the sides. But there are no floor vents here. The only window is on the single door, and here you have mesh only in the upper section. The fly is also without vents. So they have done it better in their NTK Arizona GT tent.
Other features
There is an O-ring for the lantern on the ceiling.
Several storage pockets are on the walls.
2 Dividers are in the package.
Heavy-duty zippered carry bag with compression straps and ID label.
E-cable port included.
---
Specifications
Type: extended dome tent.
Declared capacity: up to 10 people.
Weight: 30.6 lb (13.9 kg).
Dimensions: 18 x 10 ft (540 x 300 cm).
Area: 180 ft² (16.2 m²).
Area per person: 18 ft² (1.6 m²).
Peak height: 6.9 ft (2.1 m).
Packed size: 32 x 12 x 12 in (81 x 30 x 30 cm).
Poles: fiberglass.
---
NTK LARAMI GT Tent vs Competitors
I have decided to show you this Larami GT tent side by side with two extended-dome tents from some other brands in the same or similar declared capacity range. With this, you can better understand its features.
As you see it is bigger and taller, but it is also heavier. I am sure it offers better protection. It is more expensive but I think this is justified, the waterproof rating is better and the fly is an almost full coverage type. In any case, please follow the links for more.
Mountain Trails Grand Pass 10
---
Final thoughts, rating, pros & cons
So this NTK LARAMI GT Tent can accommodate the declared number of 10 users, but for a family camping, it is best to downgrade this number by half. The tent offers all the protection you need for 3-season camping, but it is best to use it in the shade if this is about warm weather with lots of sunlight. Note that they have yet another similar tent the NTK Laredo GT 8 to 9 Person Tent.
This tent is currently on the market at a reasonable price. It has received a number of ratings by customers and the average rating is high. Please see how I rate it against the criteria used for all other tents in the site, for easy comparison:
If you need more options in this size range, please check my list with 10-person tents. Check also the list with best dome tents, and note that these Wenzel Great Basin 10 Person 3 Room Tent and CORE 11 Person Extended Dome Tent 18′ x 9′ are built in the same style. You might want to see also this Ozark Trail 16′ x 9′ Modified Dome Tunnel Tent which is an interesting hybrid design.
Note that this is not a sponsored text and I am not paid by the brand. Please use the comment box below in the case of questions or comments.

---