---
Oxley Oztent Lite 7 Quick Set Up Expedition Family Tent is incredibly well built, strong and reliable semi-instant and semi-freestanding tent for at least 3-season use.
---
Key features & benefits
Semi-freestanding tent.
Integrated awning.
Semi-instant tent.
Very reliable & strong construction.
3-season plus tent.
---
What this is about
This tent is an enlarged version of their Oxley Oztent Lite 5 Fast Frame Family tent, you have an extension that changes the total area but the main section is almost the same. Now, the word 'Lite' in the name is probably here to make the difference between this lite series (in their terms, but see below) as compared with the canvas tents which they also have. So indeed, this is a synthetic version with the same design.
The term 'Quick Set Up' simply means this is a semi-instant tent. So the big part of the frame is preattached to the tent and you just unfold it, stake the floor to the ground and then raise the tent in no time. It opens up like an umbrella. This part is the same as in their Lite 5 Tent.
But there is the extension where you have to add the poles to make it stand, see the picture below. So this is an extra job but it is easily done – you pass the roof pole through the sleeve and then add two leg poles which are angled and go to the main vertical poles, you can see this in pictures.
From all this you also realize why I call it semi-freestanding, the main part is indeed self-supporting but the tent must be staked down to be fully functional and stable, and this in particular holds for the extension.
As for the word 'Expedition', my guess is they want to indicate that this is a really strong and reliable structure designed for a full-protection in all weather conditions, more below.
So this is a cabin-style tent of a particular type, with a minimal fly, and mostly a single layer construction.
---
Who is it for
Capacity-wise, its declared capacity is 7 people but the area is 126 ft² (11.75 m²) and per person you would have 18 ft² (1.7 m²). This is not so bad and it is indeed possible to put 7 sleeping pads on the ground. But for real camping this is a tent for maximum of 4 people, say parents with two kids. You might want to compare it with the Skandika Tonsberg 5 tent that offers more area than this tent for 7 people.
So as usual, it is best to ignore the declared capacity and see what tent really offers. The point is that there are no vestibules or porch areas for your gear. The awning is there and it is huge, but this is more for sitting in the shade than for storage.
Weight-wise, with its 57 lb (26 kg) of weight, this is everything but a light tent. So be ready for this and for its packed size which is 48 x 15.5 x 15.5 in (122 x 39 x 39 cm). But the weight and the packed size are not necessarily a bad thing, this is a car camping tent in any case, and they use very strong and durable materials.
Seasons-wise & climate-wise, I see it as a very versatile tent. The waterproof rating is good, the materials are very strong, the poles are enormously thick, there are so many guylines and pegs. But this is a partial coverage fly and I would avoid too strong winds with this tent.
On the other hand, the ventilation is excellent and it will surely perform well in a warm environment. But all the openings can also be closed and you can prevent dust from getting in if you are using it in a dusty environment, and also prevent the warmth from escaping if it is used in a cold area. All in all, this is an excellent 3-season tent and perhaps even more than that.

---
Materials & construction
The fabric
The fabric is a strong 210D poly-oxford with 2000 mm PU coating, the same for the walls and for the floor. On the openings, you have a dense No-See-Um mesh to keep the bugs out. The rain fly is the same material and all seams are factory taped. This is the CPAI-84 fire retardant material.
The awning is a luxury, a piece attached above the door, so it is not removable, it is not the part of the fly, and it is not the usual panel which protects the door.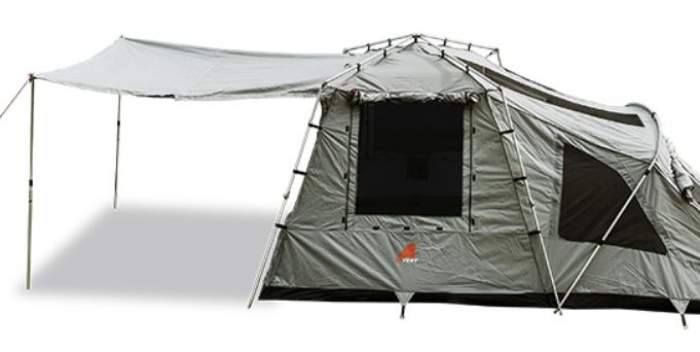 The frame & zips
This is an aluminum corrosion-resistant construction with an auto-lock/release system, and with attached guy ropes. This makes setting up and packing down very easy. When you lock in the center hub, all legs are pulled and locked into place, so you do not have telescopic legs as in some other instant tents. On the other hand, when packing the tent down, you simply pull down the center hub and all legs will automatically collapse. The zips are heavy-duty.
The windows and the door
The windows are on the three sides and all different. On the freestanding part you have two gusseted windows on the opposite sides, that can remain open all the time, but you can also unzip and roll their panels up and have the mesh only. This is a very functional design that allows for ventilation in any weather situation.
There are also side windows on the extension, again with mesh and panels, but here the panel is inside, so you have zippers and you can keep them open at any position. You have storm flaps from outside that run along the perimeter to protect zippers. Finally, on the narrow side, you have again dual gusseted windows with mesh inside and panels outside.
The door is with its own panel and mesh, so you have rain protection when the awning is rolled up; you will want to have such a configuration in the case of a strong wind and rain combined. An awning of that size would not last long in such circumstances. Both panel and mesh have inverted T-shaped zippers.
So with such a design you have no issues with ventilation, a very good air cross-flow is there at all times, but you can close the tent completely as well. So it is more than a 3 season structure.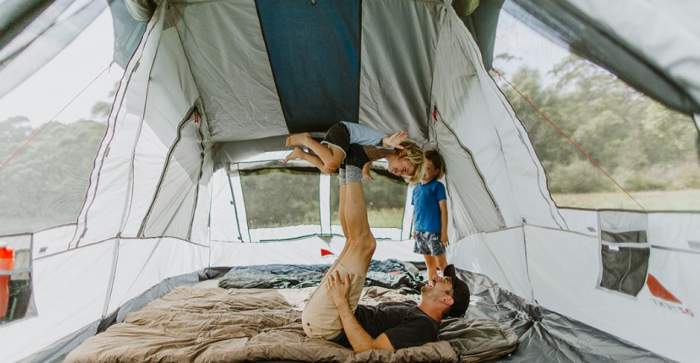 What is included
You have the following in the package:
The tent with the frame.
The fly.
Two telescopic awning poles 1.9 m.
32 pegs/stakes.
19 guylines.
The carry bag,
The manual.
---
Specifications
The numbers below are from the OzTent site.
Capacity: 7 people.
Weight: 57 lb (26 kg).
Dimensions: 185 x 98.4 in (470 x 250 cm). This is without the awning.
Area: 126 ft² (11.75 m²).
Area per person: 18 ft² (1.7 m²).
Height: 82.6 in (210 cm).
Packed size: 48 x 15.5 x 15.5 in (122 x 39 x 39 cm).
---
Oztent Oxley 7 Lite tent vs Competitors
It is a bit difficult to find true competitors because of such a unique design. So in the table below I show two instant cabin-style tents, both with partial flies, so there are some similar features after all. But those tents are surely not a match to this Oxley 7 tent regarding the durability. Please follow the links for more details and for the updated prices.
---
Final thoughts, rating, pros & cons
OzTent Oxley 7 Lite Quick Set Up Expedition Family Tent is a very reliable and strong construction, the craftsmanship here is at the top level, but the declared capacity is not realistic. Nevertheless, this is a great tent with the price to match, and if you can afford it I am sure it is worth the investment. I have added this tent to my list of best camping tents for 7 people.
They describe it 'lite on weight lite on price', but you have seen the weight and judge yourself. As for the price, in fact, this is an expensive tent. But I am convinced it is worth it. Please see how I rate it for several parameters, those are used consistently for all tents in the site:
Oxley Oztent Lite 7 Quick Set Up Expedition Family Tent
$649.99
If you need something smaller, check their Oxley 5 Lite built in the same style and also the OzTent 30 Seconds Expedition 5 Person RV tent. If you want to see more options in the same capacity range, check in the category Tents for 7 & 8 people. For other sizes and types just look around, this site is all about family camping tents. Need something for a cold environment? No problem, check some of these.
Note, this is not a sponsored text and I am not paid by the manufacturer, I am only expressing my own unbiased views about this product. Thank you for reading. Please use the comment box below in the case of questions or comments. I wish you a nice day.

---