---
This Skandika Weatherproof Tonsberg Unisex Outdoor Dome Tent review is about a really nicely built freestanding 3-room summer camping 5-person tent with a great waterproof rating and a generous protected space.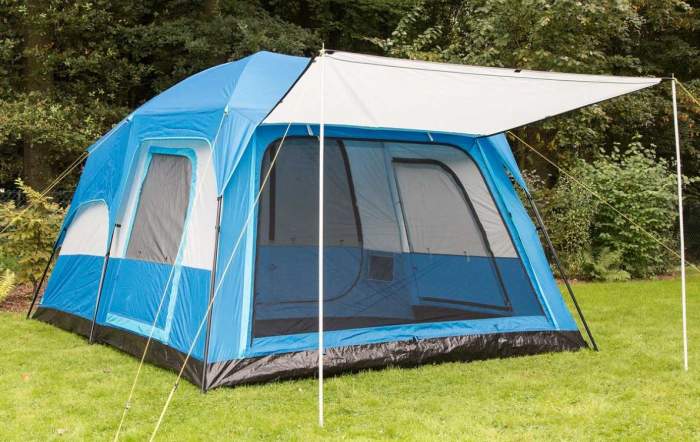 ---
Key features & benefits
Cabin-style tent.
3 rooms.
3 outer doors, all with mesh & panels.
2 inner doors.
Awning.
High waterproof rating.
---
What type of tent is it
This is a 3-room structure that includes a large living room plus the sleeping zone with two separate units. The tent is very tall, no less than 86.6 inches (220 cm) so I have included it in my list of extra tall tents.
Dome tent or not?
I use the name as it is given on Amazon by the brand so you have the word 'dome' in it. But if you look closely, you will realize that this is far from a dome tent. You have straight legs-poles and separate poles for the roof. So this is a very typical cabin-style tent with a partial coverage fly. Such a fly comes natural here because of the large windows, so you have unobstructed views, see the picture below. The manufacturer has mixed things a bit here.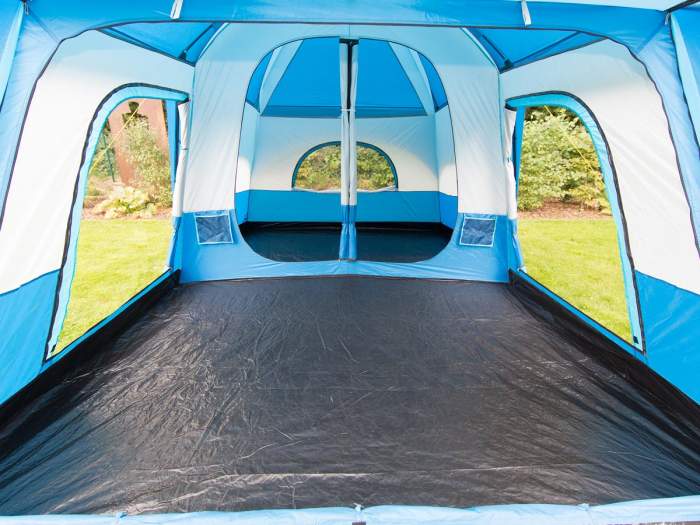 As for the word 'unisex' in the name, I have no idea what they mean. I asked a couple of times and did not get any definitive answer.
---
Who is it for
Capacity-wise, it is declared as a 5-person tent. The picture below shows the floor plan and the dimensions so you realize that it offers 135.6 ft² (12.6 m²) of the floor area, which gives 27.1 ft² (2.5 m²) per person. In my view, this is more than enough for 5 people so this is a very generous capacity estimate.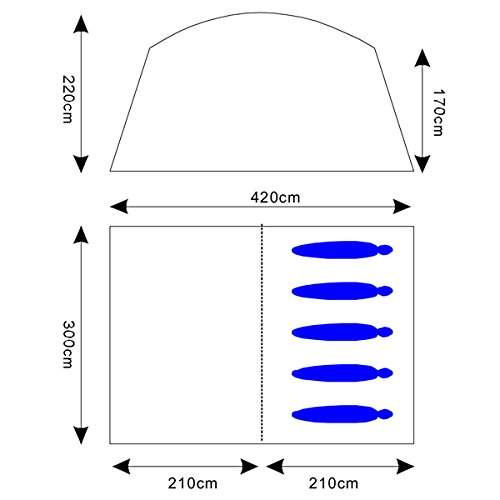 Note that the living room offers 6.3 square meters of the protected area, so 5 more people can easily sleep there if necessary. This can work if you are with your friends on some open-air summer festival and you do not have lots of stuff and use the tent for sleeping only. So the effective capacity can be 10 people in total.

Weight-wise, with its 33.07 lb (15 kg), this is a heavy tent and you will realize this also from the comparison table below. But when you see its dimensions and height, you realize that there is lots of material here so such a weight is expected.
The carry bag is like a suitcase of the size 26 x 14.2 x 12.2 inches (66 x 36 x 31 cm), see the picture below, so it is a bit bulky but it is not so bad.
Seasons-wise and climate-wise, this is a tent with a high waterproof rating (more below), but it is with a partial coverage fly (see the picture below). All those windows and doors have many seams and zippers so many things can go wrong in the case of strong rains. They describe it as a 2-season tent and this is again realistic; the tent has lots of mesh on the ceiling so the warmth is easily lost, and you would not want to use it in a cold environment.
I mentioned its height, so this is a tall and boxy structure, everything but aerodynamic, therefore I would not use it is a very windy environment. Such a design is for quiet summertime camping without much rain and winds.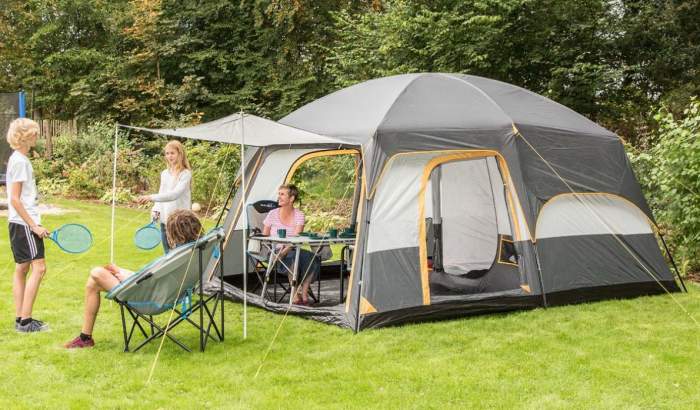 ---
Materials & construction
You have read already above that this is a 3-room structure, the tent is roughly divided into two parts so the living area is huge and the sleeping zone is with a removable divider which is just a curtain (see the picture) and does not offer much of privacy.
The poles
The poles are a combination of steel and fiberglass (the latter is used for the roof poles). So you have 6 legs-poles plus 2 poles for the awning, all steel, and several roof poles that include 2 diagonal long poles and one transverse pole, plus the poles that go from one side to another, see them all in the picture.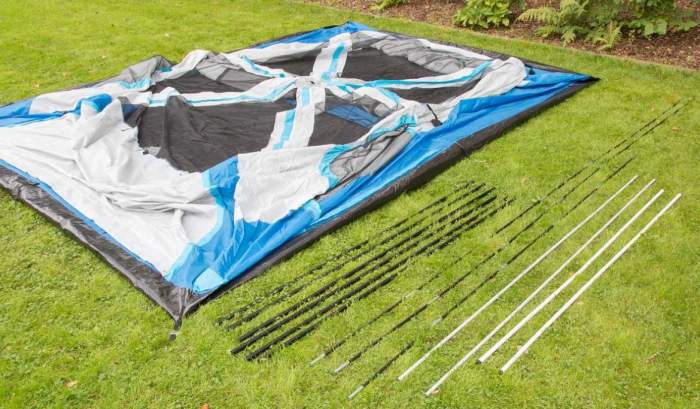 The doors & windows
All 3 external doors are with panel and mesh. The side doors panels you can roll down and fix with toggles and you will have mesh windows in place. Note that the panels are with zippers so this is properly done, such a feature you would expect in very expensive tents. But you can also roll the doors completely to the sides and fix to the walls.
The front door is huge, practically all the front wall is occupied by the door, and its mesh rolls down towards the floor, while the external panel is used as a pleasant awning or you can roll it up and fix above the door. The poles for such an awning configuration are included in the package.
The window on the rear side is also with mesh plus a zippered panel and you roll it down and fix with straps to the wall. There are 2 inner doors, nicely done with zippers and with mesh and panels for privacy.
Waterproof rating
The declared rating is 4000 mm for the fly and 2000 mm for the rest. All seams are sealed and the groundsheet is sewn-in. This should be more than good enough for any weather conditions in the summertime.
Surprisingly, they do not provide any information about the tent fabric. So after contacting them, I received this info which I share with you here:
Main tent: 100% polyester 190T.
Flysheet: 100% polyester 190T, PU coated.
Cabin material: 100% polyester 170T, breathable.
Floor: 100% PE 120 gr/m².
Carry bag: 150 polyester Oxford PA coated.
Ventilation
There are no floor vents. When the sky is clear you really do not need them in any case. There is plenty of mesh around and it goes all the way to the floor in the doors' design. You also have plenty of mesh on the inner doors, and the ceiling is all mesh.
But when it is raining, you have to keep all the doors and the windows closed and in such situations a couple of floor vents would be useful.
Setting the tent up
You start by spreading the tent on the ground and staking the corners, then passing the three roof poles through the sleeves. Then add legs-pols one by one and erect the tent. It is best to have a partner for the job, all is self-evident and easy. Then stake the floor properly and add the fly if you want. These pictures will serve as a guide: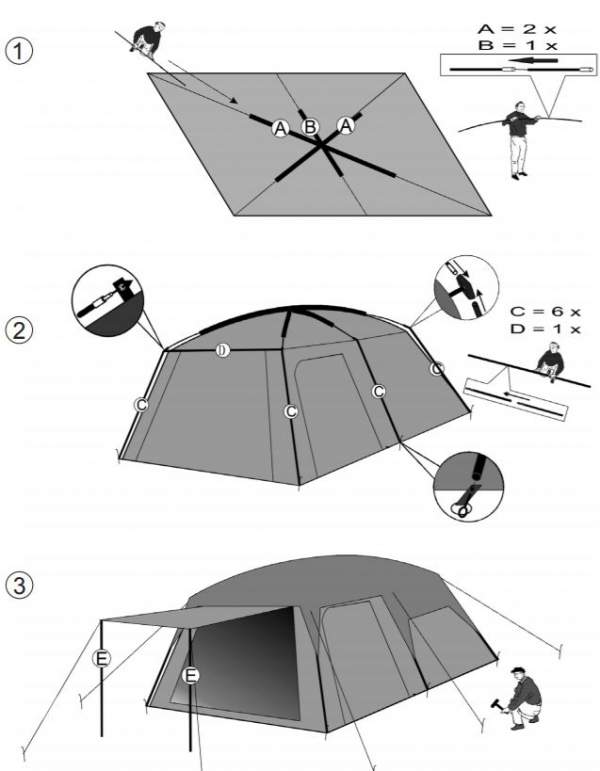 Other features
The tent has two very small storage pockets on the inner wall.
Hook for a lantern is available.
The repair kit is included.
Please see a bit more in this video:
---
What is in the package
These are the elements in the package:
Flysheet.
Fiberglass poles: 5.
Legs poles: 6.
Awning steel poles: 2.
Guylines: 8.
Pegs: 16.
Carry bag.
---
Specifications
Type: dome tent.
Capacity: 5 people.
Weight: 33.07 lb (15 kg).
Dimensions: 165 x 118 in (420 x 300 cm).
Area: 135.6 ft² (12.6 m²).
Area per person: 27.1 ft² (2.5 m²).
Peak height: 86.6 in (220 cm).
Packed size: 26 x 14.2 x 12.2 in (66 x 36 x 31 cm).
The tent is built in two different color combinations.
---
Skandika Tonsberg Tent vs Competitors
I have decided to show you two other tents with the same cabin-style design. The Alps Mountaineering Camp Creek is with the same declared capacity, while the Coleman tent is for 6 people yet it offers far less space. This will give you some idea of what you can expect from such tents and help in better understanding the features of the Tonsberg tent.
You realize that the Tonsberg tent is heavier but it offers far more space and volume, it is a more comfortable tent in general. To check for the updated prices please follow the links in the table.
Alps Mountaineering
Camp Creek
Coleman Instant
Cabin 6 With Fly
---
Final thoughts, rating, pros & cons
I would conclude this Skandika Tonsberg Tent review by stressing again its user-friendly design and the generous protected area which it offers. The declared waterproof rating is very high, nevertheless, this is a summer camping tent for a warm-weather climate without too much rain and wind. In my view, the price/value combination is very reasonable.
For such a big tent they have missed adding more storage elements, there is lots of space on the walls around. The tent is heavy but I point this out here more as a fact than as a problem, this is a camping tent and you will transport it by car in any case, so a few kilograms more or less is not a big deal. Please see how I rate it:
Skandika Weatherproof Tonsberg Unisex Outdoor Dome Tent
If you need more options, please check in the category Tents for 5 and 6 people, check also the category Cabin Tents. This Tonsberg tent is a 3-room structure, so you can find many more of such tents in my text here.
Thank you for reading. Please use the comment box below in the case of questions or comments, I wish you a nice day.