---
Oxley Oztent Lite 5 Fast Frame Family tent is an instant setup cabin-style tall tent with a high-level craftsmanship, a nice awning, and an aluminum frame.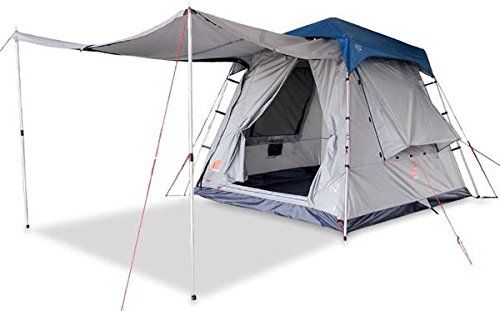 ---
Key features & benefits
Instant setup.
Quality craftsmanship.
Very tall cabin structure.
Large awning.
Aluminum frame & poles.
3-season tent.
---
What is in the name
The word 'Lite' in the name is used to specify that this is a lighter version as compared to the canvas tent of this brand with exactly the same features. So the fabric here is a quality synthetic, but this is not a lightweight tent, more below. The tent is a cabin style structure with straightened and tall walls.
They use the phrase 'Fast Fame' and this is nothing but instant setup structure. If you are not familiar with the terminology please see more in my separate text. Here just to stress that the frame is permanently attached to the tent and you open it similar to those nicely packable umbrellas.
This is also a freestanding tent, but it is 82.7 inches (210 cm) tall and very boxy, so do not miss to stake it down properly. Regarding the layers, this is essentially a single-layer tent with a minimal partial coverage fly.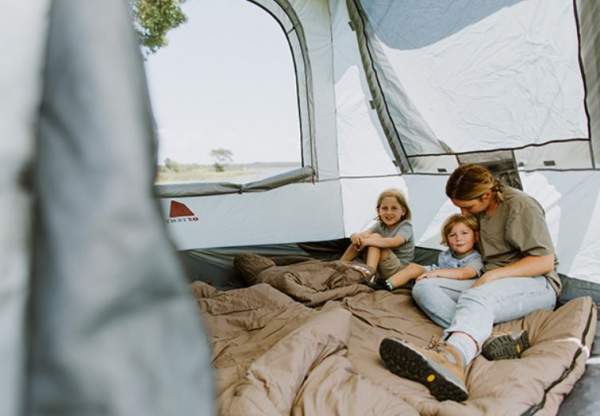 ---
Who is it for
Size-wise, the tent is with the area of 67.2 ft² (6.25 m²), and the declared capacity is 5 people. This would give 13.4 ft² (1.25 m²) which is far from enough regardless of where you would be using this tent. So I would say this is a perfect camping tent for couples, or perhaps for parents with a small kid.
Weight-wise, you will be able to compare it with some other models, there is a comparison table below. Surprisingly, on their site, they describe it as 'light to carry'. But its weight is 41.9 lb (19 kg) and this is everything but a lightweight item.
The packed size is 48 x 11.8 x 11.8 inches (122 x 30 x 30 cm), see the picture below, so it is long when packed but this is typical for instant tents. Again, it is best to compare it with its competitors to realize the true meaning of such numbers. But it is obvious that this is a car camping tent. In spite of such a packed size and weight, one person can easily set it up in under a couple of minutes.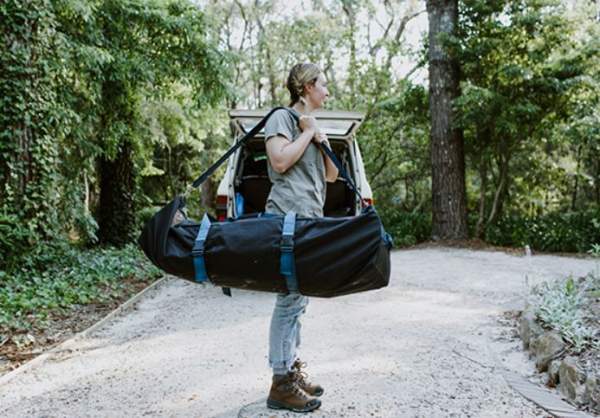 Seasons-wise and climate-wise, you will see below that the waterproof rating is quite good, the materials are robust, but the tent is very high. So I would not use it in places with very strong winds, though it has many guyout lines around and you can really secure it properly.
There is a couple of small mesh sections in the tent's ceiling, and also the windows are with mesh, but there are no floor vents here. However, it has very specific gusseted windows and they are low enough, so this will work good in a warm environment even if it is raining. In a cold climate, you can close its mesh openings and it could be good enough for such use. But for such an environment better check one of these cold-weather tents.

---
Materials & Construction
The fabric
The tent's material is a 210D ripstop polyoxford with a PU coating and a 2000 mm waterproof rating, and the same is on the floor. This is more than enough for any normal conditions in a 3-season use.
They do not mention the waterproof rating for the fly, I assume it is the same as of the rest of the tent. Note that the fly attaches separately, you have a clip system in the four corners, plus Velcro tabs to secure it to the poles, plus several guylines to stake it to the ground. But the fly is designed to protect only the ceiling.
The awning
The awning is a nice addition, see the picture below. It is permanently attached to the tent, so this is not a part of the fly. If not in use, you simply roll it up above the door. When you spread the awning and support it with its two thick poles (included in the package), the effective ground area which the tent occupies is 177.2 x 98.4 inches (450 x 250 cm), so bear this in mind when you choose your camping spot.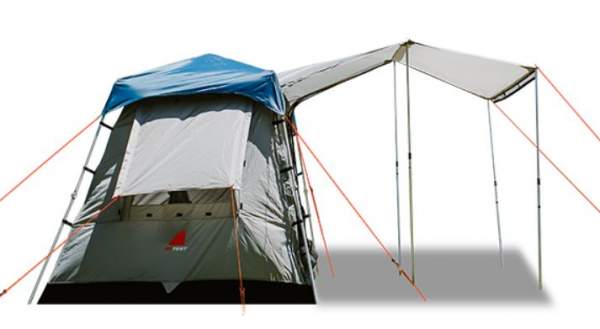 The frame & pegs
Here you have a corrosion-resistant aluminum frame, with thick and strong tubes. There are two separate 1.9 m (6'2") long telescopic poles for the awning. You also have 22 pegs/stakes.
They have an auto-lock/release system in the frame here. When you push the roof frame up, it locks in place and all legs are pulled up and locked into place as well. When you want to take the tent down, you simply pull down the handle on the ceiling and the structure will collapse. After that you fold the four legs just like in an umbrella (so these are not telescopic poles) and wrap the bundle with the included straps, and then store it in the carry bag.
The windows & the door
This is a single room and a single-door structure. But the tent has a large rear window plus two gusseted side windows. So the flaps on the side windows are very different from the rear window. The picture above shows how their flaps can be staked out and you have ventilation even when it is raining. All the openings are with a No-See-Um Mesh against insects.
Other features
1 Oversized zippered carry bag is included.
1 Owner's manual is included.
14 Guy ropes.
A couple of small pockets on the walls.
On their site they offer a 1-year warranty. I do not know if this is so if you order it from Amazon, the description on Amazon is currently next to none.
---
Specifications
Type: instant cabin tent.
Capacity: 5 people.
Weight: 41.9 lb (19 kg).
Dimensions: 8.2 x 8.2 ft (250 x 250 cm).
Area: 67.2 ft² (6.25 m²).
Area per person: 13.4 ft² (1.25 m²).
Peak height: 82.7 in (210 cm).
Packed Size: 48 x 11.8 x 11.8 in (122 x 30 x 30 cm).
---
Oztent Oxley Lite 5 Tent vs Competitors
I have decided to show you two cabin style tents from other brands, just to get some idea of what you can expect. The Skandika Tonsberg 5 is also for 5 people, but it has 3 rooms, and it is not an instant tent. The Coleman tent is a 6-person tent and it is also an instant design. You realize how modest the floor area is in this Oxley 5 tent, and now you can understand my comments about it being 'lite'. In fact, it is far heavier than the other two tents.
Coleman Instant
Cabin 6 With Fly
---
Final thoughts, rating, pros & cons
So this Oxley Oztent Lite 5 Fast Frame Family tent is really nicely built, its proportions are simply perfect, just see the dimensions and the height. The awning is a nice extension to sit in the shade and to cook as well. But it is small for the declared capacity and it is best to ignore this. It will serve you well if you can afford it.
On the Oxley site, they describe this tent 'lite on weight, lite on price'. But this is a rather expensive tent, though the truth is this is a quality tent. See how I rate it for a number of parameters, I use them consistently for all the tents here in the site:
Oxley Oztent Lite 5 Fast Frame Family Tent
$549.99
Pros
Express setup.
Very tall tent.
Top level craftsmanship.
Quality materials.
Freestanding.
Very pleasant.
Cons
Heavy.
Expensive
Too small for the declared capacity.
Poor description on Amazon.
Not enough storage elements.
Note that they also have a larger version, the Oxley 7 Lite tent with the same basic features. If you would rather have a canvas tent with the same capacity, check their OzTent RV 5. For more express setup tents it is best to check the category Instant Tents here in the site, see in particular this Outsunny Easy Pop Up Tent 5 Person.
Thank you for reading. Please use the comment box below in the case of comments and questions. I wish you a nice day.