Here you have the list with camping tents for 7 people, but the actual sizes of the tents are very different, with the area in the range 9 – 34 square meters (100 – 366 ft²).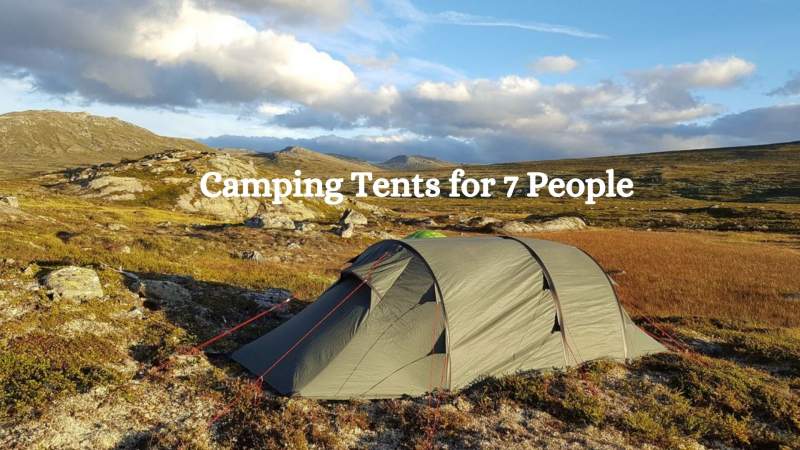 Such a huge difference in the area is because of the fact that some manufacturers use backpacking principle to determine the tent's capacity. This means how many sleeping pads can fit on the floor. For real family camping, this cannot work so it is best to downgrade the number of actual users. But you will see some tents with multiple rooms which offer lots of comfort, and the 7-person capacity is completely realistic.
Note also that we have a separate and much longer list with best 8 person camping tents. So the same issue with the declared capacity holds. This means that you can inspect that list as well if you want a tent for 7 people, or you can also check our list with best 9-person tents.
---
7 Person tents for camping – the list
So here are the tents ordered by the inner floor area from smaller to larger:
Although the list is not long, regarding the style, you will see a variety of shapes here. The list includes tunnel tents, teepee type, and cabin tents. You will also see some examples of instant tents, dark rest, tents for summer camping but also 4-season tents.
All the tents in the list are presented in detail in my separate reviews, only some basic data are given here. So please follow the links to read more.
How to choose – buyers guide
Declared capacity: So the tents in the list here are because of their declared 7-person capacity. But I already mentioned that there is an issue here because of the way how manufacturers measure the capacity. It is therefore best that you check the actual floor area and the features of the tent.
Design & type of the tent: You will see several very different designs here, and those include cabin style tents, tunnel tents, teepee tents. Some of them are also instant tents and this means you can have such a tent ready in just a minute or two no matter how big it can be. More about the types of the camping tents you can read in my separate text.
Seasons & climate: This is related to the type of tents mentioned above. So cabin style tents are usually (but not always) for warm weather camping and up to two seasons use. They are tall and pleasant with multiple windows, and with lots of mesh on the ceiling for ventilation.
On the other hand, tunnel tents are very popular in Europe and in areas with lots of rain. So here you will see a huge waterproof rating and excellent protection against elements. This type relies on vents, so the more you have the better. In this group you also have tents for all seasons.
Ease of use: I mentioned instant tents, so if you need something very easy to use, this is the type to choose. But tunnel tents can also be easy to set up, you pass the poles through the sleeves and then expand the tent like an accordion.
Weight & packed size: This is about large family camping tents so those are never lightweight items and you are not supposed to carry them long distances. So the weight is not a particular factor to think about, you will have to transport them in the car or on a motorbike in any case.
The packed size may matter of course, the smaller the better, there is never enough space in the car trunk. So here to remember that instant tents tend to be longer when packed. This is because of their telescopic poles.
---
1. NTK Arizona GT 7 to 8 Person Tent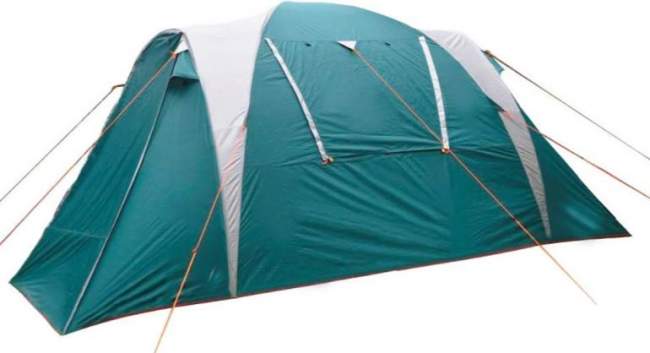 This NTK Arizona GT 7 to 8 Person Tent is a new tent on the market. The declared capacity is 7 to 8 people but it is a bit small even for 7 users, as usual. But this is a reliable extended dome tent with 2 doors and 2 windows, with a full-coverage fly, and great waterproof rating. It is included also in my list of best tents with a full fly.
The mentioned windows are with mesh and with zippered panels that can be open from outside. This all makes it suitable for 3-season use. The poles are fiberglass. The tent also offers an awning configuration so you can sit in the shade or use it for cooking. The tent weighs 24.9 lb (11 kg) and the inner area is around 101 ft² (9.4 m²).

---
2. OZARK Trail 12′ x 12′ Instant Teepee Tent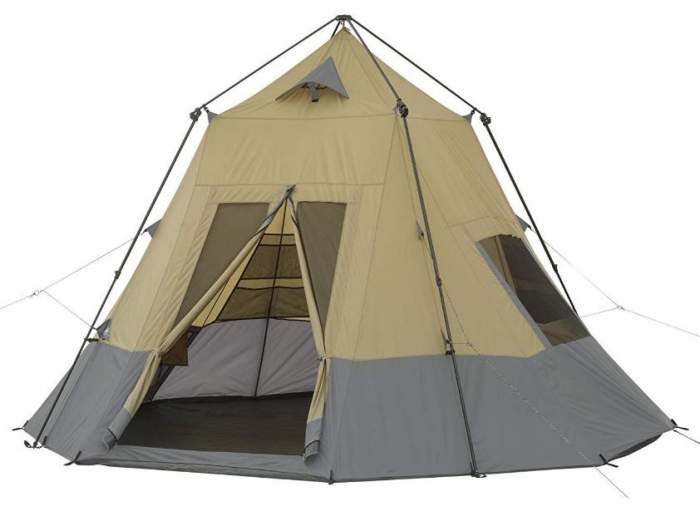 The capacity of this tent is up to 7 people and for this you have an area of around 108 ft² (10 m²). As you realize from the picture this is a modern version of classic teepee tents. So the structure is tall with 97 inches (246 cm) peak height. I have included it in my list of best teepee tents.
This is a unique tent, as you realize from the name it is instant and it is also fully freestanding. The official set up time for this structure is two-minutes. As you would expect from an instant tent, the poles are pre-attached to the tent, so just unfold and extend.
You get also a pair of pockets, a pair of hanging organizers, and an electric cable port. Top and ground vents are available and they allow for optimal air circulation.

---
3. Wenzel Blue Ridge 7 Person Tent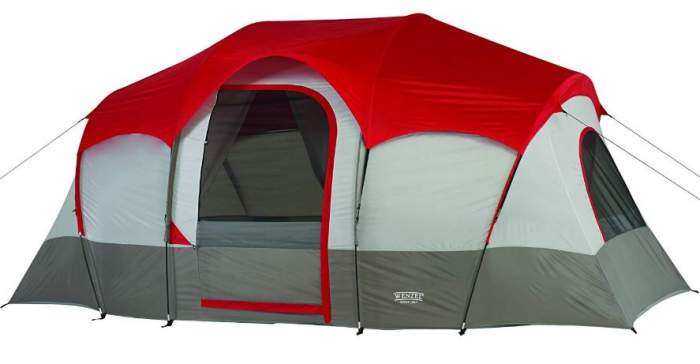 This Wenzel Blue Ridge 7 person tent is an example of a tunnel type tent. So this is a non-freestanding 2-room structure suitable for summer camping. It comes with fiberglass poles, partial coverage fly, E-cable port, and it offers an area of 117 ft² (10.9 m²). The weight is 18.1 lb (8.2 kg) and the peak height is 72 inches (183 cm).
The fabric is polyester, and the floor is a thick polyethylene. Note that you have only one door and it is shown in the picture above. This is a very affordable tent and it comes with an incredible manufacturer's limited 10-year warranty, hard to believe.

---
4. Oxley Oztent Lite 7 Quick Set Up Expedition Family Tent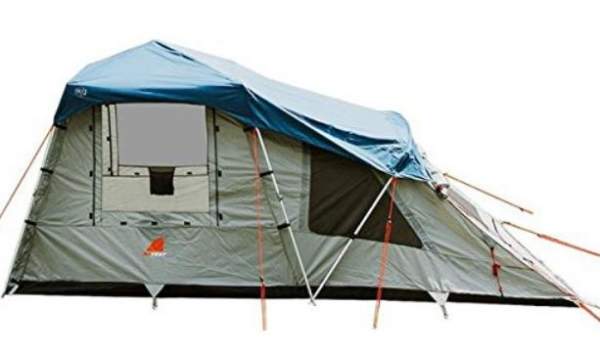 This Oxley 7 Lite tent is partly an instant setup tent with the frame pre-attached to the tent and it opens like an umbrella. So the poles are not telescopic in this design, they open and lock in place. But note that there is an extra pole to be added in its extended section (on the right in the picture above).
The tent is heavy and bulky because of very strong and durable materials. It weighs 57 lb (26 kg) and the packed size is 48 x 15.5 x 15.5 inches (122 x 39 x 39 cm). It is also very tall with 82.6 inches (210 cm) peak height. It is here in the list because of its declared 7-person capacity, and the area it offers is 126 ft² (11.75 m²).
This is a 3-season plus tent. The fly is a partial coverage fly, but you have full protection from the elements; the walls and the floor have the same waterproof rating as the fly, and this is 2000 mm.
The windows and the door are with waterproof panels. You have a huge awning which is not detachable and it can be rolled up and fixed above the entrance, the poles for the awning are included.

---
5. Guide Gear Base Camp Tent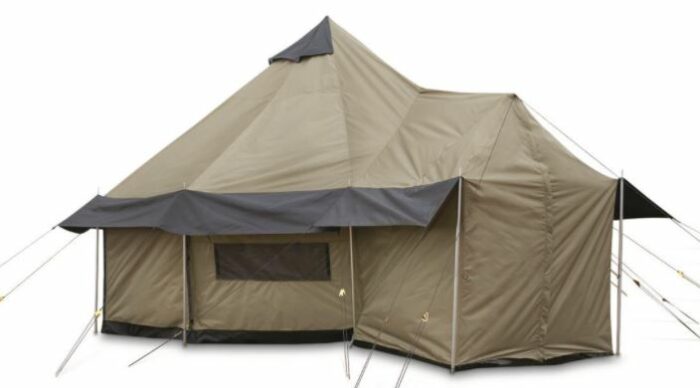 This is an impressive 4-season bell-shaped tent with a huge porch, 5 windows, two awnings, and an integrated stove pipe jack. So it is also in my list of tents with a stove jack.
The tent is very tall as expected from this type, so the peak height in the center is 10 ft (305 cm). Naturally, I have added it also to my list of very tall tents.
The tent weighs 52 lb (23.6 kg) so this is normal in view of its size. The diameter is 14 ft (427 cm) and the inner floored area is 154 ft² (14.3 m²), and you still have a porch with a removable floor.

---
6. Jack Wolfskin Travel Lodge FR Tent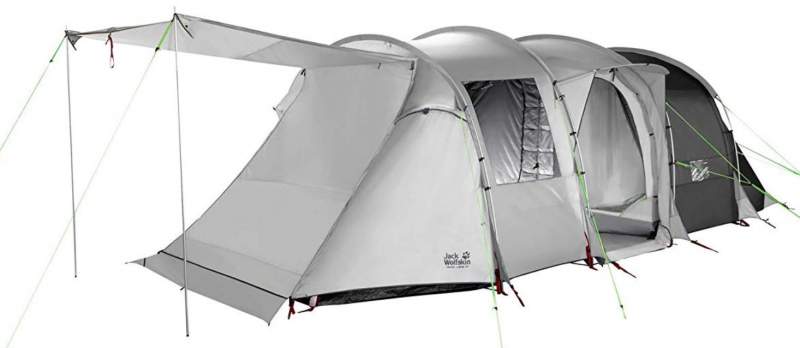 This tent is with an official capacity of 5 – 7 people and its area is around 183 ft² (17 m²). This is an impressive tunnel-type tent with 4 rooms. You have a modular design with two inner tents that can be used in various ways, you can remove them and create various configurations. It is included in my list of best tunnel tents for camping.
The tent is 74.8 inches (190 cm) high, it has 3 doors and they all are with mesh, and it has 2 PVC windows. The poles are top quality DAC aluminum, the waterproof rating is a huge 4000 mm, and the tent allows for the awning configuration shown in the picture.
This is a tent for all seasons, but note that the shell floor acts like a footprint, it is not sewn-in but it attaches with buckles.

---
7. Wildcat Outdoor Gear Lynx 640 Air Inflatable Camping Tent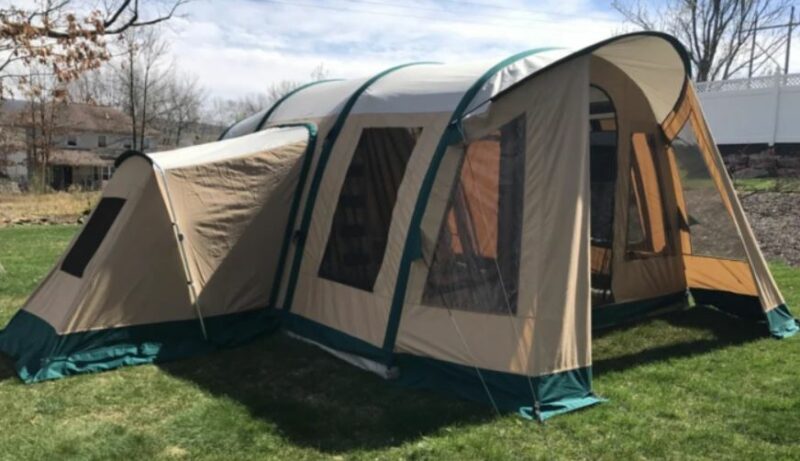 This tent can easily accommodate 4 to 10 people. But the distribution of rooms is such that in my view it is best suited as a tent for 7 people, and this is why I have added it here in the list. It has 4 rooms, and those include a large living room, plus two sleeping rooms, plus a very specific side room visible in the picture above. It also has a protected porch.
This is also a canvas tent, built from a top-quality blend of cotton and polyester, a rip-stop material. This is why it is added to my list of best canvas tents. This is also a tent with air beams instead of classical poles, so it is added to my list of best inflatable tents.
The tent offers a huge area of 207 ft² (19.2 m²), and this is why it is included also to my list of extra large tents. Note it is heavy with its 108 lb (49 kg).

---
8. Hi-Gear Horizon 700 Air Nightfall Tent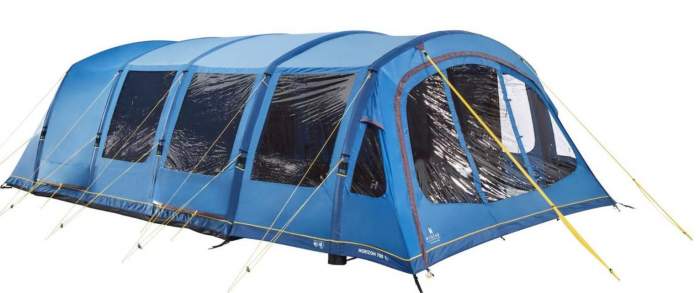 This tent is officially for 7 people only, but here you have an inner area of 260.5 ft² (24.2 m²), plus a porch area of 114 ft² (10.6 m²). So this is one of the largest tents on the market, and you have 4 rooms inside plus the porch. It is in my list of extra large family camping tents.
The tent is with dark rest bedrooms, and with solid tinted windows. It is supported by air beams, so I have included it also in my list of best inflatable tents.

---
9. Outwell Vermont XLP Premium 7 Person Tent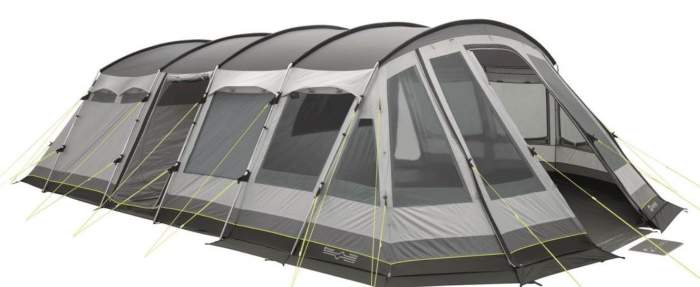 This is one of the largest tents on the market with 371 ft² (34.48 m²) total area in its 5 rooms. But its declared capacity is only 7 people. There are around 20 PVC tinted windows here, 3 entry doors all with mesh and panels, 4 inner doors, a built-in wardrobe, and numerous storage elements.
It provides full protection with its impressive 6000 mm waterproof rating and steel poles. It is with a thermo-reflective coating, a fully sealed floor, cable entry ports, and a dark rest design. Please follow the link to read more.

---
Final thoughts & Editor's Choice tent
So this was my list with camping tents for 7 people, it will be updated regularly and I shall add new tents whenever I find something suitable on the market. You might want to bookmark this text and check it from time to time.
The area difference between the smallest and the largest tents in the list is more than 3 times. This is why it is always best to check the actual area and to disregard the declared capacity. But it is true that you can indeed put 7 sleeping pads in these tents and such a number of users will have a shelter in any of them.
Editor's Choice
Jack Wolfskin Travel Lodge FR Luxury Tent
$517.57
If you need something for a different declared capacity, check my list with best 8-person tents, and also the tents for 6 people. Both lists are very long.
What do you think about these tents? Have I missed adding some good 7-person tent known to you? If this is so, please use the comment box below and let me know about it.
---