---
This Robens Cabin 600 Adventure 6 Man Tunnel Tent review is about an impressive 4-season tent with 3 rooms, aluminum poles, fully sealed floor, and a huge waterproof rating.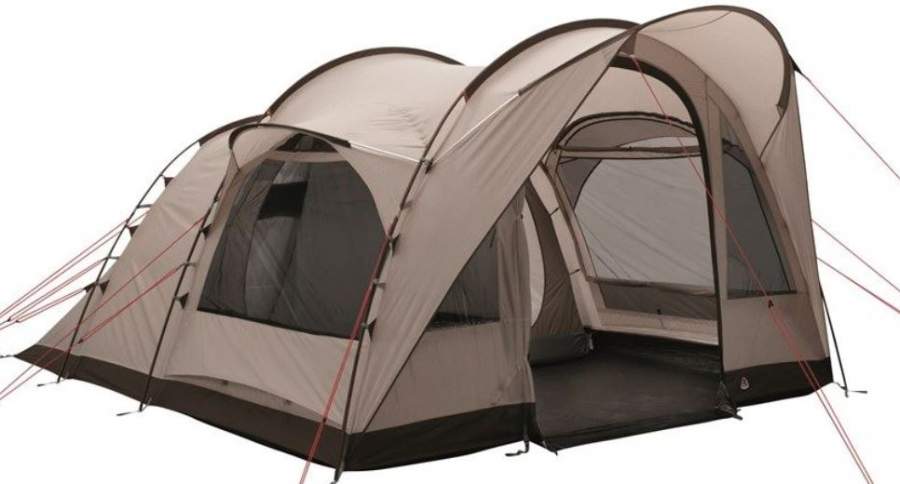 ---
Key features
Aluminum poles.
Tunnel tent.
Non-freestanding.
3 Rooms.
Huge waterproof rating.
4 Tinted PVC windows.
4-Season tent.
E-cable port.
Flat floor design under the door.
---
What this is about
This Robens Cabin 600 Adventure tent seems to be new on the US market and on Amazon, but you should know that it has been on the EU market for at least 7-8 years already. So this is a well-known tent with a great reputation. The tent has been modified in the past so there are differences when you watch some older videos.
This is a 3-room structure, so you have a large living area plus two inner sleeping rooms. You have seen the word Cabin in the name, this is quite misleading because here you have a beautiful example of a tunnel tent. So it is not freestanding and it must be staked properly. The word Adventure in the name indicates the fact that this is a tent which offers excellent protection in all conditions.
The tent has some elements of the dark rest design or black-out as they call it, so you have a dark ceiling fabric in the sleeping area, see the picture below, but this is not a dark rest tent in a strict sense. It comes with a zippered cable port shown below and this may be useful if you camp in a regulated camping area with all facilities including the electric power.
Note also that it is very high with its peak height of 200 cm, see the picture. The sleeping area is lower: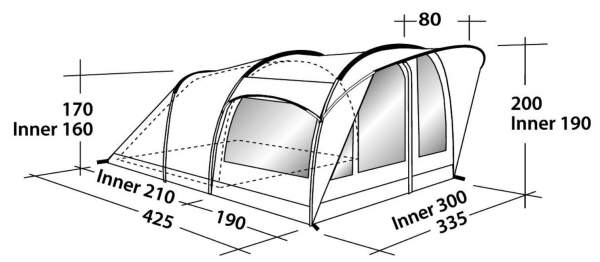 They use the term Storm Guard System for pitching this tent. Although I am not completely sure, this seems to describe the fact that you add the poles from outside so you can set the tent up even if it is raining and the inner area will be protected in the process. This is different from the tents where you have an inner tent supported by poles and the fly comes above it.
---
Who is it for
Capacity: The declared capacity is 6 people so let's see what this tent actually offers. The floor plan below shows you that you have 137 ft² (12.7 m²) of the inner area, and in the case of 6 users this would give 22.8 ft² (2.1 m²) per person. Note that the actual area is bigger but there is some space between the shell tent and the inner tents which is for ventilation.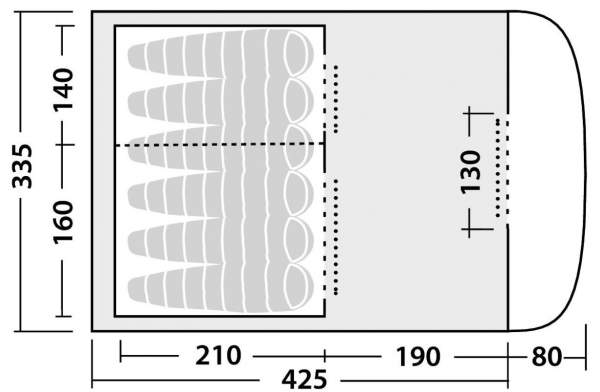 So you have around 6.3 square meters in the living area plus the same area in the inner tents. A few comments here:
The inner area is quite small for 6 people, although you could fit 6 sleeping pads inside.
On the other hand, the living area is with the same level of protection and several people can easily sleep here.
Therefore, if necessary, this tent can easily accommodate at least 8 people or so. This could be the case of friends attending a summer festival or anything similar. But for a family camping with lots of camping stuff, I see it suitable for 4 people maximum. A bit more about this below.
Seasons-wise & climate-wise, I see it as a 3-season plus tent or even a 4-season tent. Here are some facts.
The waterproof rating is huge, you will see more below, and the tent is with solid windows, the poles are aluminum, the floor is fully sewn-in, and all the openings are with panels that can be closed. So this is a fully enclosed design that keeps the warmth. The declared wind protection is excellent, it is tested for the winds up to 110 km/h.
In the case of warm weather camping, you will rely on vents, it has them many and also mesh is on the door, so this all can provide plenty of cross-flow in all directions.
Weight-wise, you will see in the comparison table below how it stands when compared with some other tunnel tents in the same size range. So with 34.4 lb (15.6 kg), it is heavy, but this is normal when you see its size, durable fabric, and thick aluminum poles.
The packed size 30.3 x 13.4 inches (77 x 34 cm) is not bad, but in view of the weight, this is a tent for places with a car access.
---
Materials & construction
I already mentioned its 3-room structure and I have included it in my list with best 3-room tents, but in fact, this is a modular construction. By this I mean the following – the inner sleeping area has two rooms, and you have a zipper as a divider between them, so this is not just a curtain. Not many tents have such a nice design.
But you can also unzip one of the inner tents and use that area for storage. This is a great option for couples who need a comfortable living room and storage area. So it can be used as a 2-room structure but also as a 1-room tent.
Note that the complete inner tents are also zipped to the shell tent, and this is very different from the other multi-room tents where the inner tents are attached through toggles. But here you have a mesh for a free airflow between the outer and inner ceilings, so again a nice detail, you will probably be able to see this in the video below.
The poles
There are three main poles that create the tunnel structure, and three shorter brim poles that are used to create small awnings above the side windows and above the door, one is shown in the picture below. Those are all aluminum alloy 6061, T6, with 16 and 9.5 mm diameter, so you have really thick and strong poles here.
The fabric
The fly is what they call HydroTex HD, 75D polyester taffeta 185T, fire retardant and with 5000 mm hydrostatic head. The groundsheet is fully sewn-in polyethylene with 10000 mm rating (yes you are reading this correctly), and with a bathtub construction.
The inner tents are 68D breathable polyester 185T, and the floor of the inner tents is 75D polyester taffeta 185T PU coated with a 3000 mm waterproof rating.
So I stress again, in the sleeping area you have two waterproof floors with a 13000 mm combined waterproof rating. As of the moment of writing this text, there is no other tent here in the site with such a value. Simply impressive.
Note also that you have a flat floor design under the door for easy access in general and also for people with wheelchairs, it is shown above.
There are 4 windows in total with tinted PVC. They are with panels with toggles for privacy. There is only one door here but it is very wide and tall. Note that this is an impressive 3-layer structure. So you have a solid PVC layer, a zippered panel, and a full-size zippered mesh door.
Ventilation
This is an enclosed structure but it has so many vents that you can regulate airflow in several ways. See what you have:
There are 2 long floor vents under the side windows in the living room. From what I have seen, this is a new feature as compared with the previous version of this tent.
There are also 2 high vents above the side windows, they are with mesh and zippered panels.
On the rear side, there is a long vent with mesh and flap with 2 Velcro stiffeners so you can close it if necessary
In addition to this, you have the door with the full-size mesh.
The inner tents are well separated from the shell so the air can circulate freely.
The two inner doors are with mesh on the top section.
There are mesh sections on the rear side of the inner tents, they match the rear vent.
The inner tents' material is breathable.
So there is little one could object here, this is an excellent design. Note that all these openings can be closed when needed, this tent will work great in all seasons.
Storage elements
The tent has a large organizer in the living room with many mesh pockets for storage.
There are small mesh pockets in the inner tents.
Please see more in this short video by the brand:
---
Specifications
Type: tunnel tent.
Declared capacity: 6 people.
Weight: 34.4 lb (15.6 kg).
Dimensions: 167.3 x 131.9 in (425 x 335 cm).
Inner area: 137 ft² (12.7 m²).
Inner area per person: 22.8 ft² (2.1 m²).
Peak height: 78.7 (200 cm).
Packed size: 30.3 x 13.4 in (77 x 34 cm).
Poles: aluminum.
---
Robens Cabin 600 Adventure vs Competitors
I have decided to show you this Robens Cabin 600 side by side with two other tents built in the same style. So all of them are tunnel tents with a great waterproof rating and with 3 rooms.
As you realize, it is smaller than the other two, and it has only one entry door. But its waterproof rating is the best and it has aluminum poles. So I am convinced that it offers a better protection than the other two tents. Please follow the links for more.
---
Final thoughts
So this Robens Cabin 600 Adventure 6 Man Tunnel Tent is rarely nicely built and some of its features are hard to match, this holds in particular for its waterproof rating. They claim that they test all of their tents against wind and for waterproof rating. In view of its all features, this tent is very close to what you could call a true 4-season tent.
You might want to check their Robens Klondike Tent which is also for 6 people but completely different canvas bell-shaped tent. Check also this H HANNAH Space 6 Person Family Tent which is also with 3 rooms but this is an extended dome tent. This Jack Wolfskin Travel Lodge FR tent for 5-7 is in the same declared capacity range but it is much larger.
Please note that I have no relation with this brand and this is not a sponsored text. What do you think about this tent? Please share your thoughts, there is a comment box below.