There are several dark room tents currently on the market, and they are sometimes described as dark rest tents. So what is dark rest tent? Find the answer here.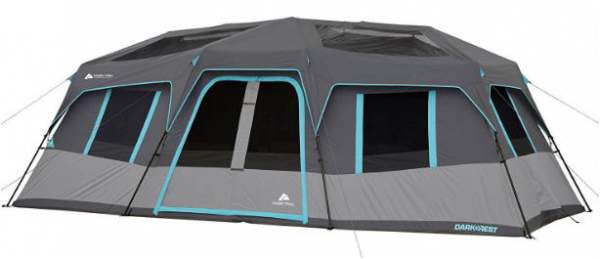 ---
What are dark room tents really
Tents with dark rest design are the latest trend in the family camping tents industry. So far I have seen the following terms used: darkroom tents, dark room tents, dark rest tents, lights-out tents, and insulated tents as a particular type.
So you have at least the following types (there may be more):
Tents with a fly with specific features that make the tent "dark". You have this in some Coleman tents.
Tents with extra panels underneath the ceiling mesh. There are several Ozark Trail tents of this type.
Tents with the inner sleeping room made of a darker material. Those are less dark than the other tents mentioned here. They describe them as 'lights-out tents'.
Insulated dark room tents – with extra insulation layers underneath the external tent shell.
In the simplest cases (the groups 1 – 3), the idea behind this design is to reduce the glare and make the tent a dark area so that you can sleep longer in the morning and take a nap during the day. There are several great tents by Ozark Trail and Coleman on the market right now (see the links in the text), and also Vango tents, but there may be more, this industry is growing.
The group 4 is a step further in this area. Those are the tents which also have thermal and sound insulation. So nothing can be more "dark" than such tents because you have a thick insulating layer inside which makes the interior completely dark and the sound doesn't propagate through it. Those are "black holes" if you see what I mean.
---
So how they do it
This is dependent on particular manufacturers. For example, the Ozark Trail tents (see the Dark Rest 6 tent) have the ceiling of the inner tent with extra zippered panels underneath the mesh. So when you zip them up completely, the tent becomes dark. You still have the fly above, so effectively the roof has 3 layers. This adds some weight but it also adds value and increases livability dramatically.
Note that Ozark Trail tents with this design also have extra windows on the fly itself. These are translucent vinyl surfaces so when you use the ceiling without the dark panels, you can still have windows on the roof when the fly is on.
---
Do the tents become overheated during the day?
This should depend on what you buy, but for group 1, they claim no. So in this case, the external surface (the fly) is reflective, and Coleman claims that:
it reflects 95% of the light,
it reduces heat in the tent by 11%.
The users of Ozark Trail tents (group 2) have reported a similar experience. But there is more to this, see below.
As for group 3, those tents are built to be used in a colder environment, so overheating would be a positive effect in any case. But yes, I have seen people complaining about this.
The tents from group 4 are built from breathable materials and the inner sleeping area remains cool.
You can see a bit more in this short video by Coleman, this is about the Carlsbad Fast Pitch 6-Person Dome Tent with Screen Room and with darkroom technology:
---
The tents may be warmer at night
This is related to group 2, and it is easy to understand it, at least when you see the design of the Ozark Trail dark rest tents. Some of them are described in my separate reviews:
Normally, those are all summer camping tents with mesh on the ceiling. Such a design doesn't keep the warmth and the tents of this type are not the best option for a cooler environment. This is what I point out regularly in the reviews of family camping tents here in the site.
Now, you add the mentioned panels under this ceiling mesh, and they are equipped with zippers. So naturally, when you close this all during the night, the tent will preserve much more warmth.
But there may be an issue of condensation of course. If you close the ceiling there will be no air flow. So you have to find a proper balance and to see what works best. If the tent has floor vents, they will help, and you can keep some of the roof panels open.
In any case, it is clear that with such a design, these dark rest tents can be used in a cooler environment where a normal summer camping tent is not the best option. But make no mistake, these tents are not winter tents and they are not insulated tents. If you need something that is both insulated and dark room tent, check the group 4.
See this giant Ozark Trail 12 Dark Rest Tent which is in the group 2 mentioned above:
---
Lights-out tents
Here you have several Vango tents, and one of them the Vango Capri 600XL is shown in the picture below.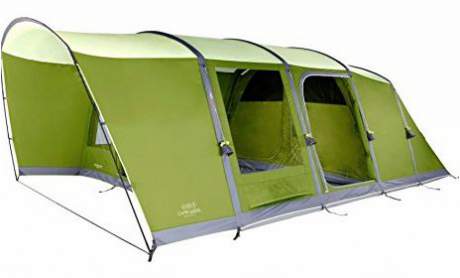 Se here you have a huge and pleasant living area with vinyl windows and with a porch, while the sleeping area is smaller and built without windows and from darker materials. This is a completely waterproof tent with a huge waterproof rating, designed for weather conditions which you have in Scotland. You can see more about Vango tents in this video:
---
Insulated tents for cold weather camping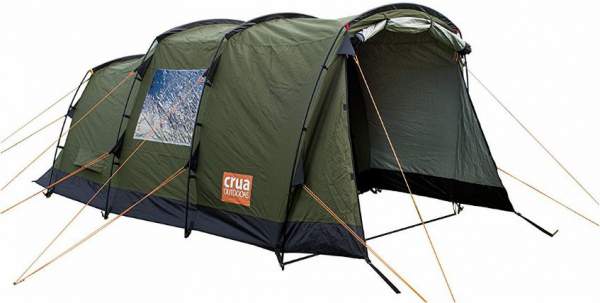 I already mentioned, these are a particular type, designed even for the coldest environment, and this is not the only one, see its bigger cousin Crua Loj 6 from the same brand. The material is breathable so you can use them in all seasons, they remain cooler than ordinary tents.
They come with such a thick layer of insulation that if you shout inside, you will hardly be heard outside. But this also means that the wind outside will not disturb you during the night. As you surely know, some tents can be very noisy in windy conditions. Well, this is not the case here. Such a structure is "dark" in every possible sense. See a bit more in this video, you will enjoy it:
---
Final thoughts
So this was my short introduction into the dark room tents field. As you realize, this is a new trend and there is no doubt there will be more and more tents of this kind on the market. So keep an eye on this development. I shall be adding separate reviews of these tents here in the site. Dark rest tents are here to stay and this is for all good reasons, I have described a few of them in the text above but see more in my list with the tents of this type.
Thank you for reading. If you have any question or comment, please use the comment box below. If you need a tent of a different kind, just look around, this site is only about family camping tents, there must be something for you here. I wish you a nice day.
---