---
This Robens Klondike Grande Tent is an impressive polycotton single-pole construction, breathable, ventilated, and waterproof, suitable for all seasons and all climates.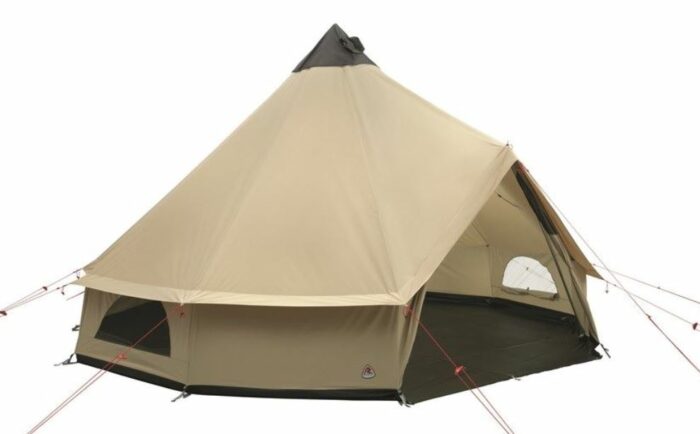 ---
Key features & benefits
Polycotton fabric.
Breathable & waterproof.
5 Windows.
1 Door.
Apex vents with inner control.
Removable zippered floor.
Stove pipe jack.
---
What this is about
Here you have a modified bell-shaped tent supported by one main central pole and with a vertical wall part that is around 70 cm high. This vertical wall allows for 3 low windows that offer views around for people on the floor, and also double as vents. Because of such a construction, the tent is not freestanding, so make sure you can stake it down properly when you choose your camping spot.
There is one door only but it is huge and it is with two extra windows with mesh and panels, see the picture below. Note that you have an extra A-frame added for the door so the door is vertical and a bit protected by the roof for dry entry.
All the windows are under the eve, so they are partly protected and you can keep them open most of the time, even when it is raining. But they are double-layer structures with mesh and panels for extra ventilation and for privacy and protection from elements.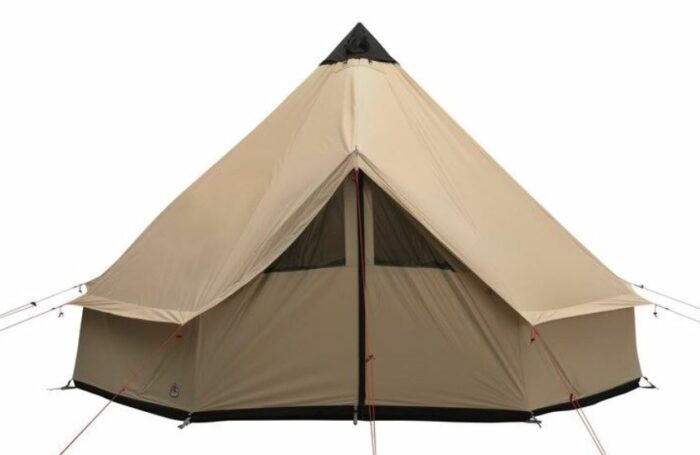 Ventilation
This tent is simply perfect when it comes to ventilation. The fabric itself is breathable, but you have seen all those 5 openings with mesh, 3 separate windows, and 2 on the door.
But there is also a top venting system with two vents, see the pictures below. Because the tent is so high, they have added a pair of two strings, they call this the Internal Apex Vent Control, so you can easily pull the strings and regulate ventilation from inside the tent. As you realize, there is nothing one can object with respect to this, it is as close to perfection as it can be in a camping tent.
---
Materials
The fabric
I already mentioned the poly-cotton fabric. So this is a blend of the two materials which they call the HydroTex Polycotton, a mix of 65% polyester and 35% cotton. It gives you the best of both. The cotton makes it breathable, and it also swells when wet and this makes it waterproof, while the polyester gives it extra strength.
Note that the floor is also a quality material, you have a 210T Oxford polyester here. It is PU coated and with an impressive waterproof rating of 10000 mm as it is given at the manufacturer's site. But in the video below you will hear it is 5000 mm. In any case, this is an impressive value.
Note also that the floor is zippered so you can remove it if you wish to use the tent as a canopy only. One extra zipper is also added at the front so you can unzip it and split the floor and roll it to the sides close to the entrance. This you can use in combination with a wood-burning stove, the tent's top cap is with an integrated pipe jack. This is why I have included it in my list of tents with stove jacks.
The poles
You have an enormously thick alloy anodized central pole that consists of 5 sections and the diameter is in the range 30.8 – 52 mm. The mentioned A-frame door pole is with a 22 mm diameter.
Please see a bit more in this video:
---
Who is it for
Regarding the area, officially the tent is for 10 people. The tent's plan below shows what they suggest for using the tent's floor. They do not provide the exact number for the area, but this is a slightly irregular decagon (with 10 corners), see the picture, and my estimate of the floored area is around 194 ft² (18 m²). This qualifies it to be included in my list of extra large family camping tents.
So in the case of 10 users, this would give 19.4 ft² (1.8 m²) per person, and this sounds good enough. But it is up to you, clearly you will feel far more comfortable with fewer people inside.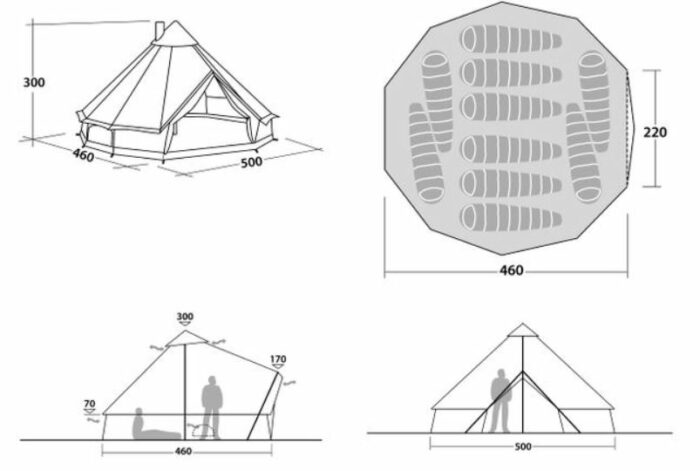 Regarding seasons & climate, this tent is as close to a true 4-season tent as a tent can be. It is pleasant, cool, and breathable for warm weather camping, and it is also very suitable for a colder environment as usual for such polycotton tents. This is even more so when you add its optional inner tent (more below).
The tent is very tall with its 118 inches (300 cm), and this is why I have included it also to my list of very tall family camping tents and you might be concerned about its wind resistance. So they claim it has been tested for the winds of up to 160 km/h, and according to their statement "at no point was any form of catastrophic failure experienced up to the maximum wind speed." This sounds good enough for me.
Regarding the weight, as you surely know canvas camping tents are usually bulky and heavy. But here you have a mix which is mostly polyester and this makes the tent only moderately heavy in view of its huge size, it weighs 47.6 lb (21.6 kg).
The packed size is 36.2 x 13.8 inches (92 x 35 cm) and this is also reasonable for such a huge tent. But in any case, this is a tent for places with a car access.
---
Specifications
Official capacity: 10 people.
Weight: 47.6 lb (21.6 kg).
Dimensions: 16.4 x 15.1 ft (500 x 460 cm).
Area: 194 ft² (18 m²).
Area per person: 19.4 ft² (1.8 m²).
Peak height: 118 in (300 cm).
Packed size: 36.2 x 13.8 in (92 x 35 cm).
Fabric: polycotton.
Poles: aluminum alloy.
---
Accessories
They have a separate inner mesh tent under the name Robens Inner Tent Klondike Grande shown in the picture below. With such an addition you have separate sleeping and living areas, and you get more privacy and a warmer draught-free area.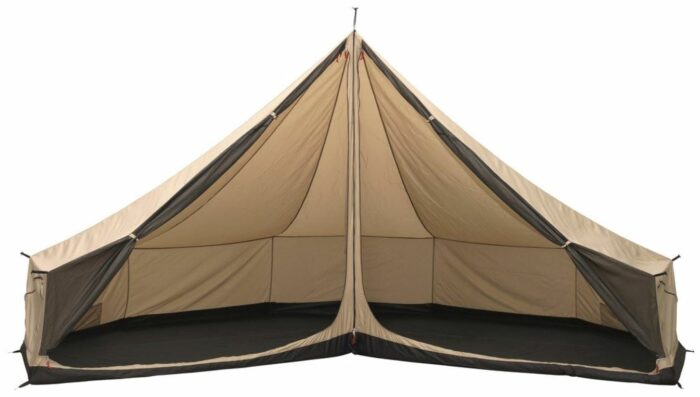 The inner tent's packed size is 28 x 10 inches (70 x 26 cm) and it weighs 11 lb (5 kg). Below you have the floor plan with the inner tent in place. As you realize, with this you have a 3-room tent with two sleeping units and a front living room.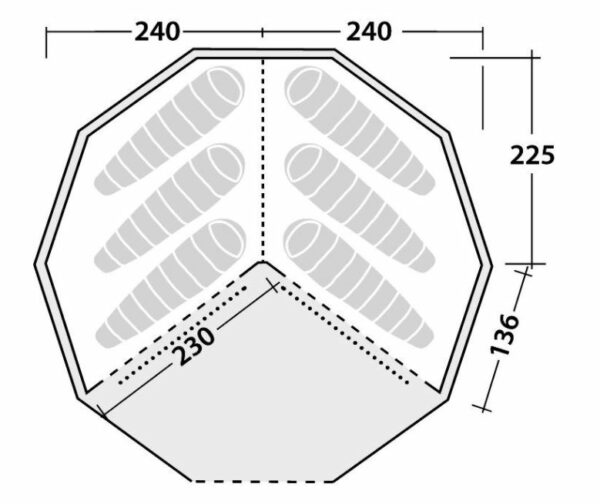 ---
Final thoughts, rating, pros & cons
In the summary of this Robens Klondike Grande Tent review, I would stress that this is a high-quality tent and you have high-level craftsmanship here. It is expensive but this is a tent that can be used in all seasons and in all climates, and this for many years. You can even use a wood-burning stove in this tent, it is with features that allow for such use. This implies the stove pipe jack and the floor with a zipper so you can roll it to the sides in the area where you would place the stove. Fully recommended.
Please see how I rate this tent, the same criteria are used for all the tents here in the site so you can easily compare.
Check under the category Canvas tents if you need more options. There is a smaller 6-person Robens Klondike Tent version built in the same style.
You might want to bookmark this site and visit it from time to time, we add here texts on a regular basis so this will keep you informed. There is a subscription form below for my weekly newsletter, so use it and stay in touch. Thank you for reading and have a nice day.