Semoo Water Resistant 9-Person 3-Room Family Tent is an extended dome-style tent for summer camping with doors on all four sides and with an incredible price tag. It is ideal for occasional outdoor adventures for two couples or for families with small kids.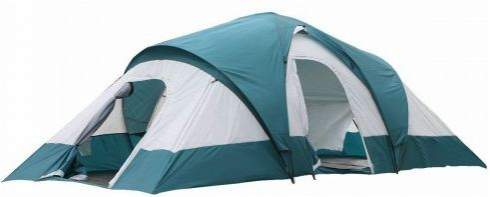 ---
Key features & benefits
3 rooms.
4 doors.
Incredible price.

---
What type of tent is this
Here you have a typical extended dome type tent, organized in 3 separate rooms. The dimensions of the three rooms are slightly different, the central room is 76.8 x 94.5 inches (195 x 240 cm) while the two side rooms are the same size, each 74.8 x 94.5 inches (190 x 240 cm).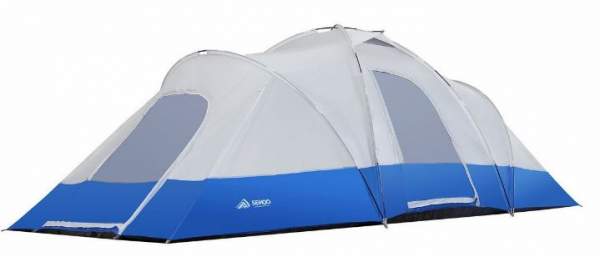 The biggest part of the tent body is a single-layer structure, the minimal fly covers mainly the top. This means that the tent's body is waterproof, and it is with the same waterproof rating as the fly.
The tent is not freestanding, so bear this in mind when you plan your camping place so that you can stake it down properly.
---
Who is it for
Space-wise, the declared capacity is 9 people, so let's see if this is realistic. The tent offers 148 ft² (13.8 m²) of the floor area and there are no vestibules or porches for external storage. This is 16.4 ft² (1.53 m²) per person, so they have used the backpacking principle to determine the tent's capacity, please read here more about this.
But this is a camping tent and not a backpacking tool, and in view of this, the declared capacity is not realistic. Downgrade it to half if you plan to use this tent for family camping. See the floor plan to understand more how they suggest to use it:

They write that you can put three queen size mattresses or beds and this is true, you realize this if you take this Coleman Queen Size bed and compare with the dimensions of the three rooms. It is always better to use such cots instead of mattresses on the floor, simply because you still have plenty of space underneath the cots to store your gear. But with such three beds you would have no space left, so such a statement is mainly for impression and has no practical purpose.
The best option would be to use 2 such queen size beds in the two side rooms and use the central area as a living space only. This would make the tent ideal for two couples. The dividers are on toggles, so not real sewn-in walls but they still provide enough privacy, and you have the entry doors on all four sides, including the two side rooms.
Though the ceiling in the side rooms is angled and very low on one side, so you might be forced to use very low cots or to sleep on the floor.
Seasons-wise, here is how I see this tent. It comes with a minimal fly and there are many exposed zippers (though covered with storm flaps), and the waterproof rating is quite modest. So I would not use it in a rainy environment. This is s summer camping tent only.
Weight-wise, you have a package of 28.2 lb (12.8 kg) and it is packed into 28.3 x 10.2 x 9.8 inches (72 x 26 x 25 cm), so this is for places with a car access.

Please see a bit more in this video:
---
Materials & construction
The poles
The shock-corded poles are fiberglass, and you have them 4 with a diameter of 7.9 mm and 9.5 mm. This is not so durable material and it needs some care, but many tents on the market are with the same type poles, thus nothing is unusual here. You will see the price, so you cannot expect more.
The fabric
The fly is 190T PU coated polyester with the waterproof rating of 1000 mm. The tent body is the same material and with the same waterproof rating. This does not look much and indeed it isn't, but for a summer camping tent this is quite appropriate. Remember that an ordinary umbrella has a rating of around 400 mm.
The floor is polyethylene, 120 g/m², they do not give the rating for it, but this is plastic and it is generally waterproof.
The materials on the doors are the same as in the tent's body, but you also have a mesh against insects. The dividers are some synthetic, no info about the material, but this is standard for the tents of this type.
Ventilation
You will notice that there are no floor vents here. This is not an issue as long as the weather is fine, you have the doors on all side and they are with mesh and with panels. But if it is raining, you have to zip the door panels and the situation may be quite different. So for such situations, you will rely only on the small roof vents.
Note also that you don't have much mesh in the construction, so this tent will keep the warmth much better than the other summer camping tents with mesh on the ceiling. Bear this in mind if you plan to camp in an environment where the temperature drops significantly during the night.
Other features
There are just a few pockets, very small and practically useless. They have missed making the tent more livable, such pockets help to keep you organized in the camp. The carry bag looks cool, see the picture: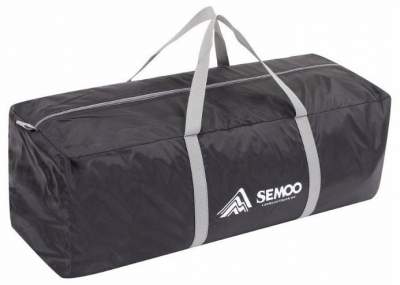 ---
Specifications
Capacity: 9 people.
Weight: 28.2 lb (12.8 kg).
Dimensions: 226.4 x 94.5 in (5.75 x 2.4 m).
Area: 148 ft² (13.8 m²).
Area per person: 16.4 ft² (1.53 m²).
Peak height: 72.8 in (185 cm).
Packed size: 28.3 x 10.2 x 9.8 in (72 x 26 x 25 cm).
---
Semoo 9 Person Tent vs Competitors
It is always good to check some other tents in the same size and make a comparison. This helps to make the right choice. So here I give the Semoo 9 side by side with two other tents built in a similar style, well at least to some extent. In fact, you will notice that the NTK Arizona is a tunnel type, while the Mountain Trails tent is for 10 people. Nevertheless, have a look and if you want to see more please follow the links in the table.
Mountain Trails
Grand Pass 10
---
Final thoughts, rating, pros & cons
I will conclude this Semoo Water Resistant 9-Person 3-Room Family Tent review with the following. The tent is functional and with an interesting design. If you are on a budget and need something of this type for occasional summer camping with your family or friends, this should be the tent to consider. The price is simply incredible. But bear in mind a few objections I gave above, and this tent is not for 9 people.
See how I rate this tent for multiple parameters used for all the tents here in the site for easy comparison:
Semoo Water Resistant 9-Person Tent
Pros
Great price.
Very functional with so many doors.
3 Separate rooms.
Easy setup.
Cons
Fiberglass poles.
No floor vents.
Not for harsh weather conditions.
Too small area for the declared capacity.
You might want to compare it with the Core 9 Extended Dome tent built in the same style. See also this Campros Tent 9 Person with the same official capacity.
Thank you for reading. If you need something different or in the same style but larger or bigger, just look around. Check in the Categories above, you have all possible types of family camping tents presented here in the site. In the case of questions or comments, please use the comment box below. Have a nice day.