Shasta Vent Portable Camping Wood Stove is a carbon-steel tripod construction, nicely packable and portable in its carry bag, and with a great price tag.
---
Key features & benefits
Portable stove.
Carbon steel body.
All pipes included.
Carry bag included.
Great price.
---
Where to buy
This Shasta Vent wood-burning stove is available on Amazon. They operate globally so please follow the link and check shipping conditions and price for your location.
---
What type of a stove is this
Here you have a tripod-type wood-burning stove and in this sense it reminds me of the Winnerwell Woodlander Tent Stove. It comes with:
5 Pipe segments that give around 5.5 ft total length of pipes.
A spark arrestor cap.
A vent damper which is in one of the pipe segments.
A carry bag.
A high-temperature glove.
A removable ashtray.
Almost all the elements are shown in the picture:

The pipe diameter here is 2-3/8″ (6 cm). All the pipe sections in the picture above can be stored inside the stove. So you place them inside and fold legs which are normally secured by pins. You can carry it by using its handle on the left side (see the picture), or in its carry bag shown above.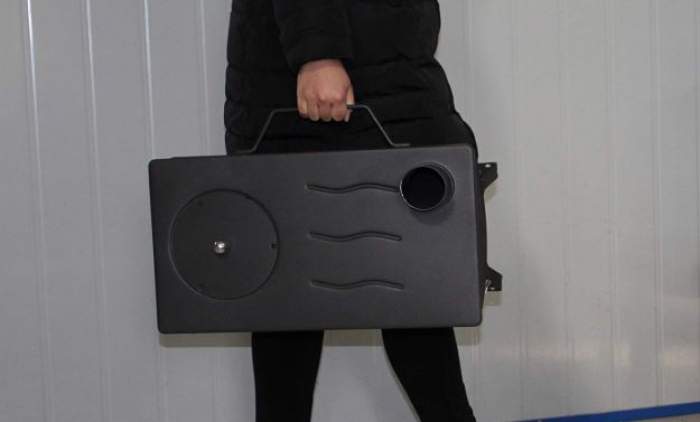 The picture below shows how it looks when the legs are folded, and you can also see its door design.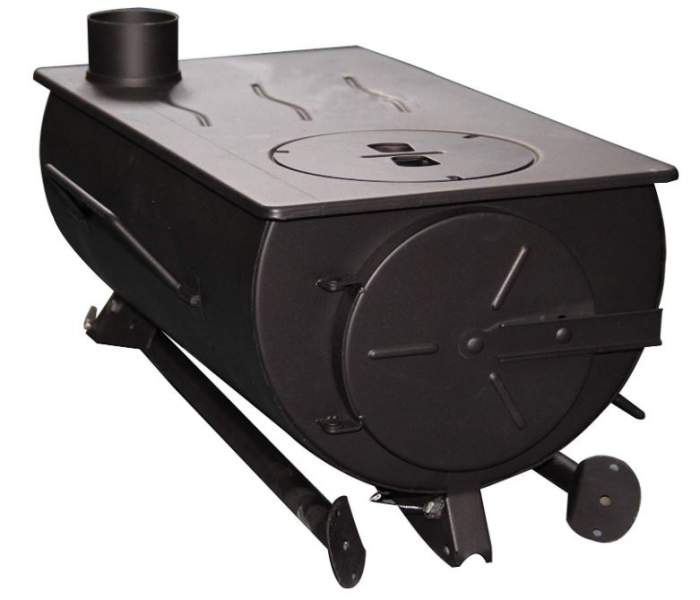 ---
Materials & construction
This is all carbon steel construction and this holds for the stove and the pipes. The top is relatively small and you will realize this when you compare this stove with some of its competitors, there is a comparison table below. Normally, some side racks help to extend the working area, but they have not added them here, pity. The carry handle can be used to hand stuff. The top plate is 6 inches (15.2 cm) diameter and it is removable.

The legs design is good, this is a tall construction and a tripod works well on most surfaces. They describe it as "extra thick carbon steel" but this sounds strange when you see the number which they give for the barrel thickness which is 0.04 inches (1 mm). So this is thinner than Winnerwell Woodlander and Nomad stoves. The stovetop is 0.08 inches (2 mm), again thinner than its competitors, yet this Shasta Vent stove is heavier.
There is neither vent nor window on the door, pity again, but you have a locking mechanism. The spark arrestor cap is equipped with eyelets for attaching guy wires to secure the pipe in windy conditions.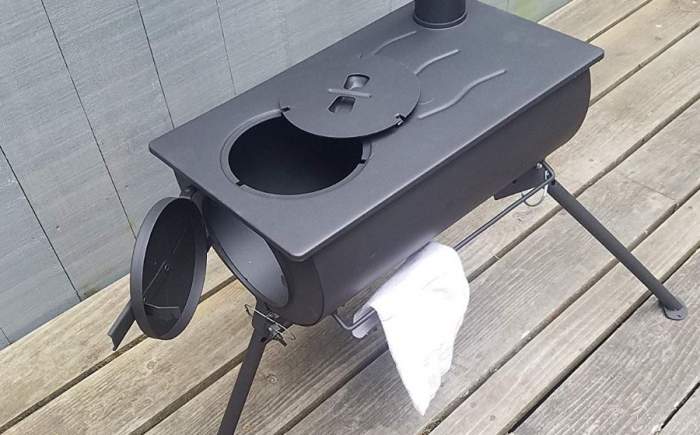 ---
What kind of tents can you use it with
The pipe set is such that you will need a tent with a roof pipe jack. If you do not have a tent with an integrated pipe jack, check this list with some great options. So it will work with any of them assuming that the pipe is long enough.
But note that they sell all kinds of extensions, extra pipes, elbows, tent gaskets, a kettle that clamps onto the stove pipe, and much more. You might need some of them to fit this stove properly in your existing tent. This brand is well-known for such items and you can see them here.
Regarding the heating capacity, the manufacturer doesn't provide any info. My rough estimate is that this stove should be good enough for the tent of up to 10 m². But there are many factors that affect the effective heating output so take this with a grain of salt.
---
Specifications
Weight: 25 lb (11.3 kg).
Dimensions (L x W x H): 18 x 10 x 9 in (46 x 25 x 23 cm).
Pipe diameter: 2.36 in (6 cm).
Material: carbon steel.
Country of origin: China.
---
Shasta Vent Portable Camping Wood Stove vs Winnerwell Woodlander & Winnerwell Nomad Stoves
I have decided to show you how this stove compares with some of its great competitors that are in the same weight and size range. So both Woodlander and Nomad are stainless steel and this is a big difference. They have more features but they are also far more expensive. Please follow the links for more.
Winnerwell
Woodlander
Stove
---
Final thoughts, rating, pros & cons
In summary, this Shasta Vent Portable Camping Wood Stove is a simple and reliable design without much bells and whistles, and with a truly great price. If you do not want to spend much now and need a functional tent cooking and heating stove, this is one to consider. I have added it to my list of best wood-burning tent stoves.
What makes it even more attractive is the fact that they have many accessories for this stove or similar stoves, so you can add some of them later when/if you realize that you really need them.
Please see how I rate this stove against the same set of criteria used for all the stoves here in the site so you can easily compare:
If you want something very different, please check this VidaLibre Camping Stove that comes with plenty of accessory elements in the package. Check also this improved version of the Guide Gear Outdoor Wood Stove with its great price.
Note that this is not a sponsored text, and I am not paid by the brand. Please use the comment box below in case of questions or comments. Have a nice day.